Goose Creek Garden by Poppie Cotton…and introducing Goose Down!
Hey y'all, and happy Friday! Today is my stop on the Poppie Cotton Goose Creek Garden fabric tour, and I can't wait to show y'all what I made.
Goose Creek Garden is one of Poppie Cotton's newest fabric collections, featuring sweet florals, the cutest geese ever, and (I think) a really unique color palette. In fact, I think the colors are really what sold me on this collection. There's something about the maroon, dark teal, peachy pink, and buttery yellow that grabbed my attention—well, that and the geese print!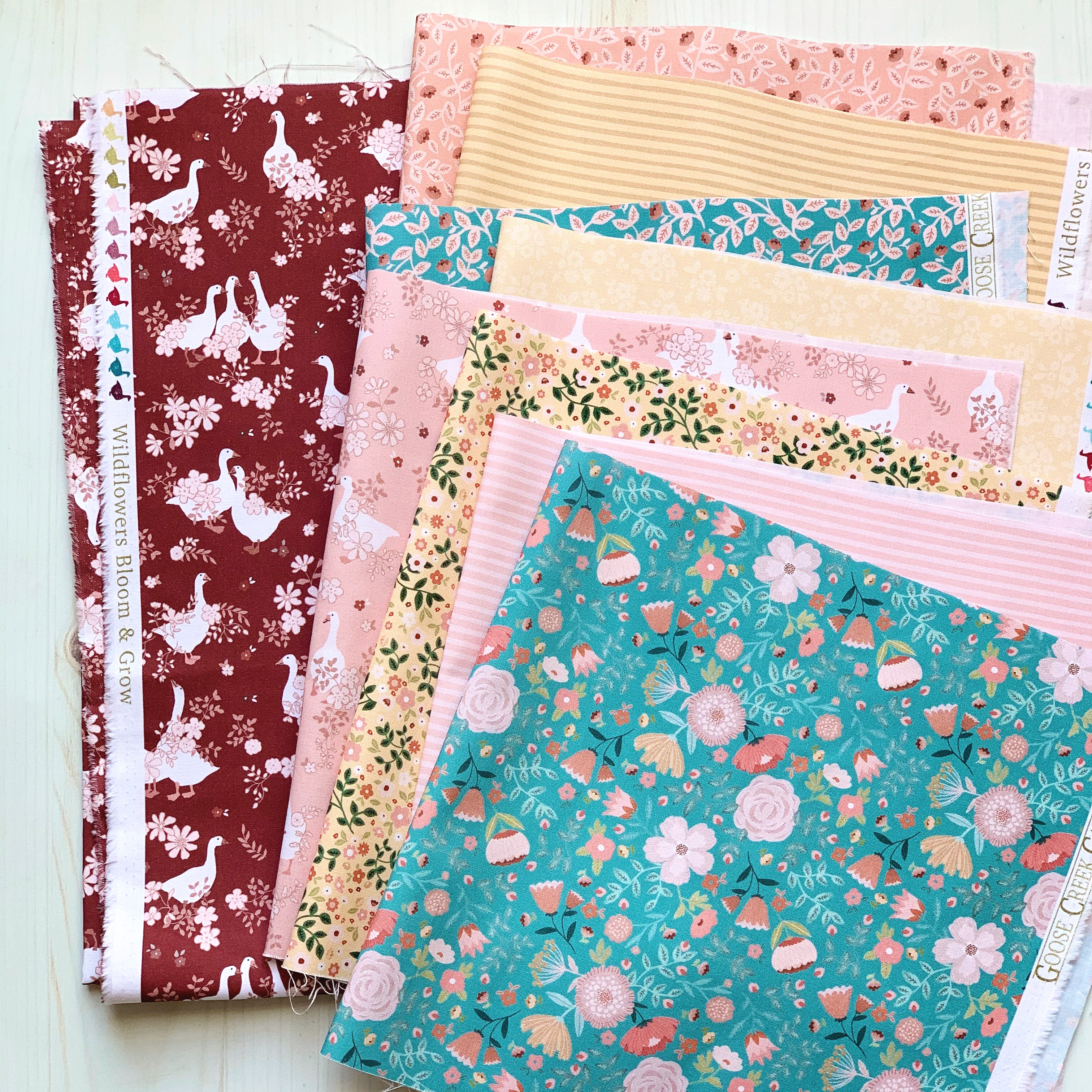 I think it gives me flashbacks to, like, 1990s country home décor, which may send some of y'all running for the hills and might not be how Poppie Cotton would describe it, but to me, it's incredibly nostalgic and endearing and I am completely smitten with it.
I wanted to design a quilt for this collection that would be a one-block quilt with a lot of movement, and the result is Goose Down, a fat-quarter-friendly lap quilt!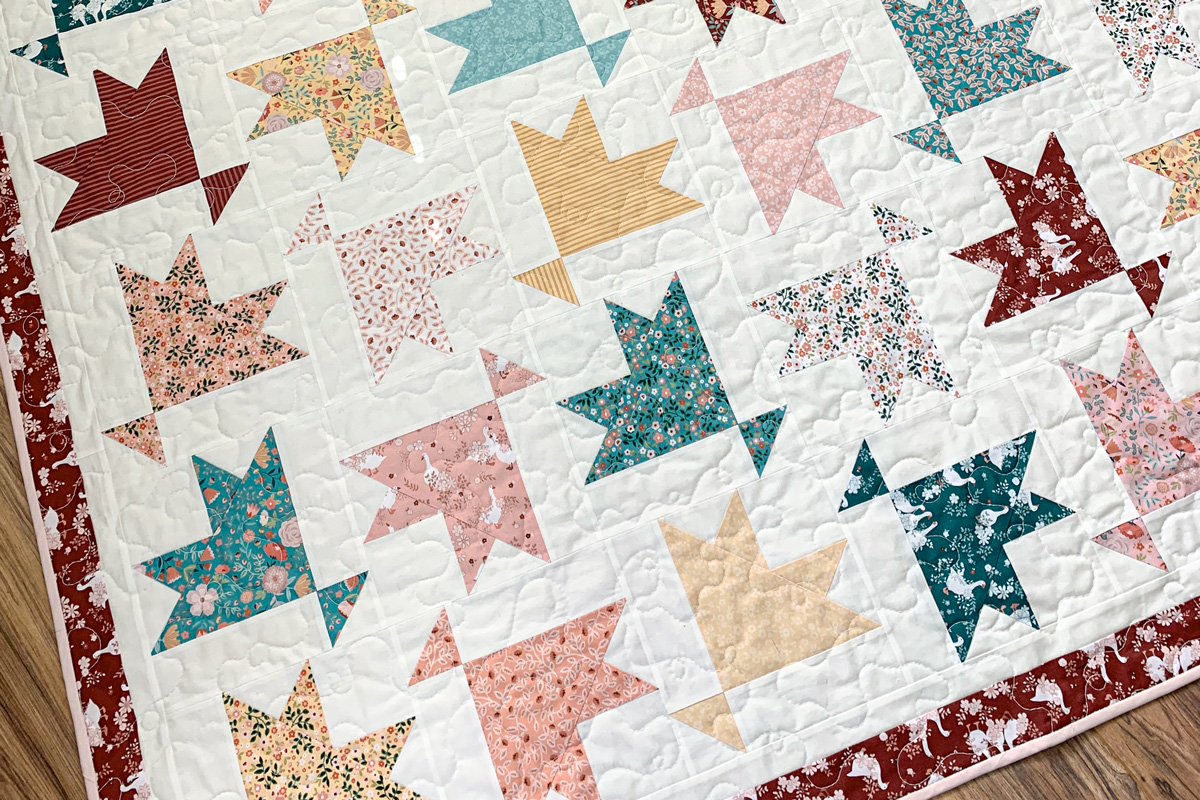 Goose Down is a fun quilt to stitch up, with lots of chain-piecing potential that makes quick work of the block construction.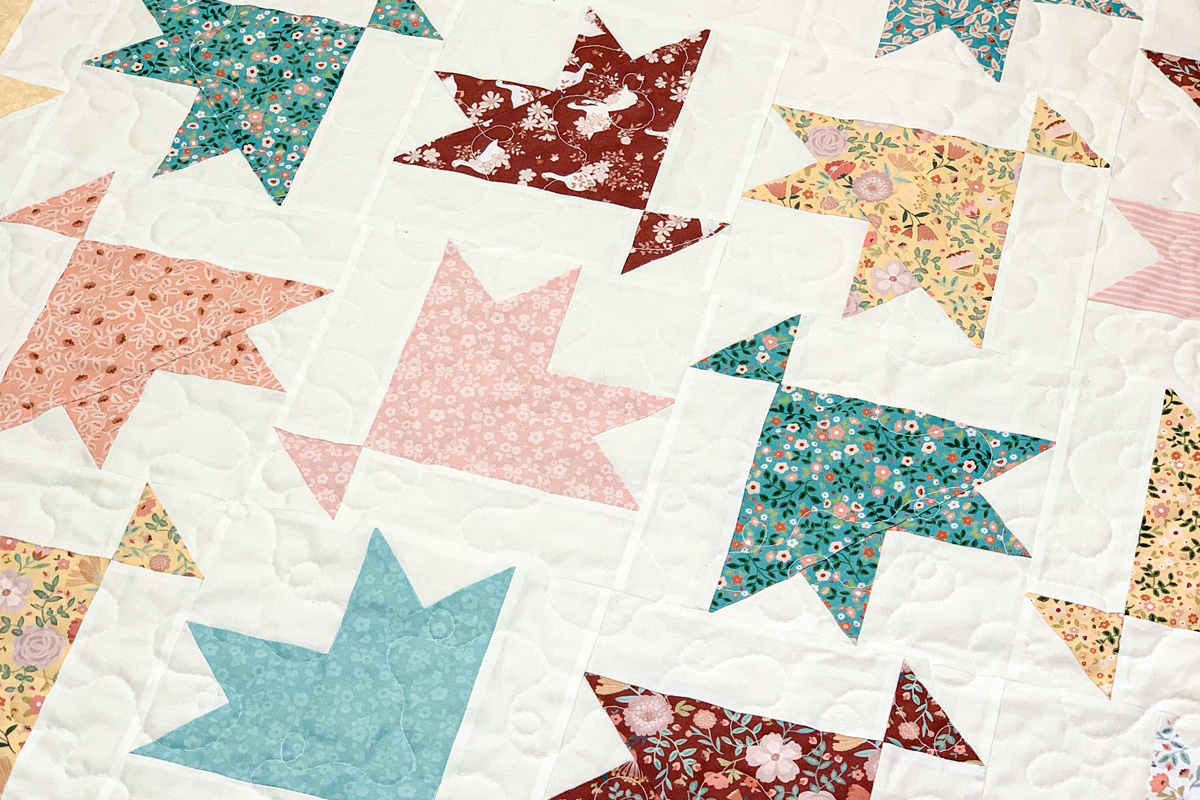 It's just one block, but rotating the blocks makes the finished quilt much more visually dynamic.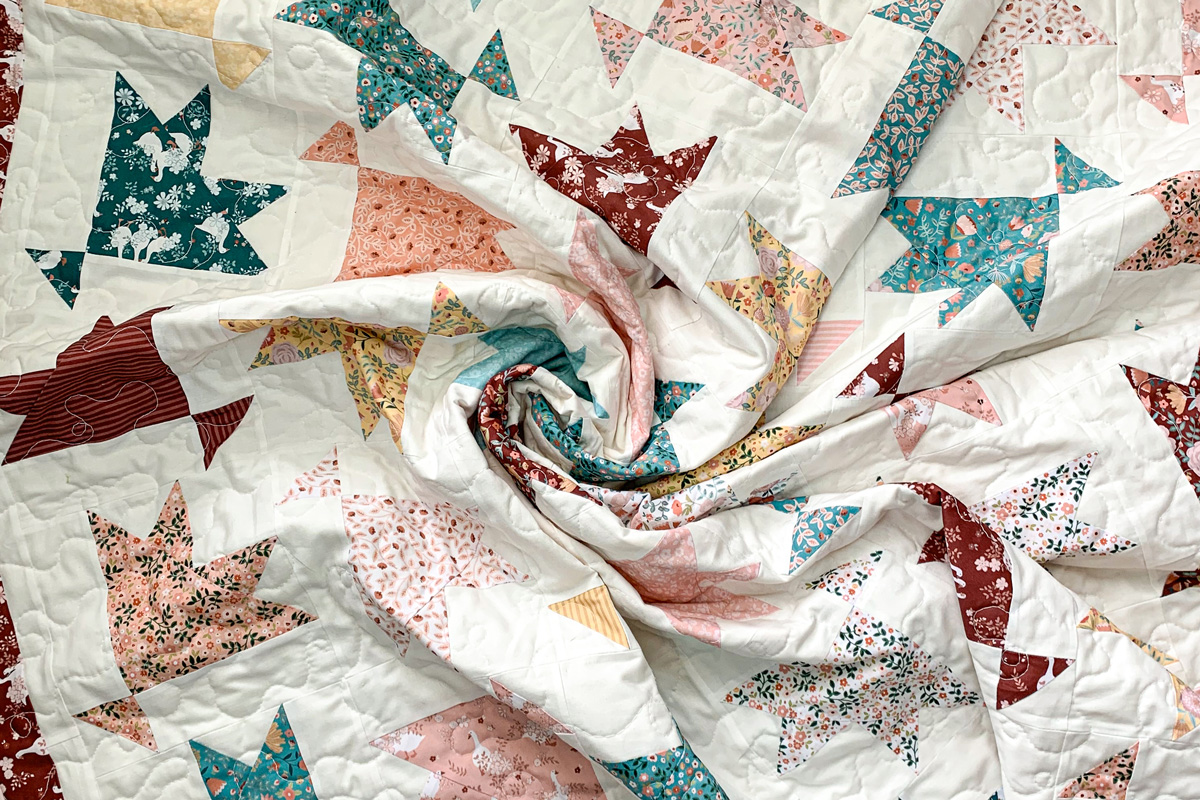 Oooh, and there are no sashing strips in this pattern! I feel like it's been awhile since I made a quilt that didn't at least have sashings between the rows.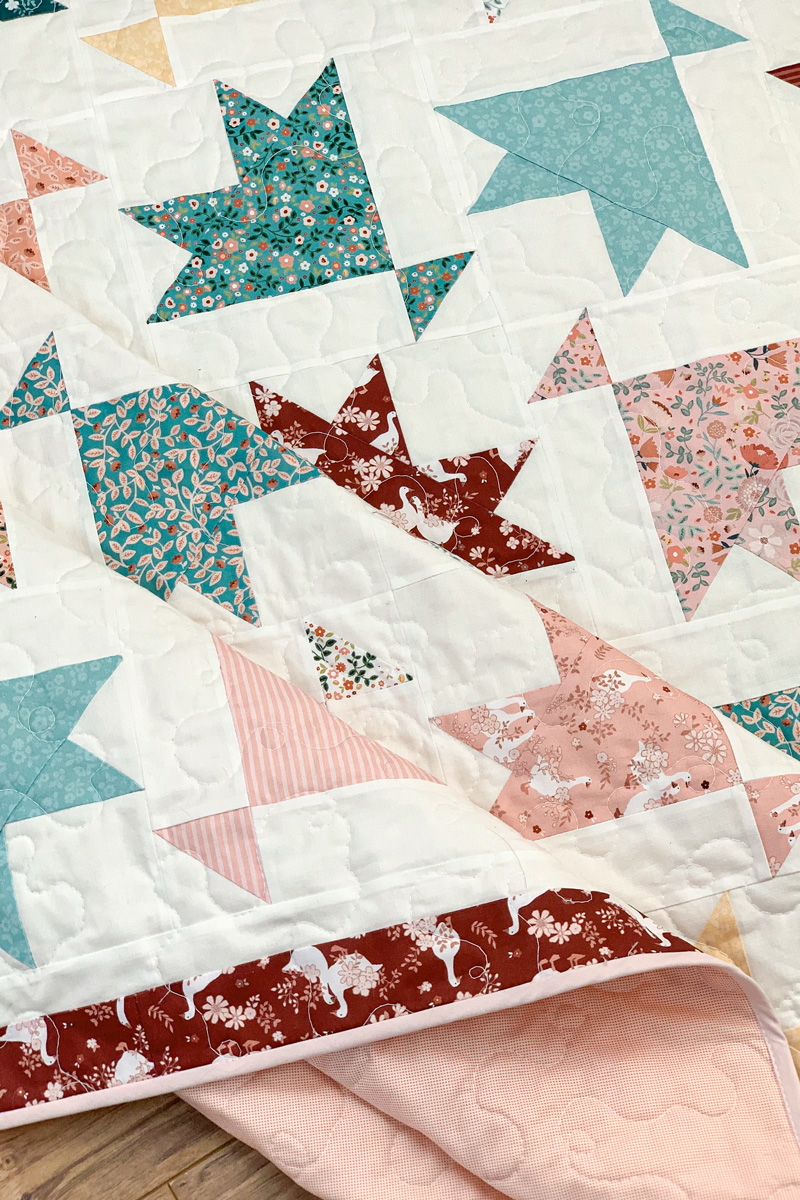 I quilted this one with a loopy meandering stipple and went a little denser on the quilting than I did on my Button Box and Liberty Belle quilts, mostly because I remembered regretting not quilting those a little more densely.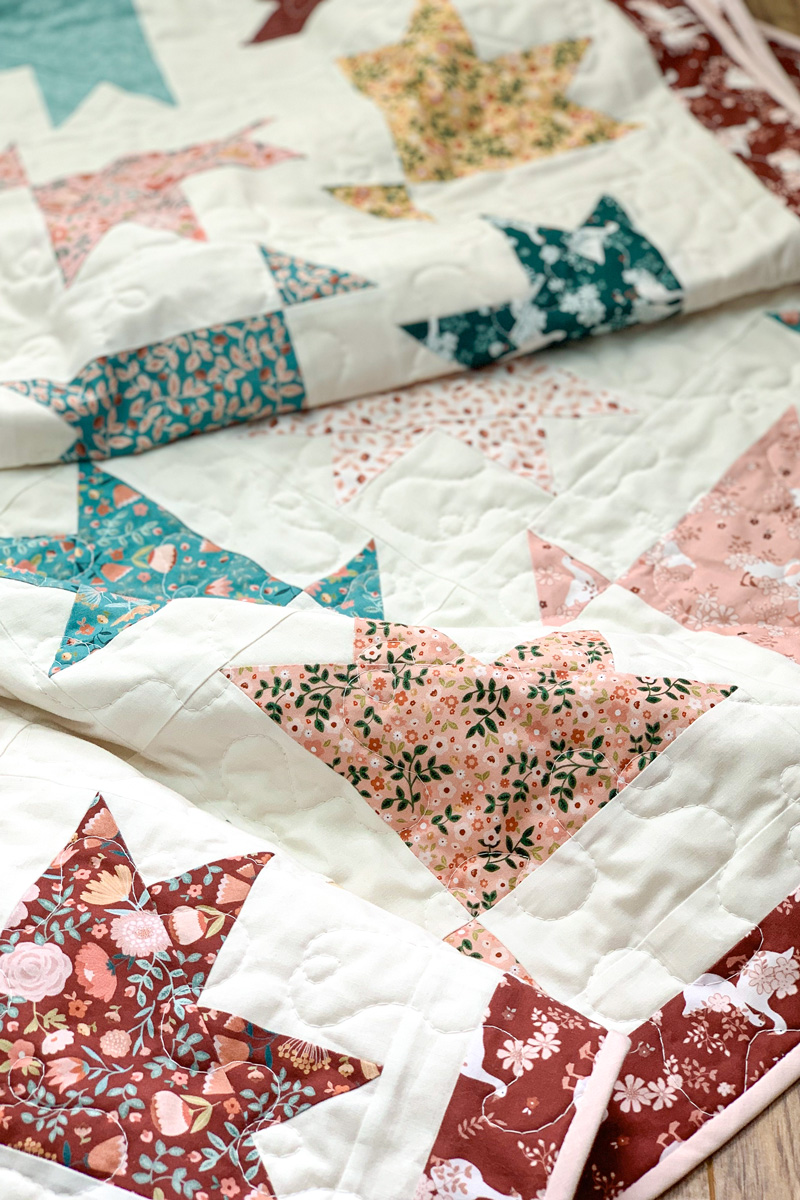 I used Hobbs Tuscany silk batting, which I really quite like for a lightweight quilt. (Side note: As I'm sitting here writing this blog post, I have just pulled this quilt out of the dryer and have it tucked over me, and I'm reading on the Hobbs website that they don't recommend tumble drying for this batting. Ooops.)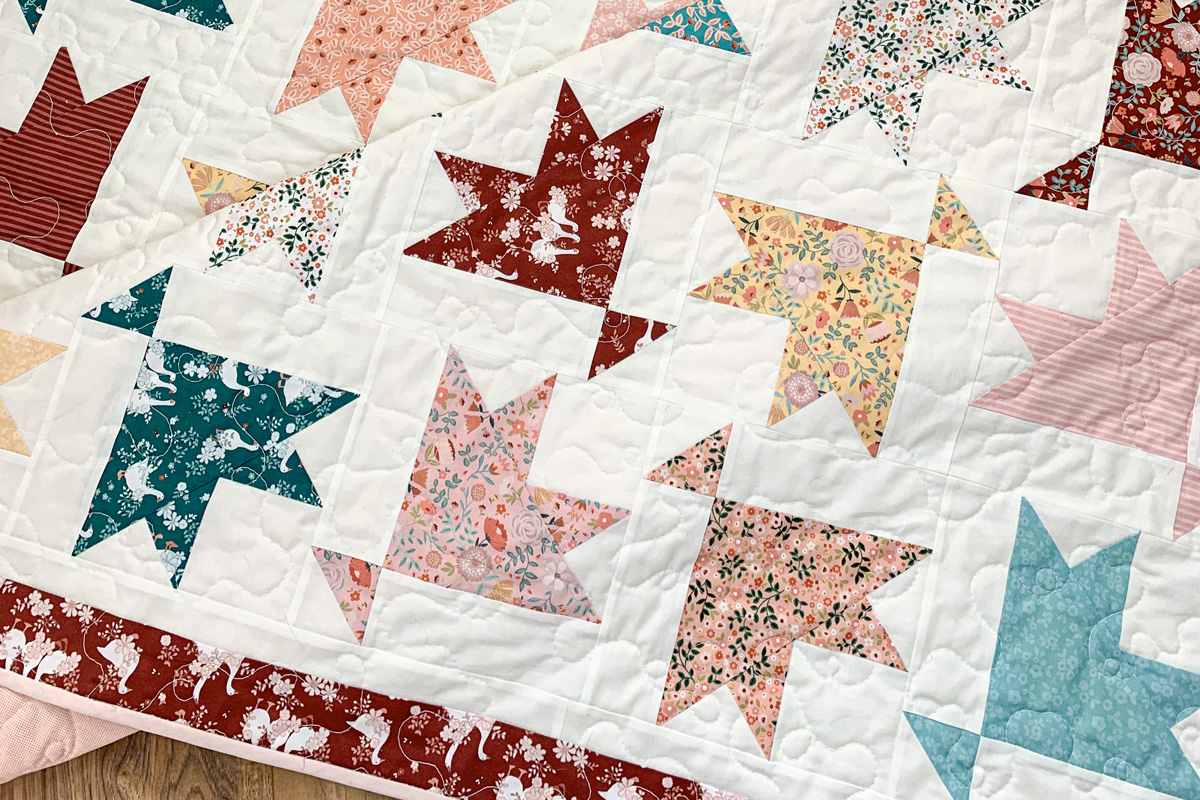 Goose Down finishes at a respectable 62" x 70", so maybe a little bit bigger than the average lap quilt, but still a manageable size.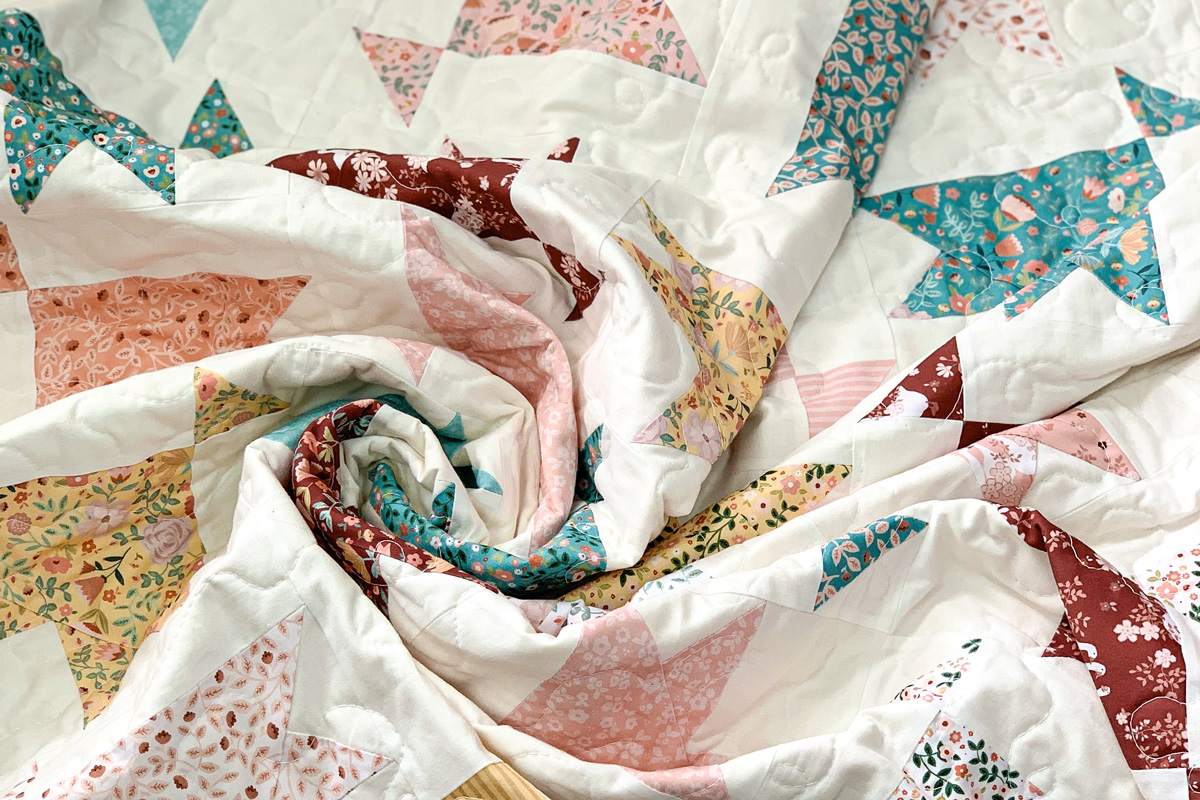 I'm feeling a bit overwhelmed with all the things at the moment, so I haven't been able to get this pattern totally written and laid out yet, but I'm shooting to have it ready to release at the end of the month!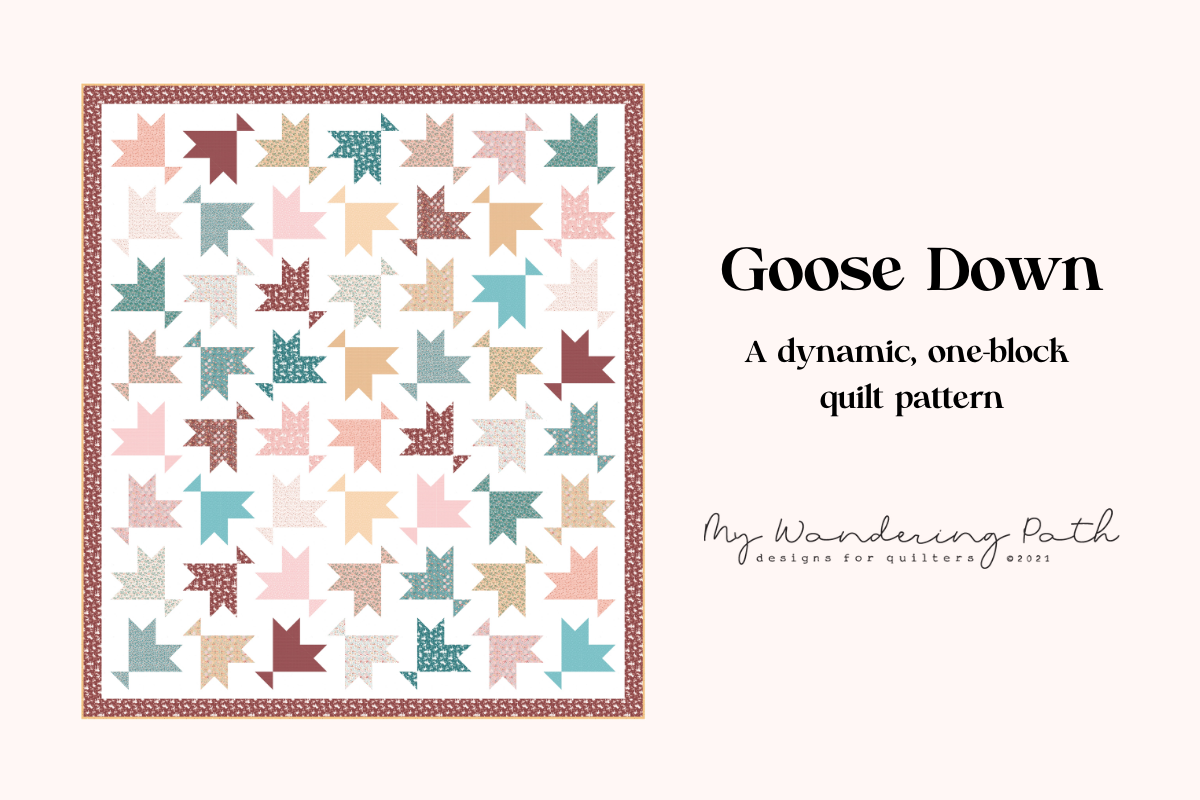 Want to be the first to know when Goose Down is available? Go ahead and sign up for my newsletter in the right sidebar over there! I promise I won't spam you! It'll just be for announcing pattern releases and sew-alongs.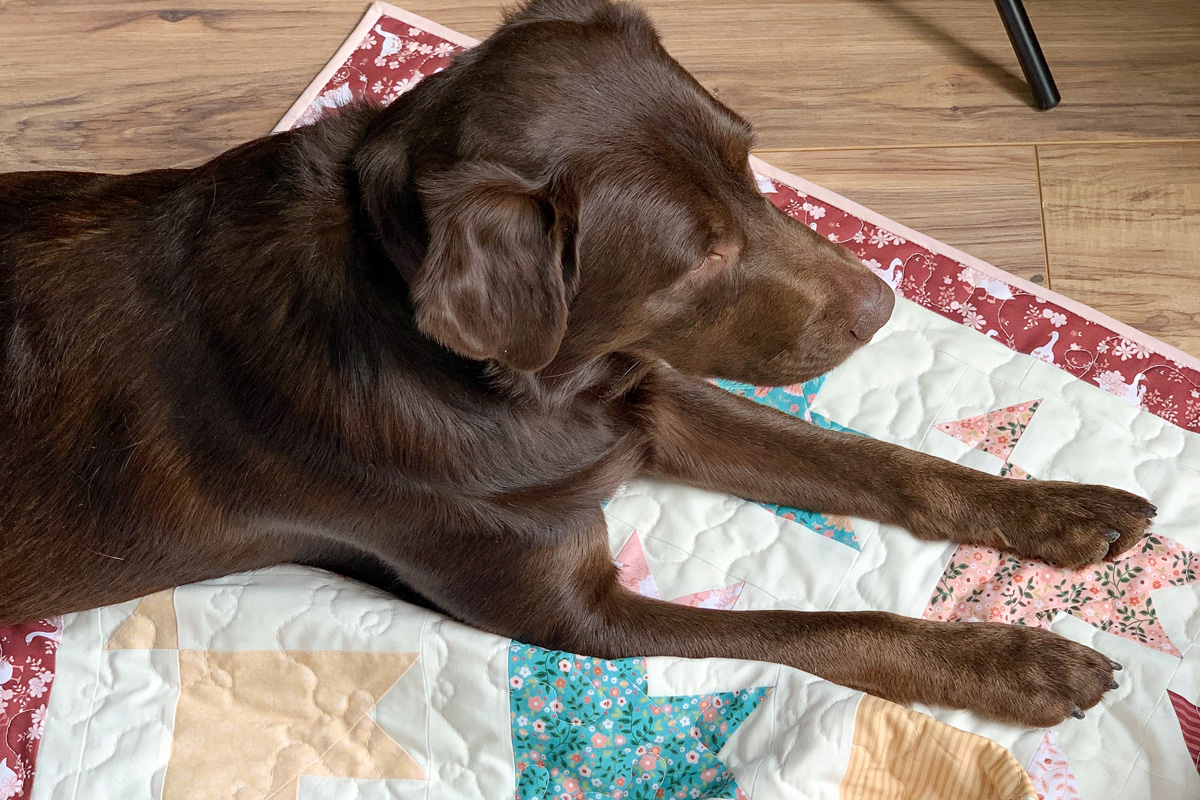 Want to see more incredible creations with Goose Creek Garden? Check out these other talented makers on the Goose Creek Garden fabric tour:
Monday, March 8: http://www.linenbouquet.com
Wednesday, March10: https://verityvintagestudio.typepad.com/my-blog/
Friday, March 12: http://blueribbondesigns.com
Monday, March 15: http://prettybyhand.com/
Wednesday, March 17: http://www.abrightcorner.com/
Friday, March 19: http://mywanderingpath.com/
Monday, March 22: https://www.nannygoatquilts.com/blog/
Wednesday, March 24: https://theredfeedsack.blogspot.com
Friday, March 26: http://www.happyquiltingmelissa.com/
Thanks so much for stopping by my blog today! I hope I've inspired you to create something with Goose Creek Garden. Stay tuned for more details on Goose Down, coming your way very soon!