Meet Blossoms & Patches, from You've Got a Point!
Happy Saturday! I recently launched a series of posts about the quilts in my newly released book, You've Got a Point! (You can find all the previous posts HERE.) Before I get started, I just want to say a huge THANK YOU to everyone who has ordered my book. I appreciate your support so much! If you have ordered a book and love it, please take a moment to leave a review on Amazon or my Etsy shop. Those reviews really help! Thank you again!
Back to the business at hand. For today's post, I'm excited to talk about Blossoms & Patches, one of my favorite quilts in the book. (Shhh, don't tell the others.)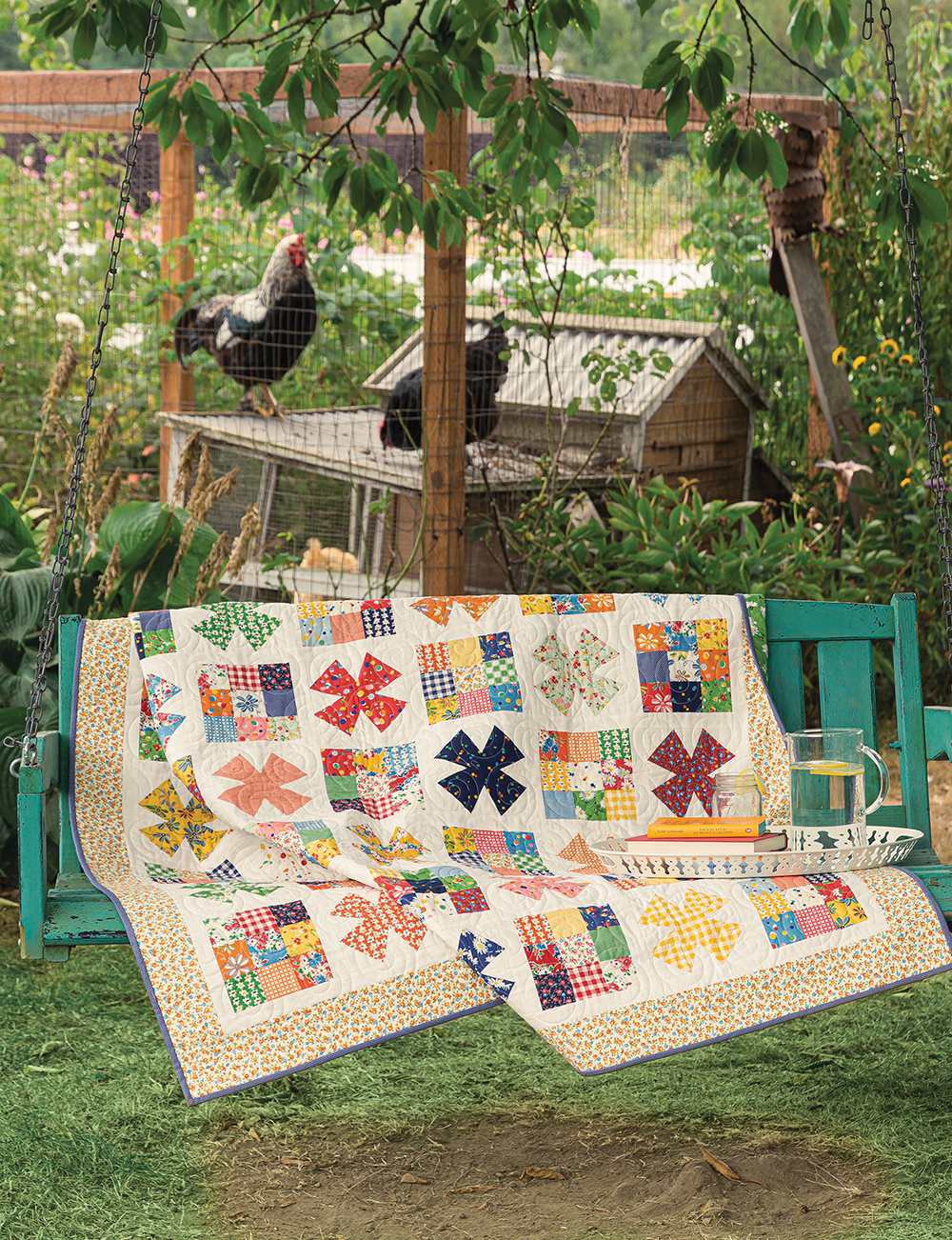 Blossoms & Patches is one of the first designs I came up with when I started the little creative exercise that eventually became this book. I had just been invited to contribute to a Moda All-Stars book of pillow patterns and needed to submit a pillow design. I was playing around with a combination of simple patchwork blocks and "blossom" blocks – just a variation on a traditional eight-point star block, really – but I ended up designing a quilt, not a pillow!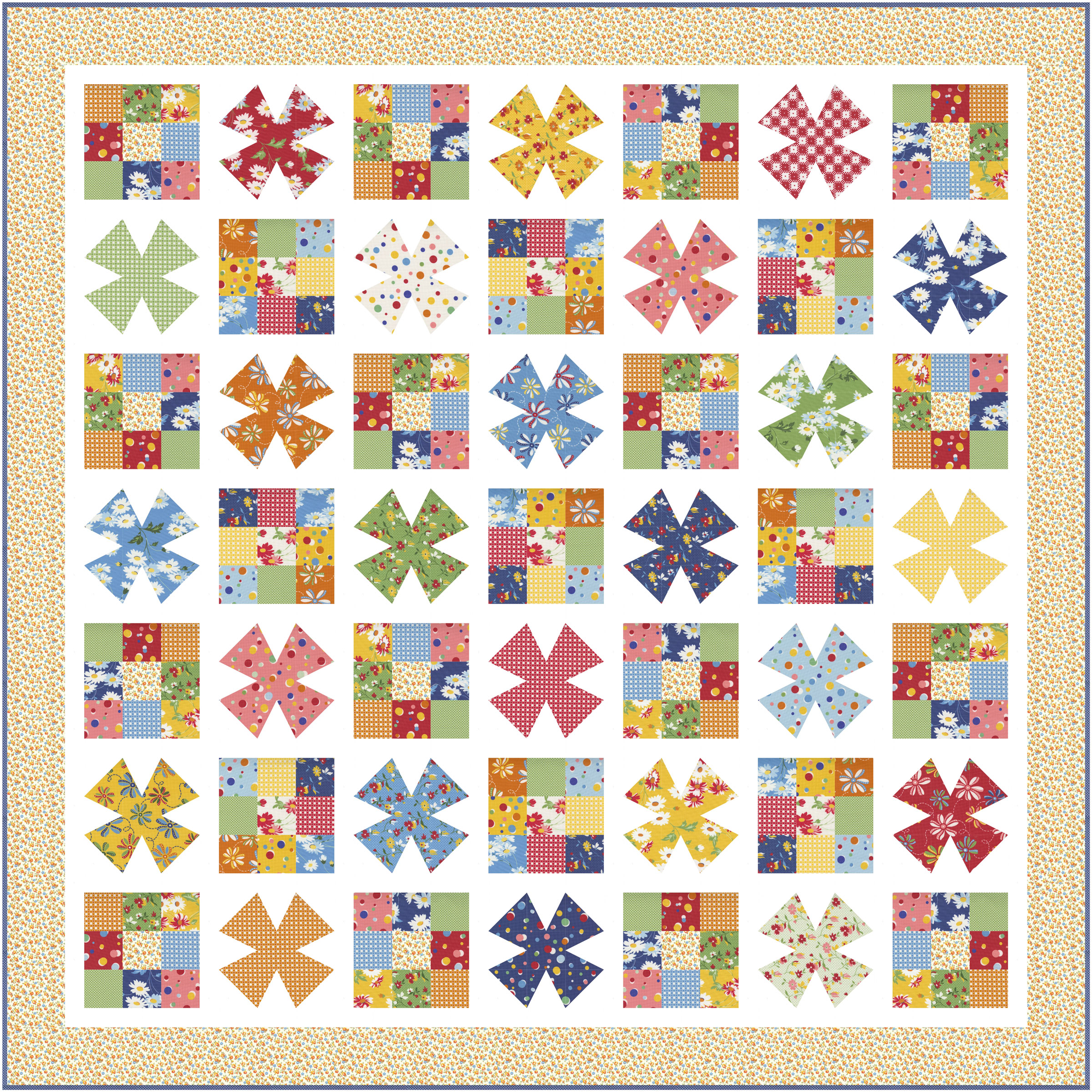 So I kept the blossom blocks for my pillow front, swapped the nine-patch blocks for a scrappy patchwork backside, added fabric yo-yos for a little something extra, and ended up with a pillow AND a quilt that are spiritual siblings. (And then I designed a lot more quilts and sent them to Martingale, and the rest is history!)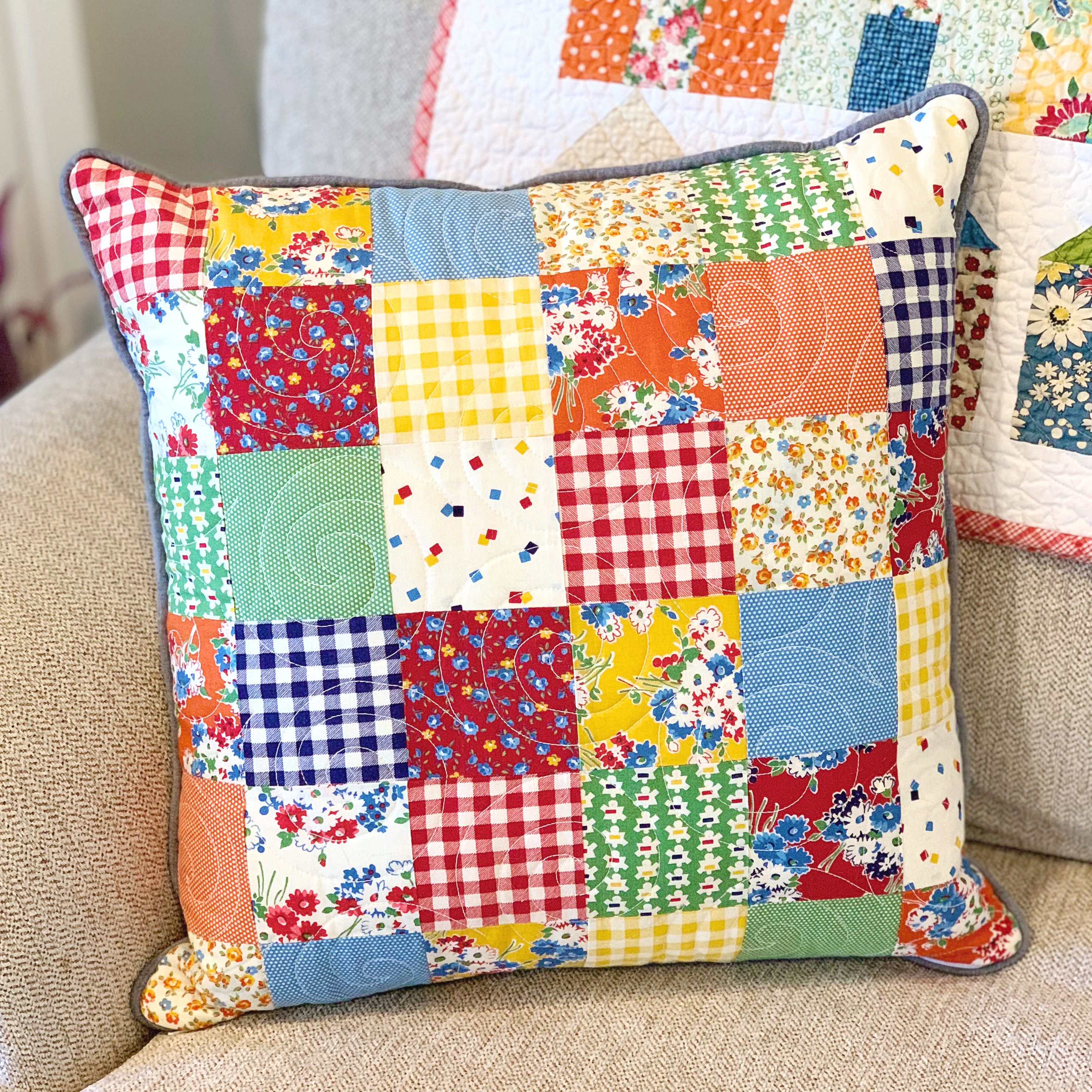 I love Blossoms & Patches because I think it has instantly charming, vintage-y quilt vibes, especially when made with 30s repro fabrics as I did for the book. And I think it's incredibly versatile – y'all know I try to create designs that work with as many styles of fabric as possible, and Blossoms & Patches is probably the most versatile design I've created yet. You can make it with a single collection, or you can use it as a scrap-buster – the sky's the limit with Blossoms & Patches!
I wrote the pattern for Blossoms & Patches to use fat eights, BUT I believe experienced and precise quilters can use a jelly roll for the whole thing. I didn't want to put that in the book, because you really have to be a precise cutter and piecer to make it work – there's no room for error when making those triangle-in-a-square units and HSTs. There won't be much to trim at all. You'll have to rejigger the fabric cutting instructions a little, but if you are experienced enough to figure all that out, then you'll probably be just fine using a jelly roll and it will save you a bit of time on the strip piecing! (You'll use roughly half of each strip for cutting what you need to make the blossom blocks, and the other half of each strip will be used to make the strip sets for the nine-patch blocks.) I strongly recommend beginning and intermediate quilters and those who prefer to piece slightly oversized and trim down stick with the book's fabric requirements and cutting instructions for the blossom blocks, but if you're going scrappy, you can confidently use leftover jelly roll strips for the nine-patches regardless of your experience level!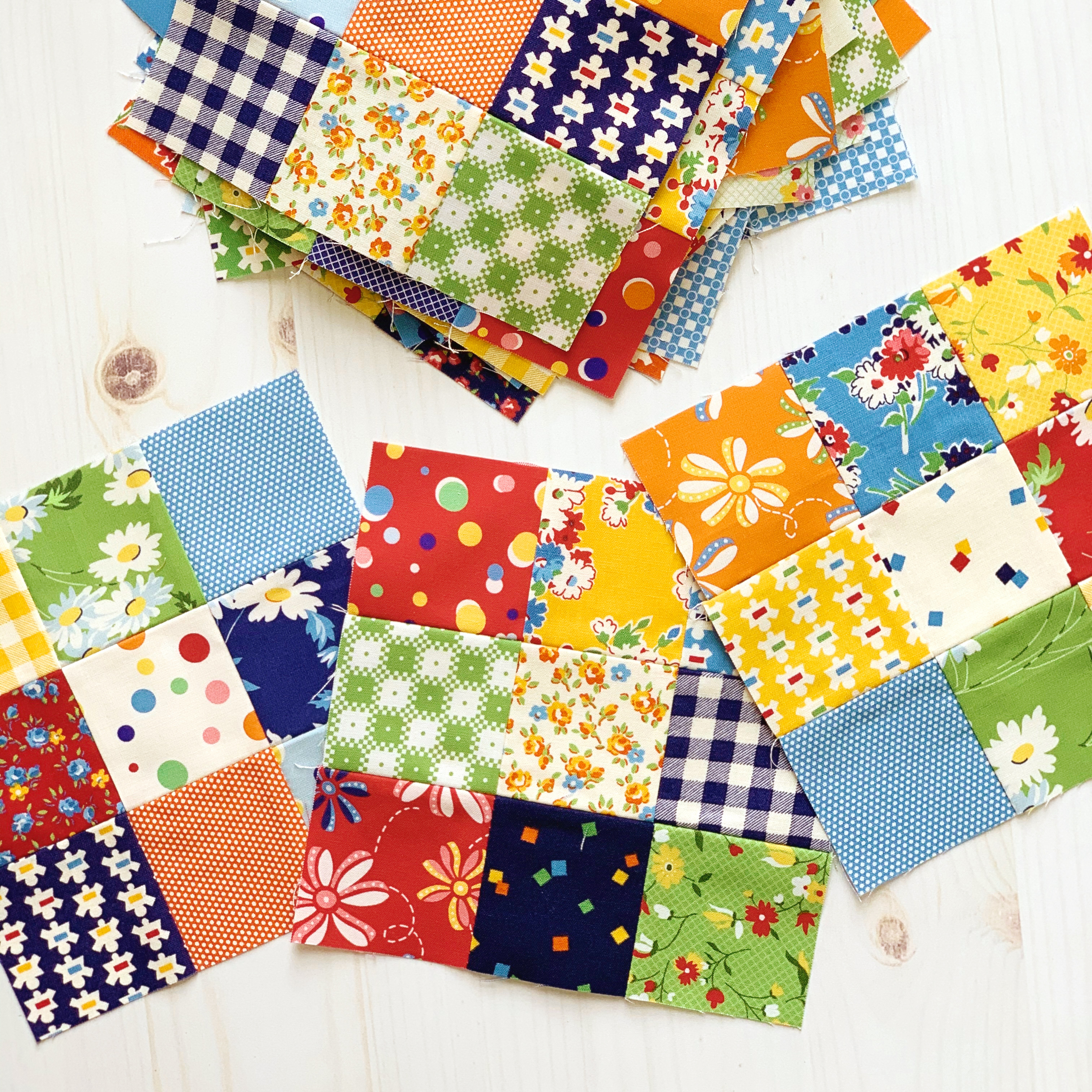 Blossoms & Patches was the second quilt I actually made during my book-writing process, which meant I still felt like I had all the time in the world to make 10 quilts and write the patterns and tutorials and create all the illustrations…so it's one of the few quilts that I took time to snap sneak peek pics of.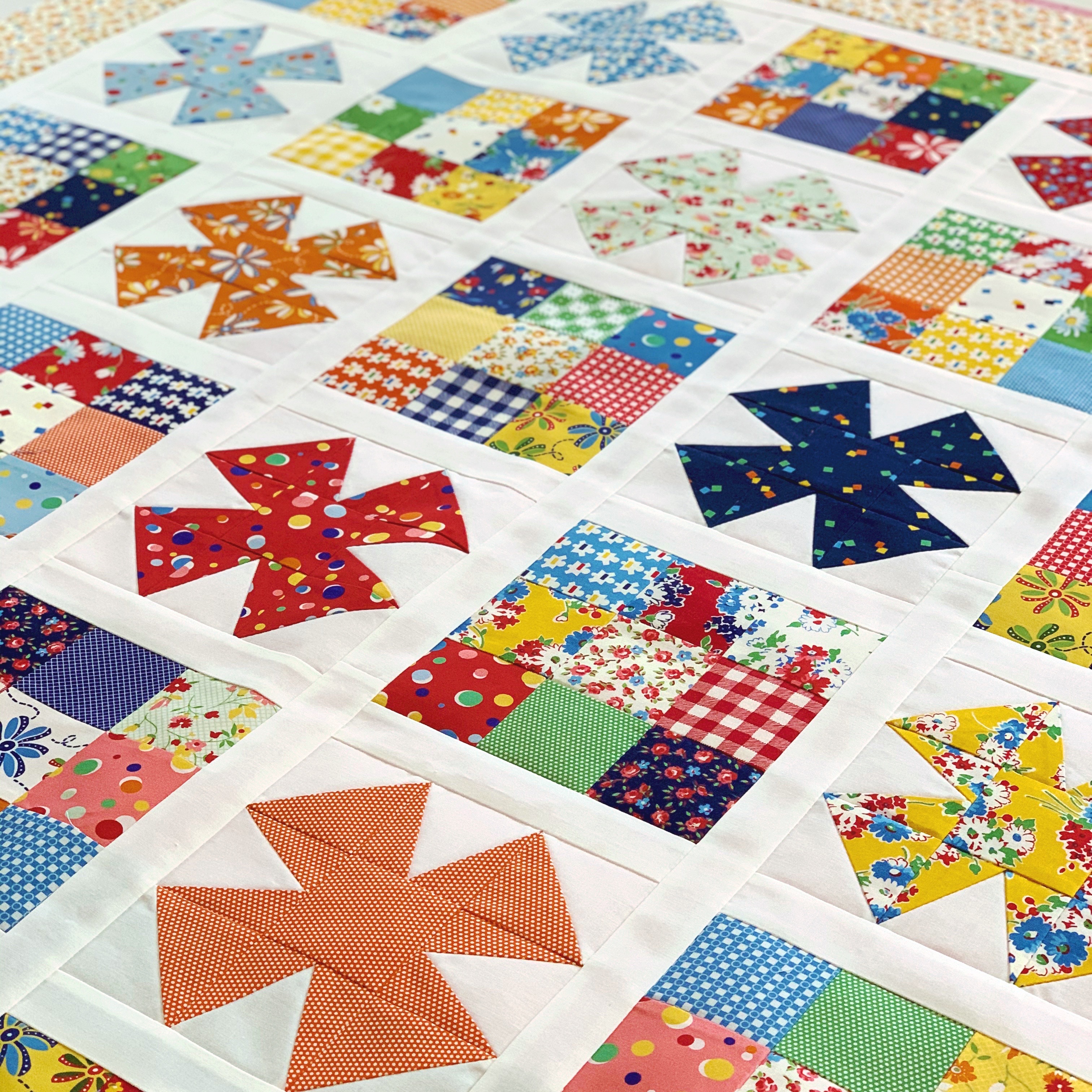 I also had this crazy idea that I would make TWO of each quilt so I'd have a second colorway to show when my book came out – yeah, that didn't really happen, but I did manage to make all the blossom and nine-patch blocks for a tiny florals version of Blossoms & Patches at the same time that I made the book version. (Do y'all remember that #TinyFloralsAnonymous trend from a few years back? Maybe it's still a thing. But it was all Tilda and Sevenberry and Liberty florals and I went on a crazy fabric-buying spree thanks to all the tiny florals projects showing up on my IG feed!)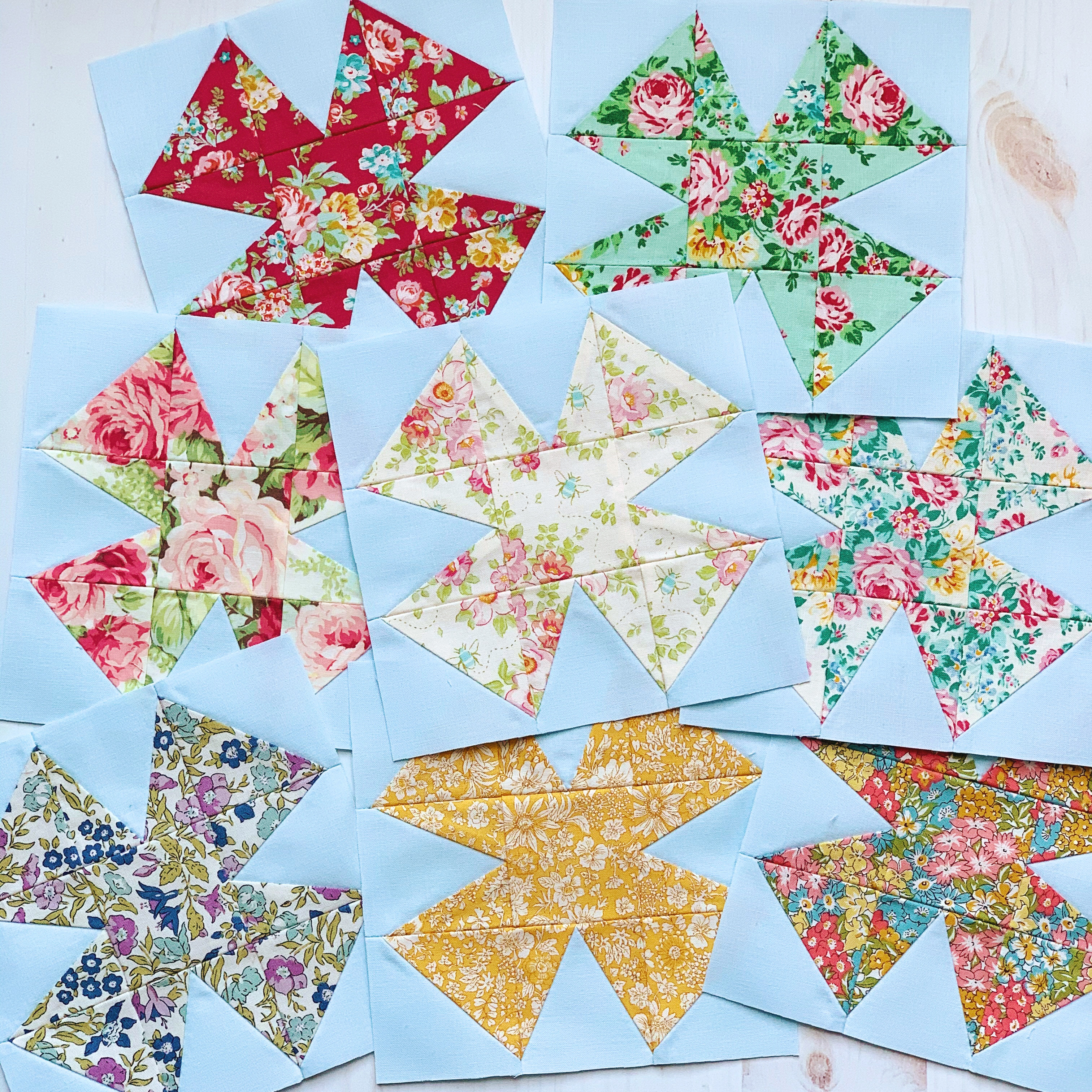 I was bummed not to totally finish my tiny florals version, but I ran out of the blue background fabric before I could get all the sashings cut – frustratingly, I think I'm short only something like a 6 inches. I should probably order more of that now…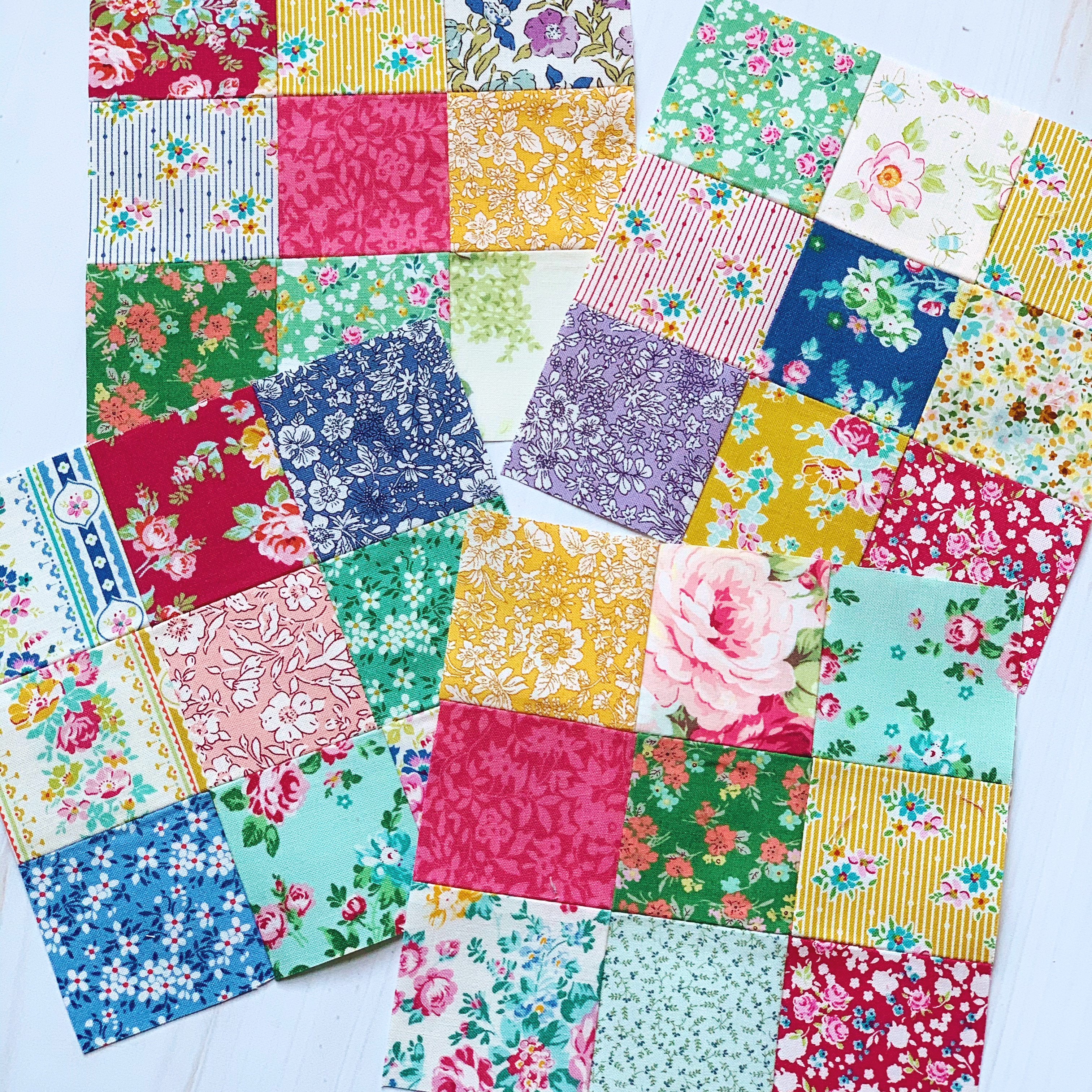 OK, ready to see Blossoms & Patches reimagined in different fabric collections? I could have gone on and on making different versions of this design to share with y'all – like I said, I think it works for so many fabric styles, and I think it's especially perfect for scrappy fabric pulls, but I stuck to single-collection versions here because it's so time-intensive to make a scrappy fabric library in EQ8.
First up is a soft and sweet version using the upcoming Cinnamon & Cream collection by Fig Tree & Co. Yep, I know I used this collection to recolor Smoke Rings – and fair warning, I'm going to use it again to recolor another quilt. Sorry/not sorry! I am just too smitten with this collection!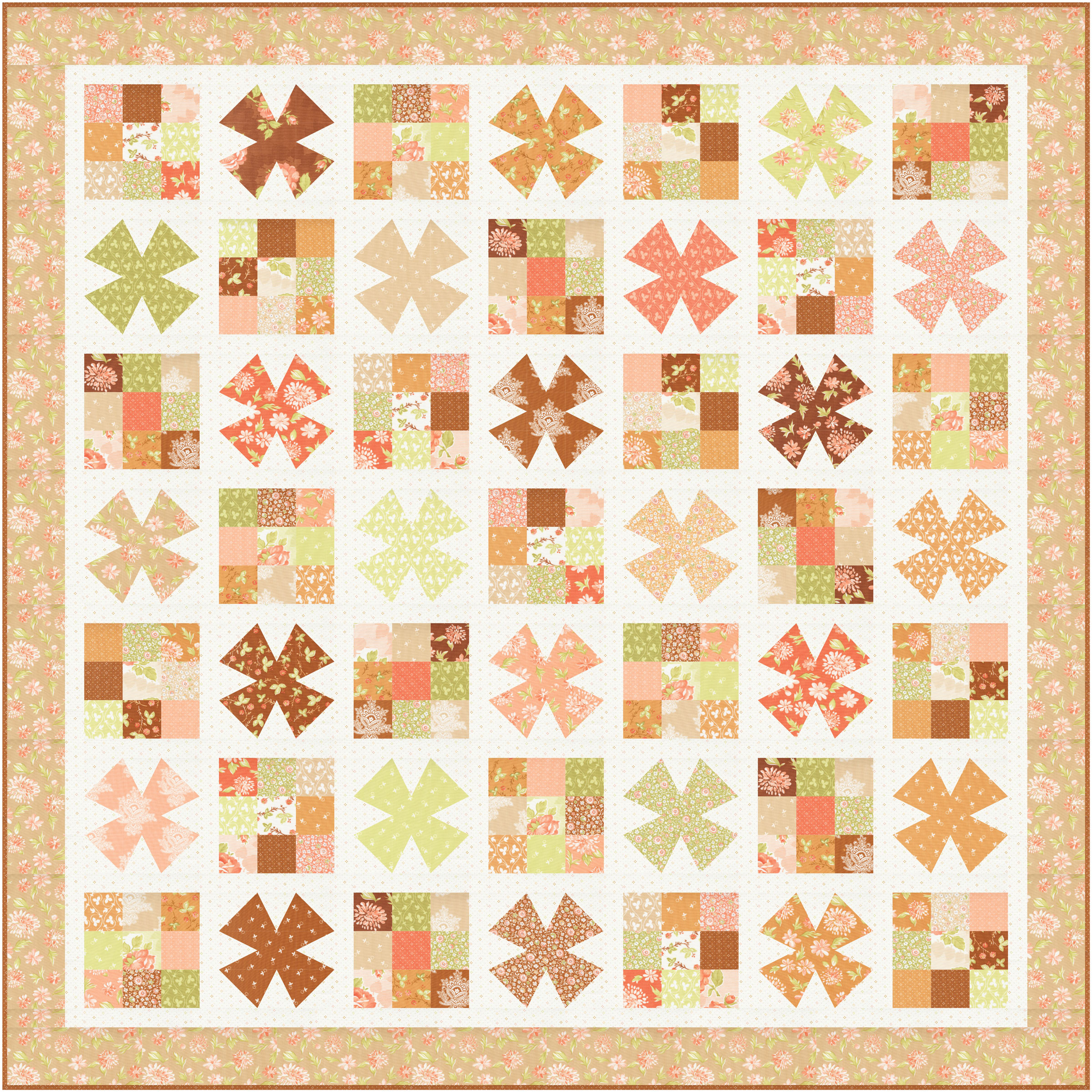 Next up is a Valentine's version using mostly Strawberries & Cream by Laundry Basket Quilts – but I added in a few additional prints from her Lady Tulip and Secret Stash: Warms collections. (I also think a scrappy aqua, pink, and red Valentine's version would be adorable!)
Of course, I love imagining patriotic versions, and I think Isabella by Minick & Simpson is a perfect collection for this pattern! It would be great with some of the wovens in the mix as well.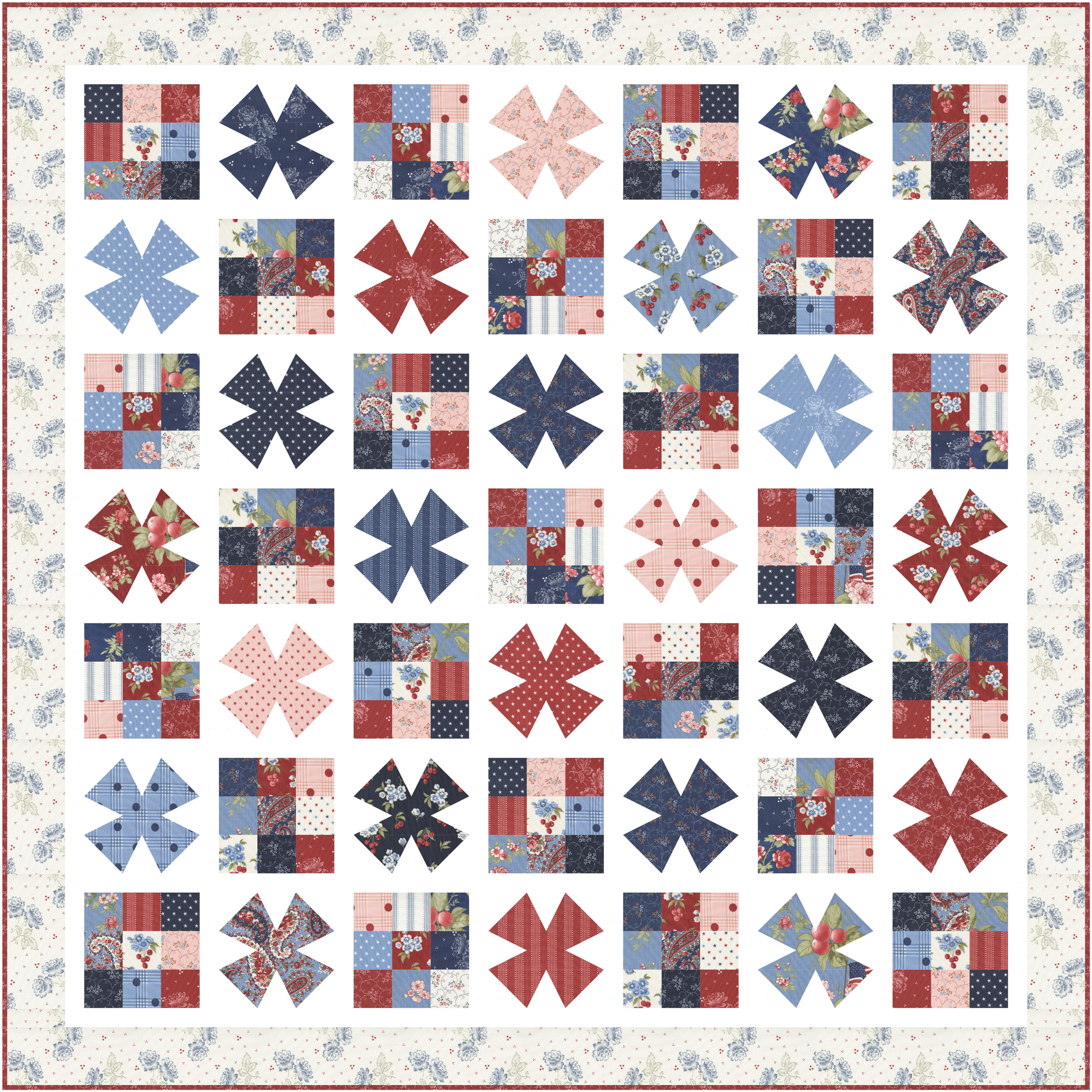 Here's a beautiful springy version made with Promenade by 3 Sisters. Such a pretty collection!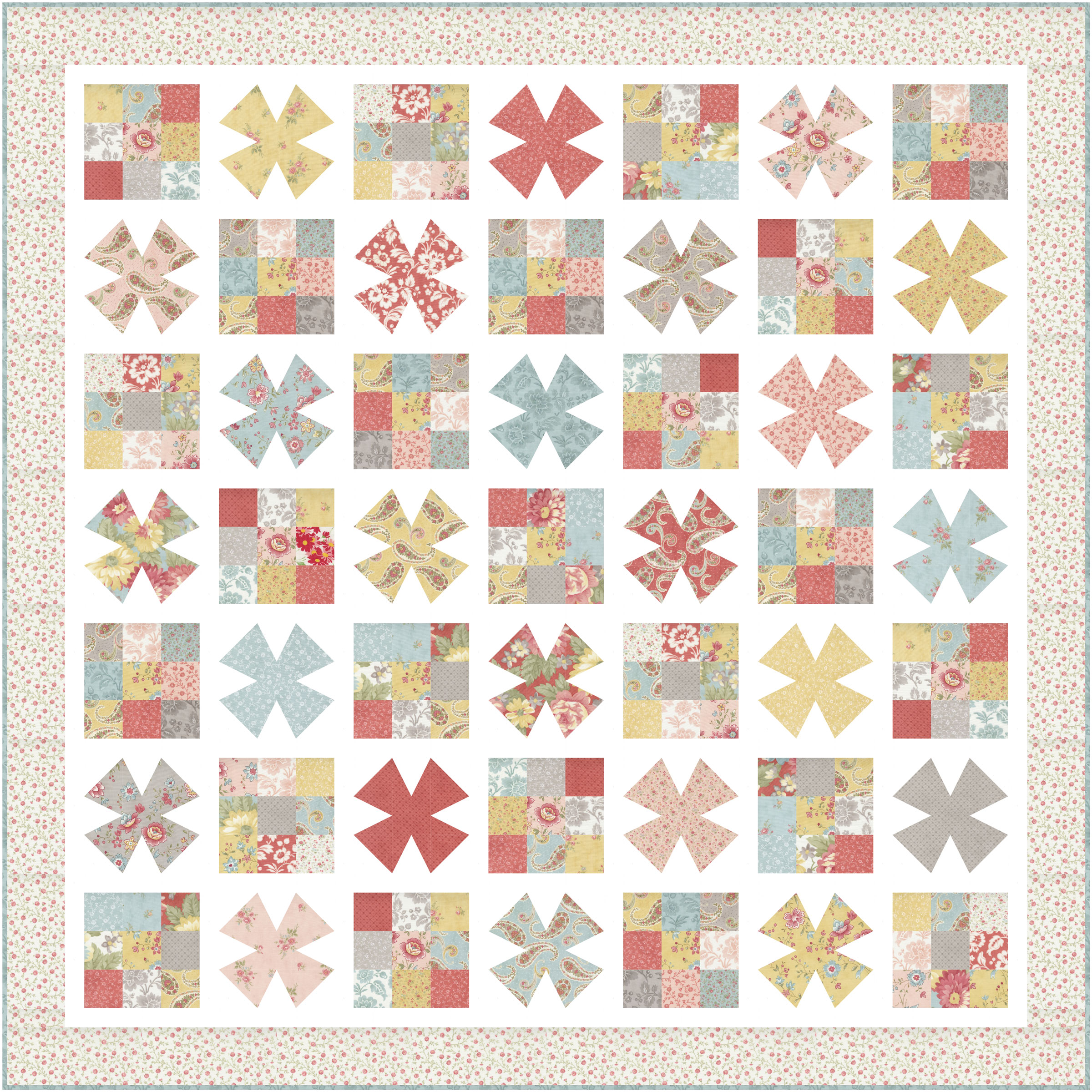 For my traditional take on Blossoms & Patches, I used Maple Hill by Kansas Troubles. Now, the pattern as written in my book uses plain sashing rows without sashing posts, as I've colored it here, but it would be really easy to adapt the pattern to make the sashing rows with those solid color posts.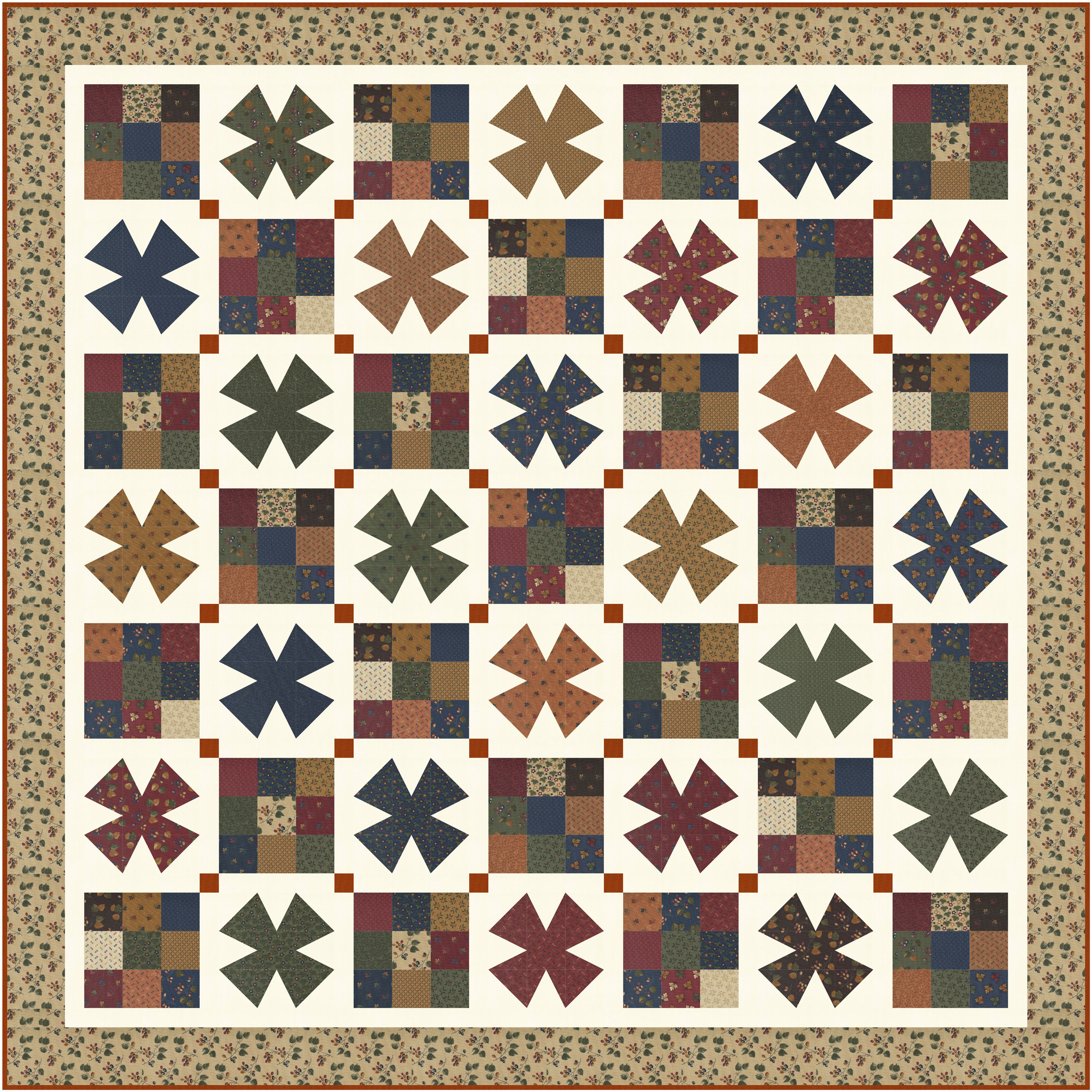 I love Janet Clare's fabrics – I made a scrappy Trip Around the World quilt for my son using Weather Permitting, and it's one of my favorite quilts I've ever made. Here I've used To the Sea, and I think it looks fantastic!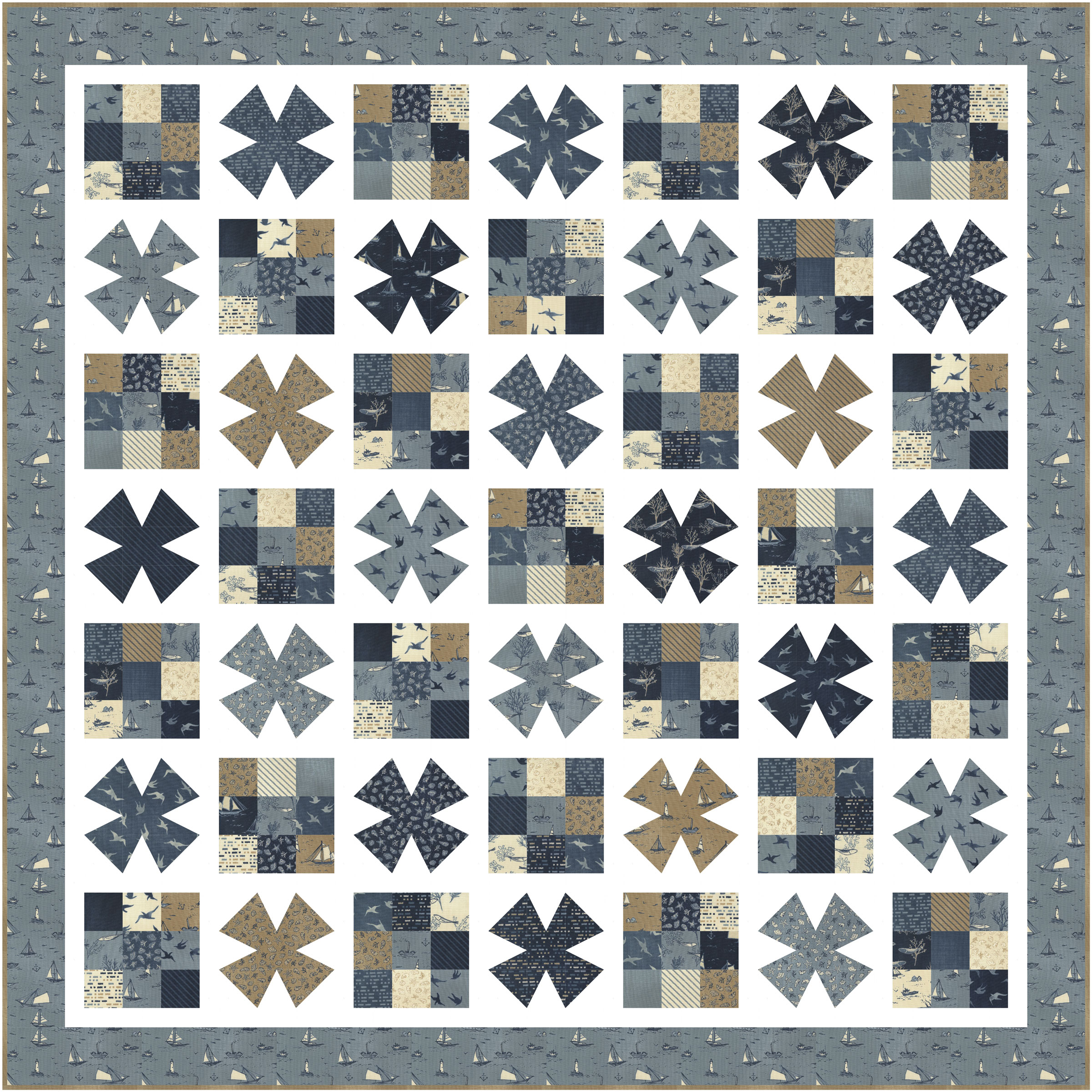 Here's a bright and cheerful version using Seashore Drive by Sherri & Chelsi. I love that pop of charcoal!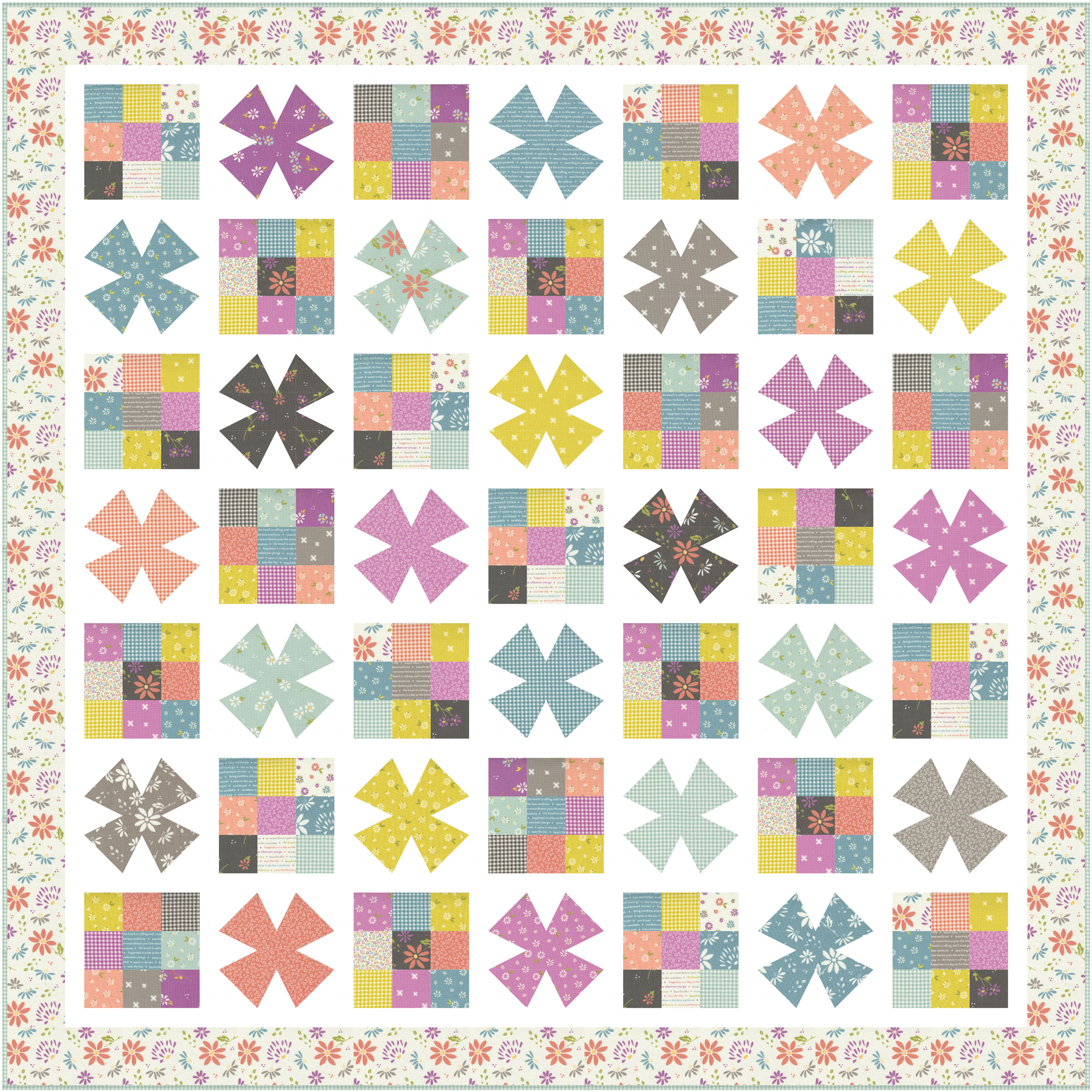 And finally, a festive Christmas version using Snowkissed by Sweetwater.
I am definitely going to have to make a Christmas version of Blossoms & Patches for myself! I might do a scrappy red & green Fig Tree version…
Thank you for stopping by my blog. I hope you've enjoyed reading about Blossoms & Patches today!
If you're as excited as I am about the designs in "You've Got a Point!", please consider ordering a copy! (I was supposed to have this series wrapped up before my book was officially available for purchase, but life has gotten in the way and it's taking me a little longer to get these posts done than I'd like.)
Order a signed copy from my Etsy shop
Stay tuned for the next quilt preview post. I'll be talking about Cut Glass!