Jardin de Fleurs Quilt-Along: UPDATE
Hey friends! I'm popping on the blog today to give y'all an update on the Jardin de Fleurs/Swoon 16 quilt-along that I'm hosting with Kaari of French General and our friends at Moda Fabrics.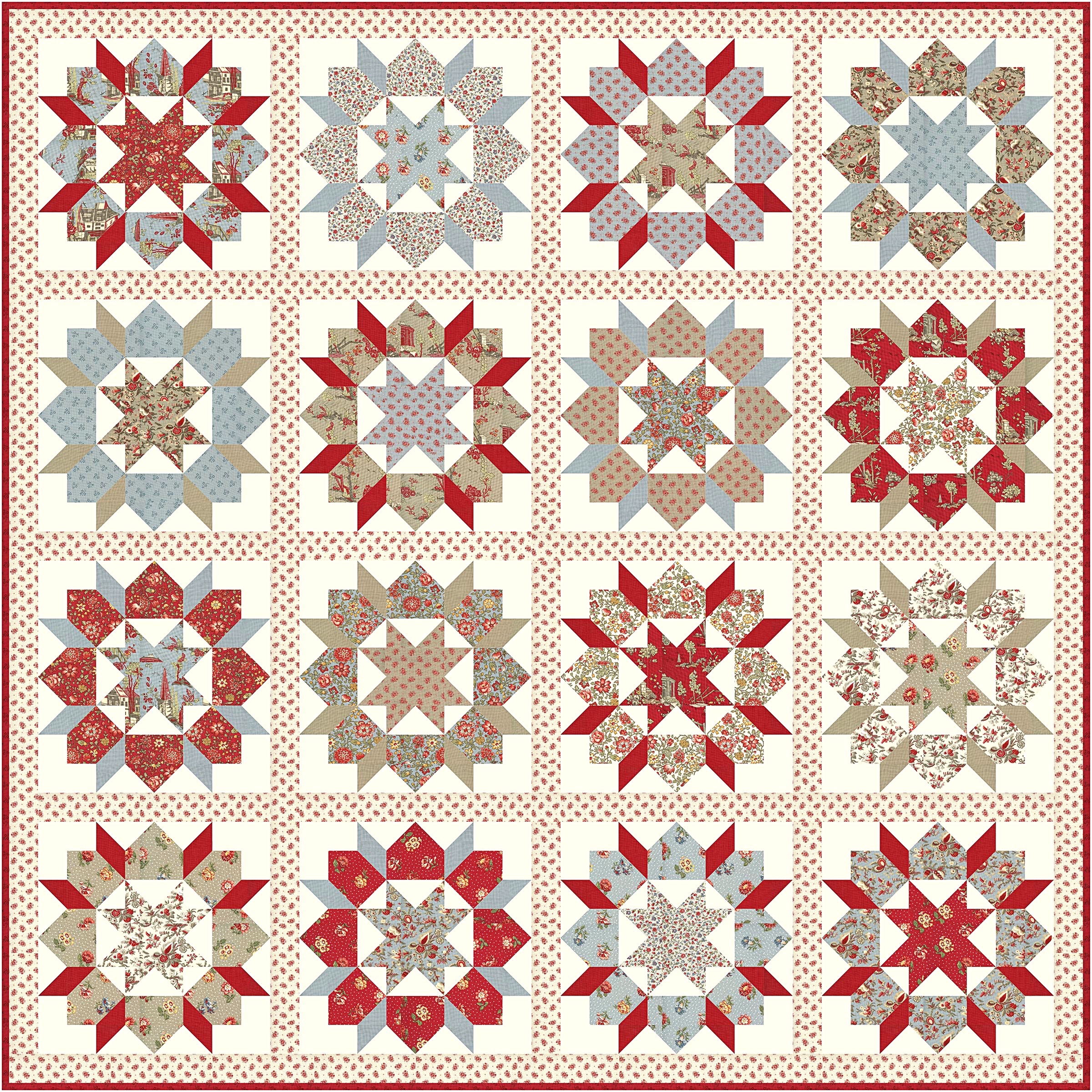 We were supposed to start the quilt-along this coming Saturday, May 1…but alas, we need to postpone it just a little longer. The fabric industry is still catching up from Covid-related manufacturing and shipping delays and while some Jardin de Fleurs fabrics have shipped to stores, not all of it has, and the kits from Moda are also still en route. So it just wouldn't be right to kick off our quilt-along until everyone who ordered a kit has it in hand!
Our NEW quilt-along kickoff date is June 1. We'll keep the same seven-week schedule as before! Here is a breakdown of the schedule:
NEW Jardin de Fleurs/Swoon 16 Quilt-Along Schedule
Week 1 (June 1, 2021): Prep & cut fabrics
Week 2 (June 8, 2021): Sew blocks 1-4
Week 3 (June 15, 2021): Sew blocks 5-8
Week 4 (June 22, 2021): Sew blocks 9-12
Week 5 (June 29, 2021): Sew blocks 13-16
Week 6 (July 6, 2021): Assemble the quilt
Week 7 (July 13, 2021): Show us your finished flimsy!
I'm just as eager to get started on this quilt as y'all are, believe me! But I'm also one to look for the silver lining, and I realized that this little delay has given me time to work on the beautiful Jardin de Fleurs cross-stitch chart that Susan Ache (@yardgrl60 on Instagram) designed for Aurifil and French General. Here's a picture of Susan's completed version, courtesy of the Auribuzz blog: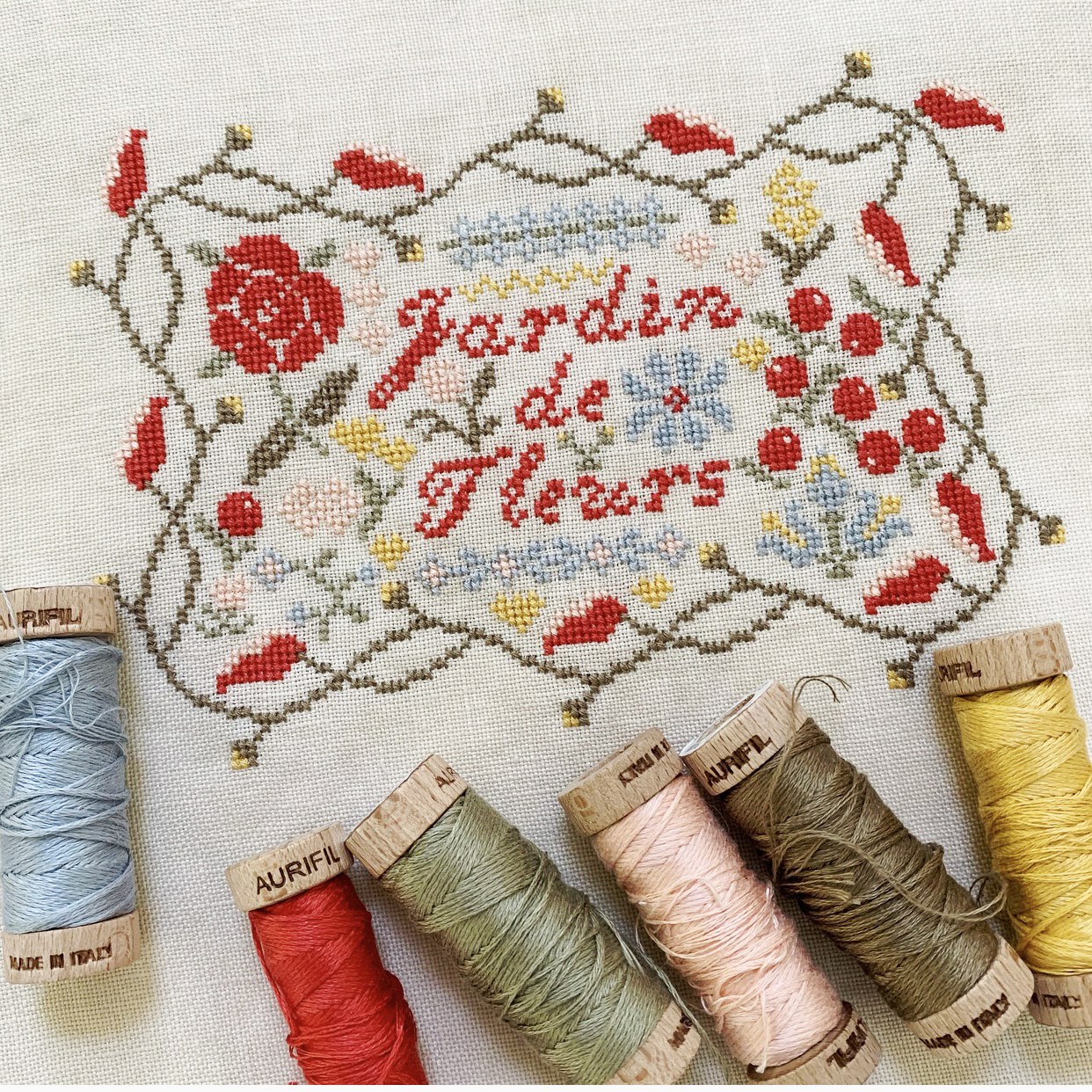 I decided to do this on a whim and HAD to get started on it that very moment, so instead of ordering and waiting on supplies, I dove into my cross-stitch project box and found what I needed there, so my sampler will look just a little different from Susan's. (I've been cross-stitching longer than any other hobby I've had over the years, though I am bad to start lots of projects and never finish them. But all that aside, I have a pretty deep stash of floss and linen.)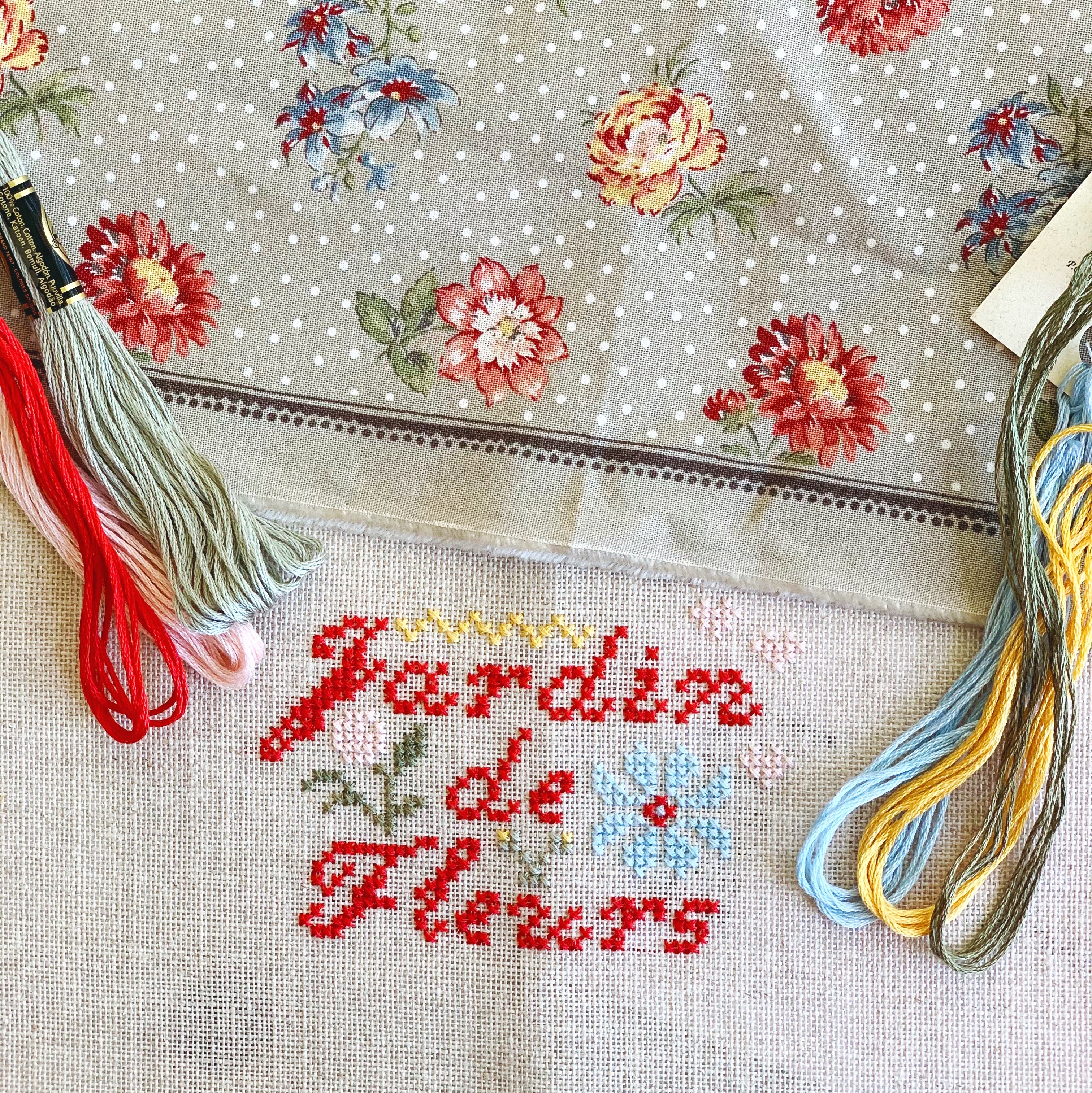 I'm stitching my version on 28 ct. Wichelt linen, which is a little larger than Susan's 36 ct. linen. Instead of Aurifil floss, I'm using a combination of DMC, Weeks Dye Works, and The Gentle Art flosses. I pulled all of these, minus the red, from Country Cottage Needleworks Cottage of the Month patterns, so if you happen to have all of those, you'll have these floss colors already. The red is from a kit I have from Le Bonheurs des Dames in Paris.
(If you're a stitcher, you MUST check them out. They ship to the US and their patterns are amazing! And once the world opens back up, if you find yourself in Paris, do visit their shop. It's a beautiful place to lose yourself for a couple of hours. The walls are covered with stitched samples of all their patterns and their displays are stunning.)
Here is a little conversion chart for the flosses I'm using:
Aurifil 2612 > The Gentle Art Sampler Thread, Morning Glory
Aurifil 2255 > DMC 349, Dark Coral
Aurifil 2420 > DMC 225
Aurifil 2134 > The Gentle Art Simply Shaker, Harvest Moon
Aurifil 2370 > Weeks Dye Works, Kudzu
Aurifil 2900 > DMC 3023
I'm excited to have this little project to work on while I wait for June to roll around! I think I'll end up making a little pillow with it or using it as a quilt label. We'll see what strikes my fancy when I'm all done with it!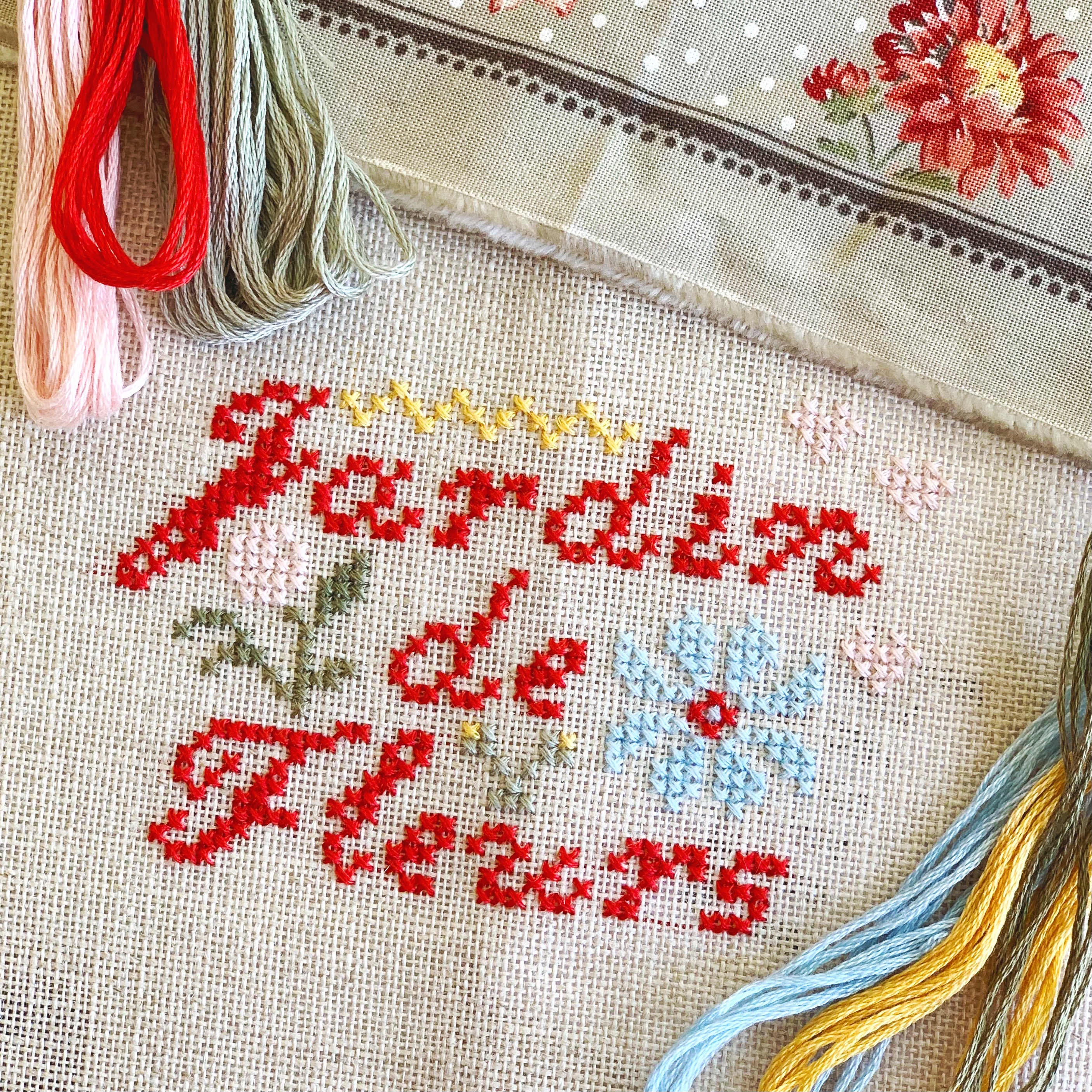 If you'd like to cross-stitch this lovely chart for yourself, you can find it HERE on the Aurifil blog. It's a free pattern, by the way, and stitches up quickly!
Thanks so much for your patience as we wait for all the fabrics and kits to arrive. Our friends at Moda have set aside some sweet prizes for our quilt-along, so I think it'll be worth the wait for sure!
I'll be back soon with details on the fabrics we're using for the quilt-along and how I've chosen to pair up the prints for each Swoon 16 block.
Thanks for stopping by, and have a great day!