Meet Cut Glass, from You've Got a Point!
Happy Wednesday! I recently launched a series of posts about the quilts in my newly released book, You've Got a Point! (You can find all the previous posts HERE.) Before I get started, I just want to say a huge THANK YOU to everyone who has ordered my book. I appreciate your support so much! If you have ordered a book and love it, please take a moment to leave a review on Amazon or my Etsy shop. Those reviews really help! Thank you again!
Today I'm excited to talk a little bit about Cut Glass, one of two holiday patterns in You've Got a Point! I love all the photography in my book, but I think this one has to be my favorite: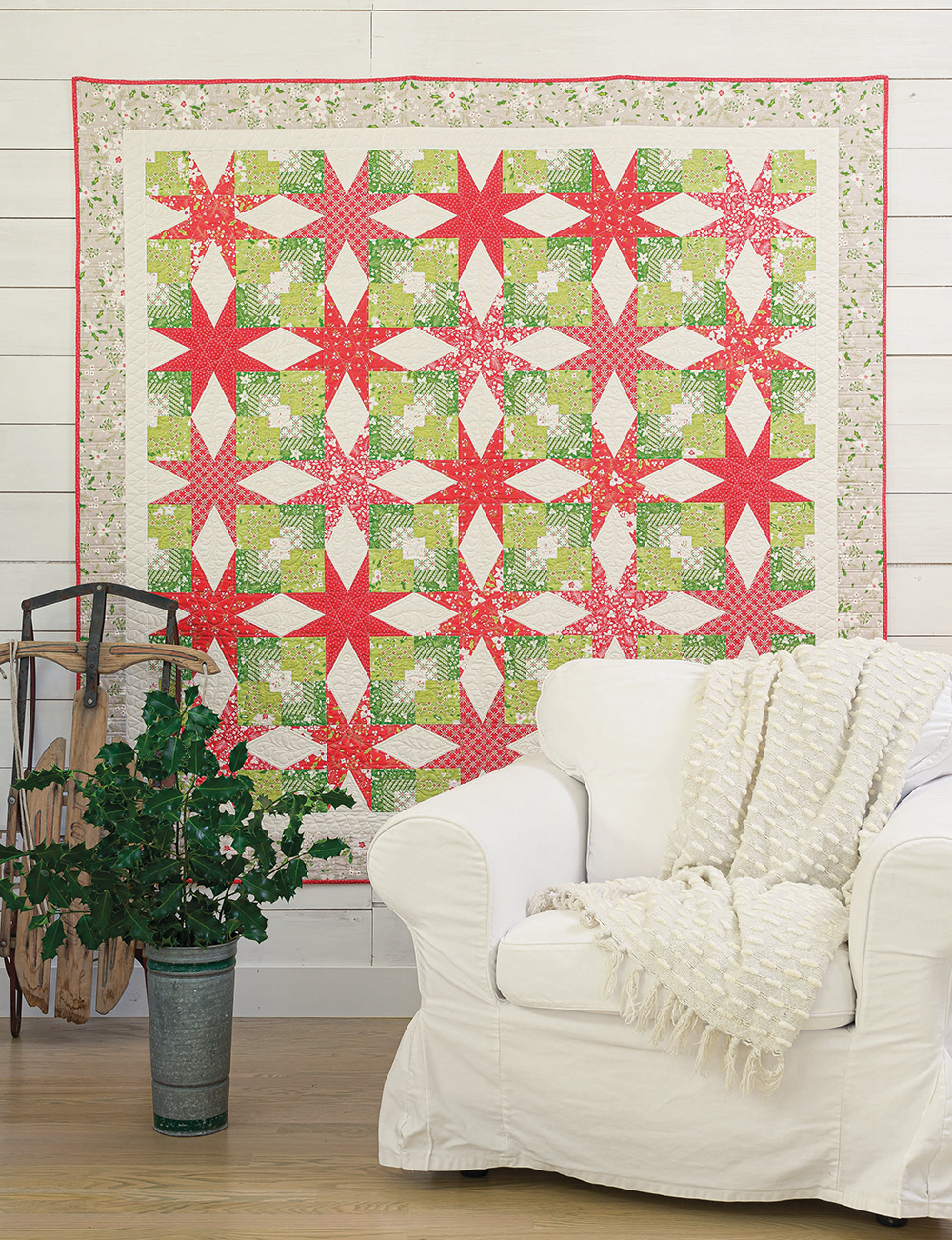 Cut Glass is a design that, frankly, I wasn't sure was going to come to fruition. I started with the basic eight-point star block and decided to play around with those corner units – normally, they're just plain squares; what could I put there instead? I settled on quarter log cabin units, which meant I needed to make the finished block size a little larger.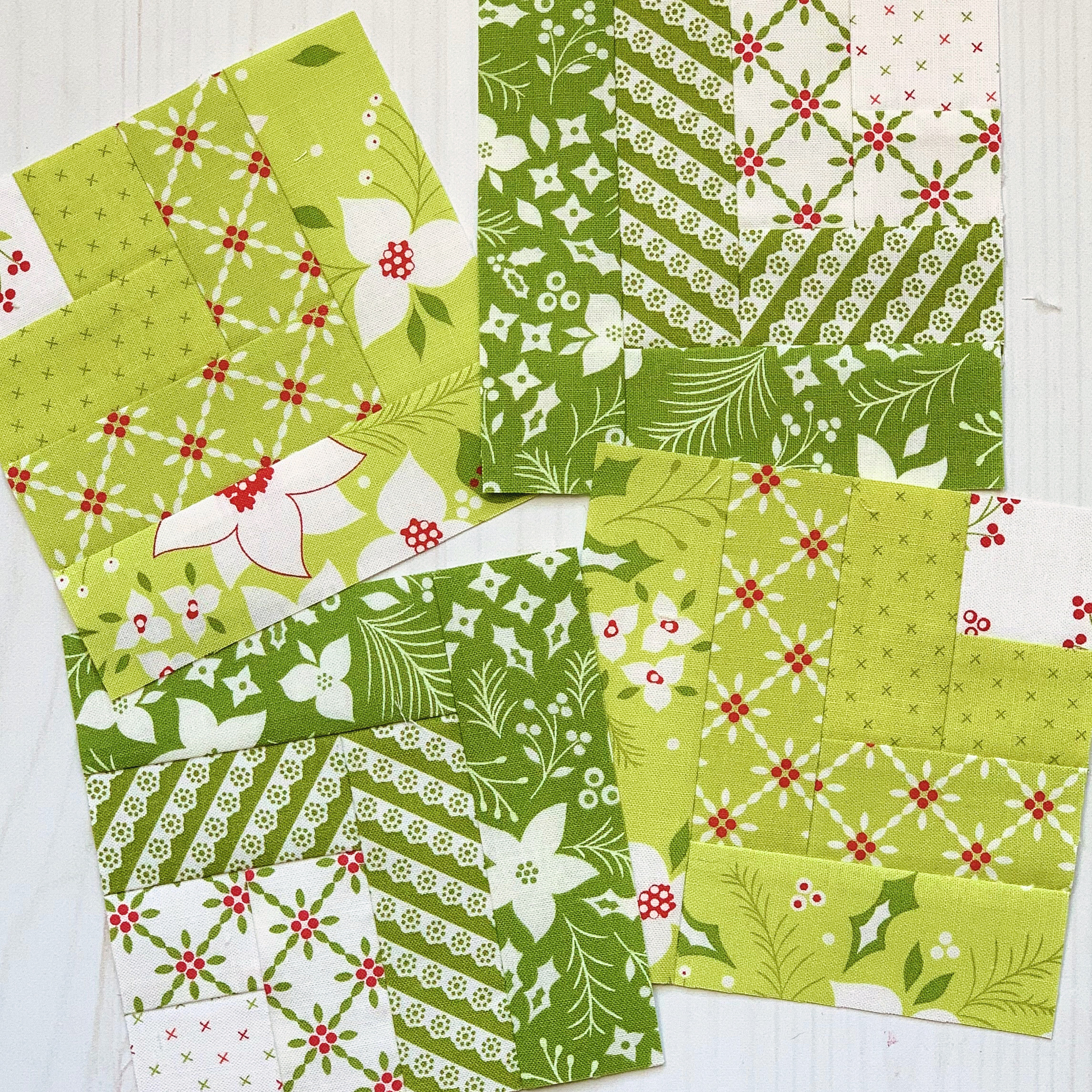 But even with the slightly larger block size, my final overall quilt design required 100 of those quarter log cabin units, and I just wasn't sure anyone would want to do that – I wasn't even sure that *I* wanted to do that! But I made a few test units, and they stitched up more quickly than I expected, so I decided to go for it! It helps that all dark green and light green log cabin units are identical, which makes chain piecing easy and efficient.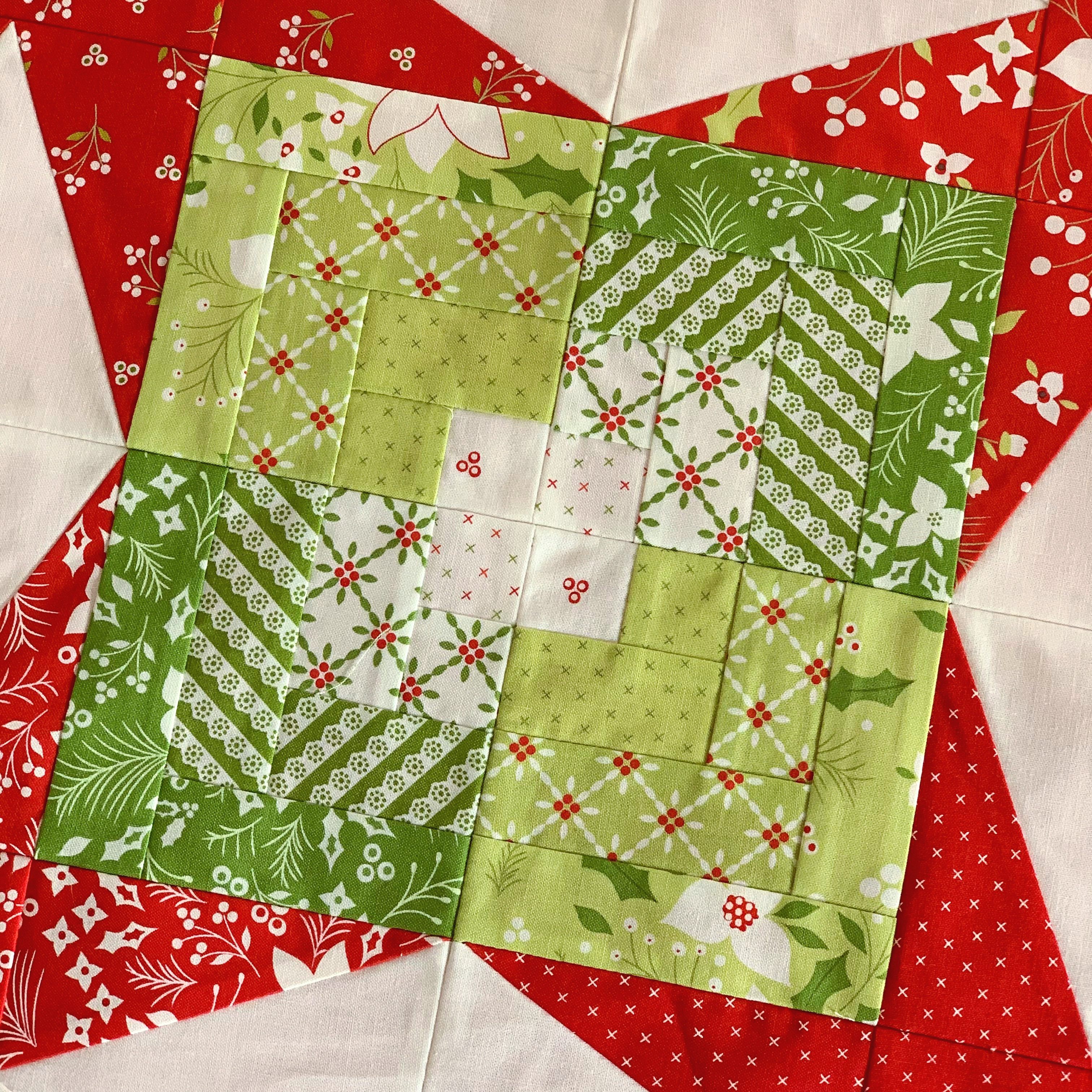 Sometimes – for me, anyway – it's hard to see the "big picture" of a quilt design. I don't always have a good way to step back and see my progress as I'm working on a quilt, and even when I finish a flimsy, just having it laying across my sewing table doesn't allow me to visually take it all in. Seeing Cut Glass just laying on my sewing table was like that – I worried that it was just too bright and busy.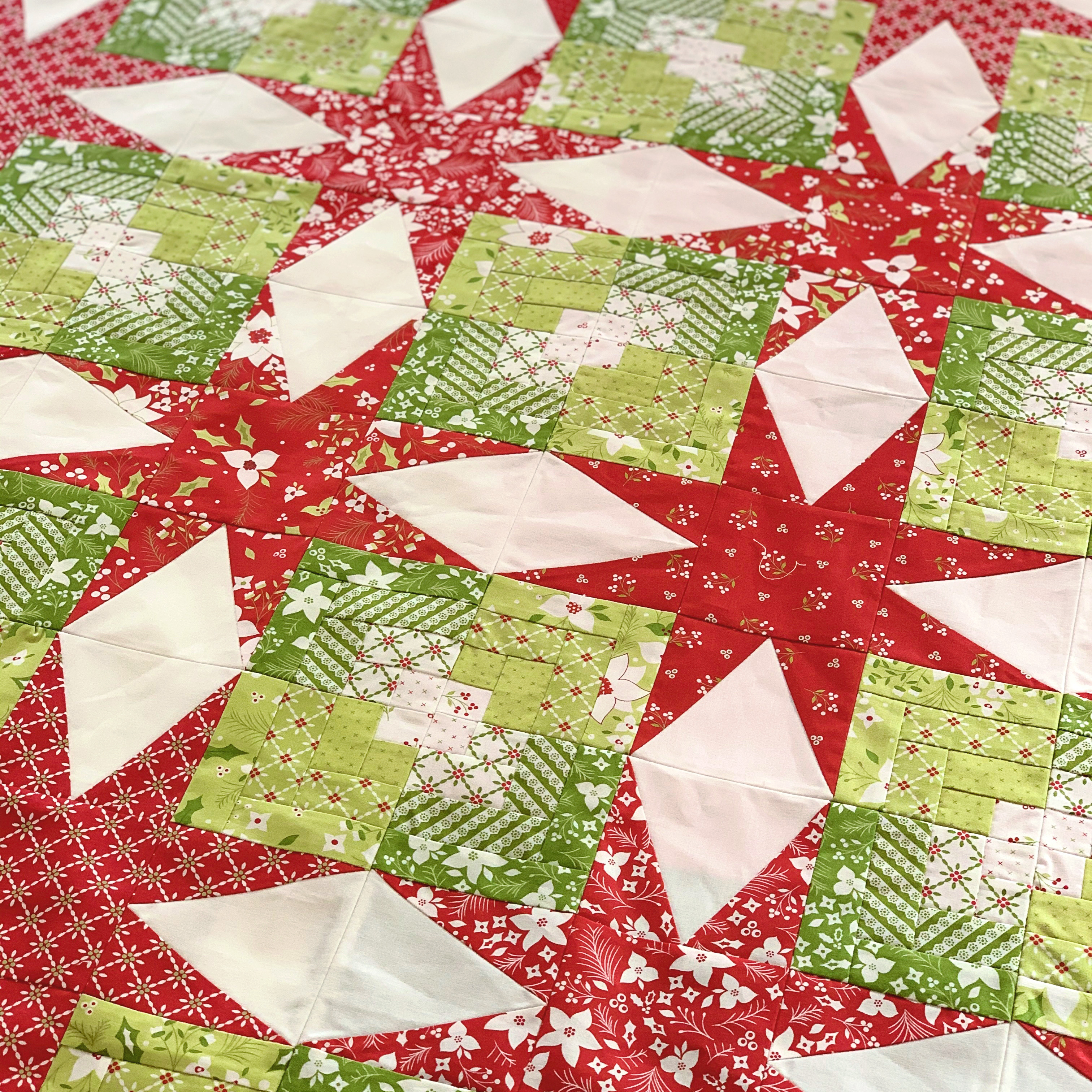 But when I got it back from the quilter and hung it up to snap a picture, that's when I realized how much I loved this design. I could see the secondary pattern of rings formed by the ombre pattern in the log cabin units – it's just so striking!
Out of all the quilts I've made, I've only had two of them custom quilted, and Cut Glass is one of those two! If ever a quilt called for custom quilting, this is it. Maggi Honeyman (@sewmaggi on Instagram) worked her magic on this quilt, and the result is stunning! She quilted beautiful feathers in the diamonds formed by the negative space of the triangle-in-a-square units, which makes those diamonds a lovely feature of the overall design.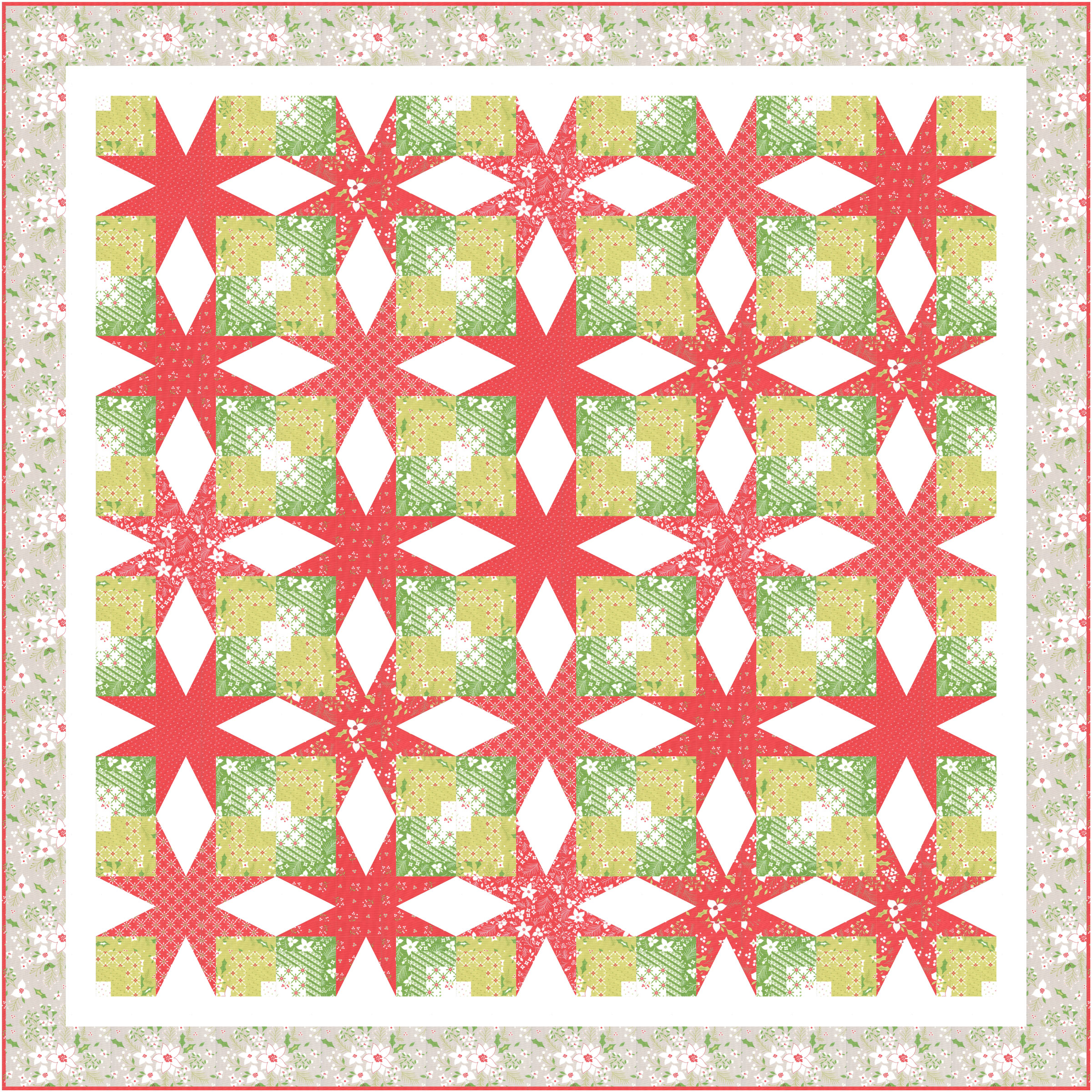 A couple of tips about fabric selection before I share some recolorings: I confess that recoloring this design required a little more effort than my other designs. In the pattern instructions, I call the light green log cabin units the "A" units and the dark green log cabin units the "B" units. To really get that secondary ring pattern to come into focus, I recommend:
Keeping the ombre of the three outer rings for the A units a little tighter/closer together in color value. You can see in the original design that there's not a ton of shading difference in the three outer rings of my light green units – all three of the fabrics are pretty close in color and pattern. They blend together pretty closely. Only the innermost square is a low-volume print.
Having more of a distinction between the fabrics for the inner two rings of the B units versus the outer two rings of the B units. In the original design, you can see that the innermost square is low volume and the second ring skews low volume but has pops of that dark green; whereas the outer two rings are truly dark green prints.
Making sure that the first row of blocks follows the A-B-A-B-A pattern for block placement, and the rows alternate from there.
OK, ready to see some recolored versions of Cut Glass?
First up, I have a sophisticated Halloween/fall version using Edyta Sitar's new Practical Magic collection. I'm totally obsessed with this one!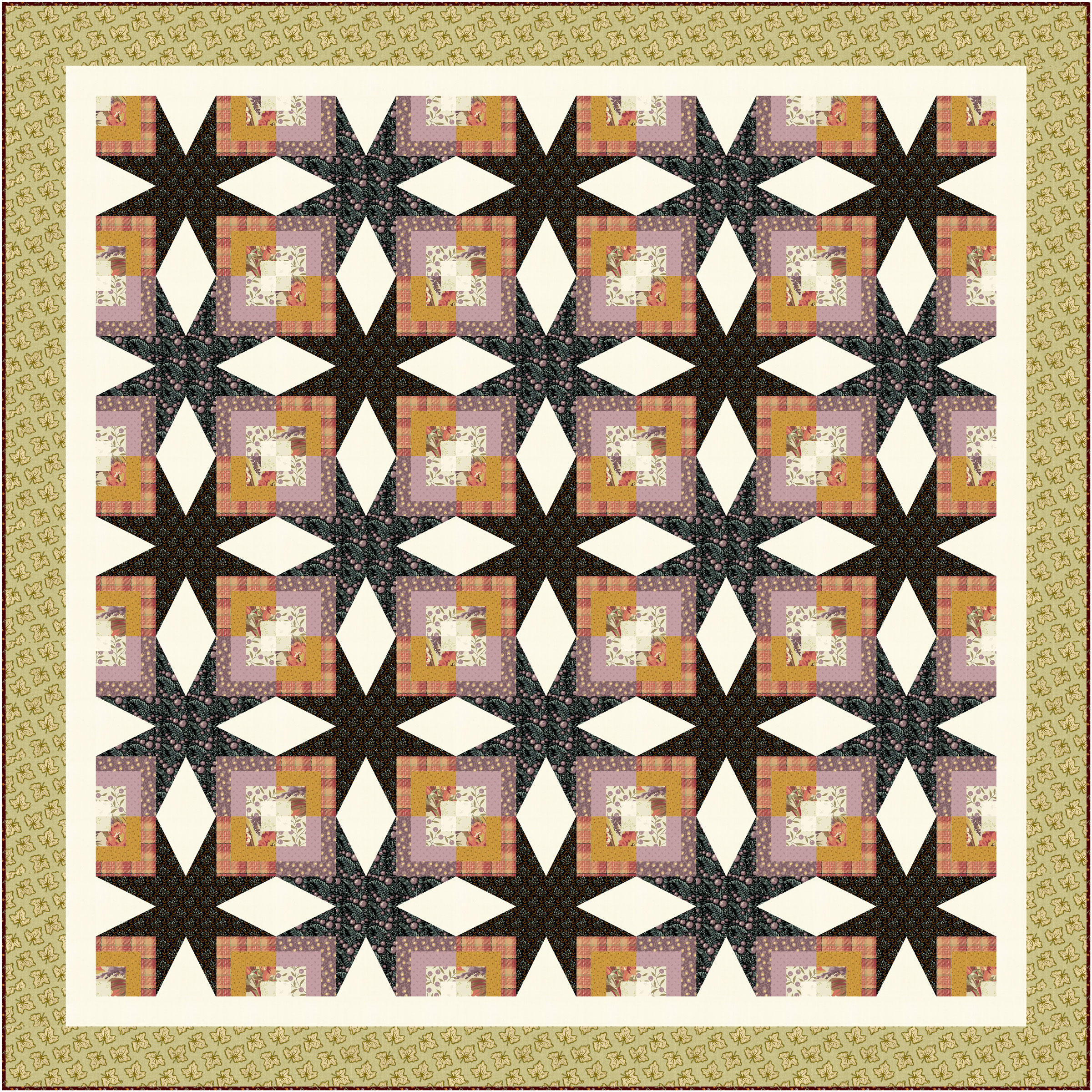 Next is a scrappy version I'm calling "Pink Lemonade," with prints from past, present, and future collections from Lella Boutique, Coriander Quilts, Brenda Riddle, and Sherri & Chelsi. I love how the ombre is a little softer in this one. It seems like it glows!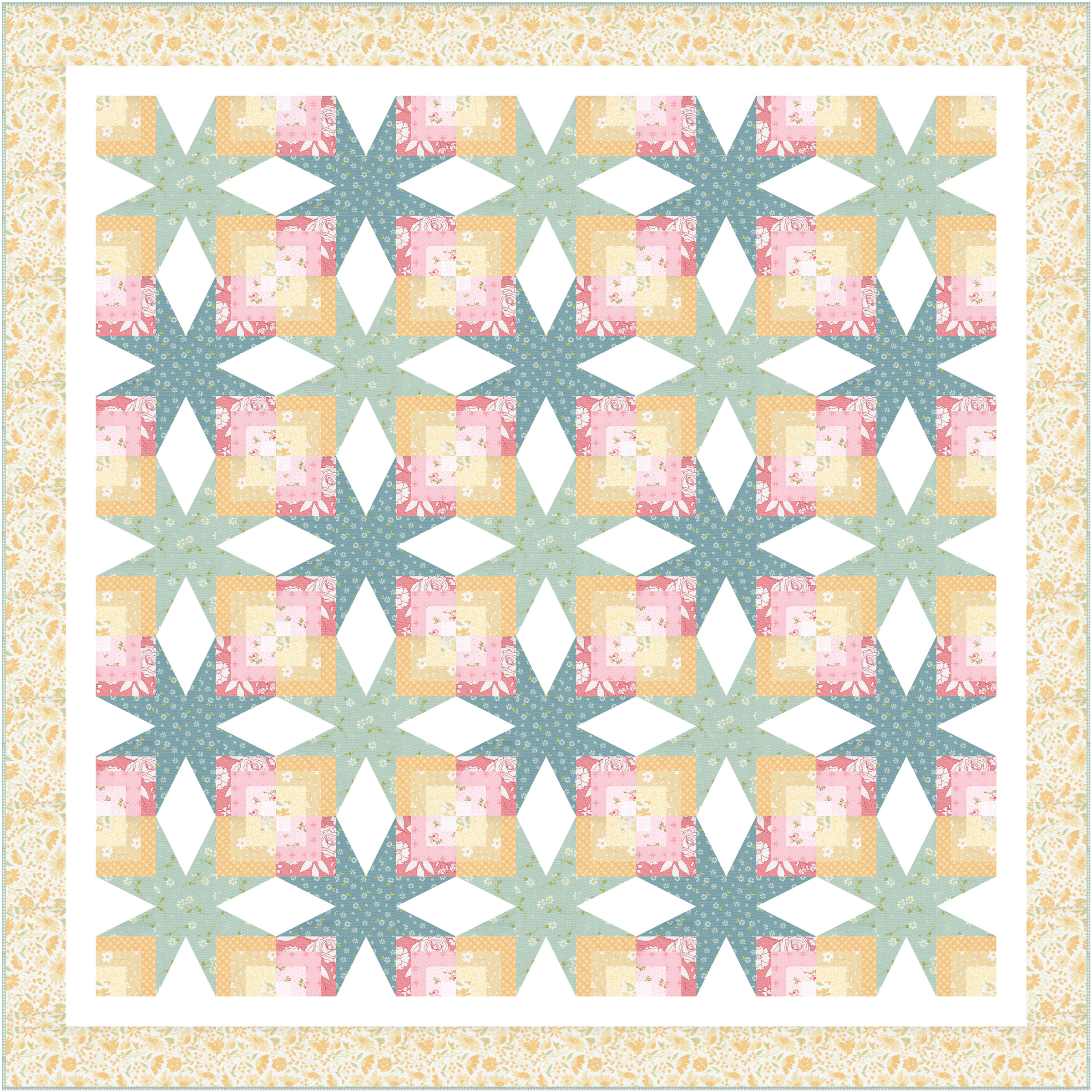 I've got two patriotic versions to share. In the first one, I've used French General's La Vie Boheme. Using solids from the collection for the stars makes more of a lattice pattern, I think, with the stars blending in more than standing out: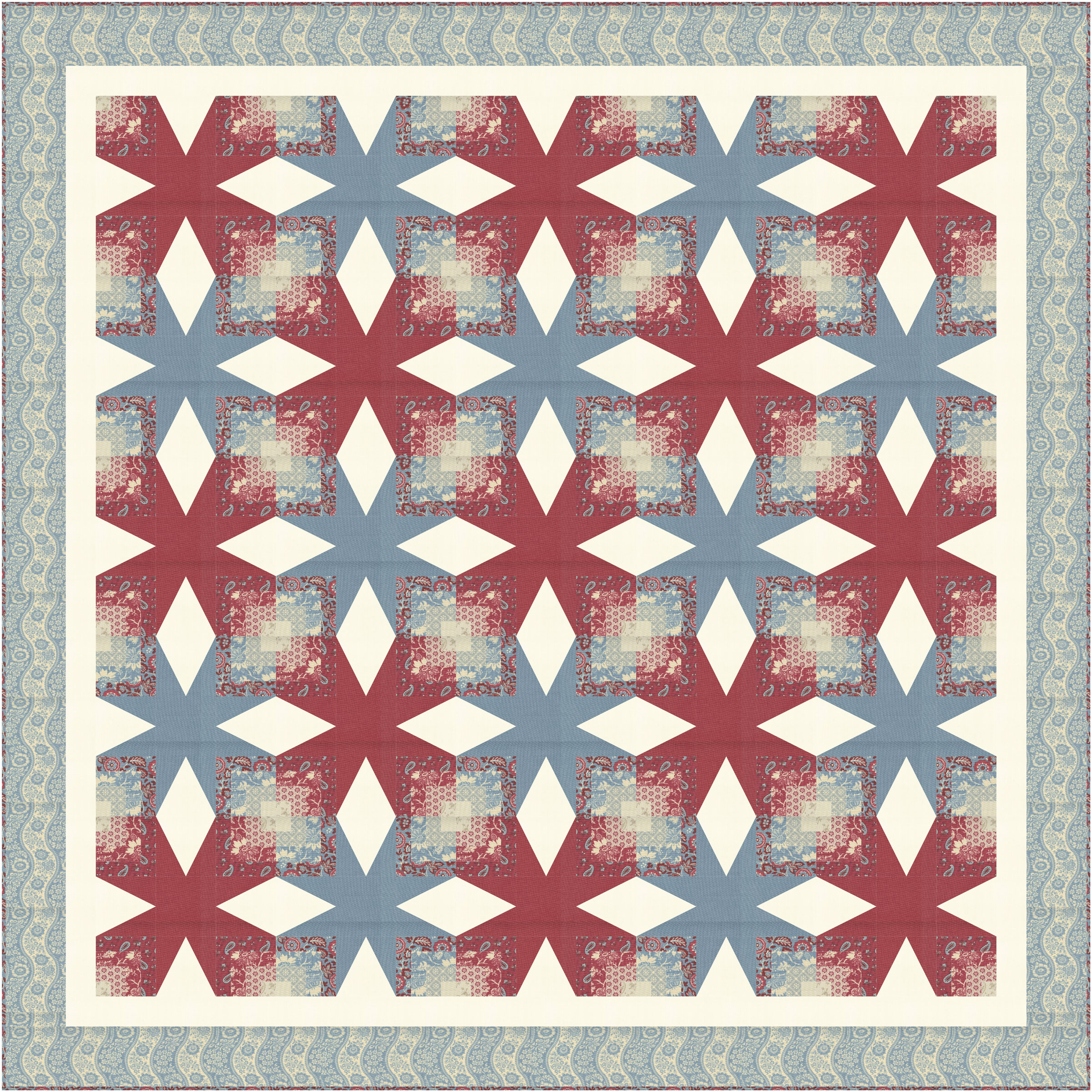 The second patriotic version features Minick & Simpson's Isabella collection. I loved using the pink prints in the log cabin units on this one.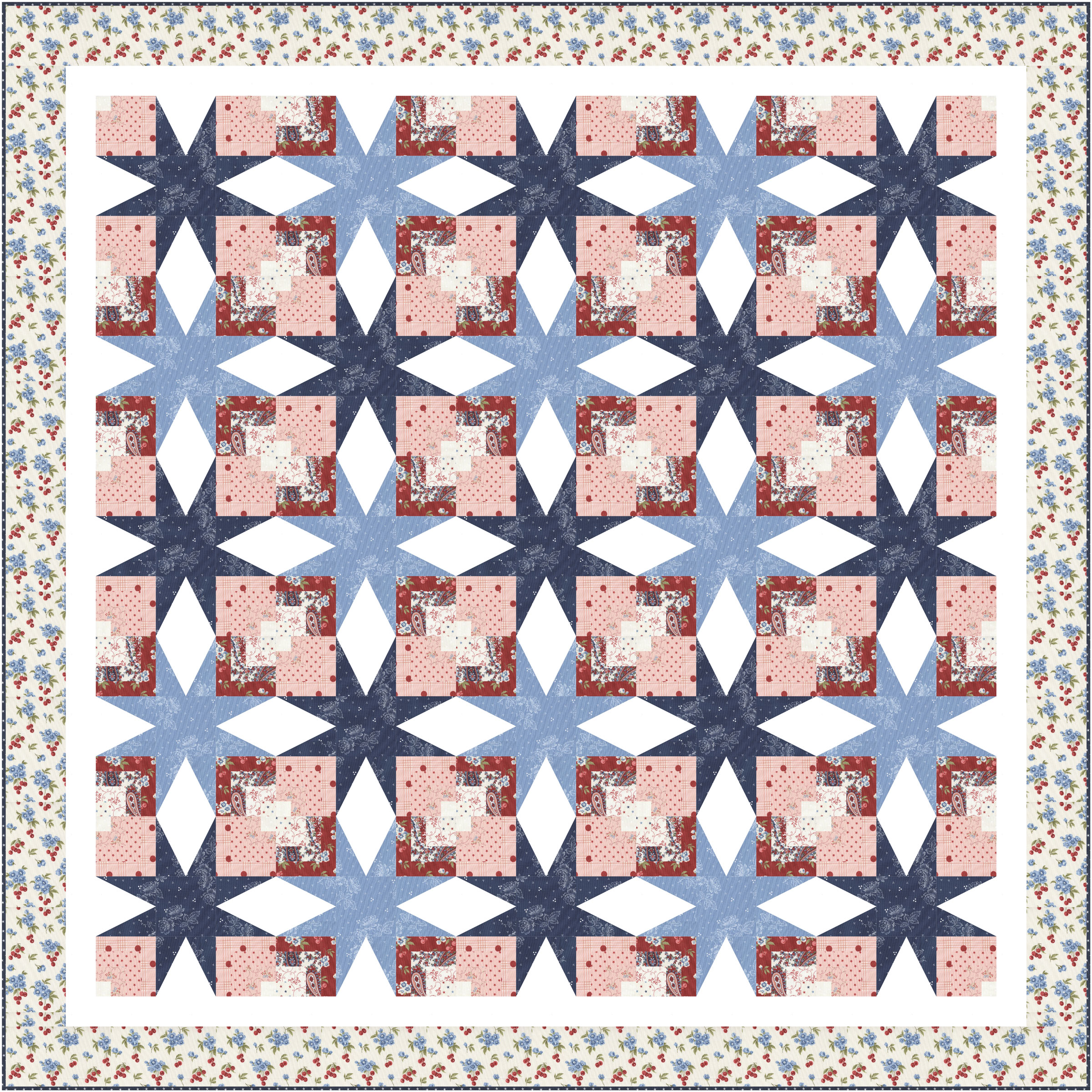 Next up is a bright two-color version using Sheryl Johnson's Vintage Viridians and Antique Ambers collections.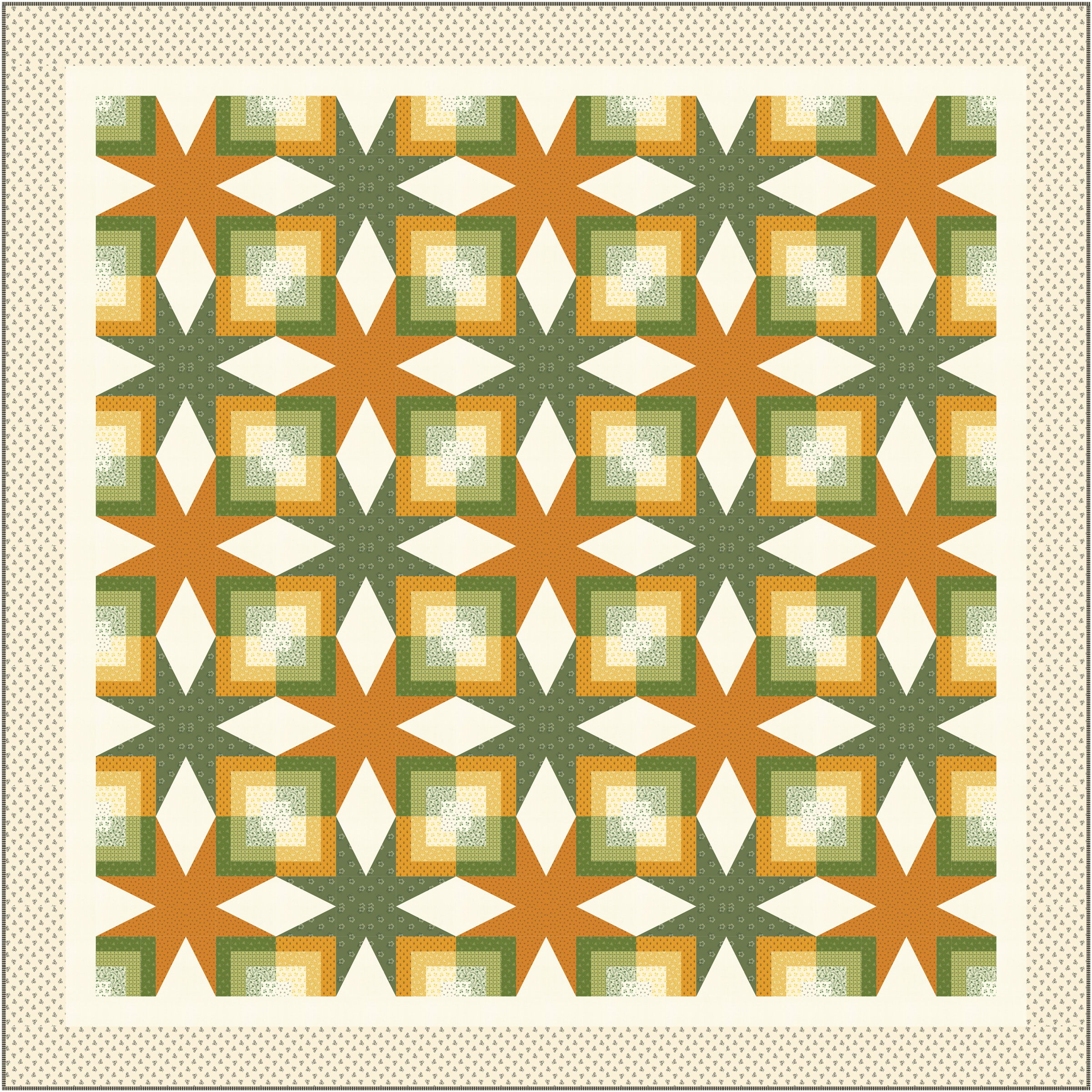 Here's another soft ombre version using Zen Chic's Lazy Afternoon collection.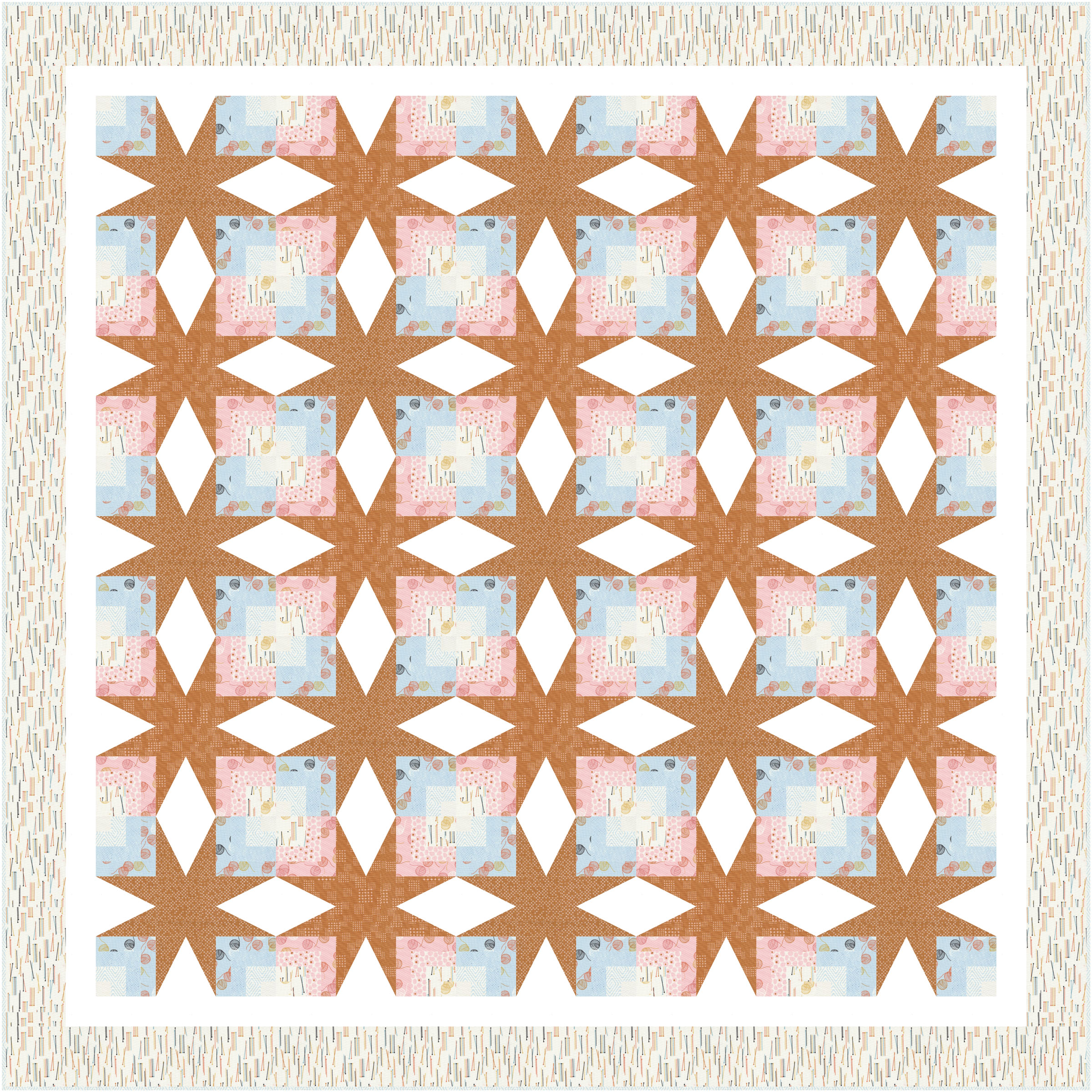 I love the different green and teal colors in Laura Berringer's Fresh Cut collection. The chartreuse stars really pop here!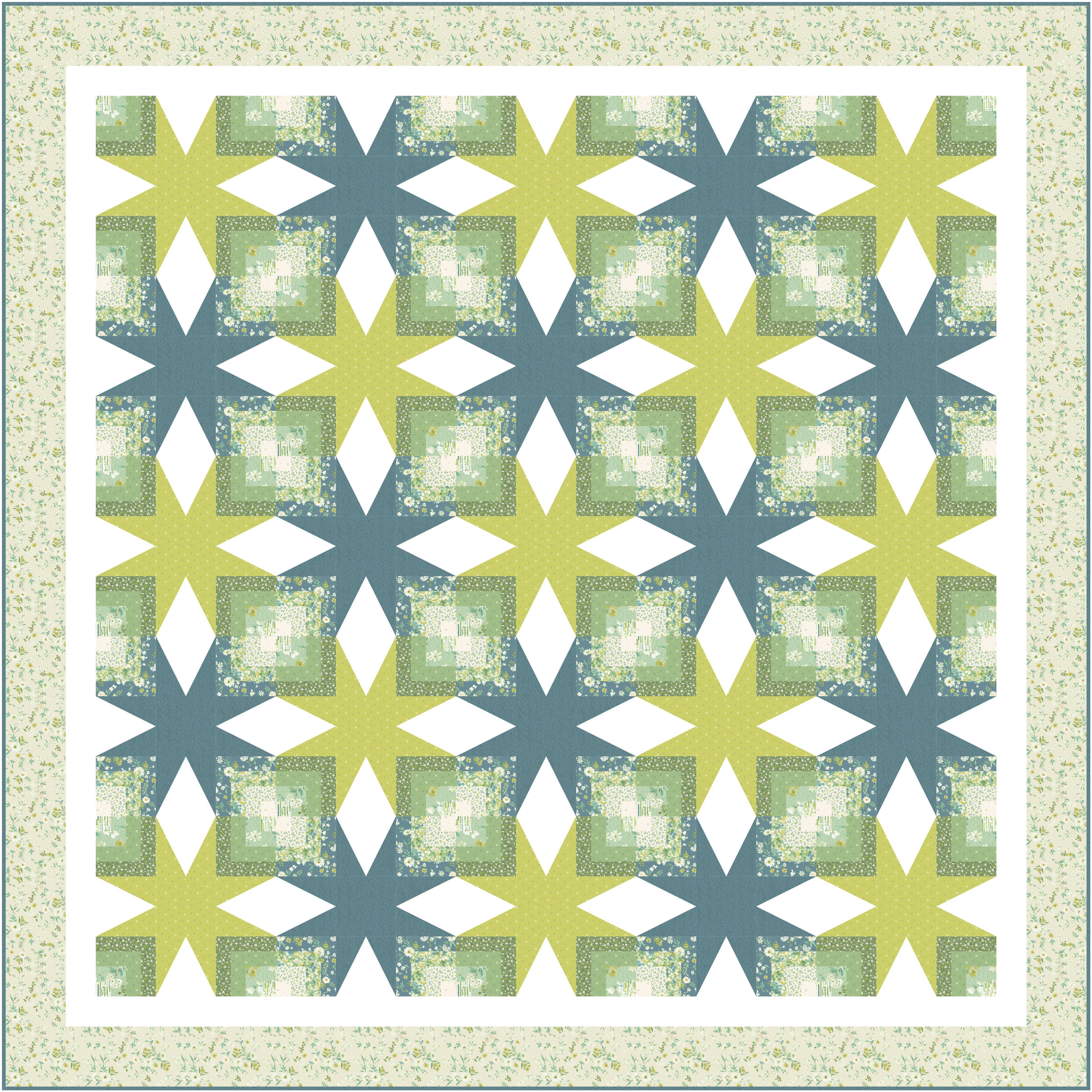 And finally, this one feature Deb Strain's upcoming Happiness Blooms collection. Using one dark print for all of the stars gives it a bold twist, I think!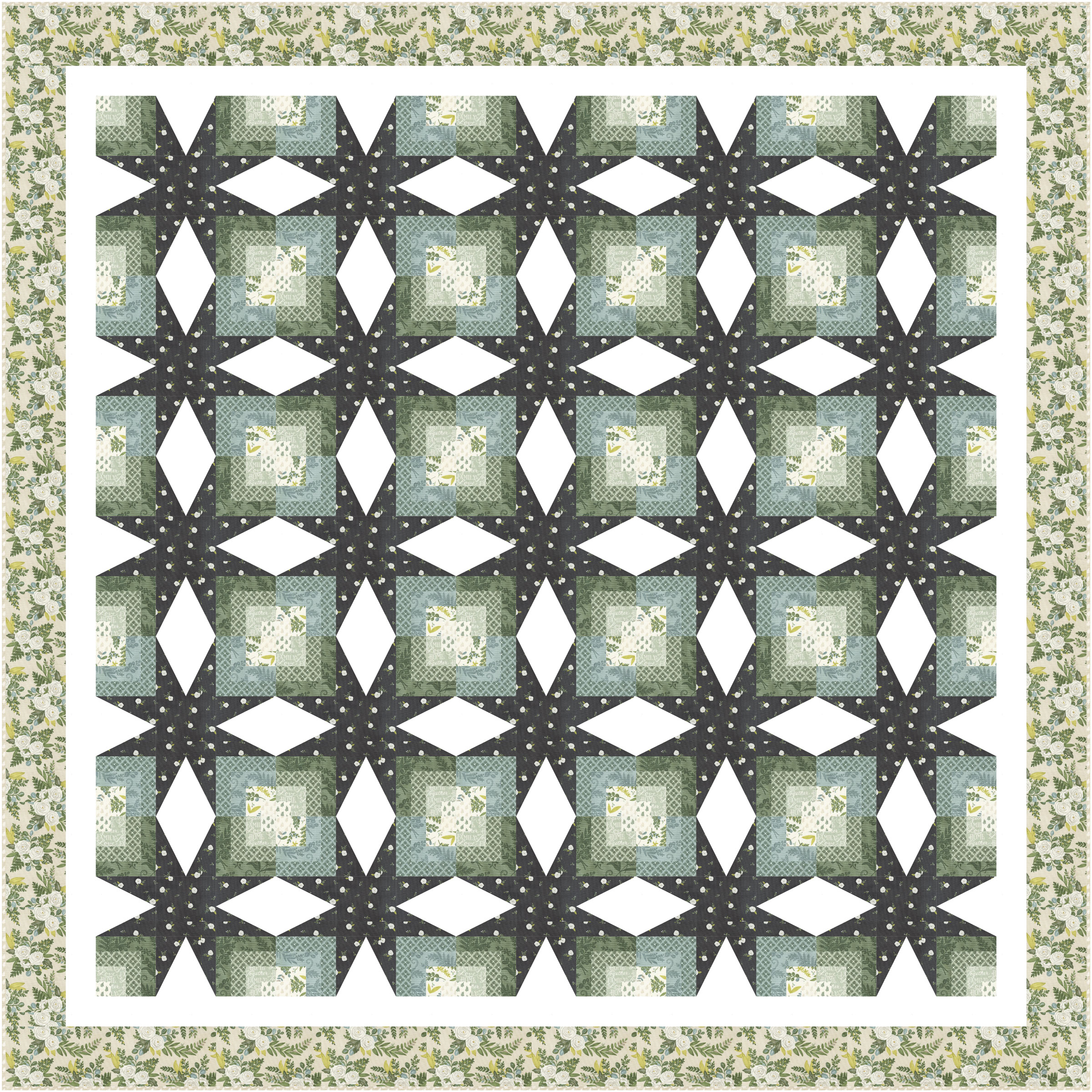 Thank you for stopping by my blog. I hope you've enjoyed reading about Cut Glass today!
If you're as excited as I am about the designs in "You've Got a Point!", please consider ordering a copy! (I was supposed to have this series wrapped up before my book was officially available for purchase, but life has gotten in the way and it's taking me a little longer to get these posts done than I'd like.)
Order a signed copy from my Etsy shop
Stay tuned for the next quilt preview post. I'll be talking about Taffy Pull!