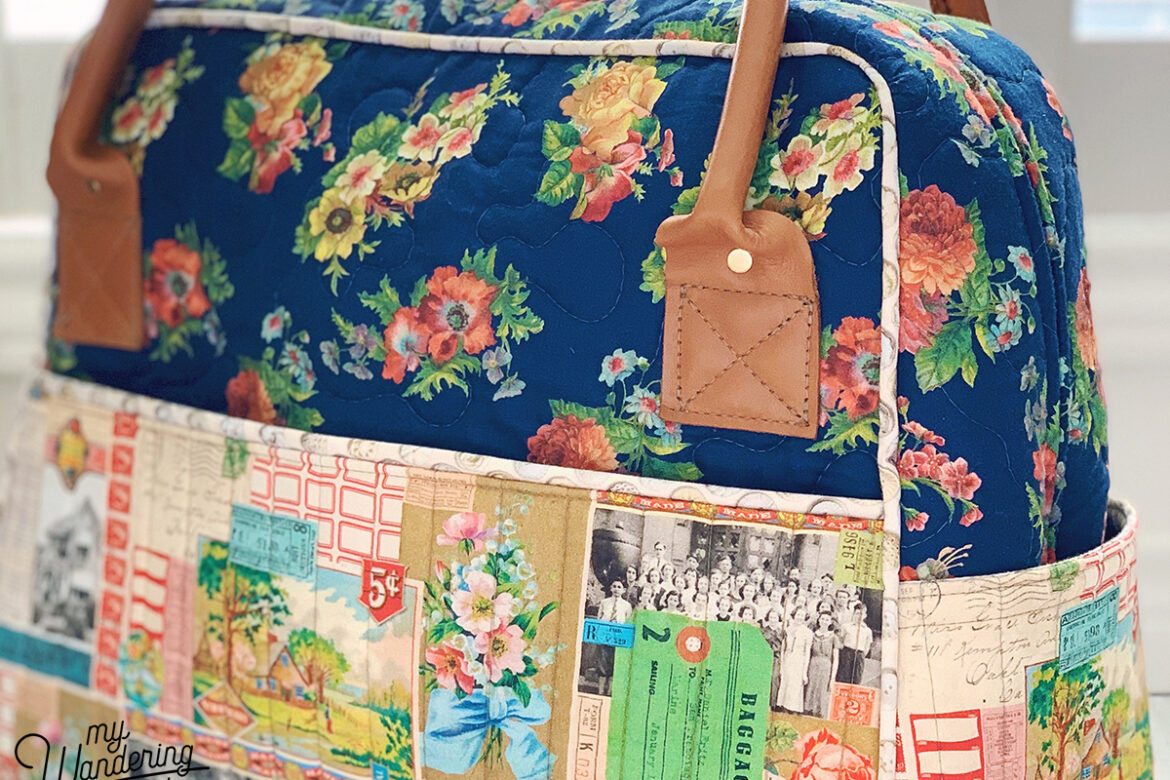 Flea Market Mix Weekender Bag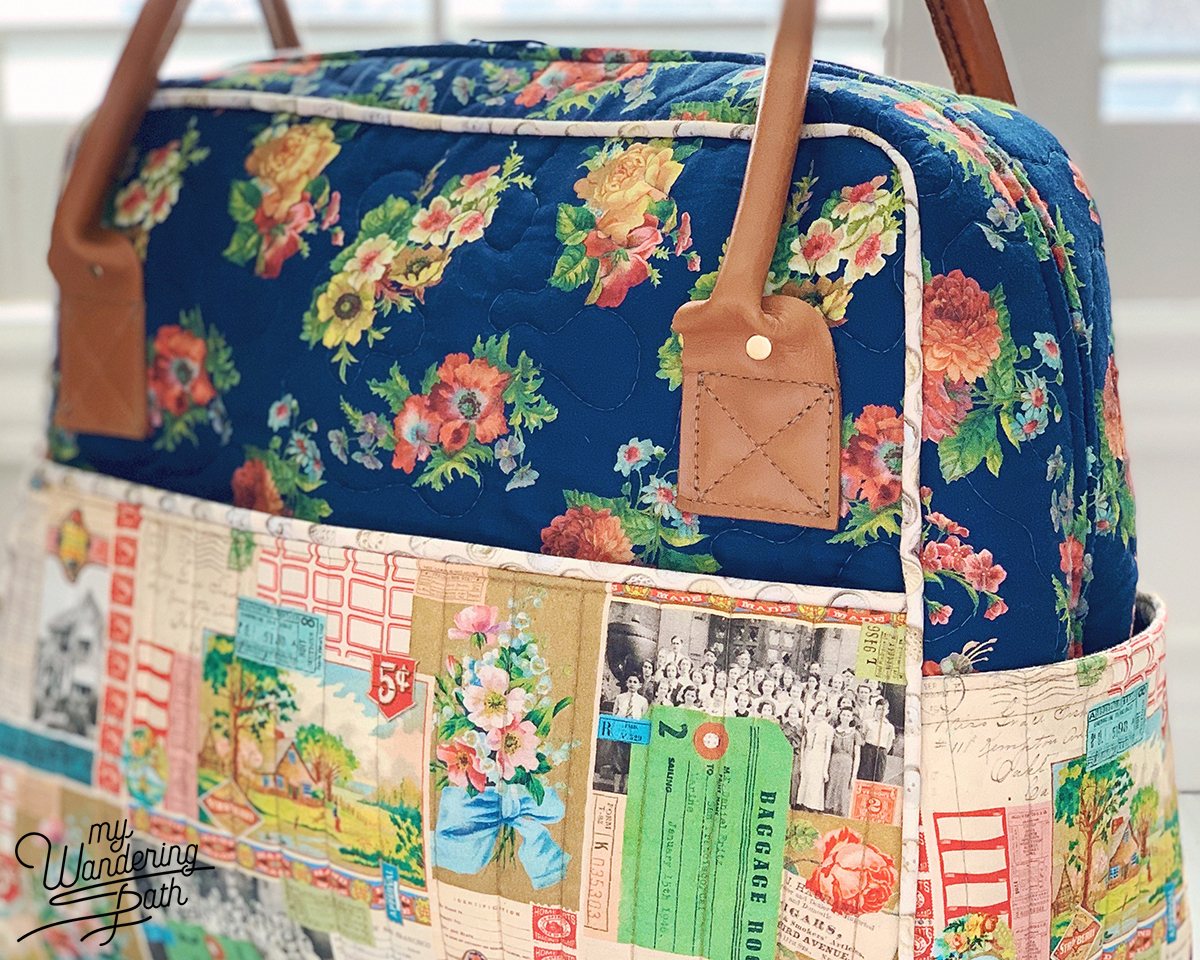 Hi everyone! I'm so excited to finally share my finished Weekender Bag with y'all today! As y'all might have noticed, I really enjoy making bags, and the Weekender Bag has been on my "must make" list for a while. I told my husband that it's kind of a rite-of-passage project for a lot of quilters! I've seen so many Instagram and blog posts documenting the process and frustrations that lots of sewists have had as they've worked on their bags, and that's what initially put me off from starting one. But after making five Ultimate Travel Bags (from byAnnie.com), I started thinking, "How hard can it really be?" and I wanted to compare the two bags.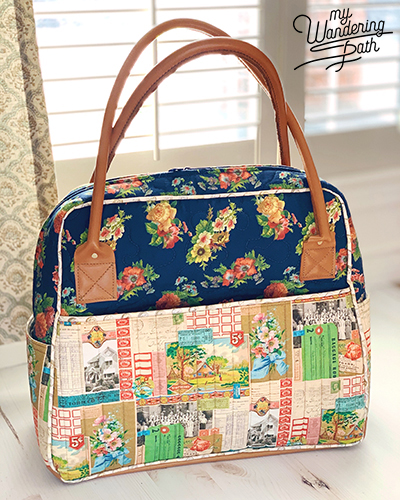 So then I was just waiting for the perfect fabric, and that came along when I saw Cathe Holden's debut collection for Moda Fabrics, Flea Market Mix. I fell in love with Cathe's vintage style and right away, I knew her ephemera collage prints, in particular, would be perfect for bag-making!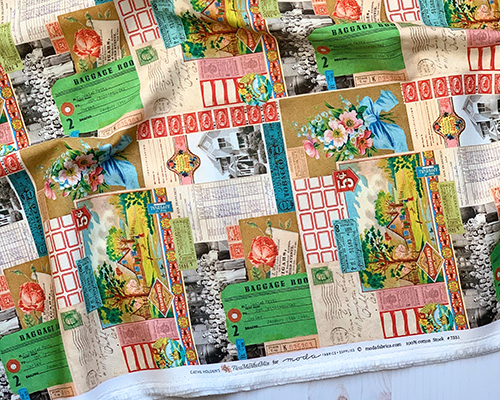 Flea Market Mix is a digitally printed collection, which means the detail and sharpness of the images are incredible! I settled on the ephemera collage print for the outside pockets, the navy floral for the main body of the bag, the white-on-white button print for the piping, and that awesome recipe card collage print for the lining.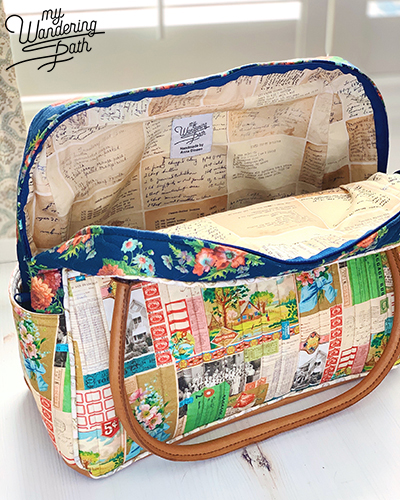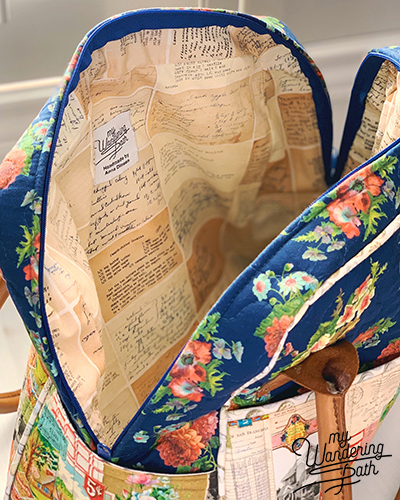 I also decided that I wanted a leather bottom and handles, so my wonderful husband Guy (who makes his own waxed canvas and leather bags at Meandering Maker) got a beautiful side of leather and hand-stitched the rope handles for me himself. I'd read on a couple of blog posts that the length of the handles in the pattern wasn't quite long enough, so I made sure these would allow me to carry the bag over my shoulder.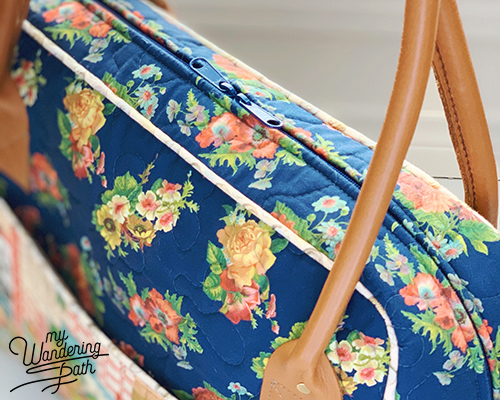 I'd never done piping before, so this was a new skill for me. I am pretty happy with how it turned out…though I wish it stood out a little more. I used the Clover Wrap n' Fuse Piping (the 3/16" size) and while it was definitely quicker and easier to make the piping, I don't think that method gives the piping quite enough definition.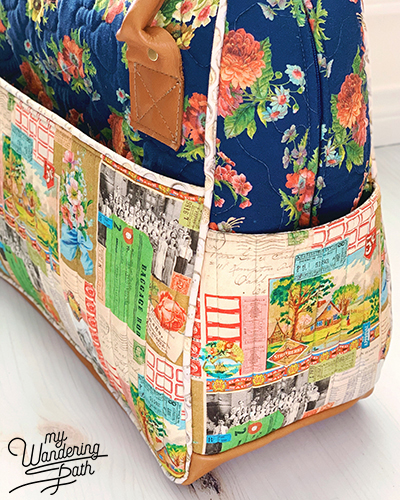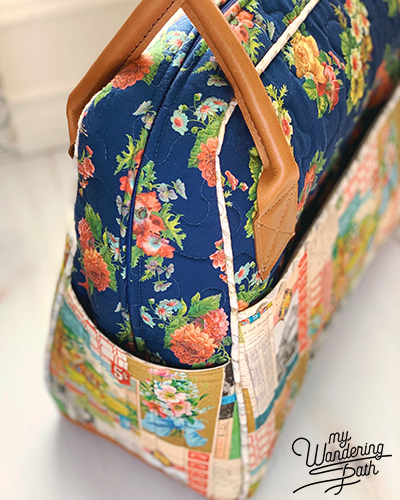 The end result is a beautiful bag, I think! It's got just enough going on to make it interesting without being overwhelming. I promised to let my mom have it, so it's time to pack it up and send it her way!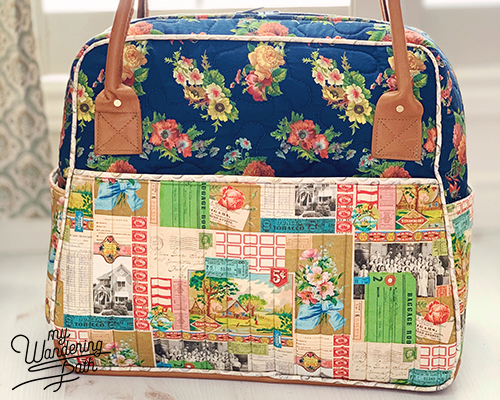 I wanted to give you all a thorough debrief of my experience making the Weekender bag versus the Ultimate Travel Bag, but as I started writing it all down, I realized that I had so much to say about it that it was too long for just one post. So I'll be back soon with my thoughts on the pros and cons of the Weekender and the Ultimate Travel Bag.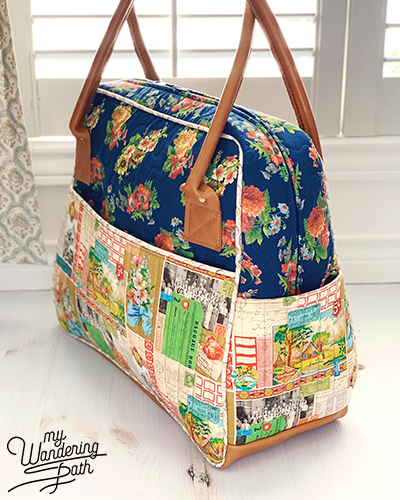 Finally, I just want to thank Cathe so much for the privilege of getting to sew with her amazing debut fabric collection! Cathe is so talented and creative. If you're not already following her on Instagram, please check her out at @catheholden, and look for Flea Market Mix to arrive in quilt shops next month!
Thanks for stopping by my blog today!