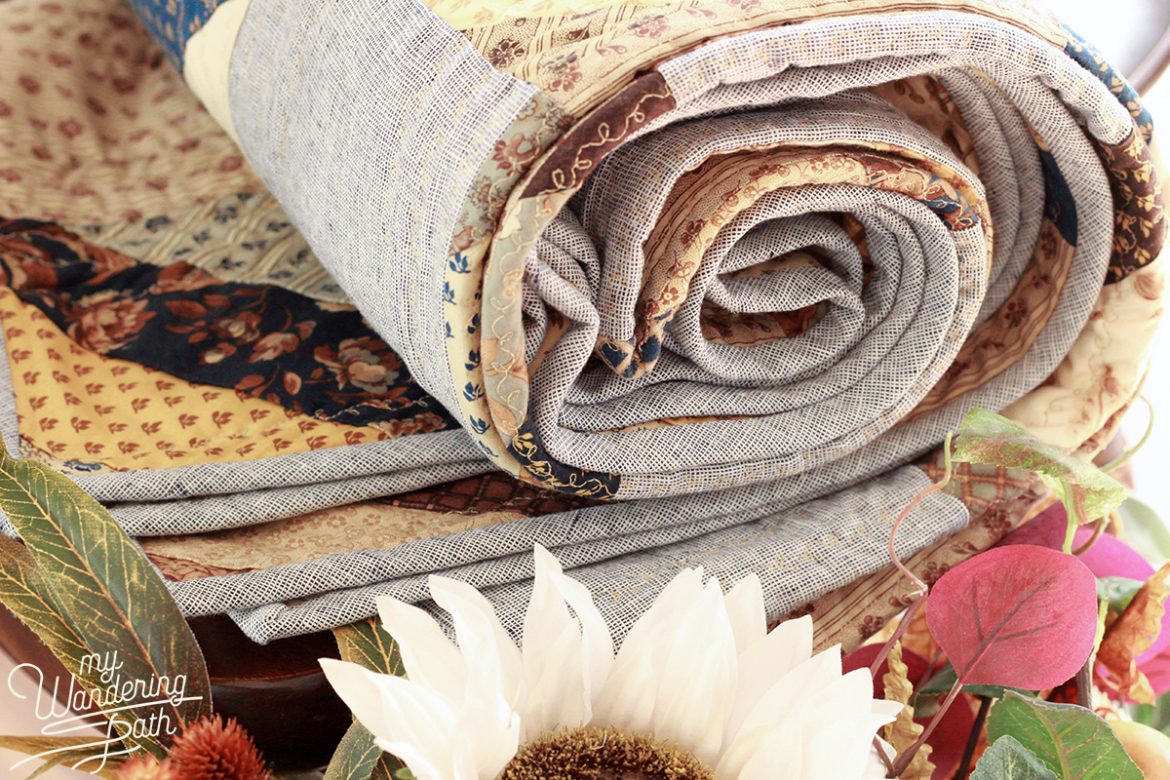 Jelly Roll Check Quilt With Fat Quarter Shop
Happy National Sew a Jelly Roll Day! OK, so it may be a totally made-up holiday, but if it sounds like dessert and features fabric, I'm certainly not complaining!
I'm so excited to be a featured blogger for Fat Quarter Shop's Project Jelly Roll sew-along. Fat Quarter Shop has several awesome (and FREE!) jelly roll patterns available for download; you can find links to those patterns on their blog HERE.
I made my Project Jelly Roll quilt using FQS's Jelly Roll Check pattern and a couple of Eliza's Indigo jelly rolls. I just LOVE how it turned out!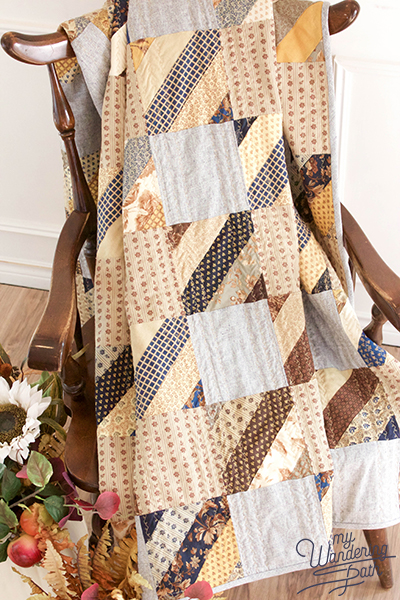 Eliza's Indigo has been on my fabric wishlist for a while now, and I felt like this was a great opportunity to get to use it! The colors are perfect for early fall (even if it doesn't exactly feel like fall yet here in Dallas).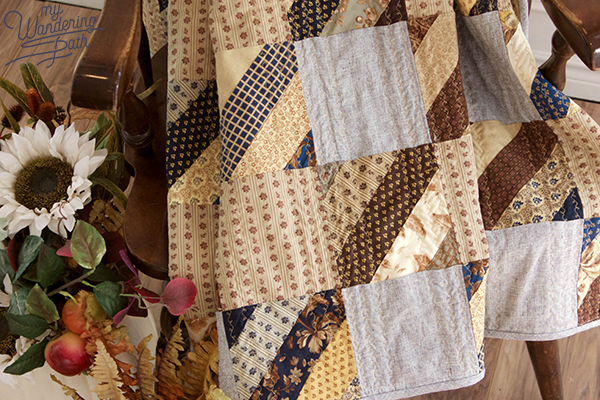 The pattern calls for yardage in a background fabric and an accent fabric. I chose a print from the Eliza's Indigo collection for my background fabric, but I decided to use Essex Yarn Dyed Homespun Linen for the accent fabric. Mostly it was because I'm a little obsessed with Essex Linen fabrics and I try to use it as much as possible. But I also loved the idea of using a solid to balance the busyness of the pattern and fabrics.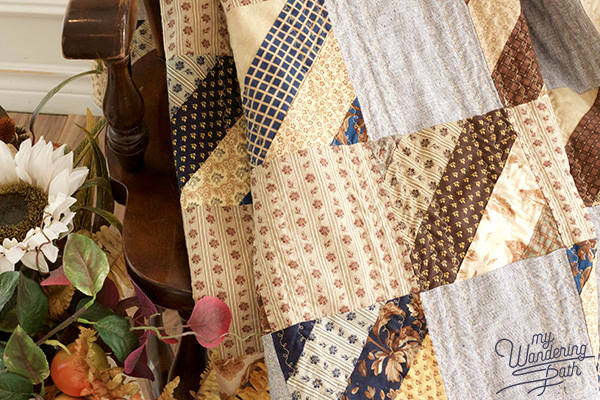 The Homespun Linen adds a nice texture to the quilt top!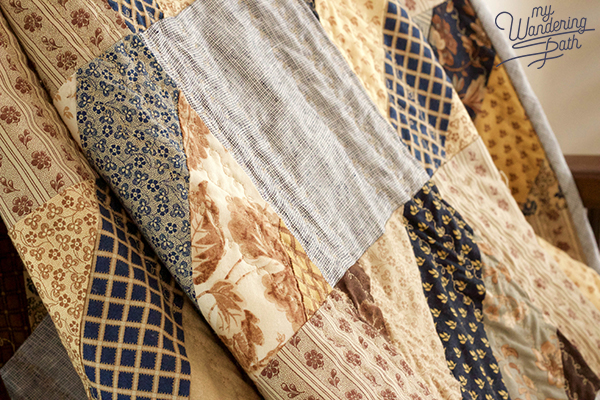 I sew on a '70s-era Kenmore Singer and for the life of me, I can't successfully freemotion quilt on it, so I used a decorative machine stitch for the quilting. The stitch design is like a little vine and echoes the pattern of my background (and quilt back) fabric nicely.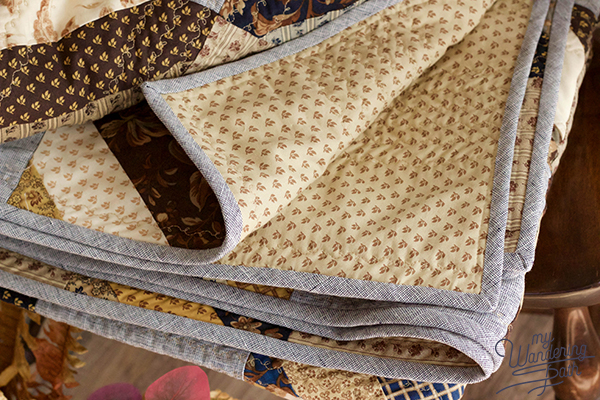 Does anyone else ever machine quilt by using a decorative stitch? I'd love to know if you do!
I used more of the Essex linen for my quilt binding, and I think it's the perfect finishing touch!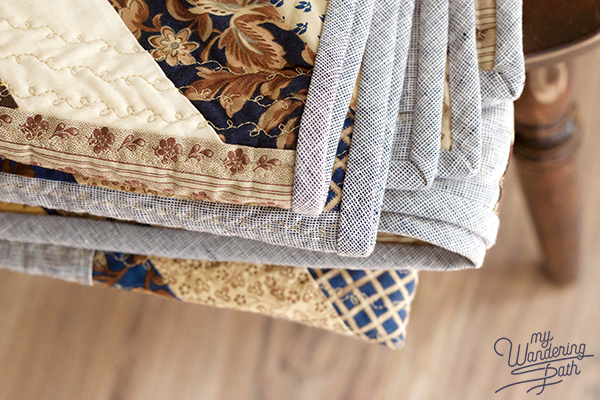 I really loved this pattern. It's simple and straightforward enough, but the design gives the finished quilt a lot of movement. It's perfect, I think, for more masculine fabrics too. The pattern calls for using a Creative Grids square ruler for cutting your blocks, and I definitely recommend that! I'd never used a Creative Grids ruler before, and it was so nice to not worry about my ruler slipping as I was cutting out my blocks.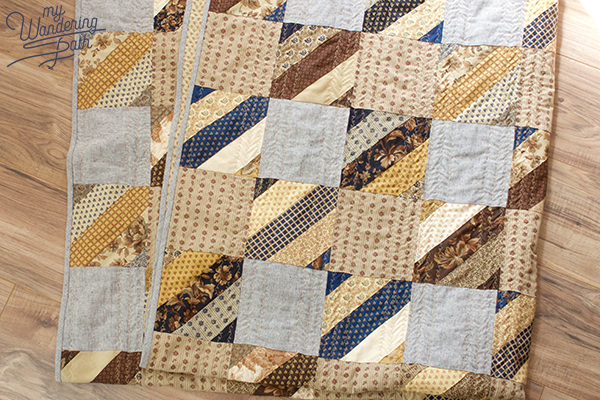 Y'all! This is such an exciting post for me because this is the first quilt that I have made to completion, start to finish, all on my own! I feel like I should be whispering that—I mean, I've been sewing full-time for over a year now, I've started a bajillion projects (I counted!), and I've made several small things (pillows and pouches, mostly). I've pieced two other quilt tops and had one of them quilted by a longarmer, so that's something.
But this is the first quilt that I have pieced, quilted, and bound all by myself, and I'm so happy and proud that I could shout it from the rooftops! I made a quilt!! Now I feel legit. 🙂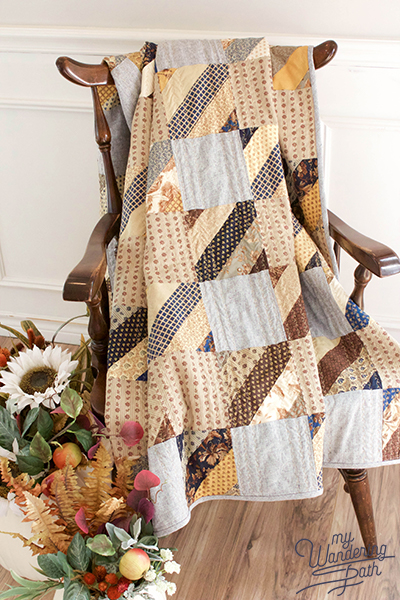 I hope you are inspired to break out a jelly roll and make a quilt yourself! Be sure to check out all the other awesome bloggers who have made quilts using FQS patterns—they're all gorgeous! And thanks again to Fat Quarter Shop for including me in this sew-along!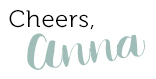 Sources
Jelly rolls: Eliza's Indigo by Betsy Chutchian for Moda Fabrics
Background fabric: Eliza's Indigo, Cocoa Santee River
Accent fabric: Essex Yarn Dyed Homespun Linen in Indigo
Backing fabric: Eliza's Indigo, Cocoa on Café Au Lait Wappoo Creek
Batting: Hobbs Batting, Tuscany Collection Unbleached Cotton
Notions: Creative Grids 6.5" Quilting Square Ruler