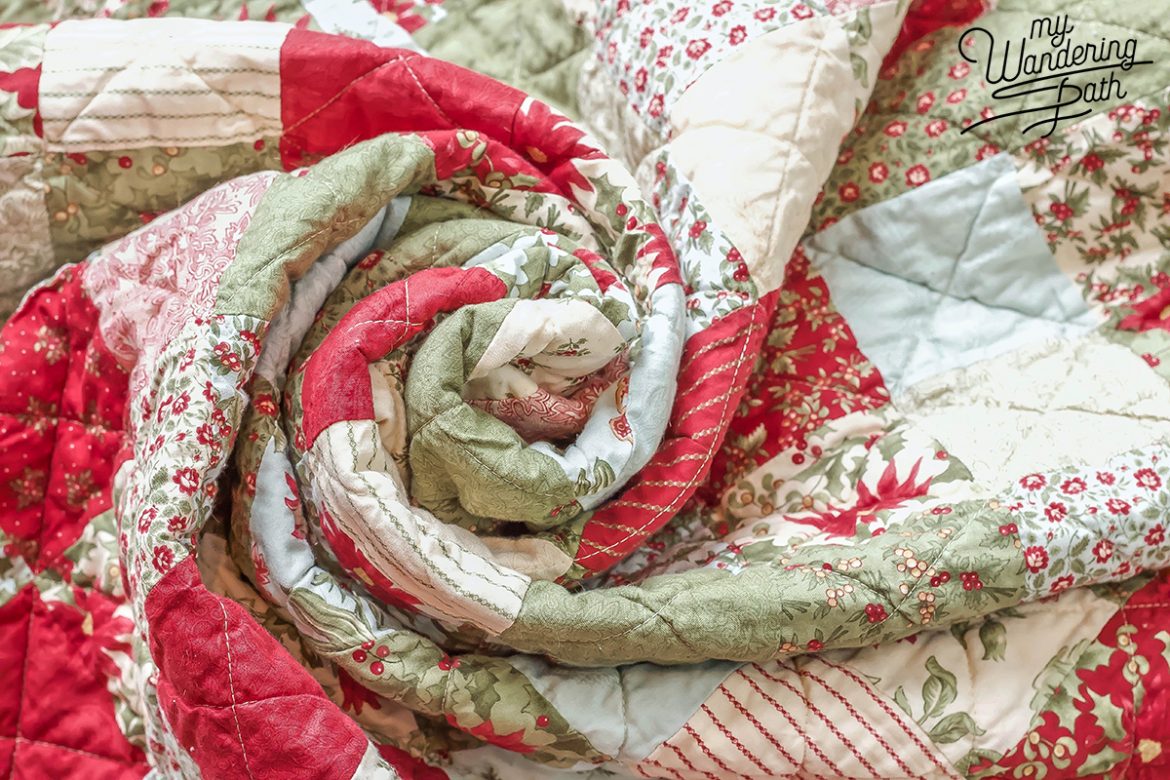 A Tale of Two Christmas Quilts
Merry Christmas, y'all! I am so excited because this year I actually finished TWO Christmas quilts before Christmas Day. That's especially impressive because 1) I've only completed a total of 3 quilts ever, and 2) I started both of these quilts after Thanksgiving. Yay me!
The first quilt I finished was my Figgy Tree Farm Block Swap quilt.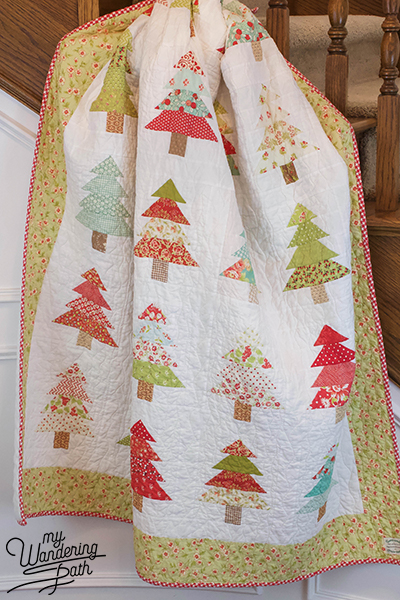 Pattern: Tree Farm by The Pattern Basket
Fabrics for blocks, border, and binding: Assorted Fig Tree & Co.
Background fabric: Moda Bella Solids 97 PFD
Backing fabric: Blizzard Fleece from Joann Fabrics (on sale!)
Batting: Quilter's Dream cotton batting, Select loft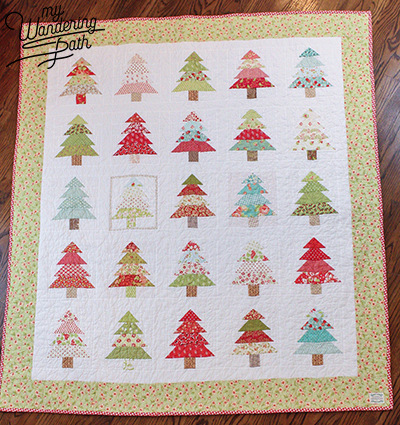 I call this my "crowdsourced" quilt because it is made with blocks that I swapped with fellow Fig Tree loving friends on Instagram. Incidentally, this was also my first time hosting a swap. I think everyone was happy with the blocks they received in the swap and although I was delayed sending everyone's blocks back, otherwise the swap went pretty well (from a hostess's perspective).
These blocks were a little fiddly but it's hard not to love sewing with Fig Tree fabrics. I cracked open 3 different Fig Tree & Co. jelly rolls (Chestnut Street, Coney Island, and Hazel & Plum) to make my blocks for the swap. Technically, we were only swapping 12 blocks, but the pattern calls for 25 blocks to make the quilt. So I went ahead and made 25 blocks total and picked 12 to swap. And let me tell you, I am SO happy I went ahead and made the extra blocks all at once. I definitely wouldn't have had the moxie to make additional blocks after the swap, so it was great to have all my blocks ready to go once the swap was over.
I tried a new-to-me batting for this quilt: Quilter's Dream cotton batting in the "select" loft. I absolutely love it! I don't think that it's actually thicker than the Hobbs Tuscany batting I used on my Jelly Roll Check quilt, but to me it feels thicker.
I opted for a fleece backing because I wanted a really warm, cozy quilt. And fortunately for me, I was ready to buy my backing fabric right when Joann's was having a super-duper sale on their fleece fabrics so I got it for a steal.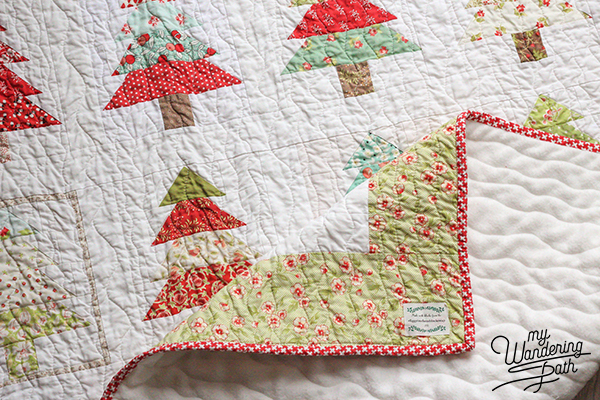 But with the seemingly thicker batting and a definitely thick fleece backing, quilting this baby on my throwback Singer was NOT easy. I don't have a walking foot for my machine (I've tried a universal walking foot and it just doesn't work) and free motion quilting is out (I can't find a universal darning foot either). At first, I tried straight line stitching but it looked terrible. So I practiced on some scraps and figured out how to do a wavy line stitch.
It was still tricky and I nearly cried from frustration and disappointment about halfway through the quilting process. I was just convinced that I was ruining my beautiful quilt top with my crappy machine quilting. It looked OK-ish when I finished the quilting, but since the backing is polyester fleece, I just didn't know if it would crinkle nicely after washing. I finished stitching the binding late one evening, immediately tossed it in the washing machine with a couple of color catchers, and stayed up way past my bedtime just to be able to pull it out of the dryer to see the finished product.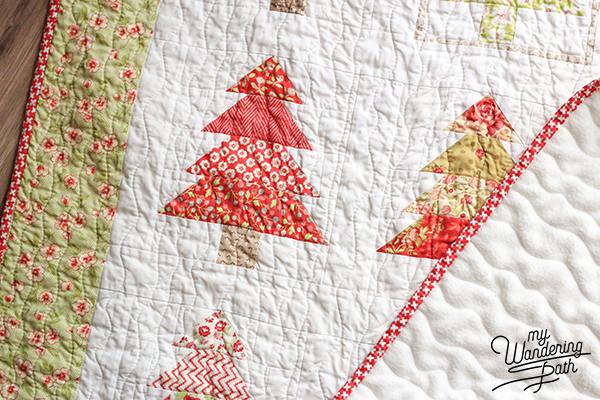 I was thrilled to see that my quilt still crinkled up beautifully. Look at all that yummy texture! I'm in love. Now I know to trust the process a little more, and even if the quilting doesn't look spectacular at first, it will usually turn out well in the end.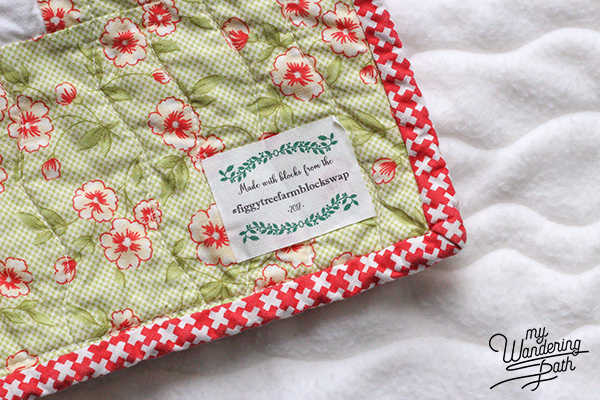 I got these cute iron-on quilt labels from Border City Quilts as swap gifts for the ladies in my Figgy Tree Farm Block Swap. I know that labels are supposed to go on the back, but I didn't think it would bond well to fleece, and I kind of liked the idea of having it on the front anyway. (Now I just need to get some personal labels for my quilts!)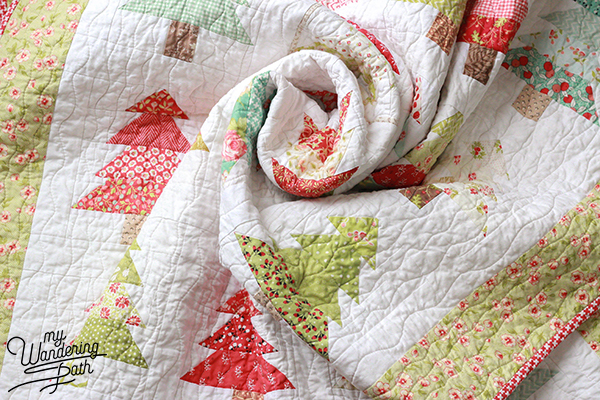 Next up is my Under the Mistletoe patchwork quilt.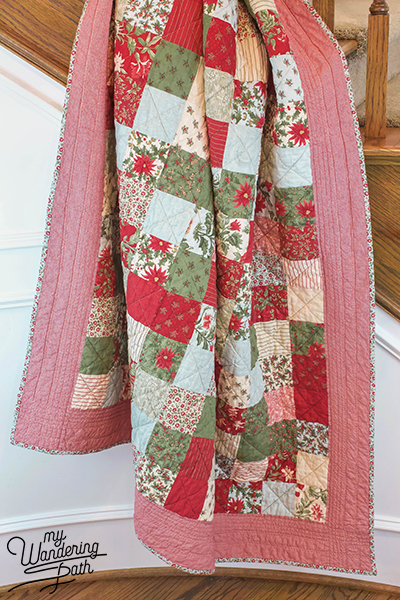 Pattern: No pattern; just basic patchwork using 4″ squares
Fabrics for blocks: Under the Mistletoe by 3 Sisters
Fabric for border: Etchings Woven by 3 Sisters
Backing fabric: Blizzard Fleece from Joann Fabrics (on sale!)
Batting: Quilter's Dream cotton batting, Select loft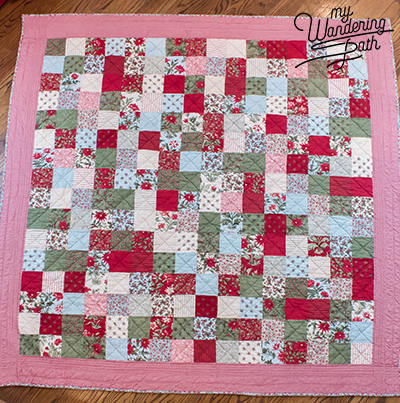 When I saw Holly (@makervalley on Instagram) post her patchwork Swell Christmas quilt, I knew I had to make one just like it…when Swell Christmas comes out next year. But I really wanted another Christmas quilt and I loved the look of that simple patchwork. So off to Etsy I went to snatch up a fat eighth bundle of Under the Mistletoe fabric that I'd been eyeing. It had hardly landed on my doorstep before I had it opened and starched and cut up into 4" squares.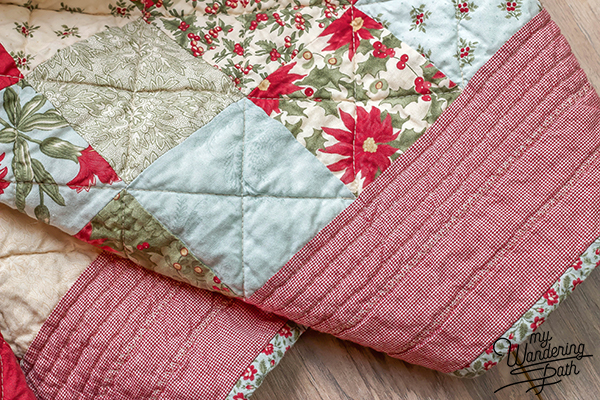 Y'all, this fabric is SO gorgeous. I admit that I have a soft spot for out-of-print fabrics, but my love for this collection goes beyond its hard-to-find status.
Speaking of OOP/HTF fabrics, my constant online searching and shopping yielded the perfect border fabric for this quilt. I love mixing different substrates together in my projects and was hoping to find a woven fabric for the border. I stumbled across a red houndstooth woven from Etchings, another old 3 Sisters collection, and knew that it was the one!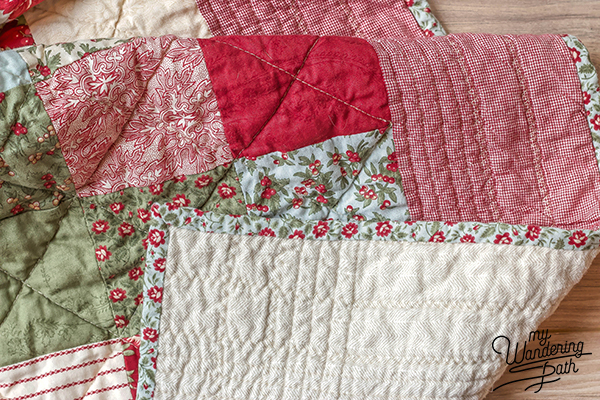 It's silky and gorgeous and WOW, did it prove difficult for me to quilt properly! My border puckered like crazy, y'all. I mean, at the corners especially, it looked like I was trying to smock that fabric! I got about 6 rows of straight line quilting done along the inner edge of that border and kind of lost the will to go on. I was trying to trust the process but I thought even this would be too bad to be disguised by the post-wash crinkle. I tried a zig-zag stitch and that didn't seem to help. So I did one more line of zig-zag stitching and called it a day. I was just ready to be done with it all. And I thought, well, it may look pretty janky, but that will add to the homemade charm.
But the quilting gods looked on me with favor, I guess, and I'm happy to say that the puckering and pintucking is fairly well hidden by the yummy crinkles.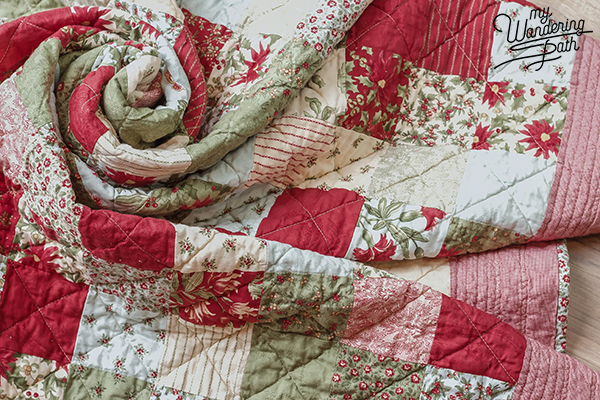 Quilt crinkles for the win!
And my husband was like, Oh, I really like the pattern of stitching that you did on the border! I had to confess that it was less about style and more about oh-my-gosh-I-am-so-done-quilting-I-give-up. But I'll take the credit for any style points he wants to give me.
This one is backed in a quilter's flannel I also picked up on super-sale from Joann's. The quilter's flannel seemed softer than any of the other flannels they had in the actual flannel section, so that's why I went with it. Plus, the color and pattern actually looked really pretty with the top. It's a subtle cream herringbone. After a wash, it turned out nice and soft.
Whew, if you made it through that marathon overview, God bless you. I'm sure I'll write less about my quilts as I start to finish more of them, but right now, finishing a quilt is a pretty momentous event for me—and finishing TWO right before Christmas is fairly miraculous.
Thanks for stopping by!