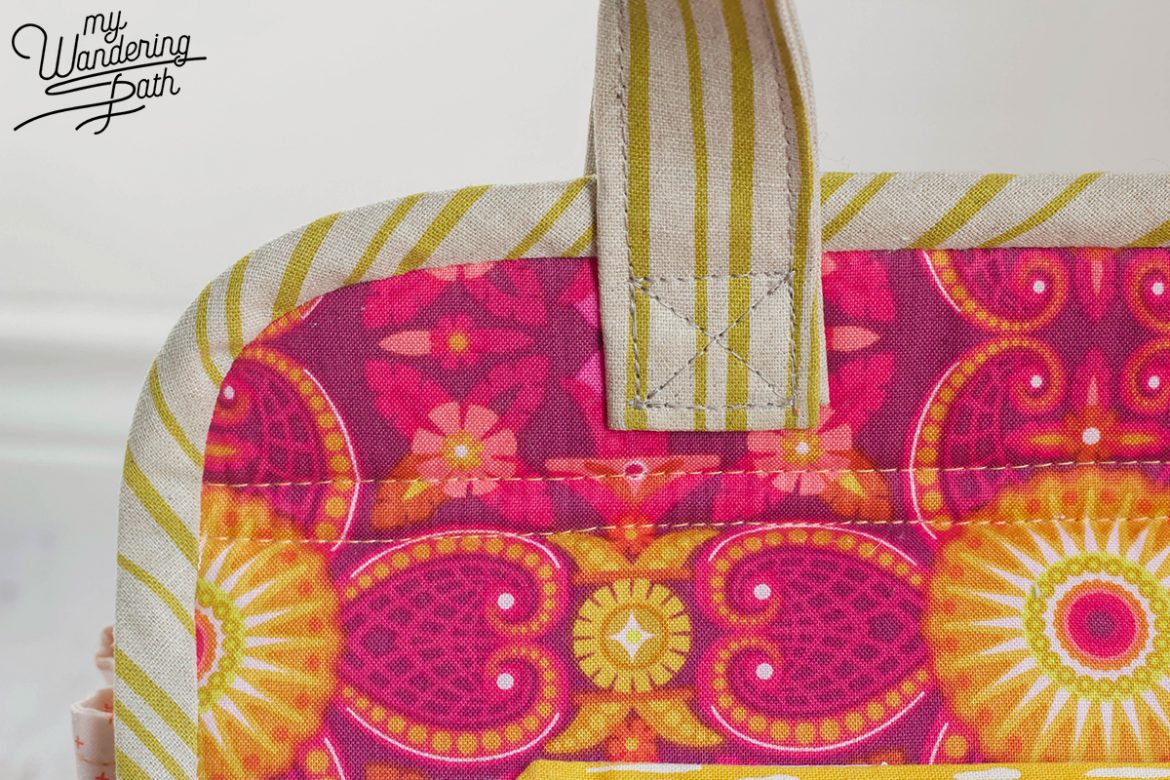 Maker's Tote Swap
Now that my partner has received her Maker's Tote from me, I wanted to share a few more pics and details of this fun project.
I've seen so many lovely versions of the Maker's Tote (pattern by Anna Graham / Noodlehead) and knew I would want to make one eventually. So when a Maker's Tote swap opened up back in the fall, I saw an excuse to make one sooner rather than later and signed right up.
I headed to my local modern quilt shop to select fabrics for my bright-color-and-modern-fabric-loving partner. That was a tricky exercise for me, as I'm more of a traditional gal; but with some guidance from the great staff at Urban Spools, I settled on these fabrics: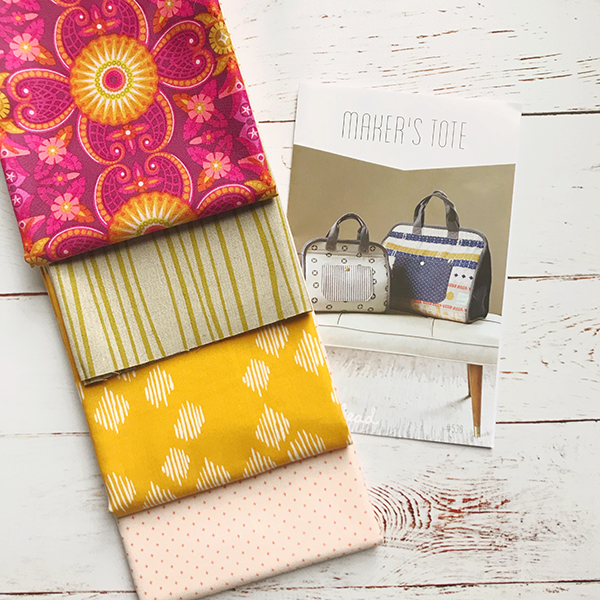 (Top to bottom: Kraken in Urchin colorway/Diving Board by Alison Glass/Andover Fabrics, Seagrass on Tailored Cloth in Chartreuse colorway/Diving Board by Alison Glass/Andover Fabrics, Floral Diamonds in Gold colorway/Wild Nectar by Crystal Manning/Moda Fabrics, Add it Up Basics in Taffy colorway/Cotton + Steel)
After that, I put the project on the backburner…for, like, a month. For a variety of reasons, I was just dreading making this bag. So I put it off until the first check-in was due, at which point I cut out the fabric and did the first couple of steps for the exterior part and the interior part, snapped a quick pic for Instagram…and then put the project off AGAIN for another couple of weeks.
(Now you're probably making a mental note that I'm the worst swapper ever and not to ever let me sign up for a swap. But this story has a happy ending, I promise!)
After Christmas, I forced myself to sit down one quiet weekend and get this thing DONE. And I'm here to tell you that I ended up enjoying this pattern so much! I was silly to dread it. The instructions are very clear and detailed, and I think the construction techniques are well thought out. I used ByAnnie's Soft and Stable for the body of the bag–I love that stuff! And just in case you were wondering, this is the small bag. (The pattern has instructions for two sizes, small and large.)
And I think the end result is a really attractive and functional bag!
I made a few goofs along the way, all of them the result of my insistence on doing some things out of order or skipping around from section to section. I completely forgot to put a snap on the exterior pocket. (Oops!)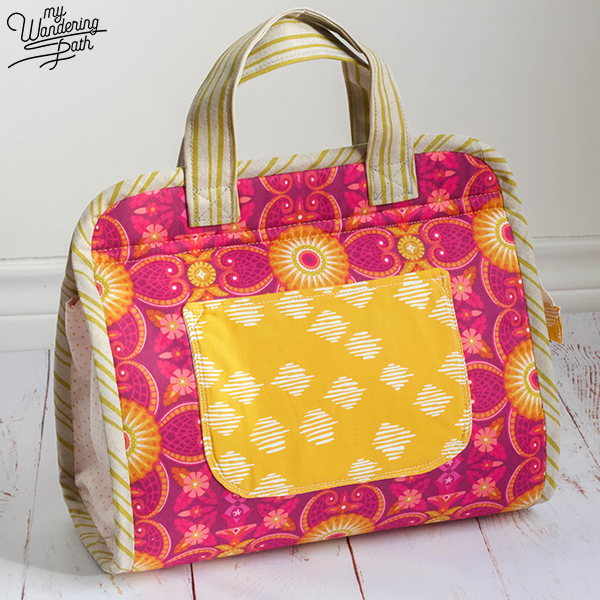 And I also forgot to fuse the interfacing to the interior pockets. (Oops again!)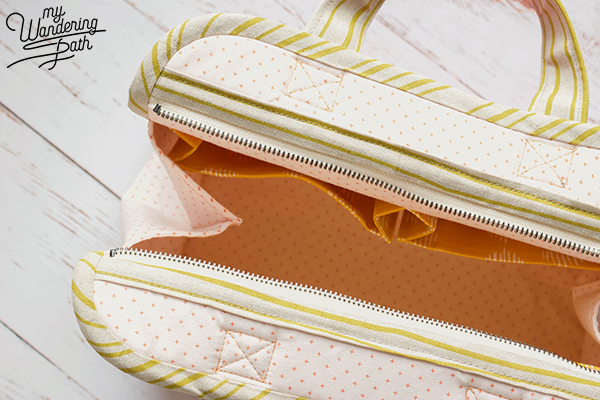 I also wish I'd thought to get some pretty zipper pulls, or at least make some fabric ones. It's the little finishing touches like that that I'm constantly forgetting about.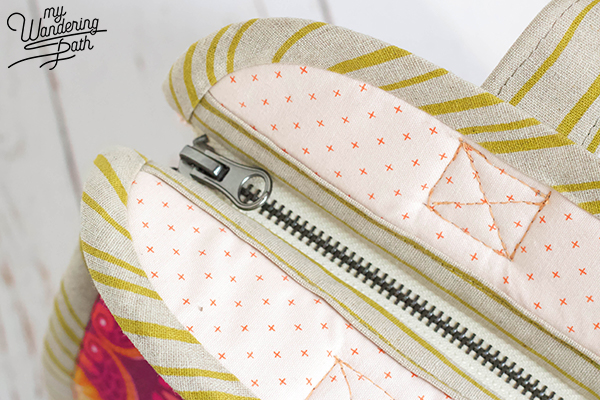 That binding, though…
I was so pleased with how the binding turned out. The pattern flat-out tells you that sewing on the binding can be tricky. I'm SO glad that she put that comment in the pattern, because it primed me to take my time and expect that I'd have to go slow and fiddle with it. And I think because I was expecting it to be a struggle—and therefore intentionally took extra time and care with it—it actually wasn't a struggle at all!
Even sewing the gussets wasn't too much of a struggle.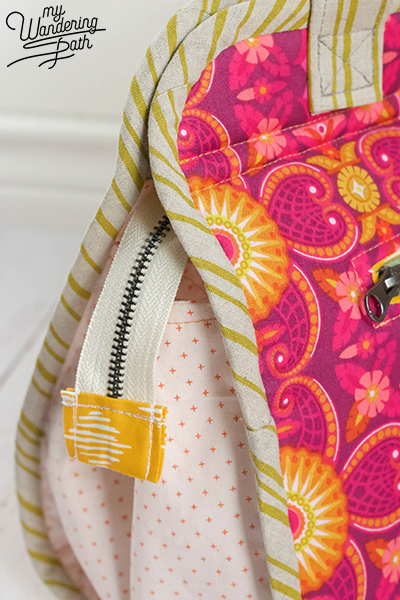 I was so excited to send this bag off to my partner in the end! I can't wait to get my own, and I expect that I'll make another one of these one day. If you've been thinking about making one, I definitely recommend it.
Thanks for stopping by today!