November Moda Basics Bundle
Hey friends, and happy Friday! Today I'm sharing a little project I made for my friends at Moda using a collection of Bella Solids, Thatched, and Ruby Star Speckled basics that I curated this month.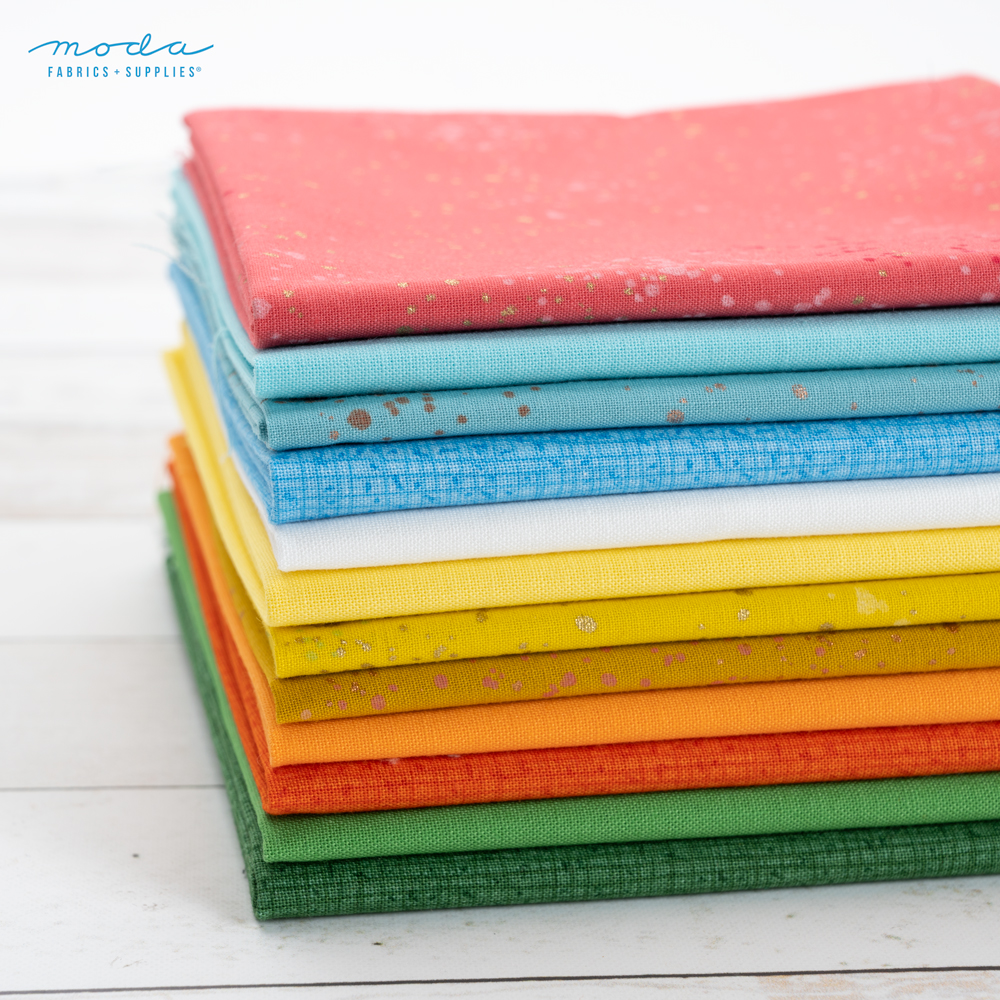 Fun fact #1: I started curating these monthly basics bundles when I worked at Moda. I wasn't very confident in my color-palette-creating skills at the time (I'd say I'm still a work in progress in that department) and I never really used solids as a feature fabric in my sewing. Putting together those coordinated monthly bundles was a great creative exercise—and a really fun one at that!
I'd usually start with a theme in mind, and then, armed with a cart, I'd "shop" the shelves of basics in the sample warehouse. I'd pull 15-18 bolts and line them up in my office, letting the colors marinate for a couple of days. I loved it when my co-workers would stop by and rearrange the bolts, pulling out some here and there, sometimes suggesting replacements. It was always a collaborative effort and I learned so much along the way.
Well, now I'm getting all nostalgic. Curating those monthly bundles was one of my favorite things to do, so when Lissa Alexander asked me if I'd like to curate a bundle and make a project with it, of course I jumped at the chance! (Thanks again, Lissa!)
And that brings me to fun fact #2: It's a little bit harder to curate a bundle without getting to shop those shelves in person! Hah! Y'all know how it is…colors on computer screens don't always represent the true in-person color, so after I submitted my selections, I couldn't help but wonder if my friends in the sample room were going to be looking askance at my choices. But I think this bundle came out pretty well in the end!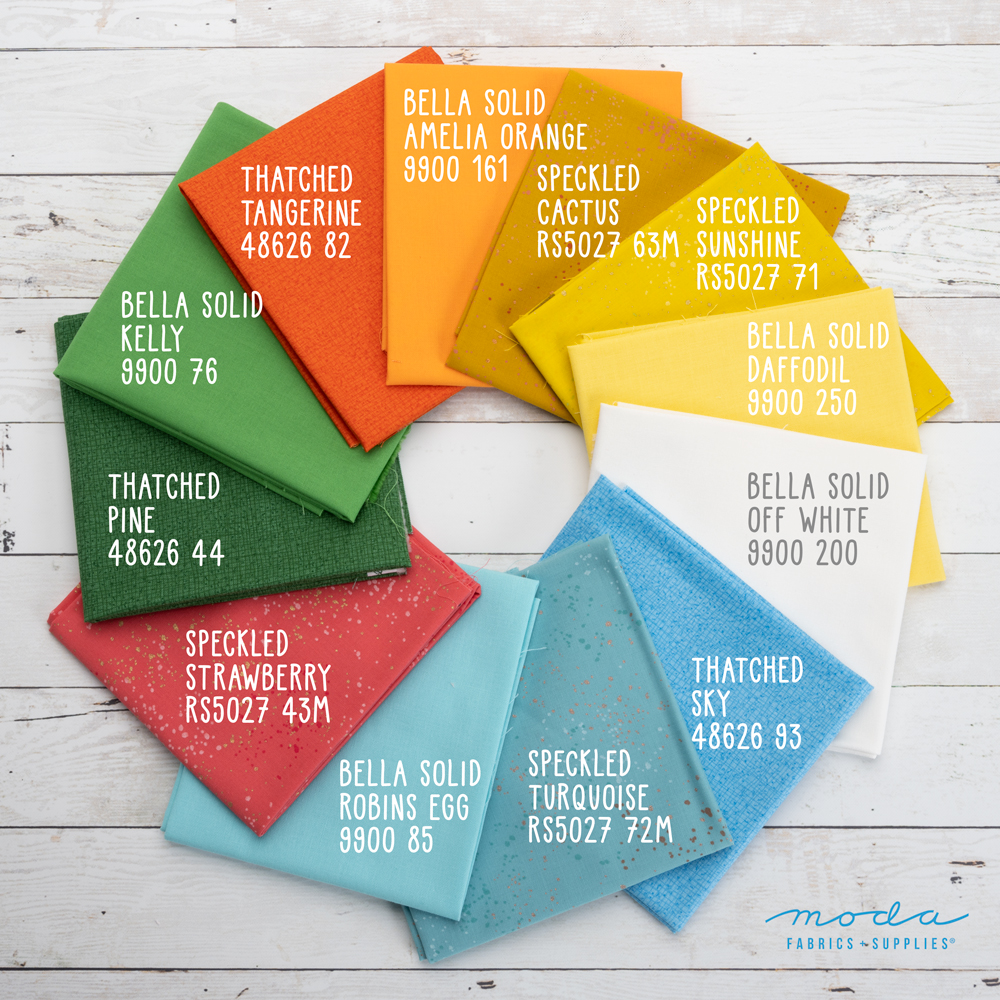 Now, I know you're probably thinking, "These are the colors you chose for November?" But hear me out: I knew that Solana was going to be hitting shops in the October/November time frame and that collection is just SO bright and happy, and I figured we could all use as much bright and happy as we can get right about now!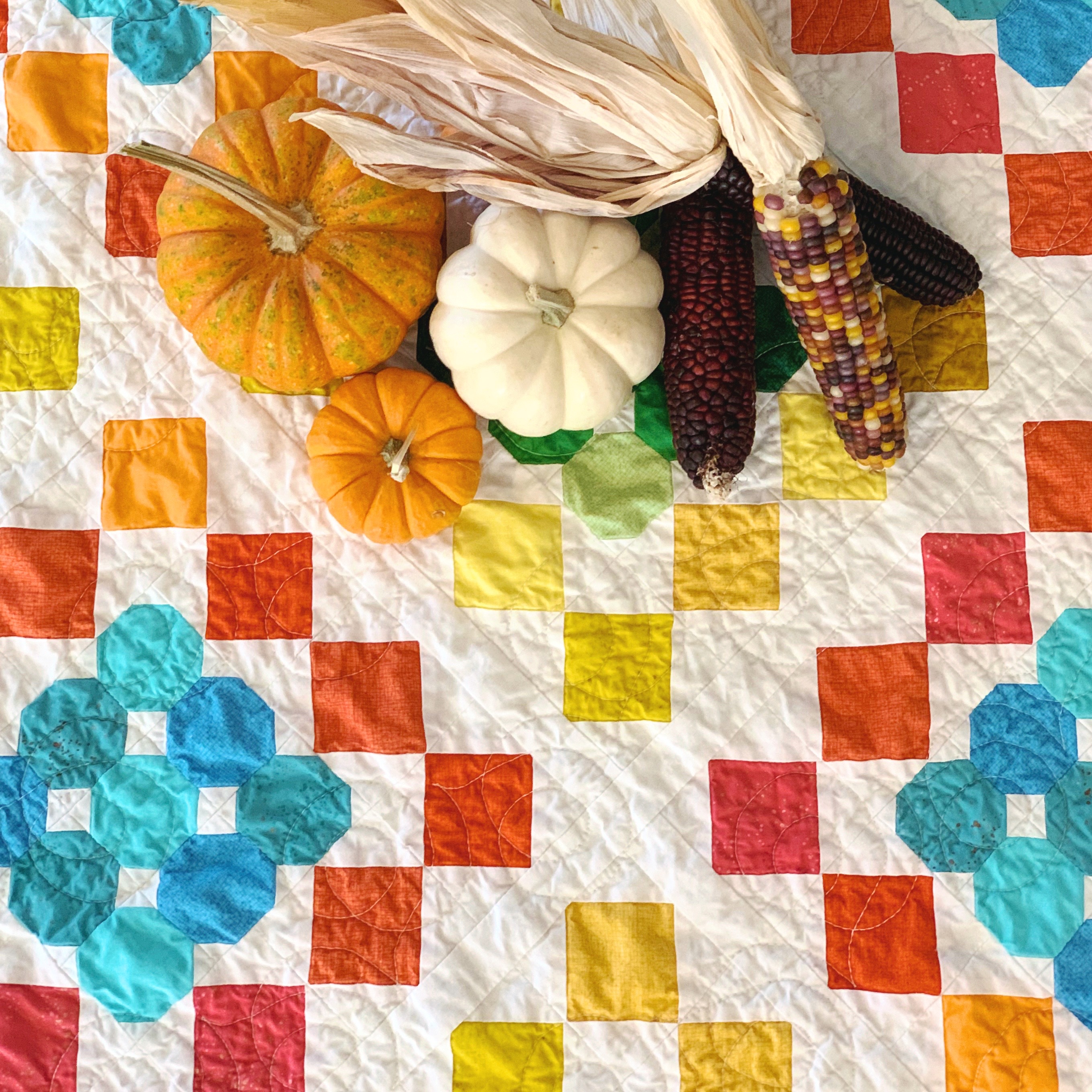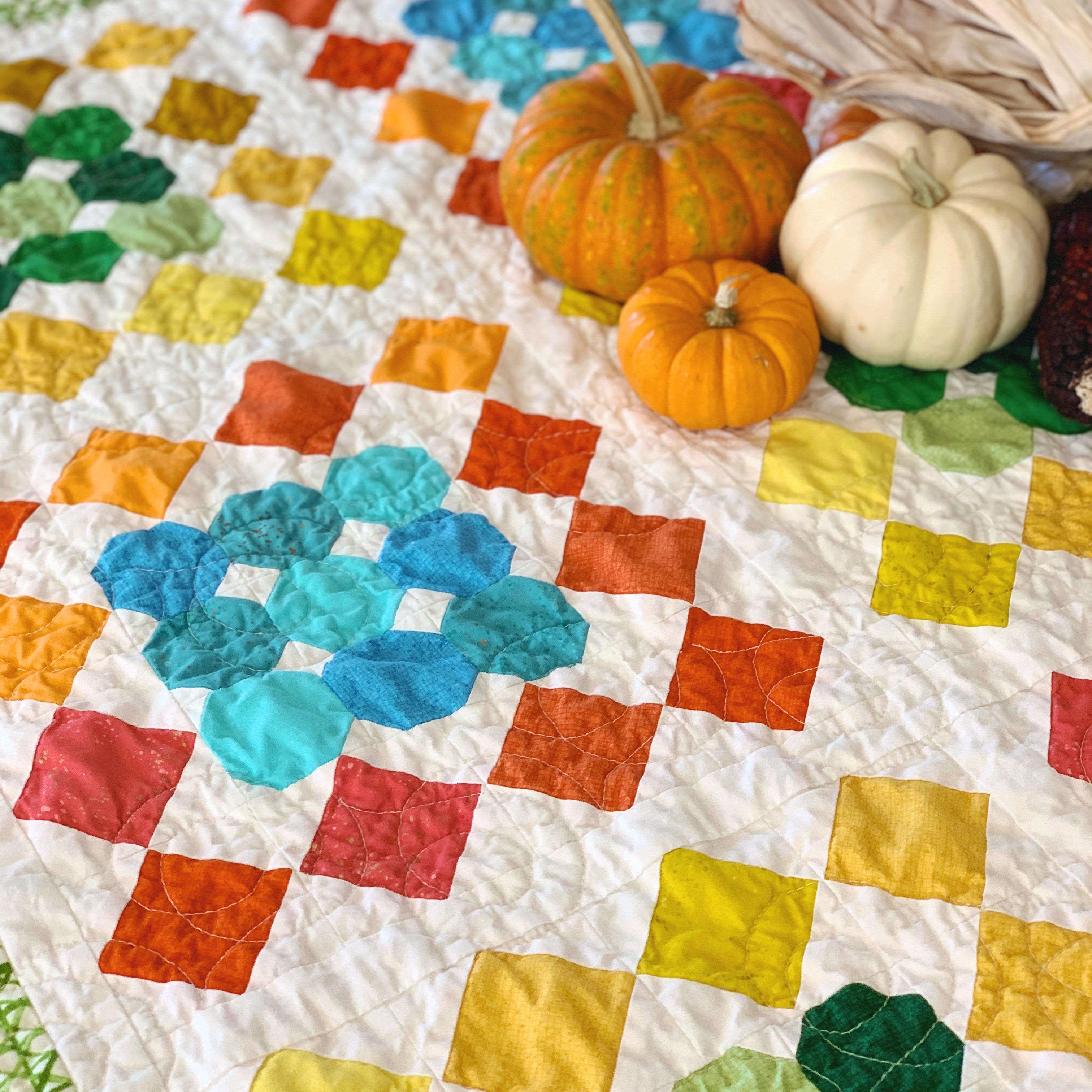 So I started with a few of Robin's new Thatched colors from Solana (Buttercup, Meadow, and Clementine, if you're wondering) and went from there. I'm not as drawn to Grunges, so to add in a little bit of a different texture, I opted for a few colors from Rashida Coleman Hale's Speckled line. I have to say, I loooove them. The little bits of metallic gold are perfect and I think the Speckled-Strawberry is just the right pink for this palette.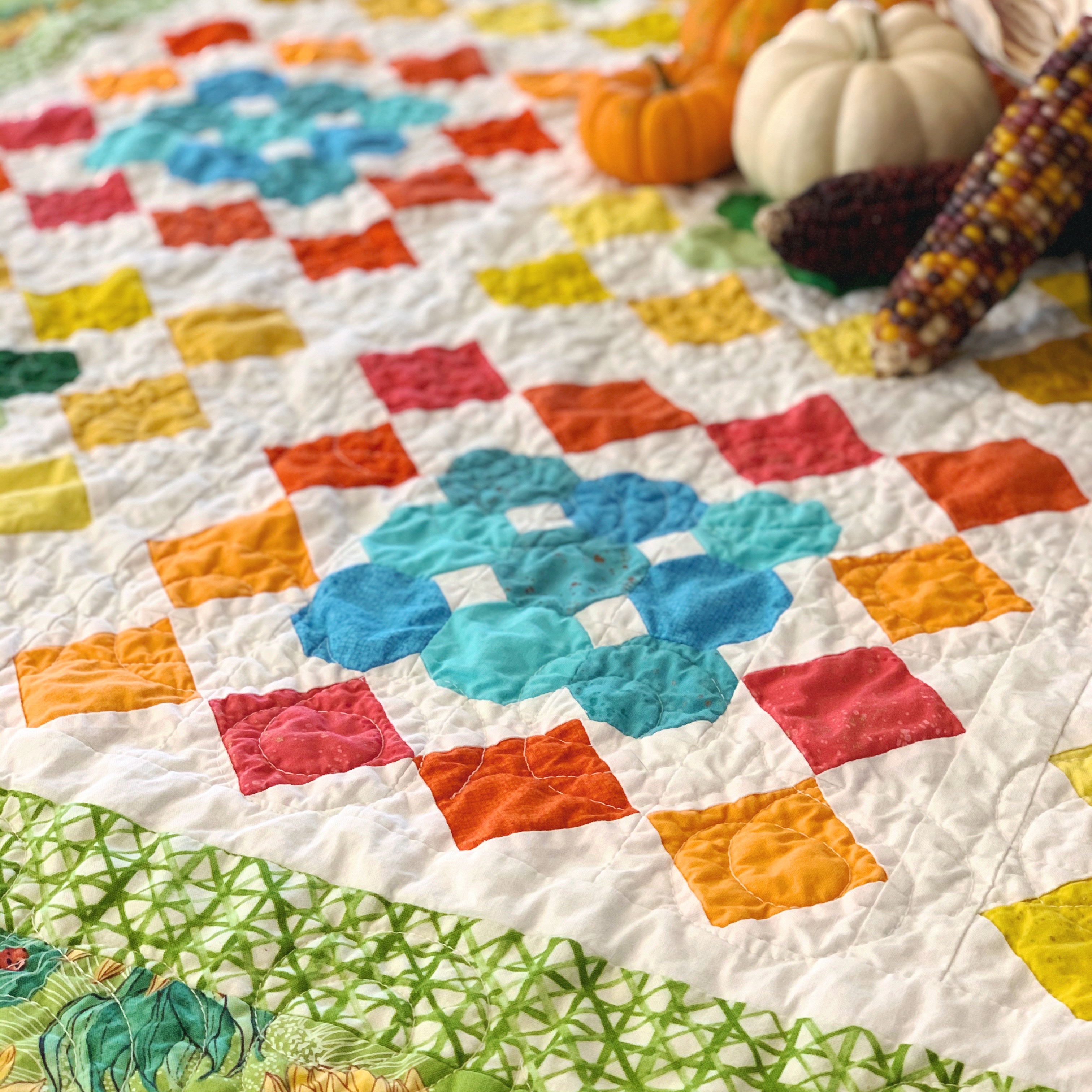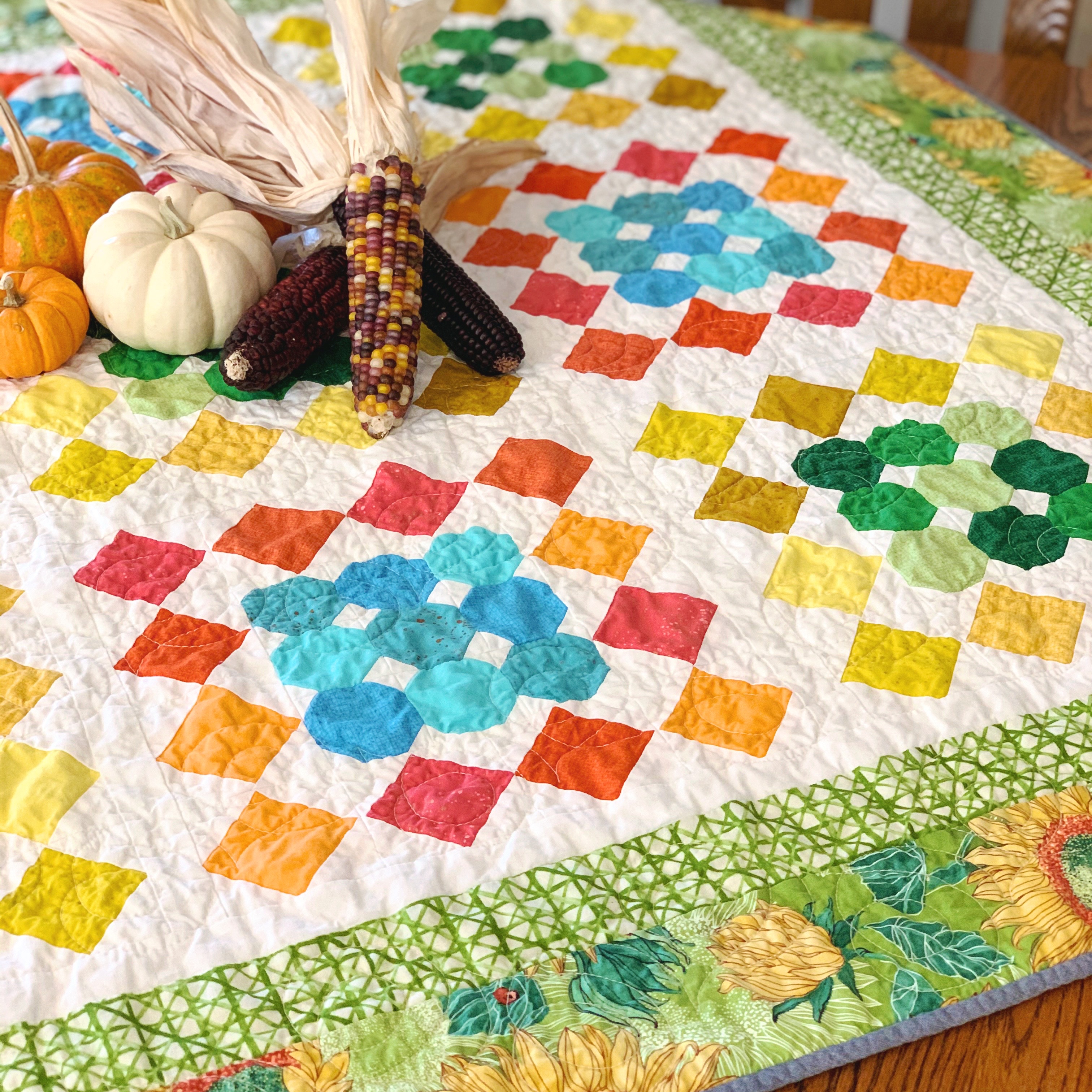 For my project, I wanted to create a design that in some way gave a nod to those big, beautiful sunflowers in Solana. I tinkered around in EQ8 and showed my husband my design. Here's how the conversation went:
My husband, uncertainly — "Hmmm…"
Me, encouragingly — "Do those blocks kind of remind you of sunflowers?"
My husband, emphatically — "Ummm…no."
Hah! I mean, it's very abstract. **wink, wink** I'll chalk it up to creative interpretation.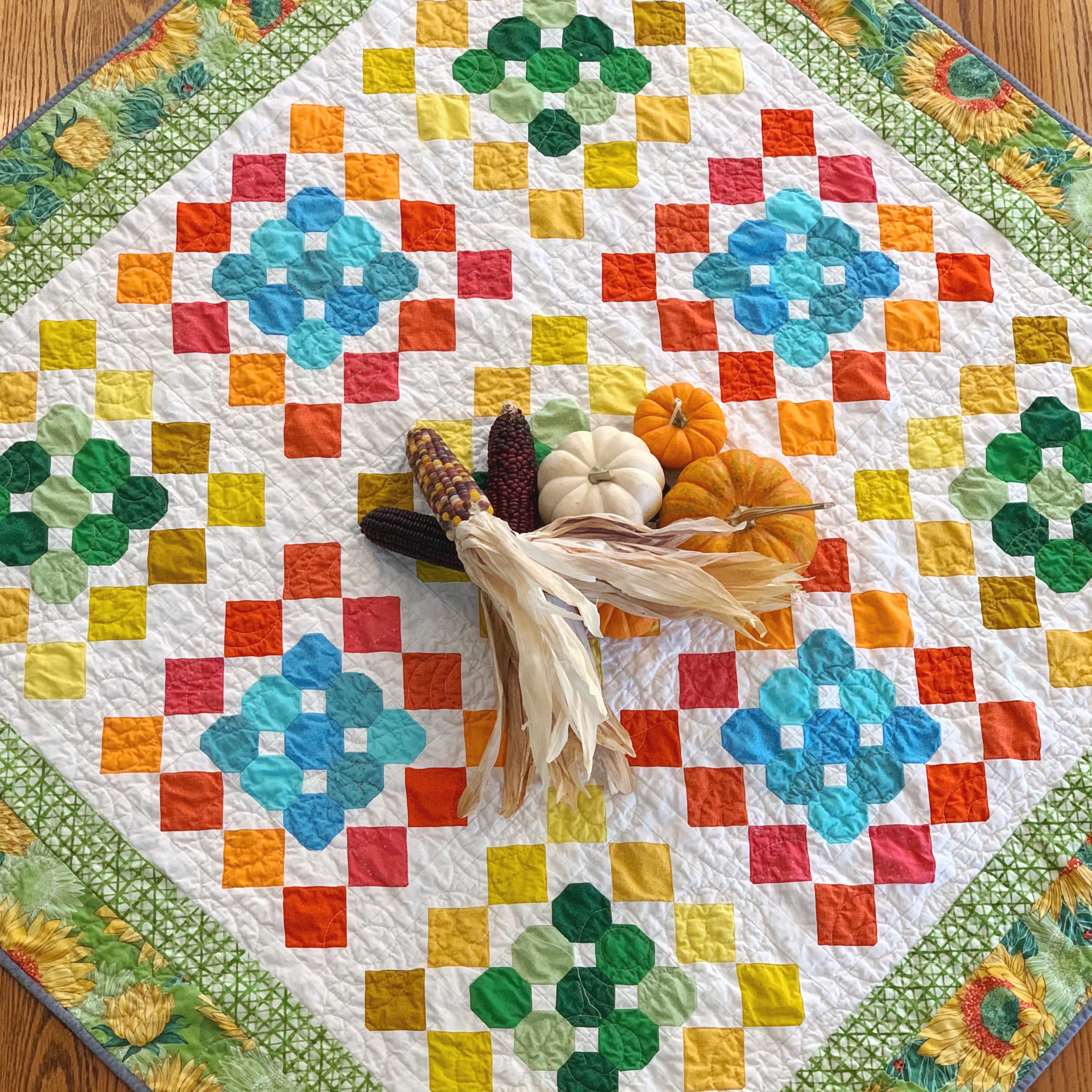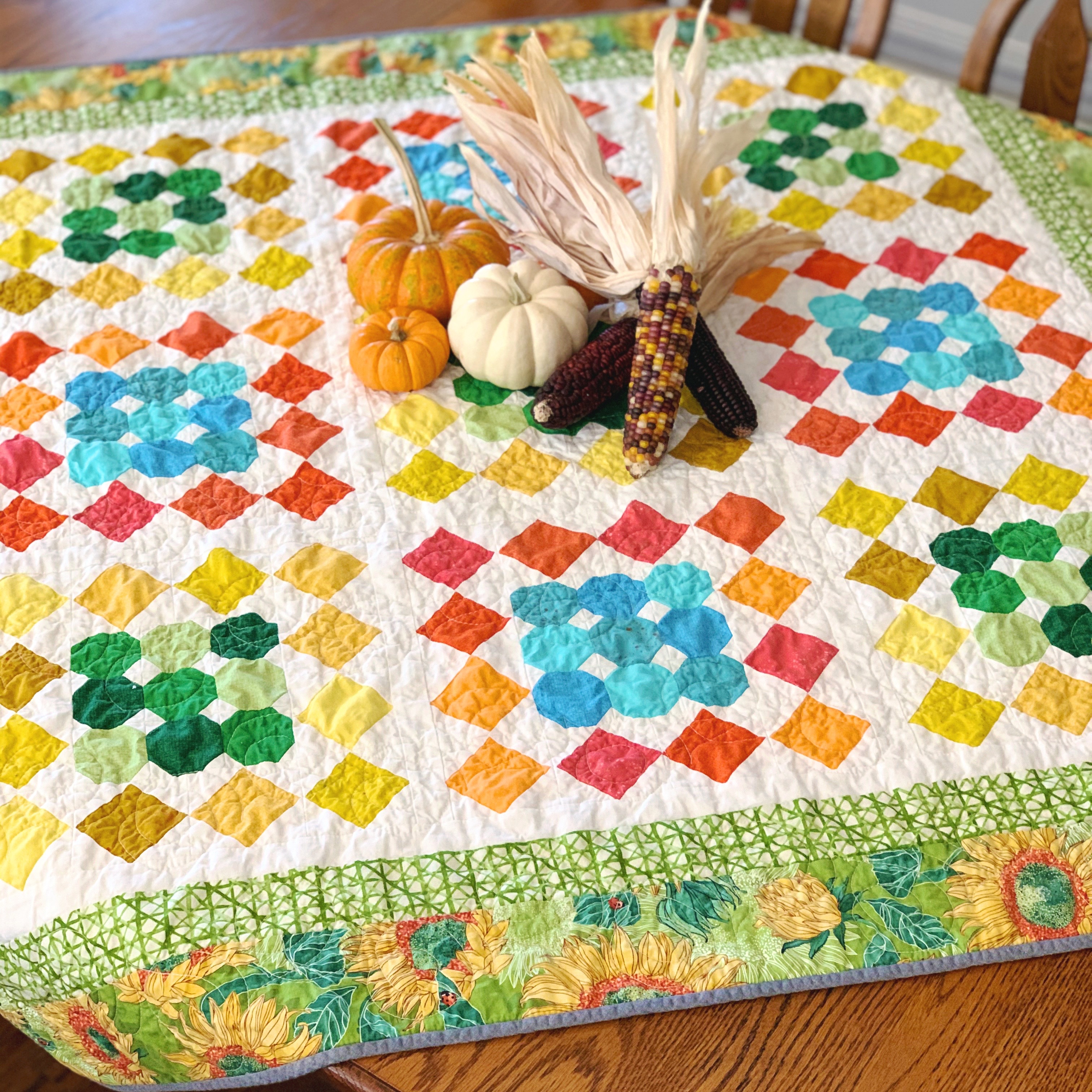 So maybe I didn't hit the mark on the design front, but when I finished this baby, pulled it out of the dryer, and spread it out on the kitchen table, I felt like I'd accomplished my ultimate goal: To create something bright and happy that would make me smile whenever I looked at it!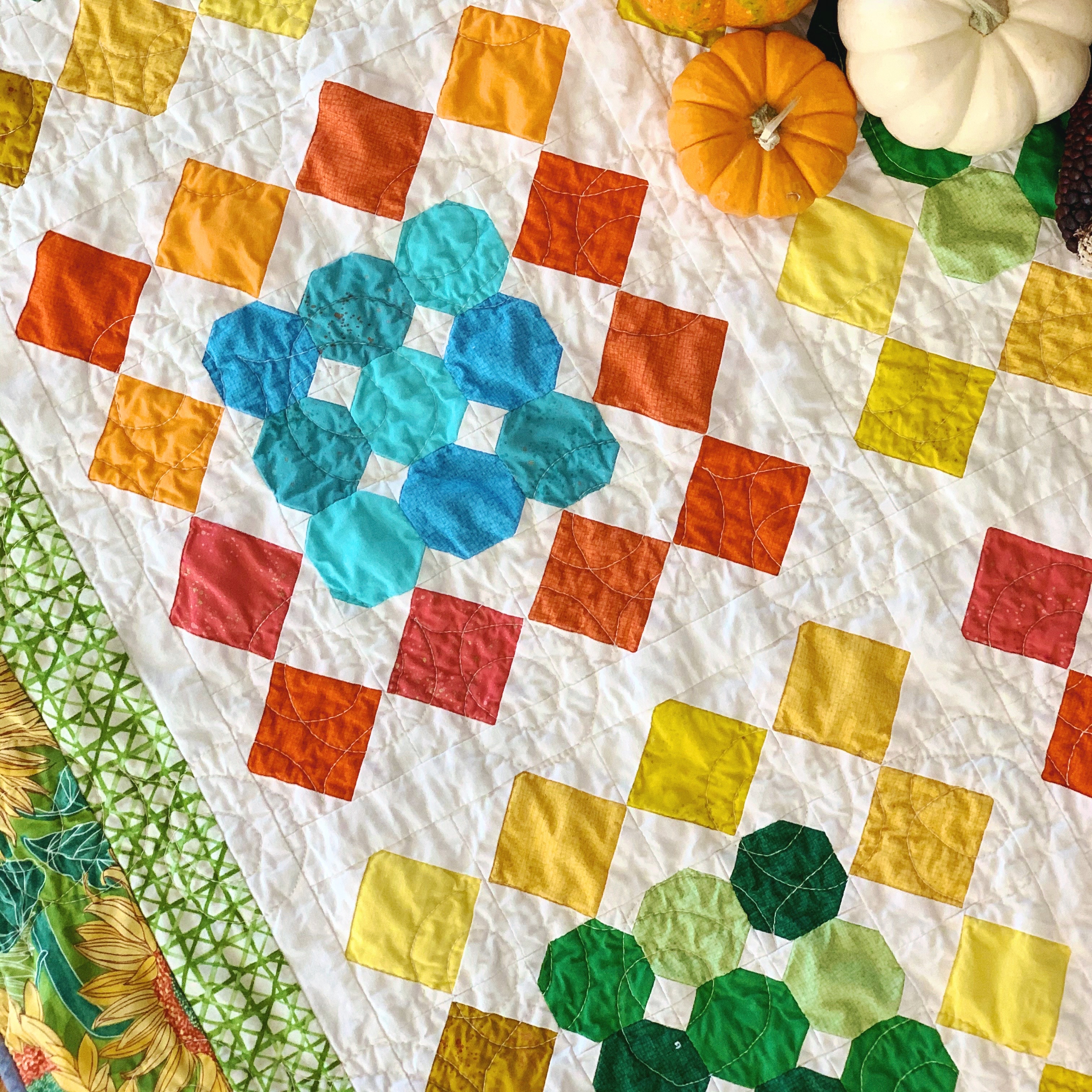 If you'd like to make one for yourself, I'm offering a very basic pattern for you! CLICK HERE to download a PDF of the pattern instructions.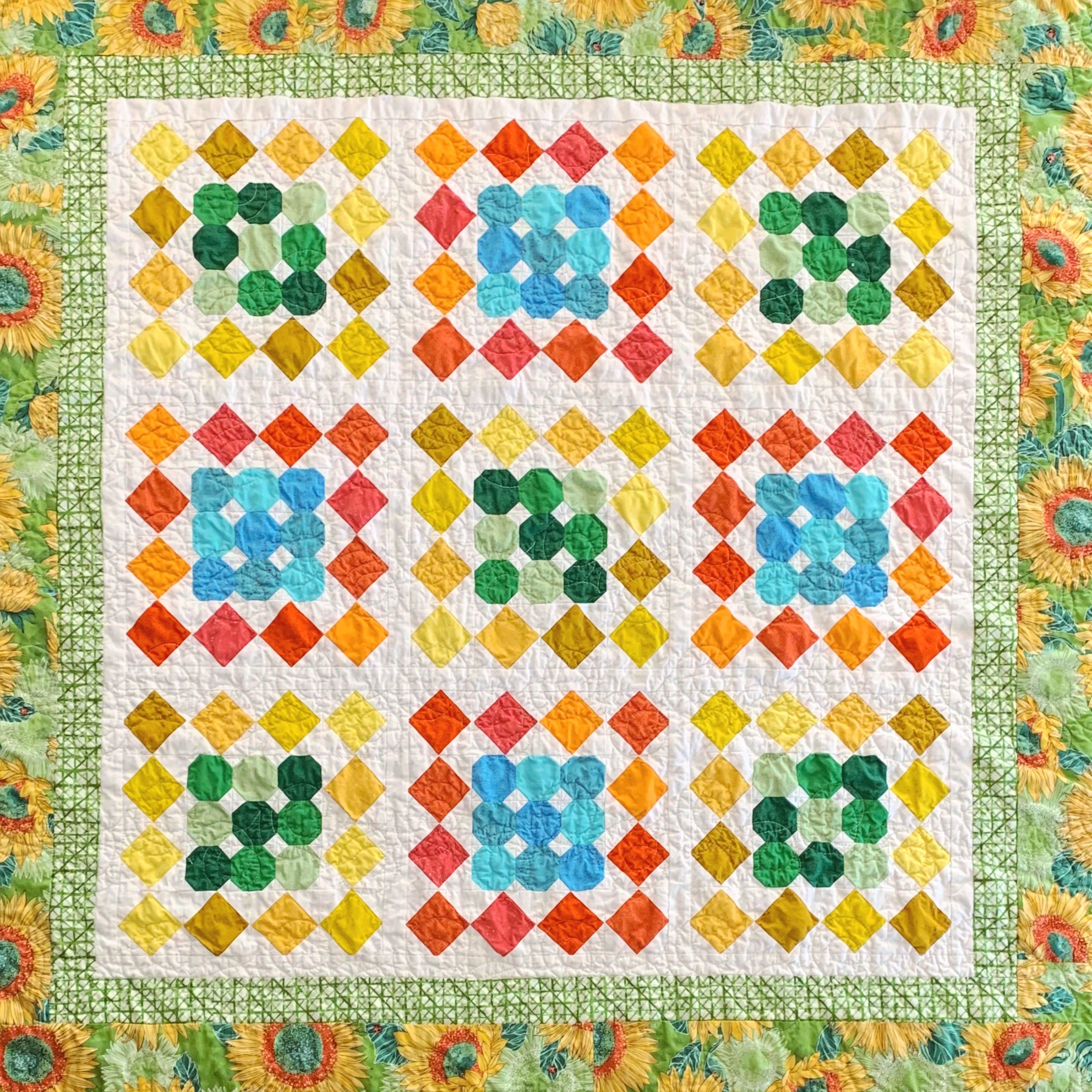 Thanks so much for taking the time to visit my blog today! I hope you are all staying safe and healthy in these challenging times and that I've made you smile today too!