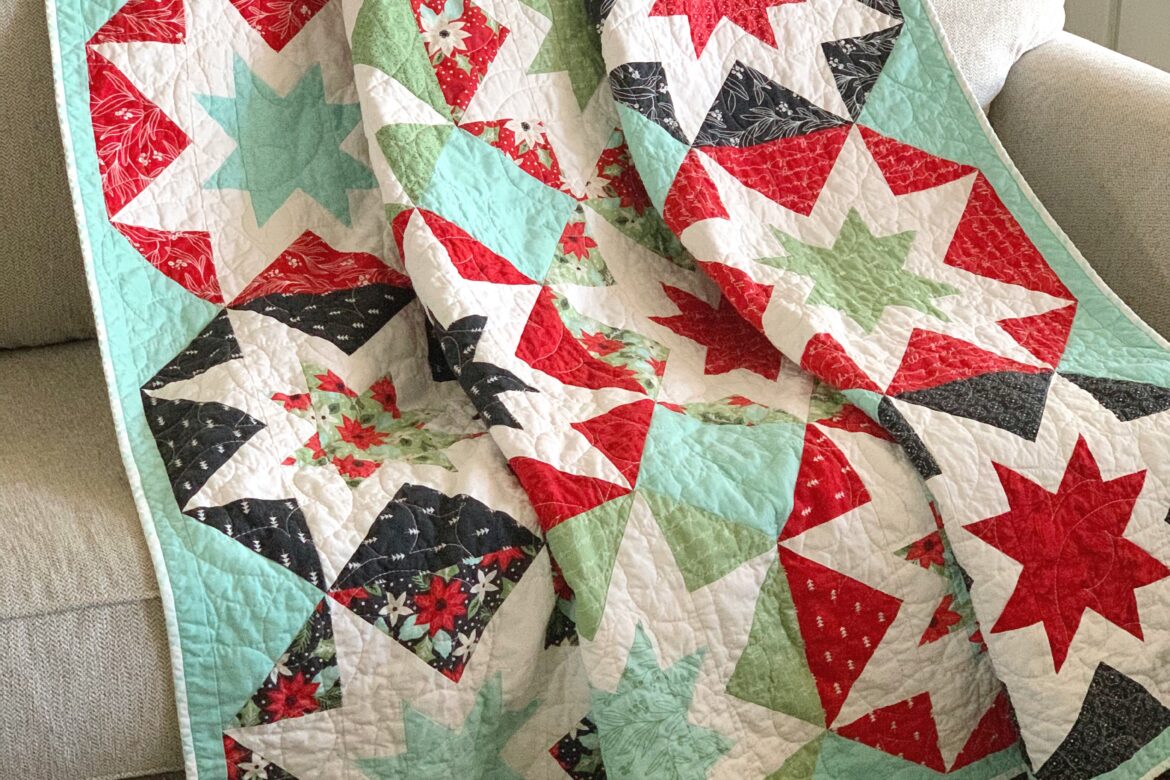 Season to Taste Book Tour
Hello friends! Today, I have the privilege of kicking off Jessica Dayon's book tour! Jessica's first quilting book, Season to Taste, has just been published with Martingale. It's a lovely book with 12 fantastic quilt patterns organized by season and featuring different techniques and quilting styles. (Ready to pick up a copy? You can purchase it directly from Martingale HERE or from Amazon HERE.)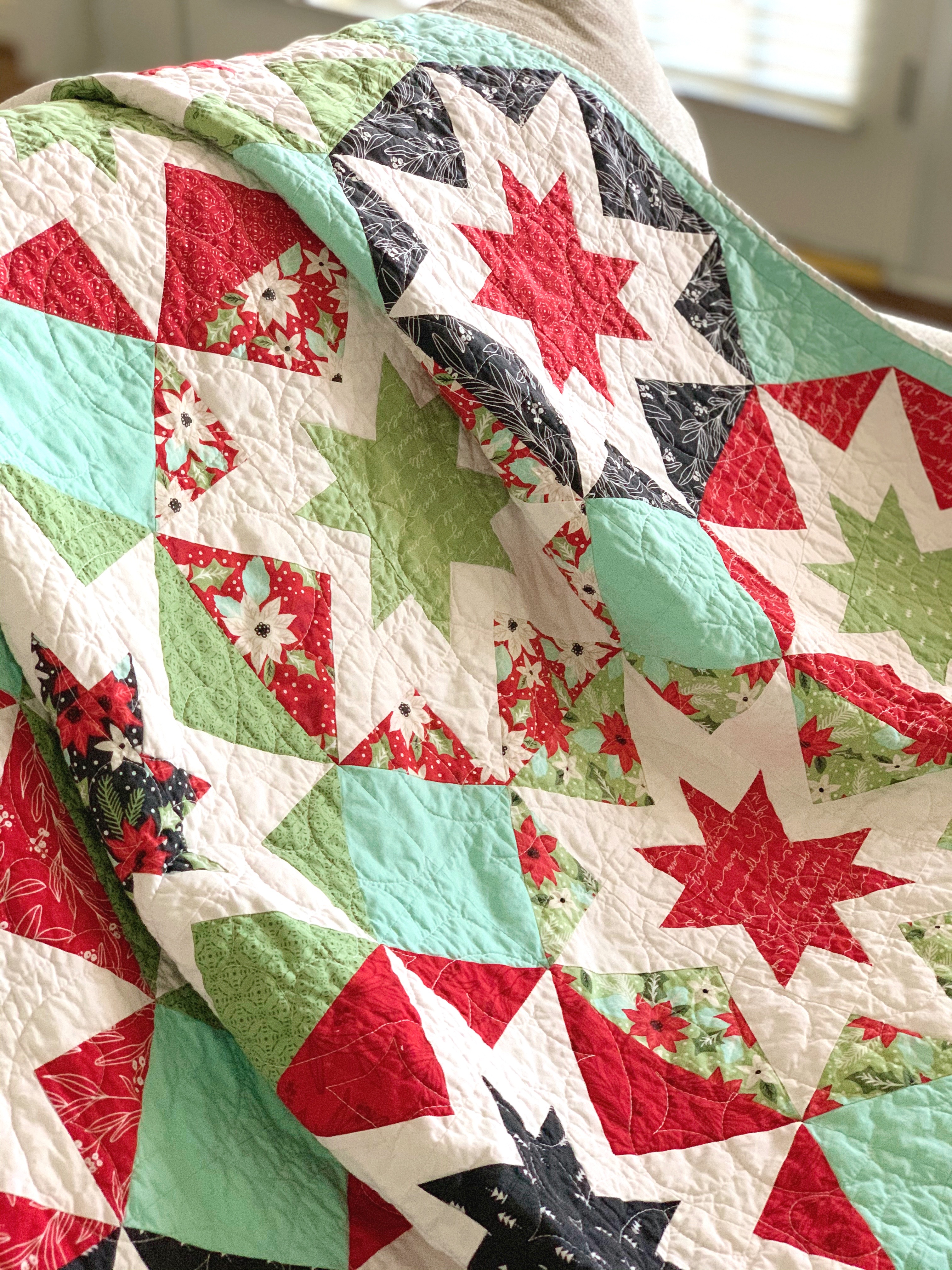 I've been following Jessica on Instagram for, gosh, nearly 3 years now I guess, and it has been so fun to watch the upward trajectory of her quilting career. She's a creative and prolific pattern designer and her Instagram is so inspiring! So I was truly honored when she asked me to participate in her blog tour.
You know that moment when you first set eyes on a new quilt pattern and you instantly know EXACTLY which fabrics you'd use to make it? That's just what happened when I flipped through Season to Taste to decide on a project. I saw the Abloom pattern in the "Spring" section and immediately thought that it was the perfect pattern for the fat quarter bundle of Lella Boutique's Little Tree fabrics that had been sitting in my stash for far too long.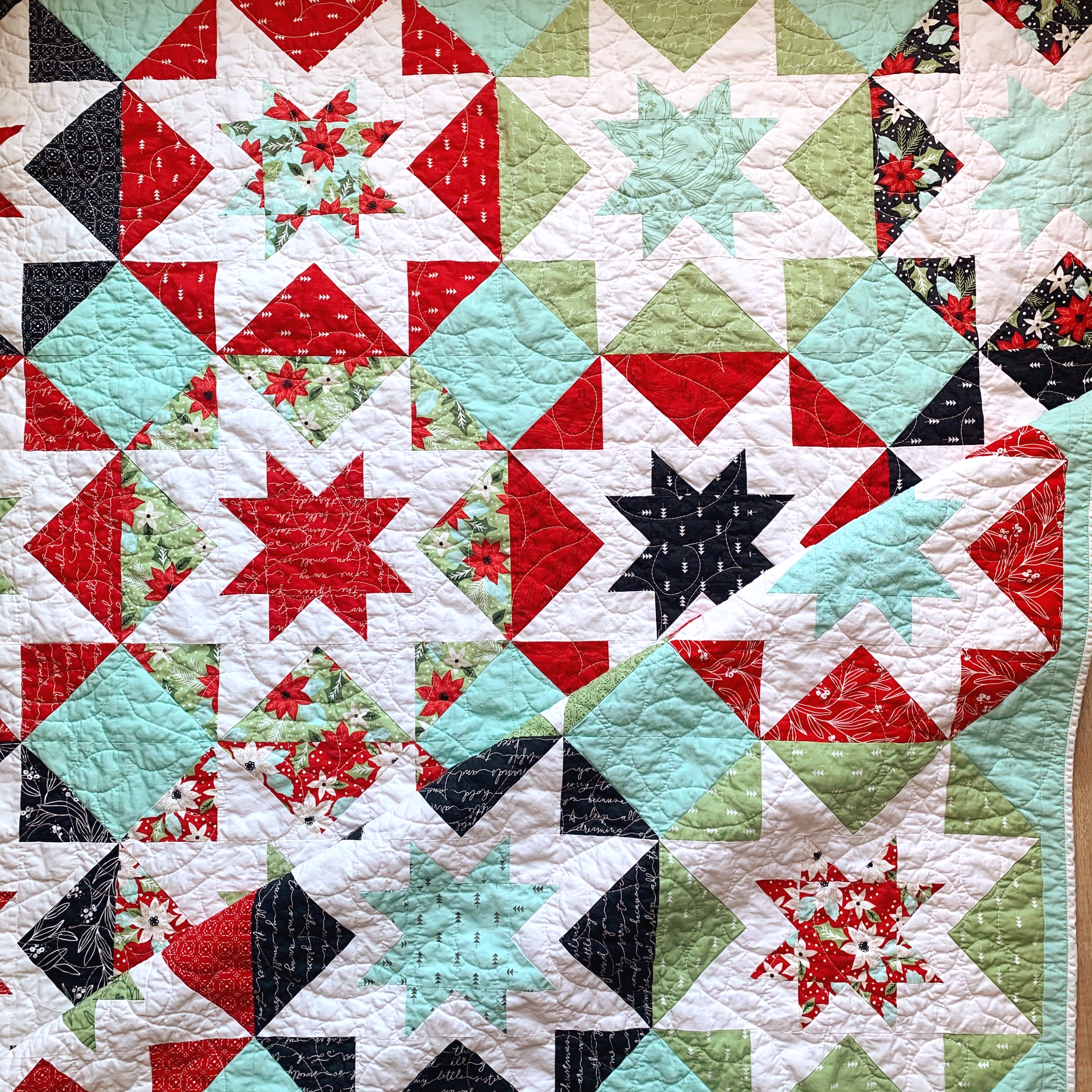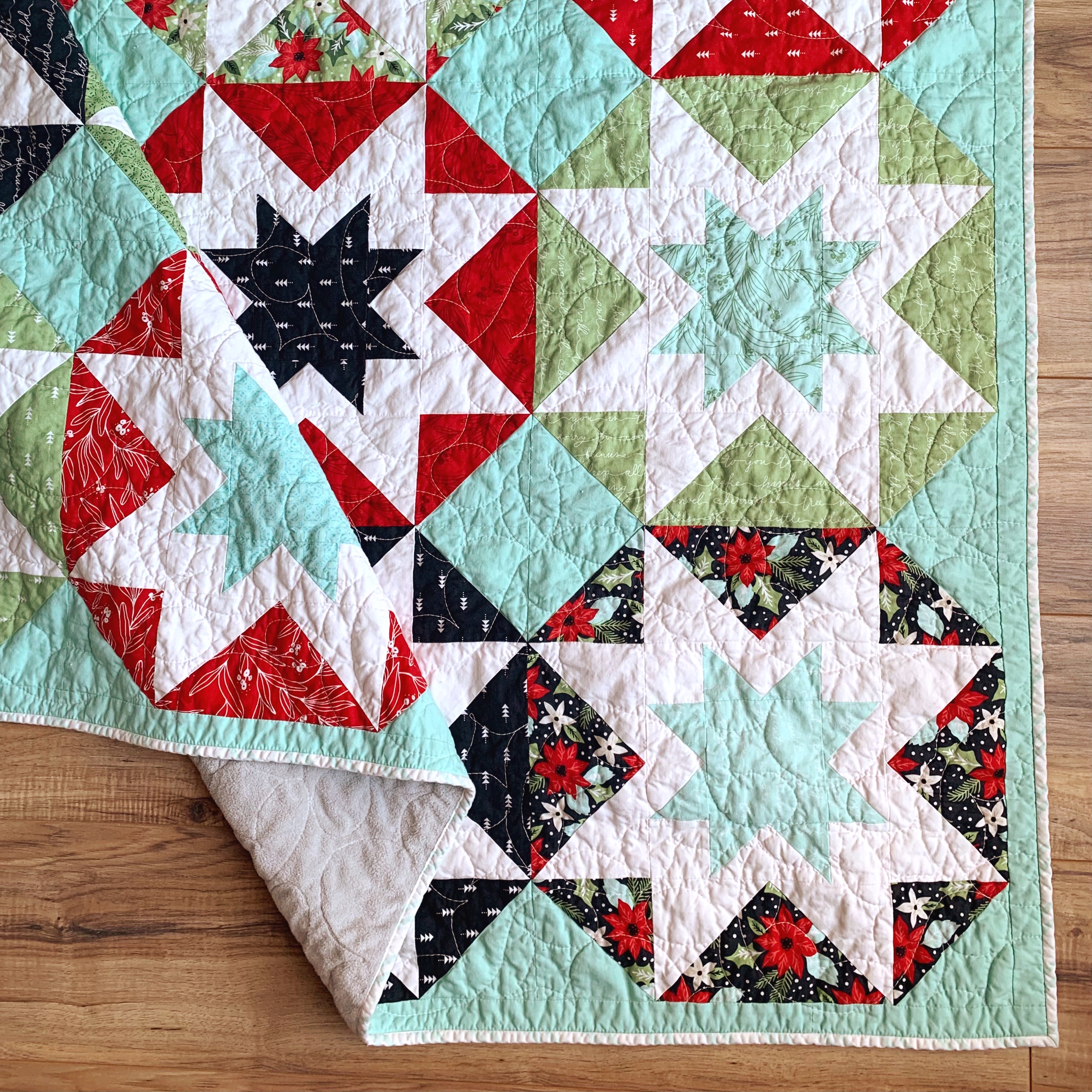 Abloom is the kind of pattern that stitches up in a jiffy: It has big, bold blocks with straightforward piecing that lends itself well to chain-piecing. In other words, it's the perfect pattern for a quick and satisfying finish (for yourself or for a gift).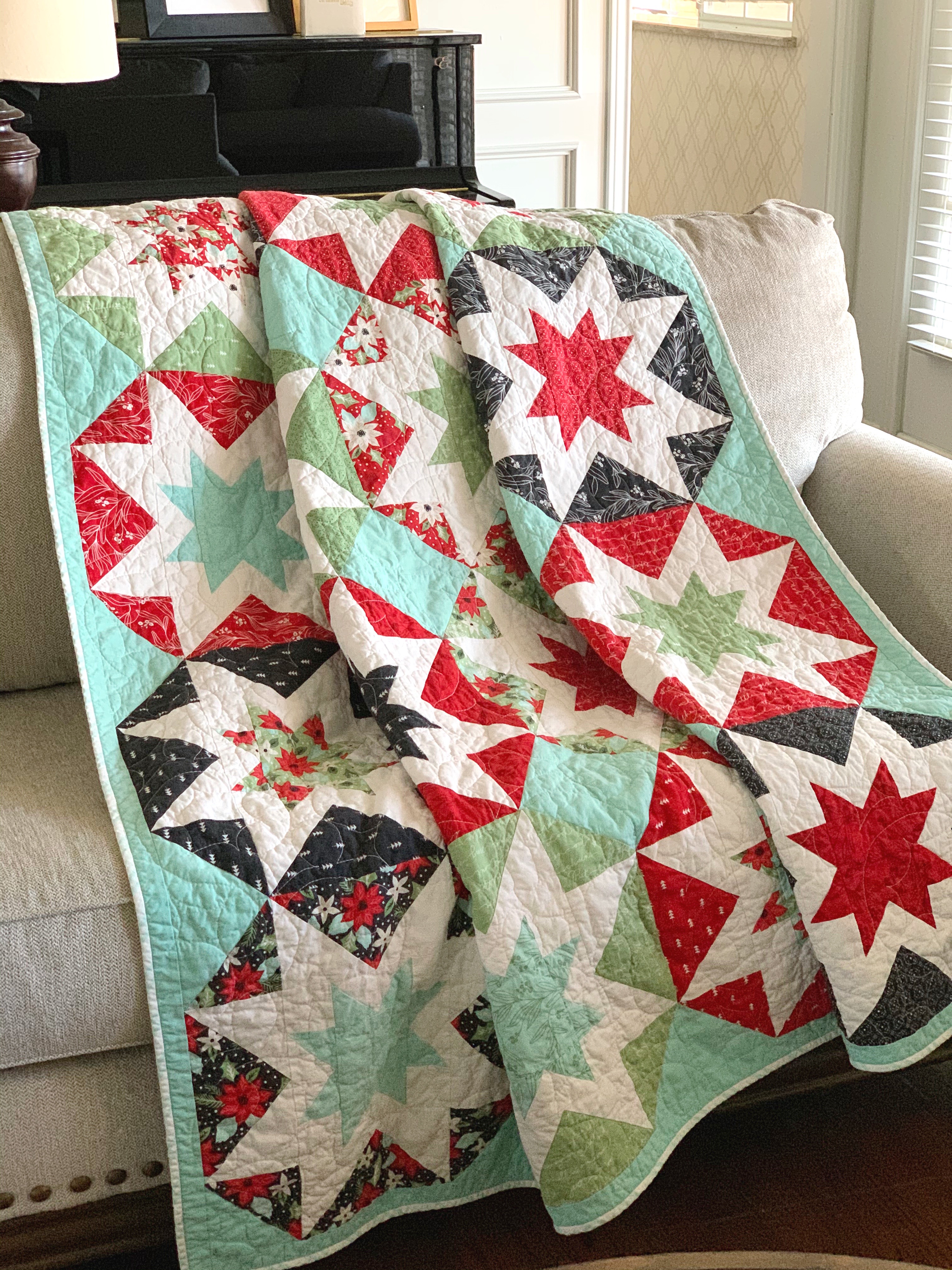 Jessica's instructions are clear and easy to follow. However, I did change up the fabric cutting and construction just a bit. The pattern uses the no-waste/4-at-a-time method for making flying geese, and while that is definitely more efficient from a time and fabric perspective, I can never get tidy flying geese from that method. It's entirely user error and probably has something to do with the fact that I am too lazy to mark sewing guidelines on my squares and just eyeball that corner-to-corner seam, which is a surefire recipe for wonky lines and crooked geese. So I prefer the more wasteful method and make my flying geese (and my HSTs, for that matter) one at a time. I say all of that to reassure you that you'll have enough fabric in your fat quarters to make the block components individually if that's your preference.
I decided to back this one in a light gray Fireside Cuddle fabric from Moda. In many ways, I prefer Moda's Fireside to regular minky fabrics because it's just as soft but it's much lighter. And here's another fabric cutting note: Whereas the cutting instructions are such that you can afford to use more fabric to make individual flying geese and HSTs, you really cannot skimp on the background fabric. Hah! I don't know what I was thinking, but I only bought 2 1/2 yards of that cuddle fabric, and I ended up with a jigsaw puzzle of piecing to make it all fit. I made it work in the end, but learn from me and make sure you get at least 3 yards of backing fabric (if it's 60″ wide).
I had a new quilting stencil made for this one, using Holly Hop by Apricot Moon (and purchased from Urban Elementz). I made this stencil pretty big–I think the design is about 10″ high–so it quilted up pretty quickly and isn't too dense. I quilted it on my Baby Lock Tiara III and per my machine's timer, my total quilting time came in at about 53 minutes…spread out over a day and a half, because #life.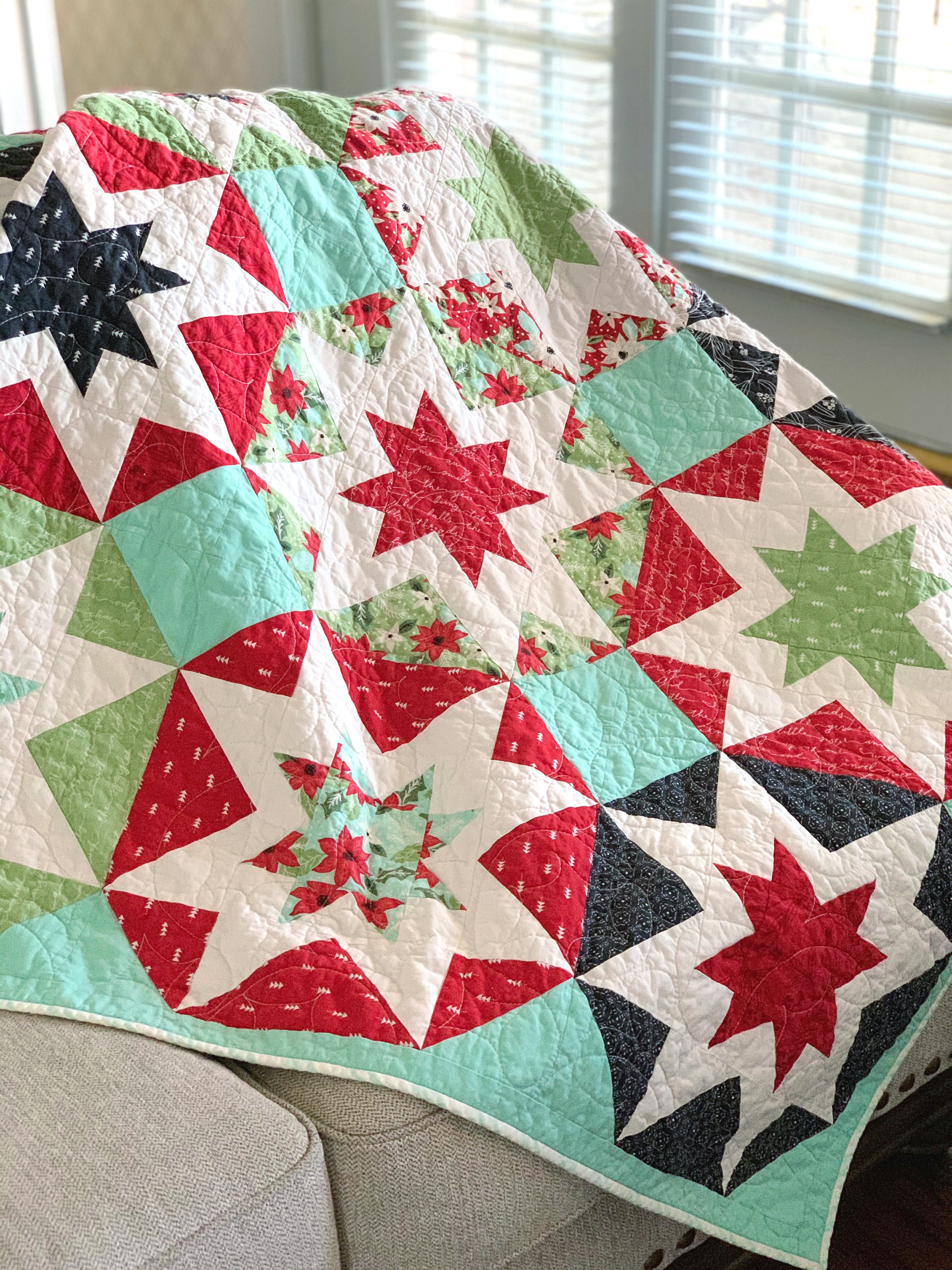 I LOVE how this quilt turned out! It's bright and bold and I think the pattern works really well as a Christmas quilt! It's also the perfect throw size.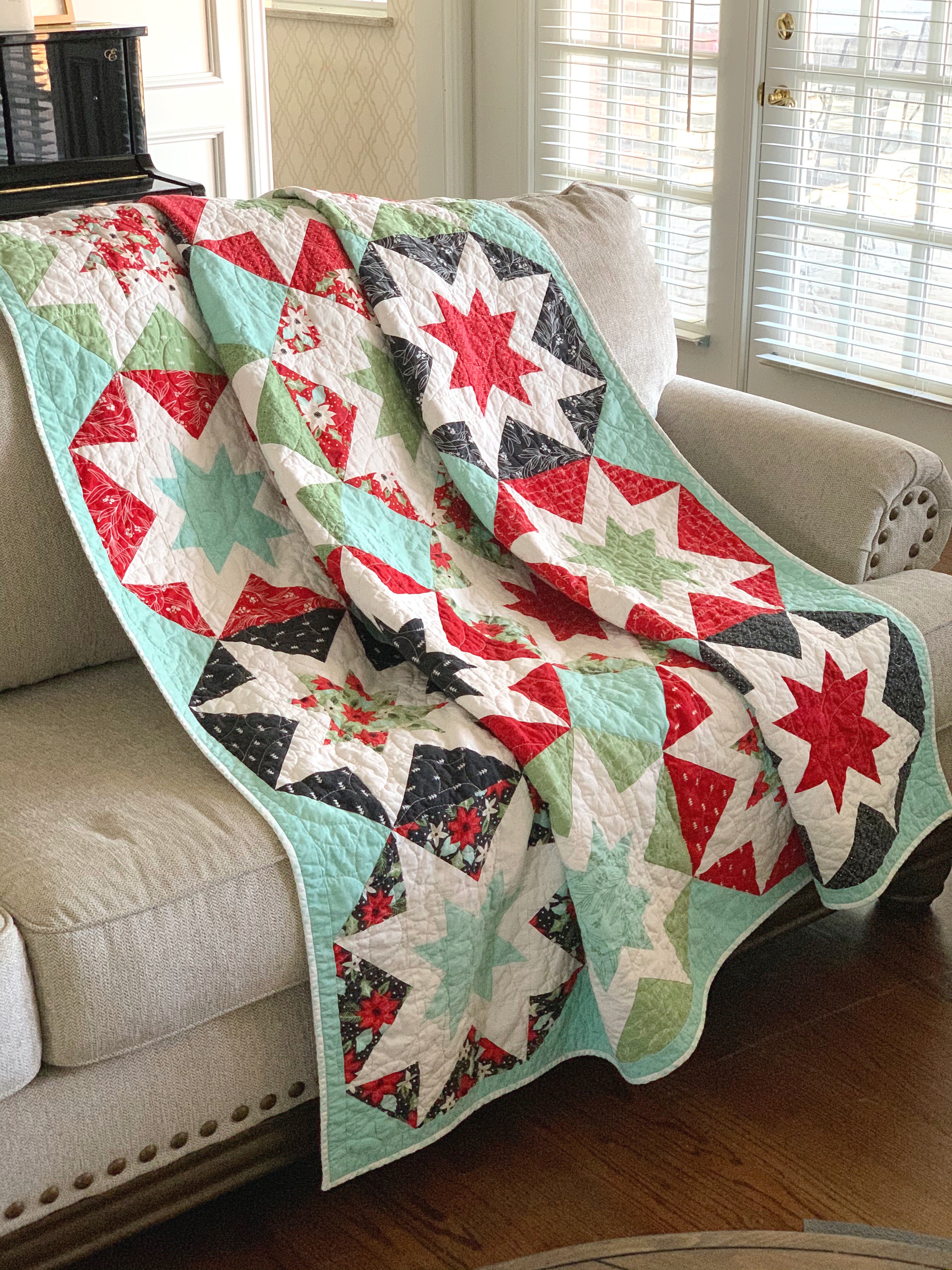 This quilt was such a pleasure to make! I'm so thrilled that I was able to be part of Jessica's book tour and share this quilt with y'all. Thank you again, Jessica! Be sure to check out Jessica's blog HERE to see the full book tour schedule. There are some amazing quilters on the schedule and I can't wait to see what they've made!
Just to recap, you can pick up your own copy of Season to Taste directly from Martingale HERE or from Amazon HERE.
Thanks for stopping by my blog today! I hope you have a wonderful holiday season, friends!