Meet Backgammon, from You've Got a Point!
Happy Friday, y'all! I recently launched a series of posts about the quilts in my upcoming book, You've Got a Point! (You can find the introduction post HERE.) Today I'm excited to talk about Backgammon.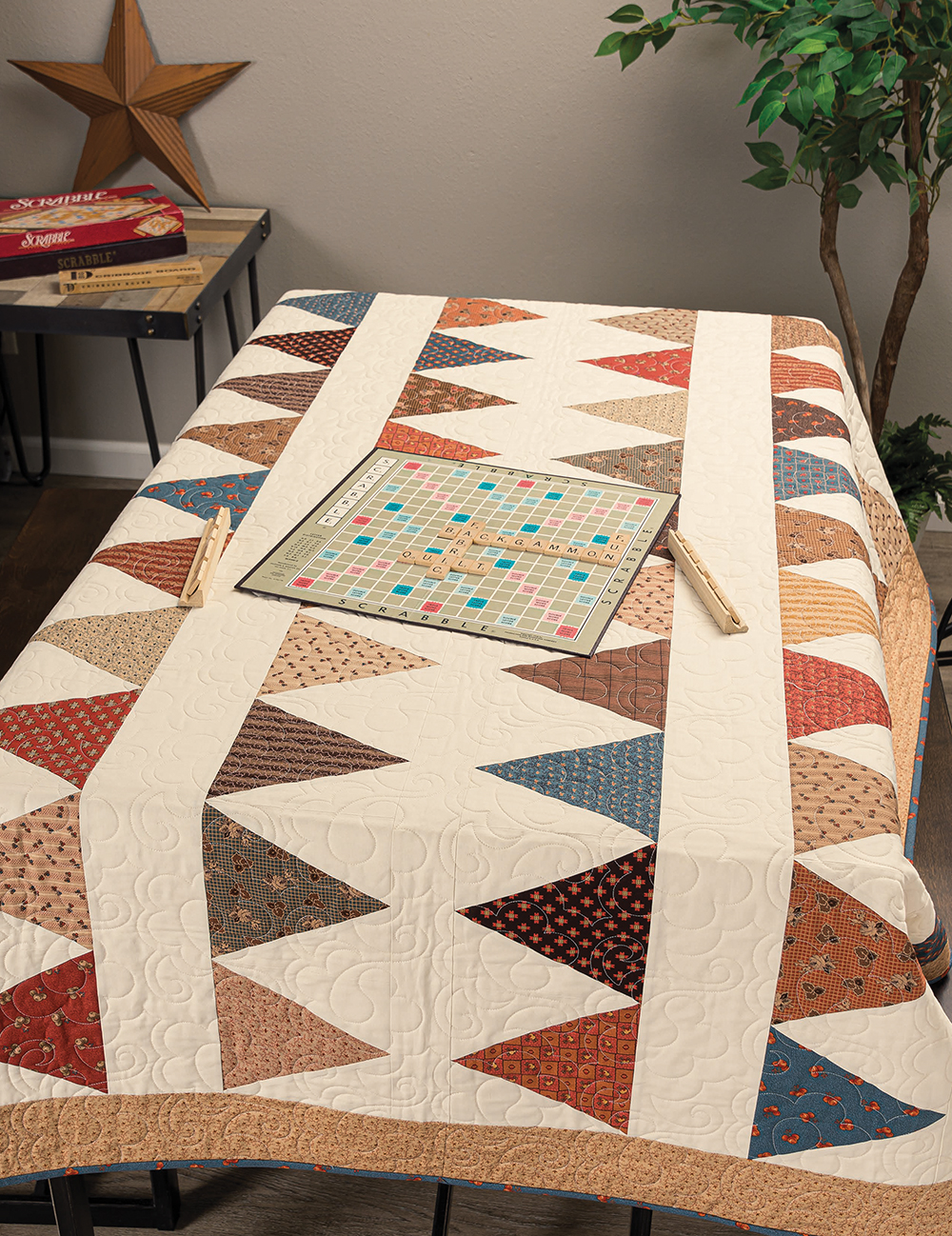 Backgammon was one of the first designs I came up after I decided to experiment with making as many unique triangle-in-a-square quilts as I could. It's the first pattern in my book, and it's also a great introductory pattern for quilters who have never made a triangle-in-a-square block. These are the largest TIAS units in the book, and the larger size is very forgiving; it also makes the whole quilt much quicker to piece together!
I specifically set out to design a pattern that I thought would work especially well in a family setting – a design that could potentially live year-round in the game room or family room as an always-available lap quilt.
After I'd settled on the design, I realized that Backgammon could also be a perfect game-day quilt when made in your favorite team colors! We're a huge football family and die-hard Auburn fans (War Eagle!), so I tested out this theory by making my dad a Backgammon quilt in scrappy oranges and blues. (I used the first-ever Figs & Friends bundle as a jumping-off point for this quilt and added a few more prints from my stash to round it out!)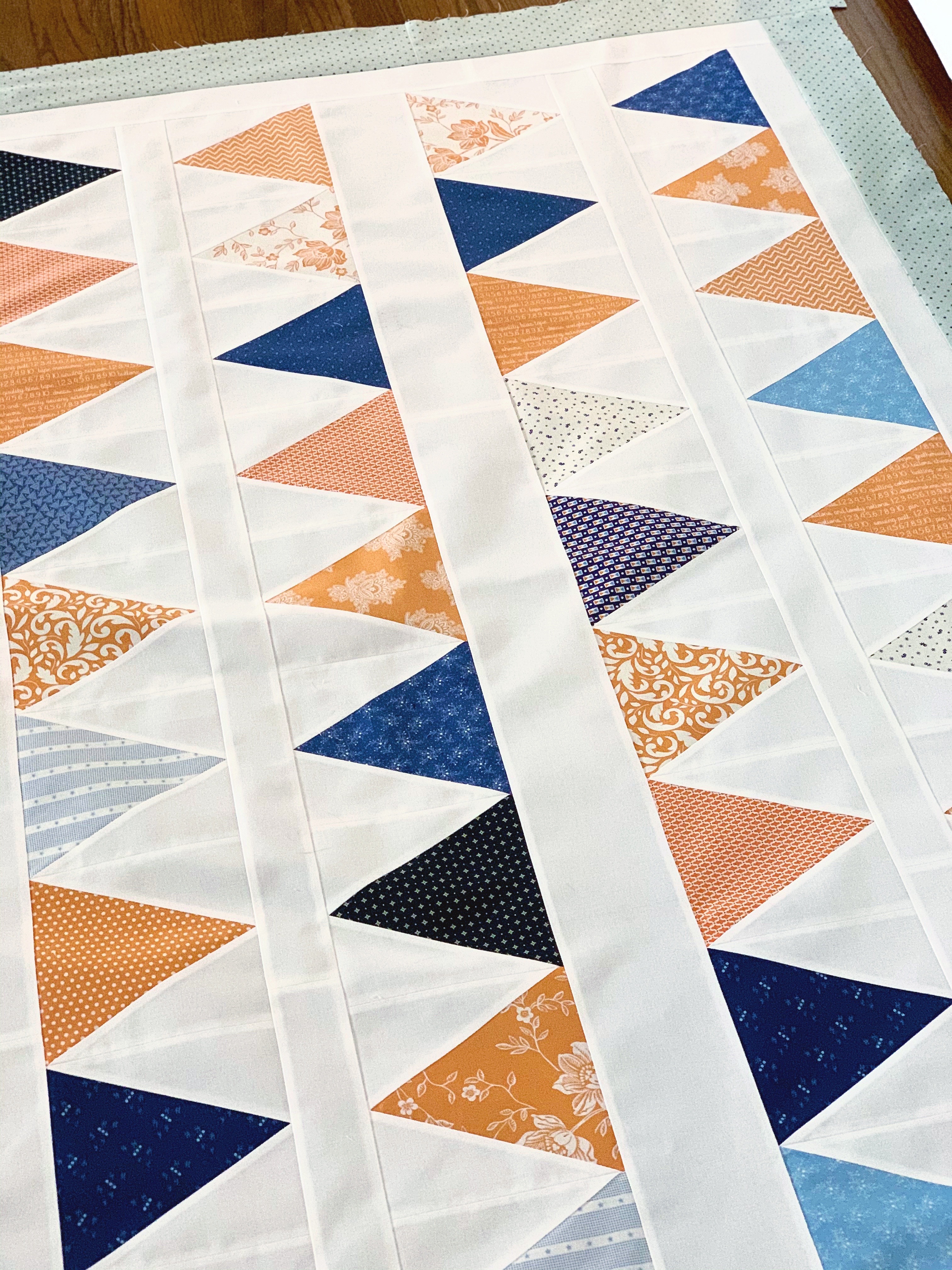 I started this quilt before I even knew that my quilt book would actually be a thing, so the border is slightly different on Daddy's quilt. I was also pressed for time to get it done for Christmas and never got a picture of the finished quilt, so these hasty snapshots are all I have right now!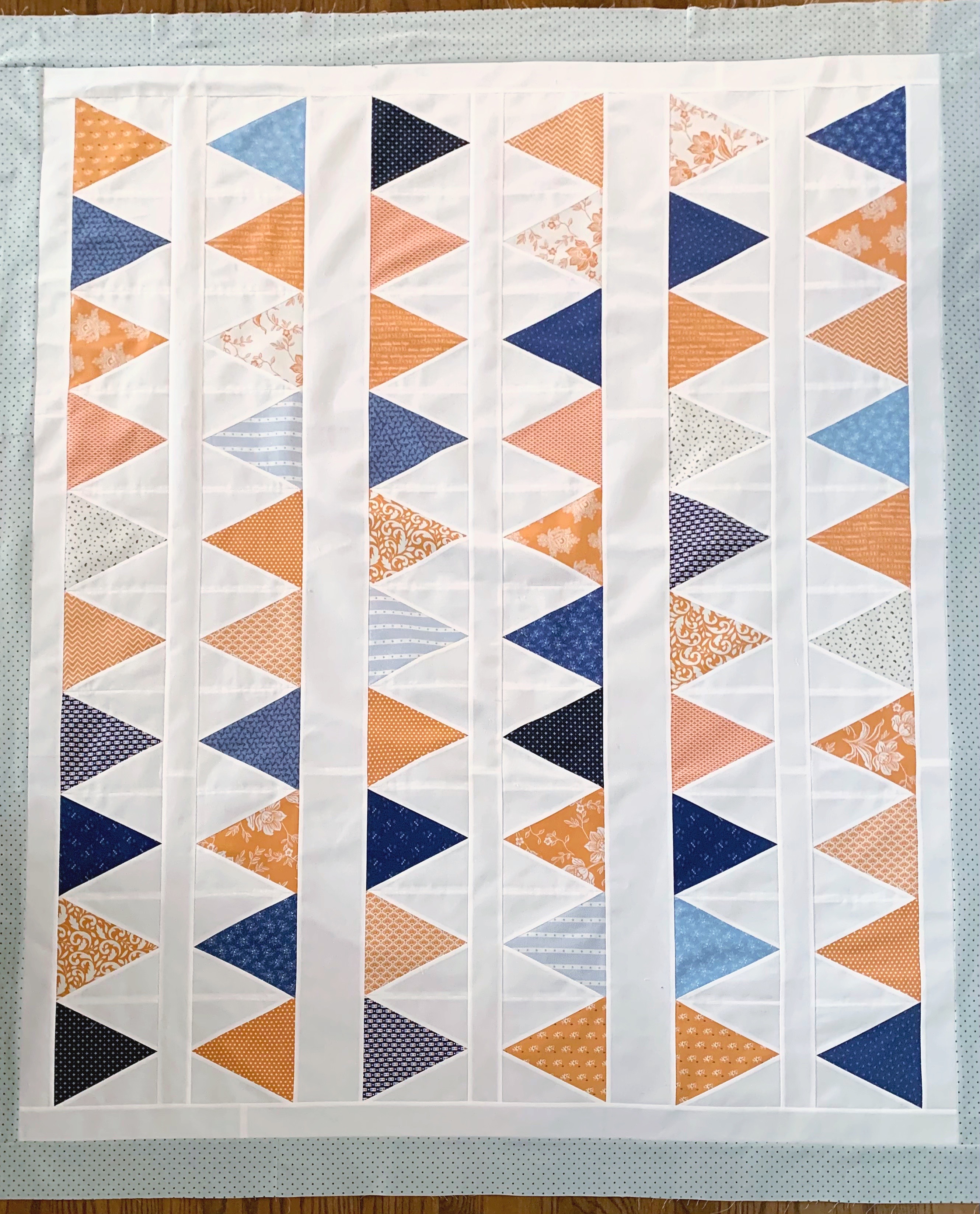 I really loved using Jo Morton's Hopewell collection for the book version of Backgammon. The colors are warm and comforting, and the collection gives me "dad tie" vibes – in the best possible way!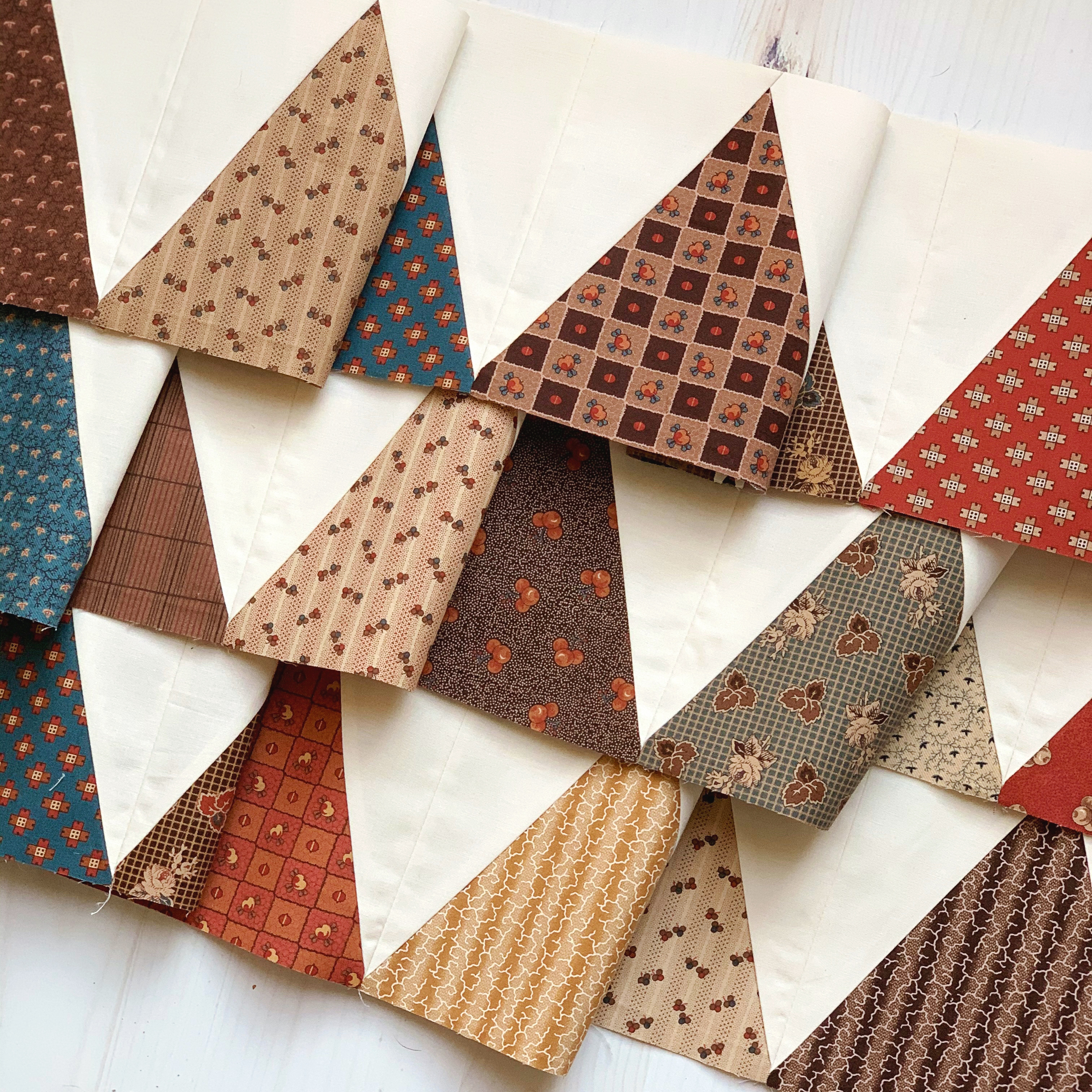 I wanted a paisley pantograph for the quilting, and Amanda Birdwell (@graccieone on Instagram) totally delivered! She did a lovely job on the quilting. Thanks, Amanda!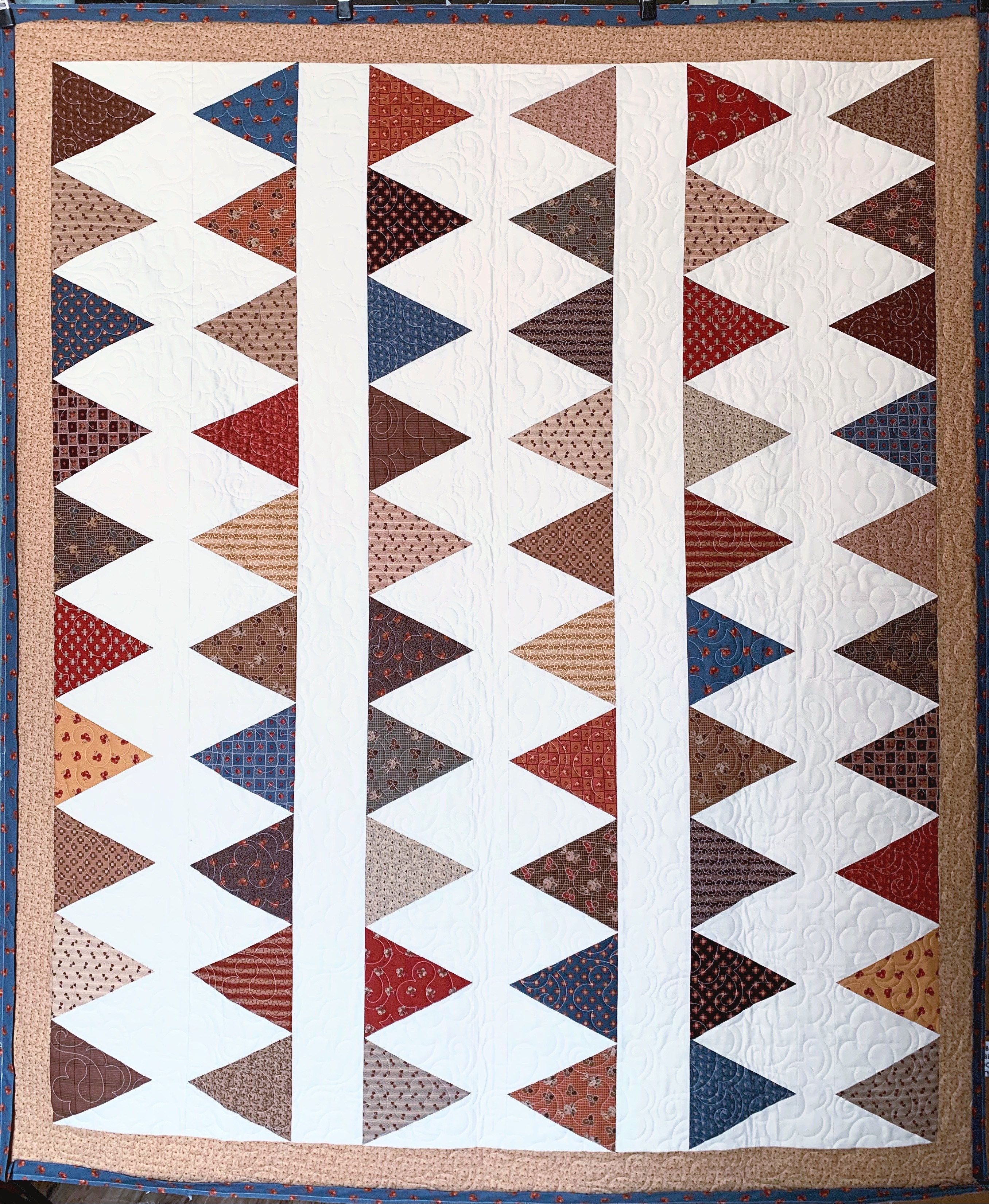 Once again, I have recolored a few versions of Backgammon to give you an idea of how it would look in different fabric collections, and once again, I just couldn't stop once I got started! I think Backgammon is one of the most versatile patterns of all.
First up, a couple of kid-friendly designs. Backgammon would make a great children's quilt. I started with Stacy Iest Hsu's upcoming ABC xyz collection for Moda, and it turned out really cute!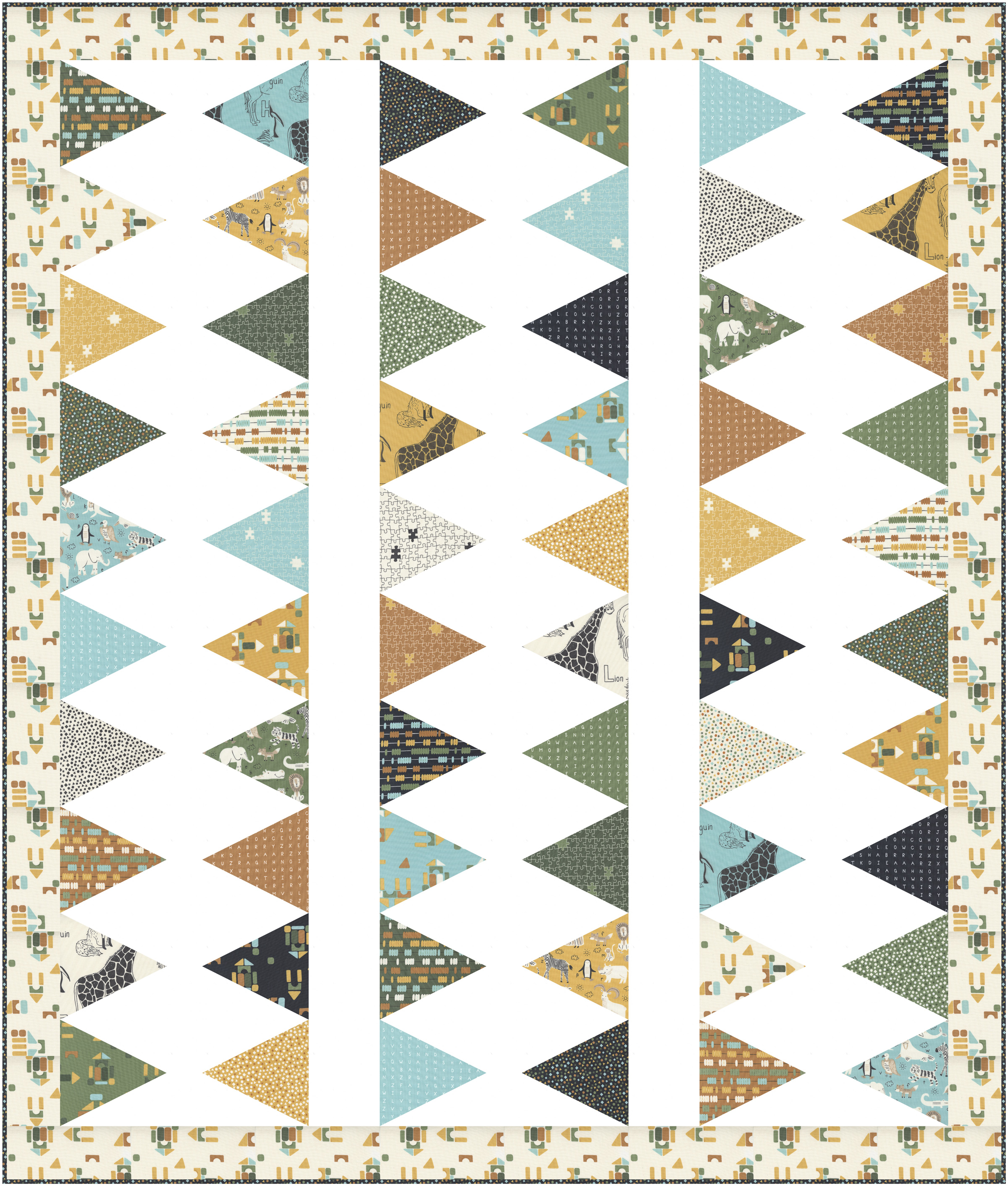 Of course, Backgammon's pennant-style triangles are so festive that I had to recolor it with Soiree, by Mara Penny for Moda. I've seen some folks make "birthday quilts" that get brought out for family birthdays, and this would be perfect!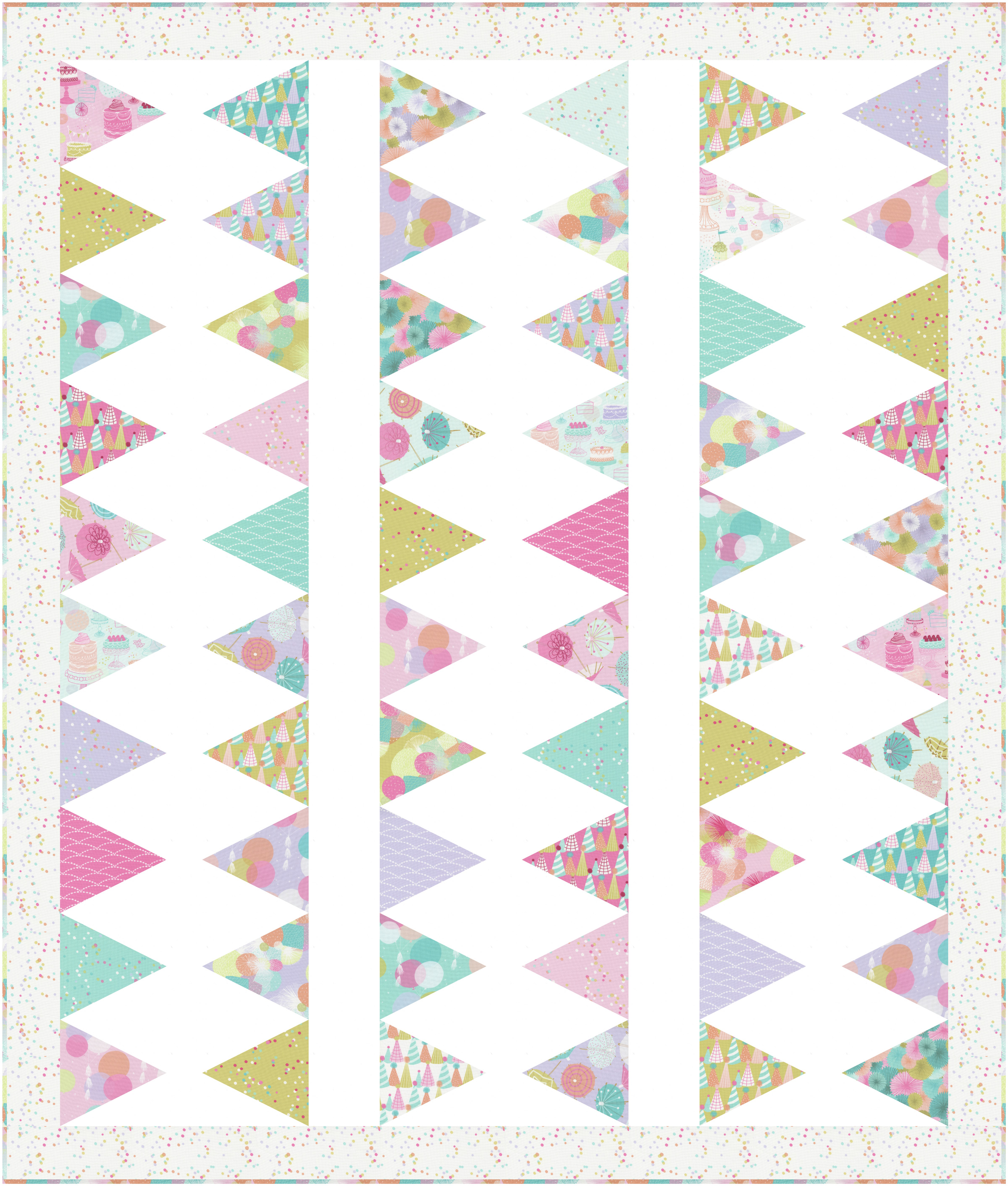 For this patriotic version, I used American Dream by Dani Mogstad for Riley Blake. There are a few collage/patchwork prints in this collection, which help make the finished pattern feel a little more scrappy.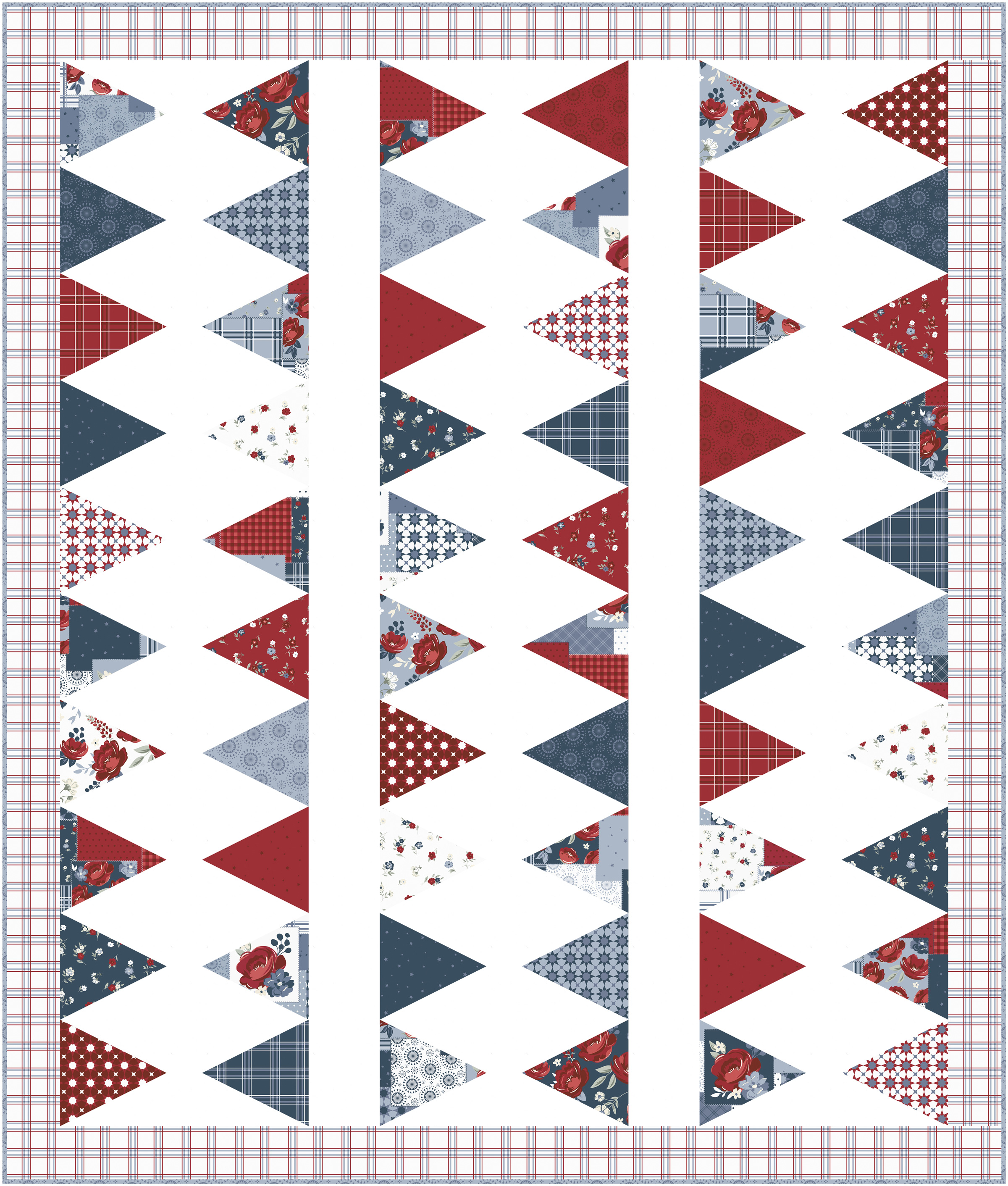 You'll see that I've been keeping the borders kind of light on some of these designs. Usually, I like a strong border, but I think this pattern works well with a more understated border. But it all comes down to personal preference!
I chose another Riley Blake collection for a Christmas version. This one uses Old Fashioned Christmas by My Mind's Eye. I love all those plaids!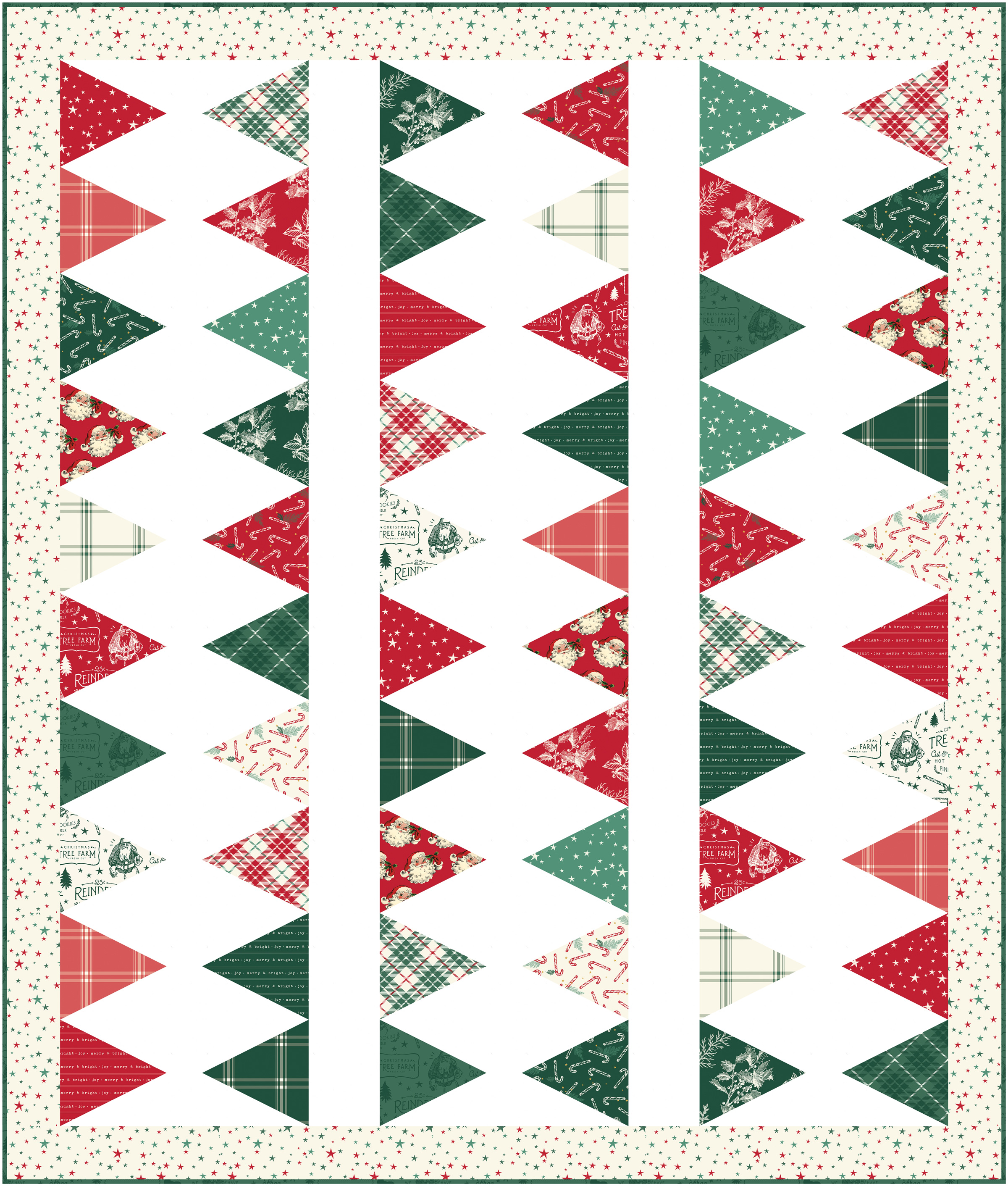 Next is a cheerful version using Morning Light by Linzee Kull McCray for Moda. I love the little pop of soft coral in the color palette for this collection.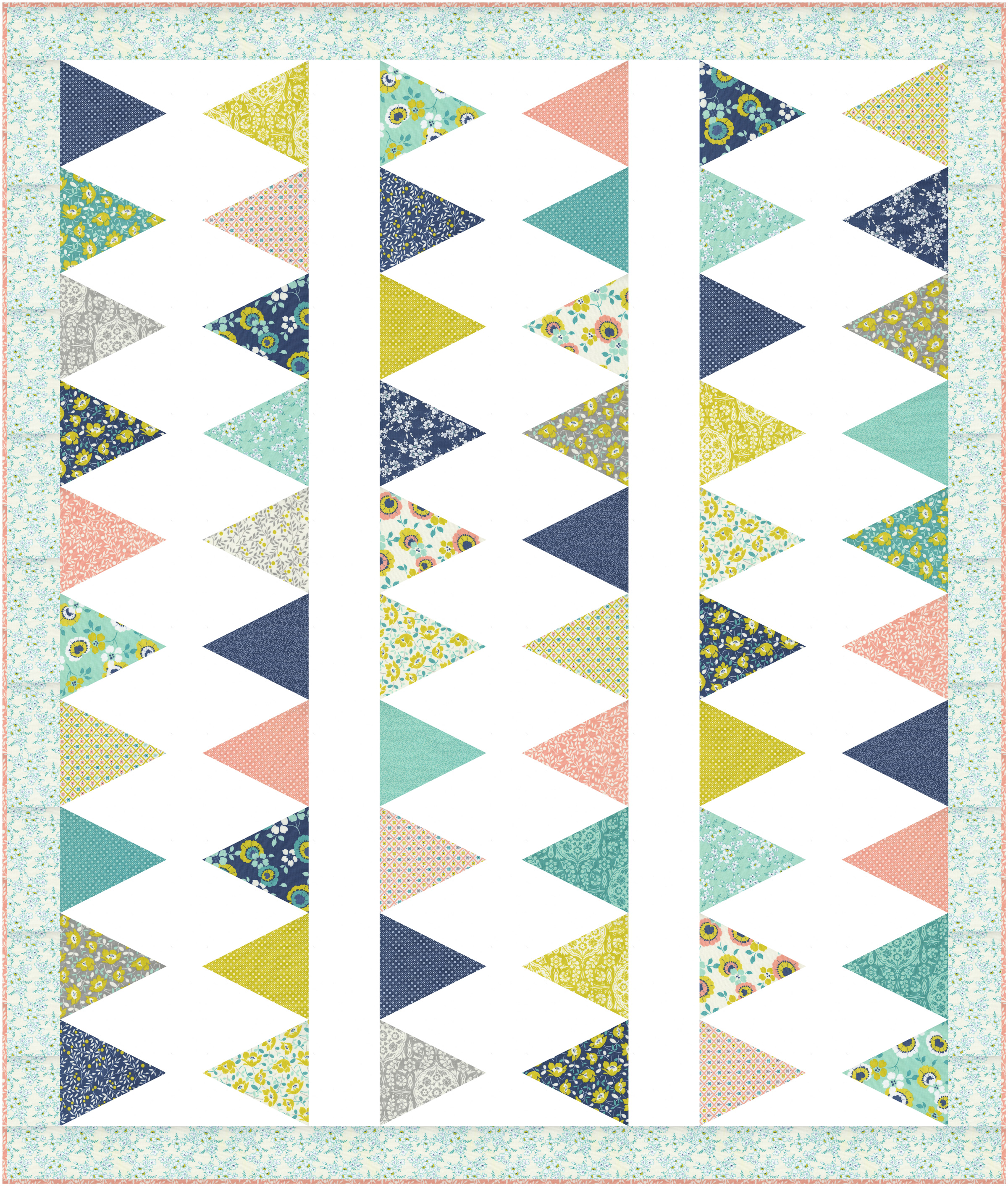 OK, so I just said that I liked using a toned-down border on some of these recolorings, but then I started recoloring Backgammon with Reverie by Melody Miller for Ruby Star Society, and THIS happened: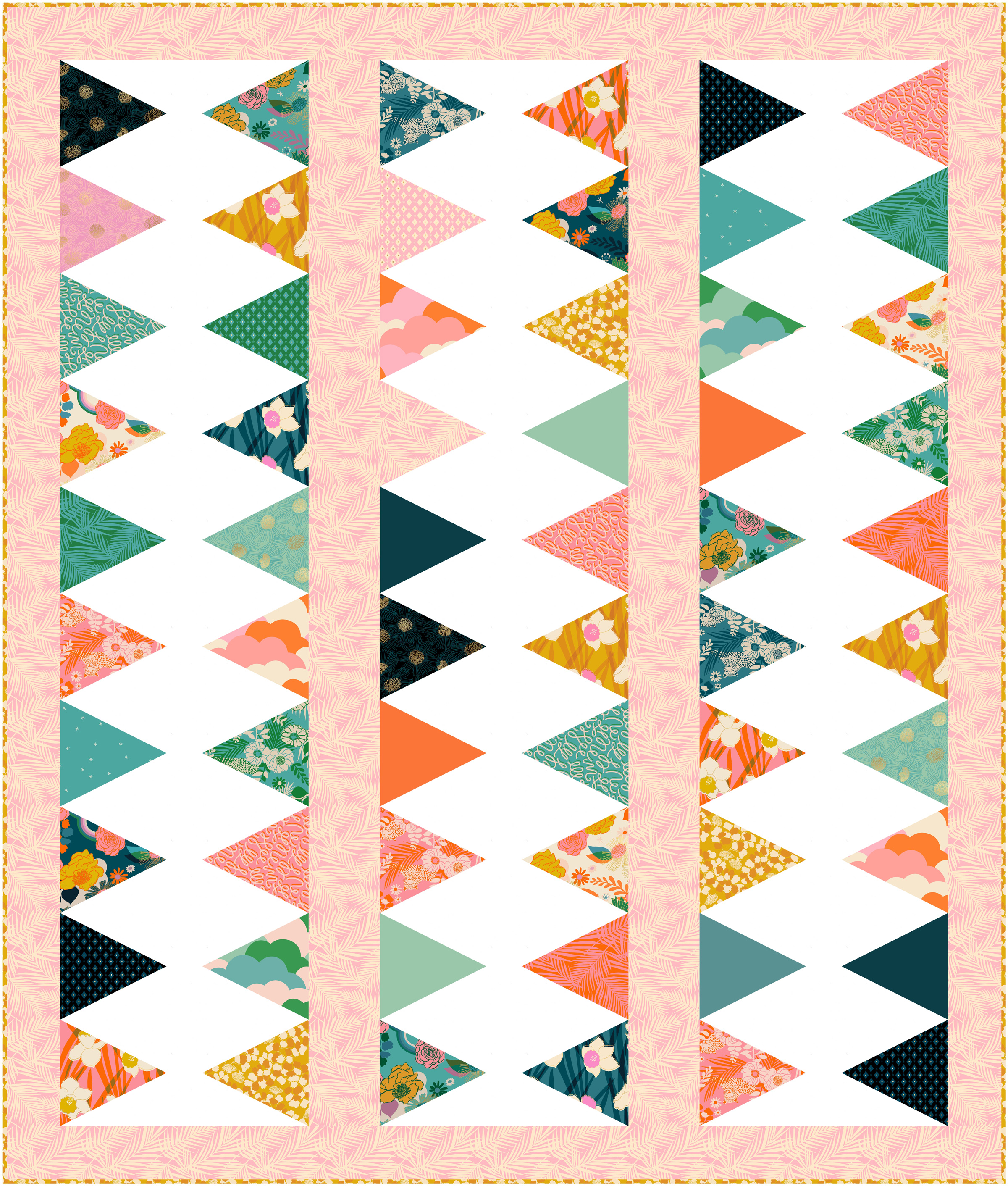 I'm totally obsessed with using that border fabric for the wide sashings in the quilt center! It really changes the overall look, doesn't it? That's what I love about quilting. There are so many ways to take a pattern and make it your own. In my book, I've written the pattern instructions for Backgammon to use the solid background fabric for those wide sashings, but if you want to use the border print, go for it!
And finally, I did a similar but softer treatment on this version using Midnight Garden by Gerri Robinson for Riley Blake. I love it so much…it's all my girlhood Laura Ashley dreams come true, a chintz-filled cottage in quilt form, and I am smitten.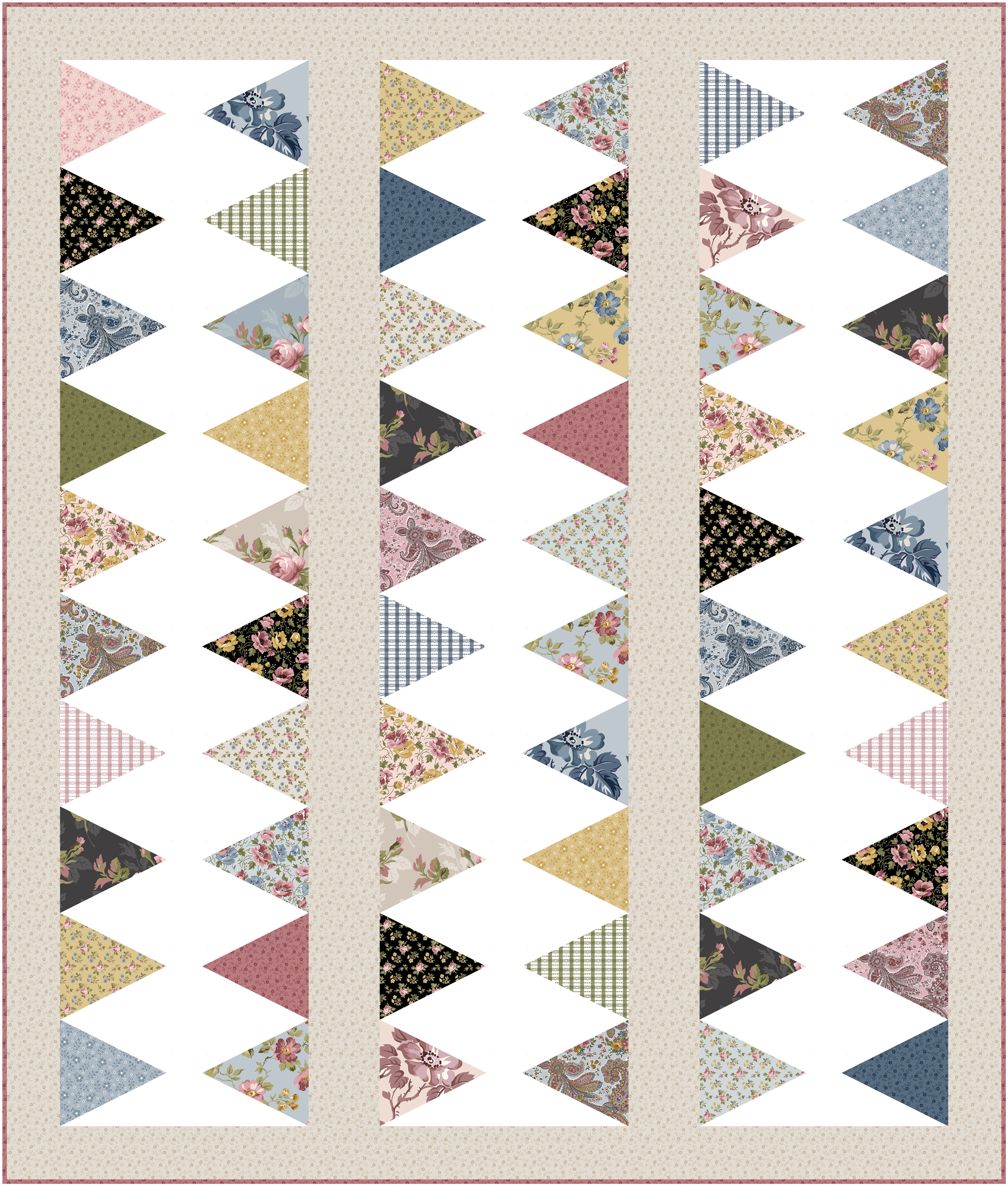 Thank you for stopping by my blog. I hope you've enjoyed reading about Backgammon today!
If you're as excited as I am about the designs in "You've Got a Point!", please consider preordering a copy!
Preorder a signed copy from my Etsy shop
Preorder a copy from Martingale
Stay tuned for the next quilt preview post. I'll be talking about Smoke Rings!