Meet Spinning Wheels, from You've Got a Point!
Hi, everyone! I recently launched a series of posts about the quilts in my upcoming book, You've Got a Point! (You can find previous posts HERE.) Today I'm excited to talk about Spinning Wheels.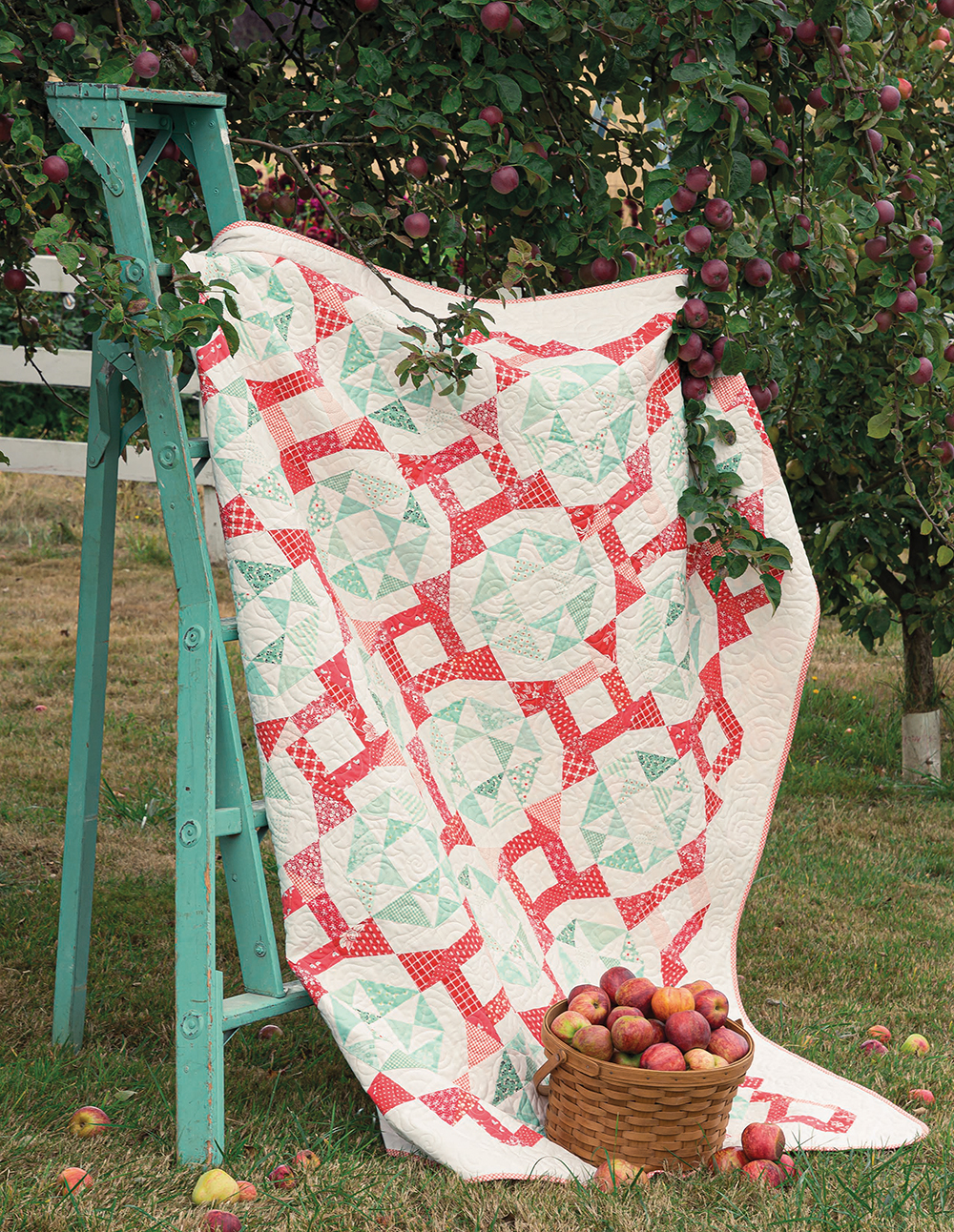 Churn dash blocks are one of my favorite traditional blocks, yet I've never made a quilt that prominently features them. So as I was working on the designs for You've Got a Point, I wanted to work in a churn dash block into one of the designs – which led me to wonder, "What would happen if I replaced the HSTs in a churn dash block with triangle-in-a-square units?"
After tinkering with an initial design that featured oversized, modified churn dash blocks in a straight setting, I ended up going in a completely different direction, setting the modified churn dash blocks on point and alternating them with traditional swamp angel blocks.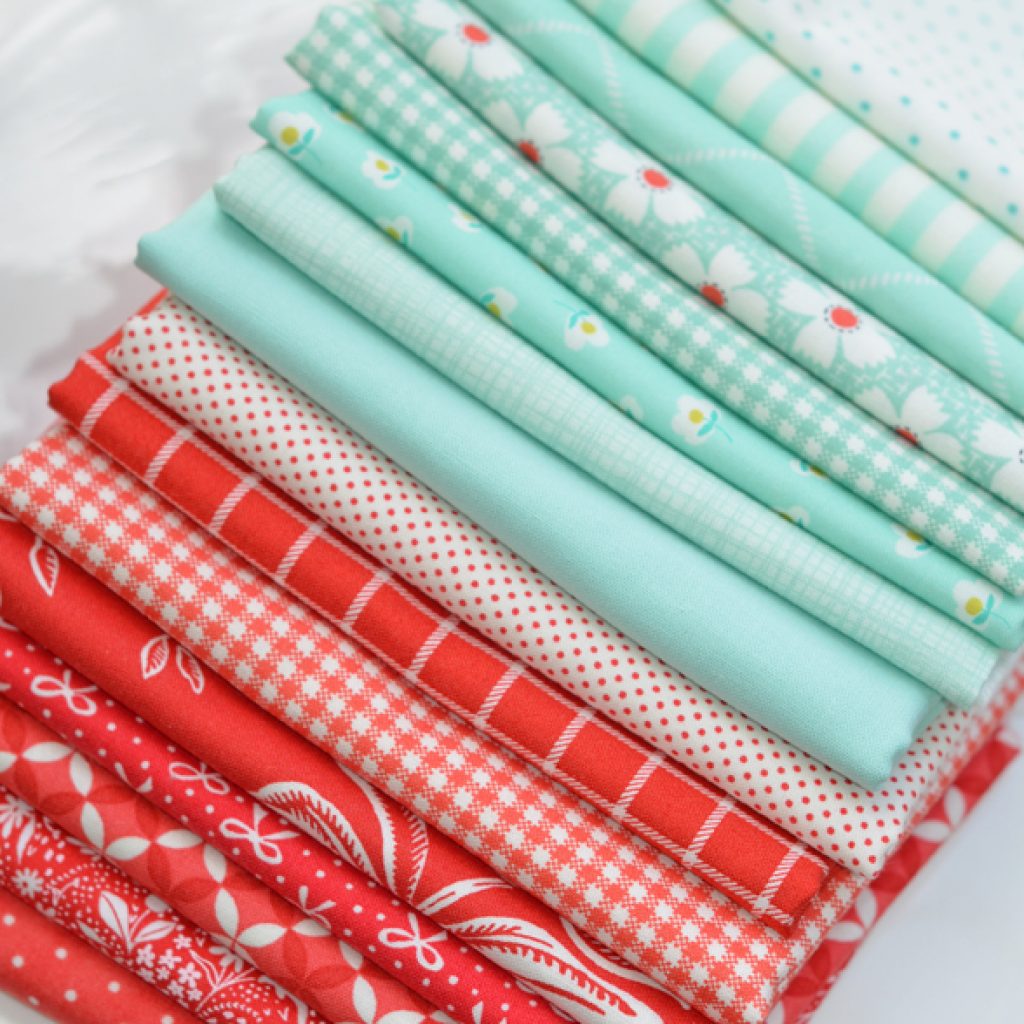 As soon as I finalized the design, I knew exactly what fabrics I wanted to use. While most of the quilts in my book showcase a single fabric collection, my version of Spinning Wheels is a scrappy, two-color option. I started with a Figs & Friends bundle from March 2021, featuring a mix of red and aqua prints. (I've borrowed one of Joanna's pictures from her blog to post since I didn't take time to get a pic of my own.) I've always wanted to make a red and aqua quilt, and this seemed like the perfect opportunity. I pulled out the low volumes and added some additional red and aqua prints to make it super scrappy.
Spinning Wheels is one of three designs with on-point settings in my book. I confess that I really love setting blocks on point. It can have such a dramatic impact on the design! Setting these modified churn dash blocks on point creates a lattice effect around the swamp angel blocks.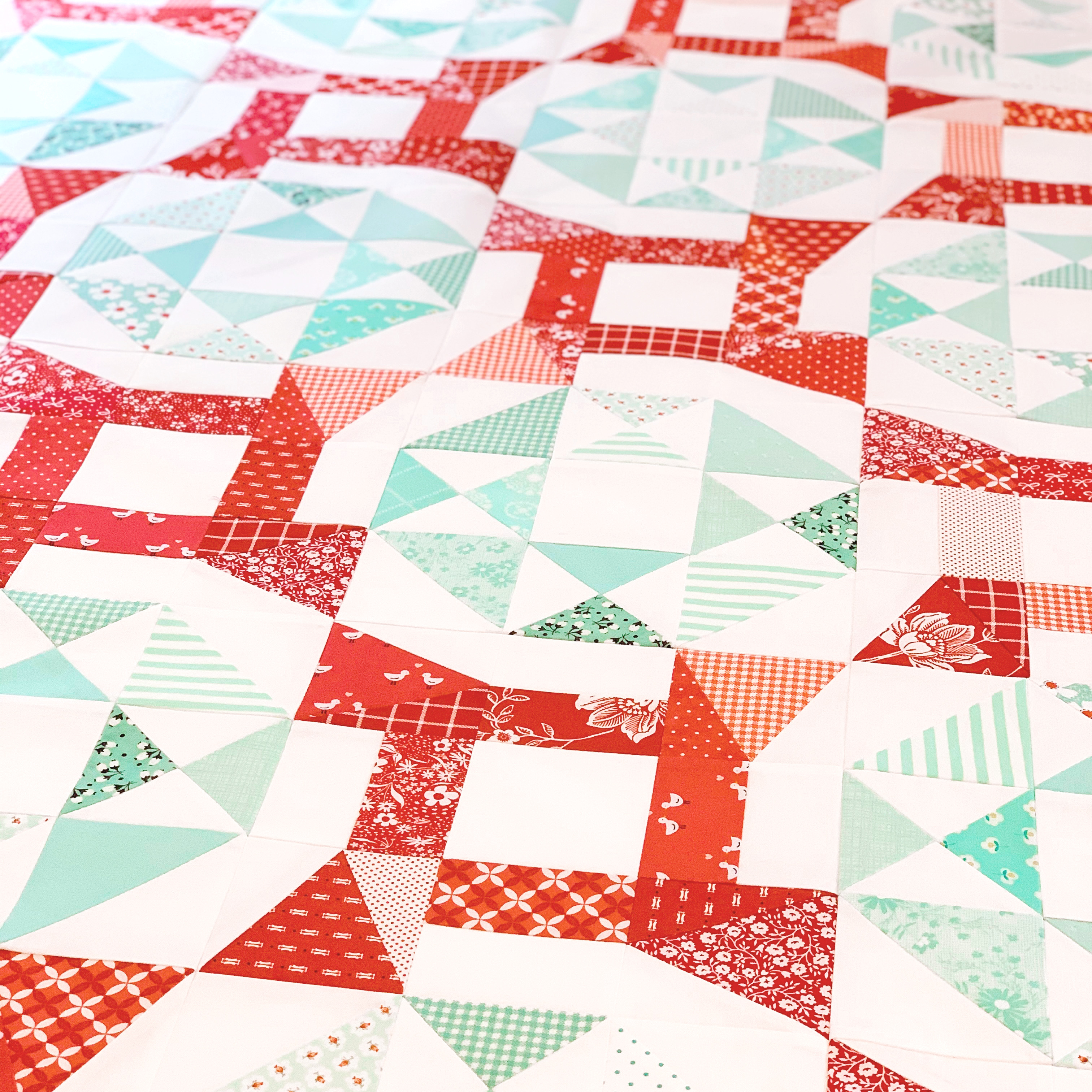 Carrie Straka (@redvelvet_quilts on Instagram) worked her quilting magic on Spinning Wheels. She used a swirly pantograph called Kraken, and it's perfect. Thank you, Carrie!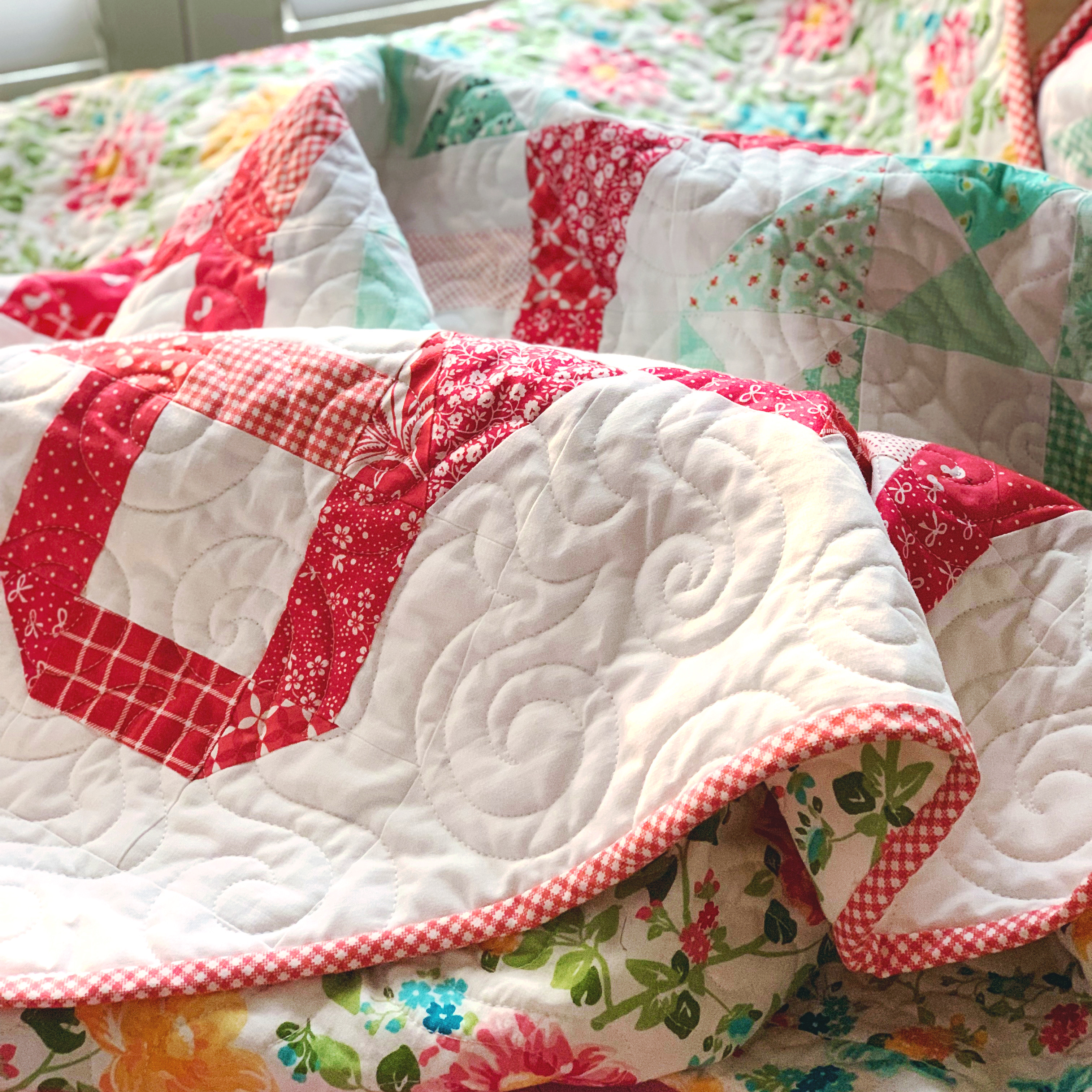 You can't really see it in this picture or in the digital mock-ups, but I decided to round the corners of the quilt before binding it. It just felt right to round those corners and mimic the roundness of those corner blocks.
I *may* have gotten a little carried away when I started recoloring this design for today's blog post. But I was having so much fun experimenting with different fabric options!
First up, I've got a calming blue and green version using Camille Roskelley's upcoming Nantucket Summer collection. It's such a classy collection and I think this version could work with so many different aesthetics!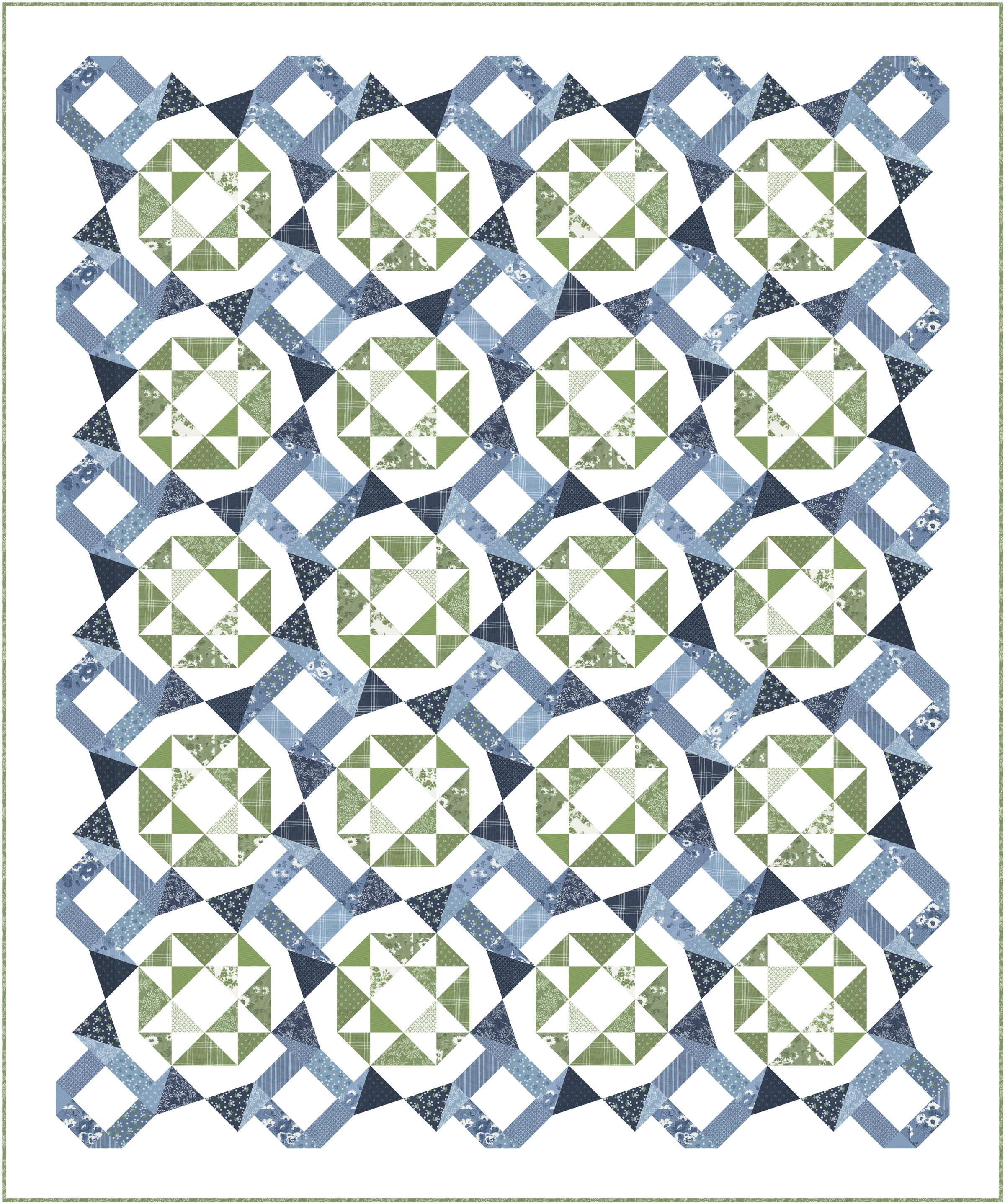 Next, I wanted to see how this would look as a Christmas quilt. I've recolored it here with a variety of Civil War repro prints, and I just love it!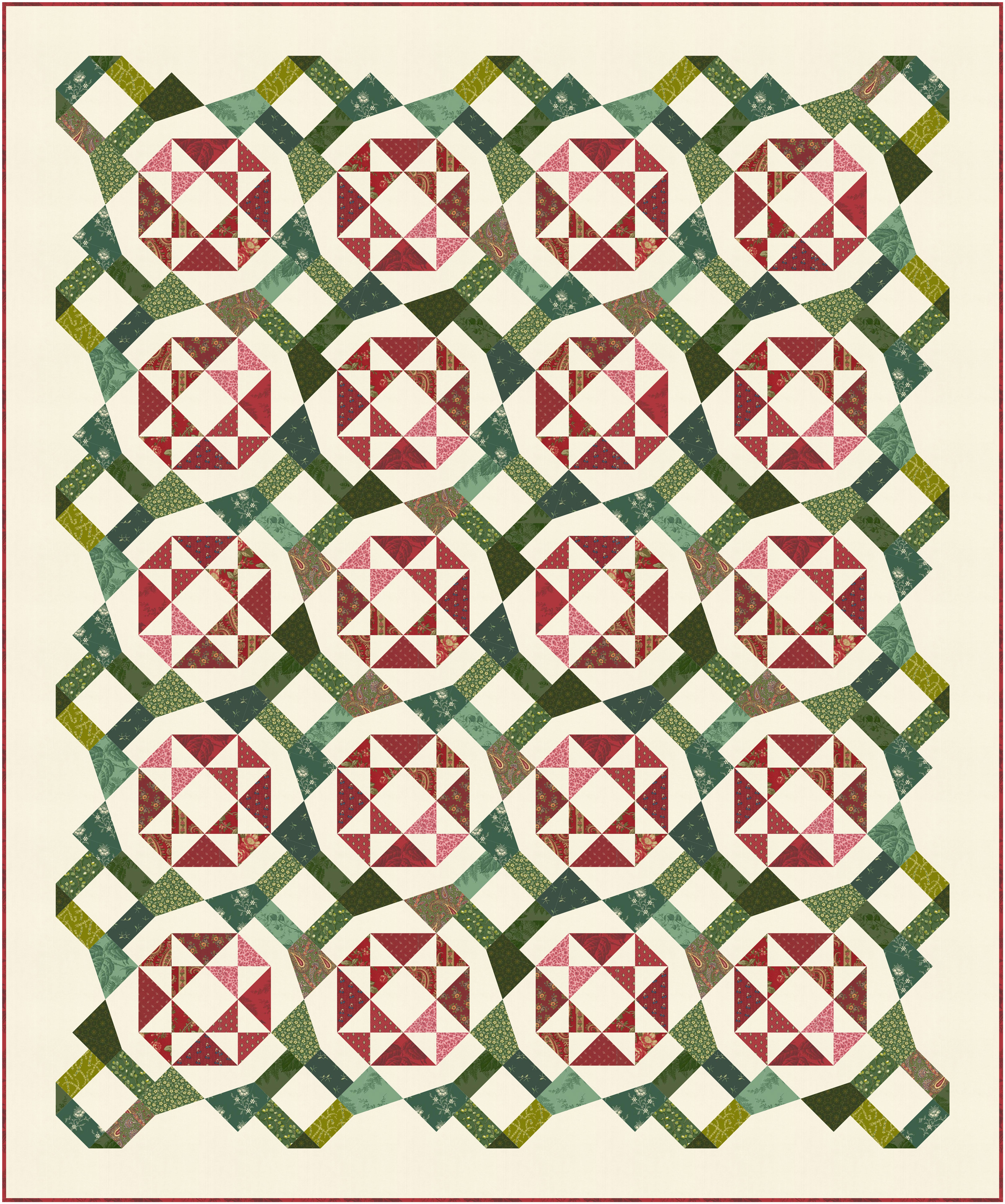 Of course, I had to make a patriotic version using a bunch of Minick & Simpson prints. This is another favorite!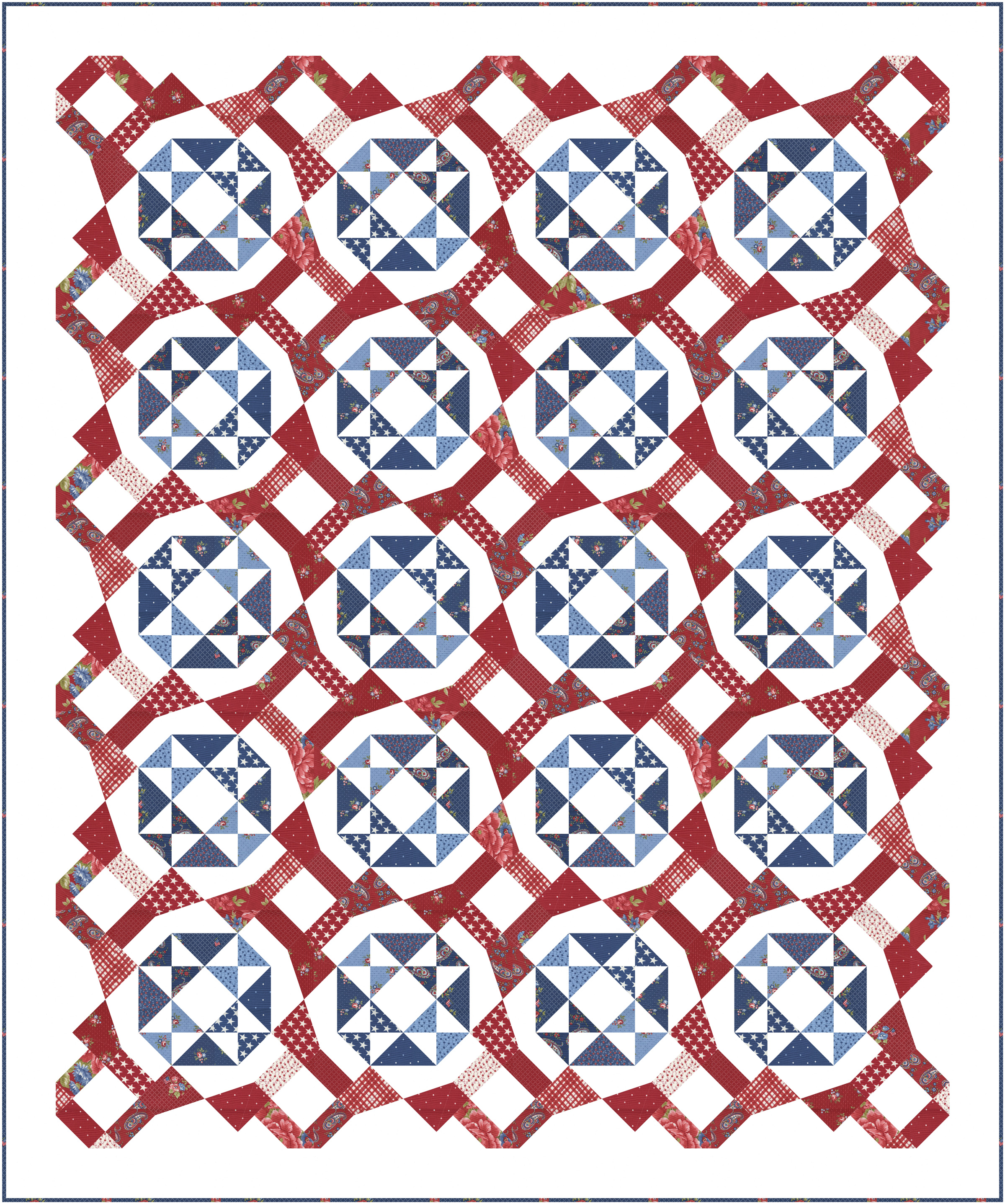 I'm completely smitten by this vibrant, autumnal version using Maple, an upcoming collection for Riley Blake Designs by Gabrielle Neil Design. I'm pretty sure I'm going to have to make this one! The color combo is amazing – and I am in love with that dusty lavender!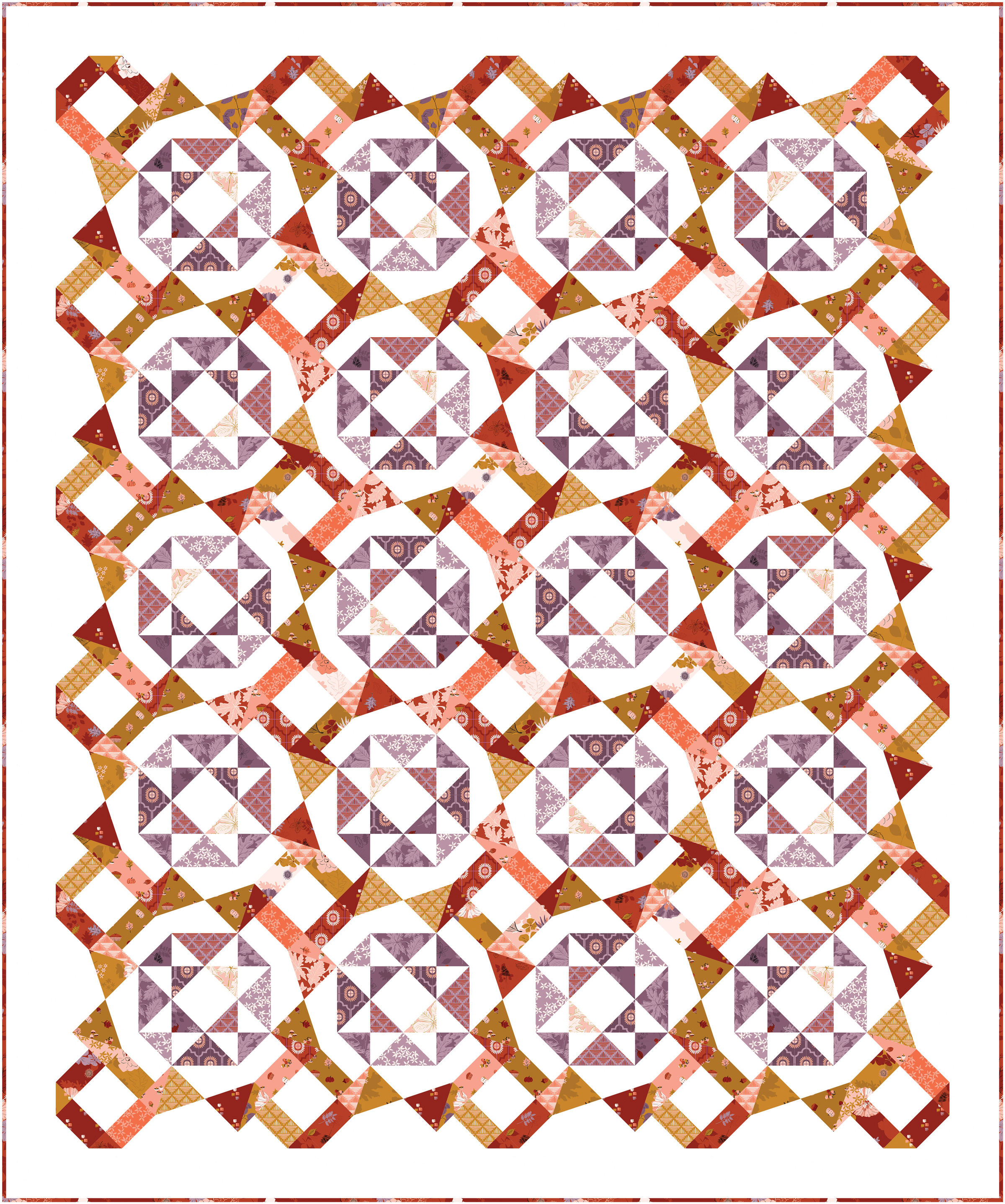 I wanted to make one version using a traditional collection, and the soft pinks and blues in Jo Morton's Rose collection work really well together in this design, I think!
And last but not least, the golden honeys and denim blues in Beverly McCullough's upcoming Daisy Fields collection are giving me serious summer & blue jeans vibes. It's an irrepressibly cheerful and another must-make version, I think!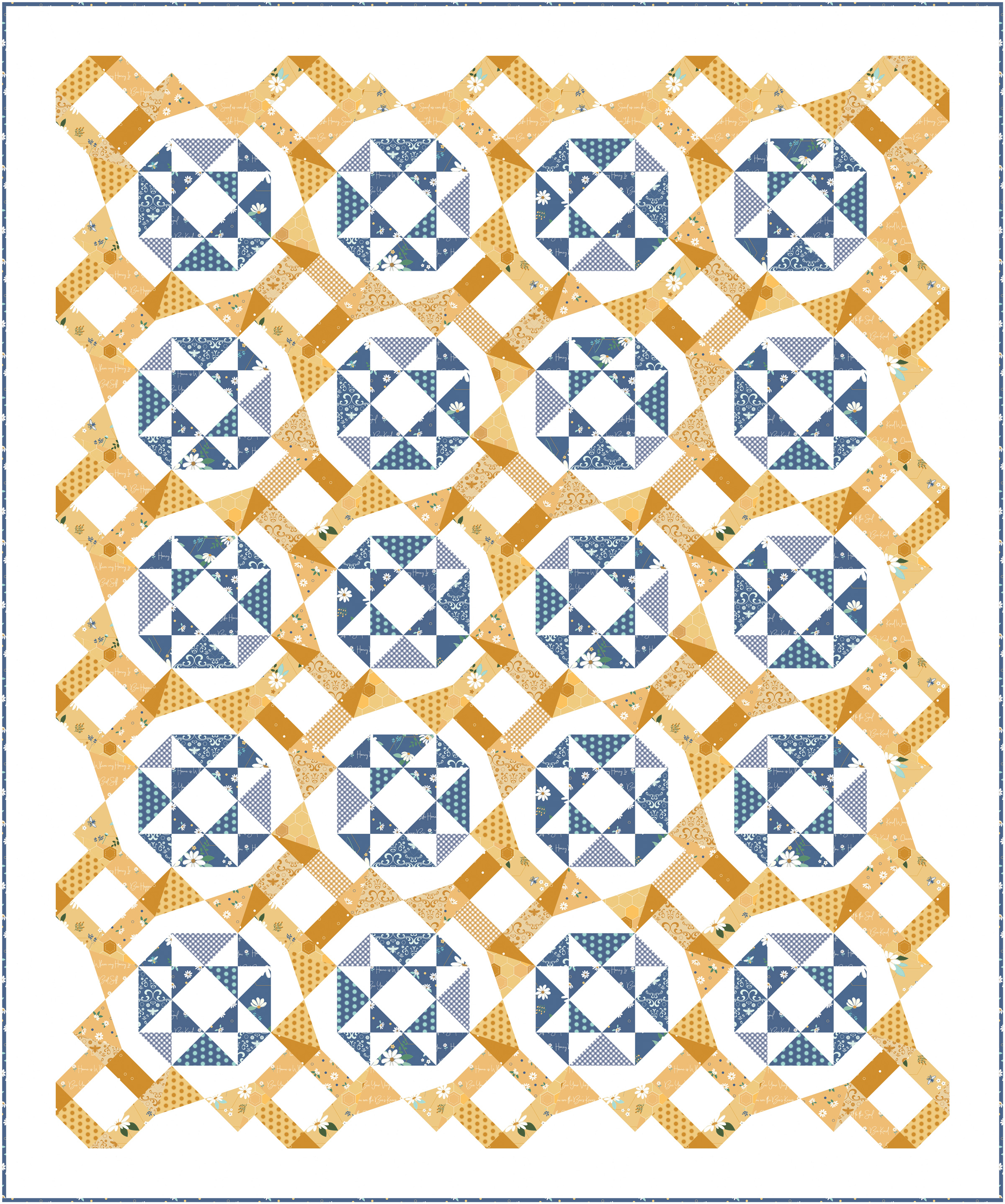 Thank you for stopping by my blog. I hope you've enjoyed reading about Spinning Wheels today!
If you're as excited as I am about the designs in "You've Got a Point!", please consider preordering a copy!
Preorder a signed copy from my Etsy shop
Preorder a copy from Martingale
Stay tuned for the next quilt preview post. I'll be talking about Backgammon!