Meet Corn Maze, from You've Got a Point!
Hi, everyone! Today I'm kicking off a series of posts about the quilts in my upcoming book, You've Got a Point! (You can find the introduction post HERE.)
I'm starting off with the cover quilt, Corn Maze. Corn Maze comes together quickly with 8" finished blocks, for a nice lap-sized quilt at about 56" square.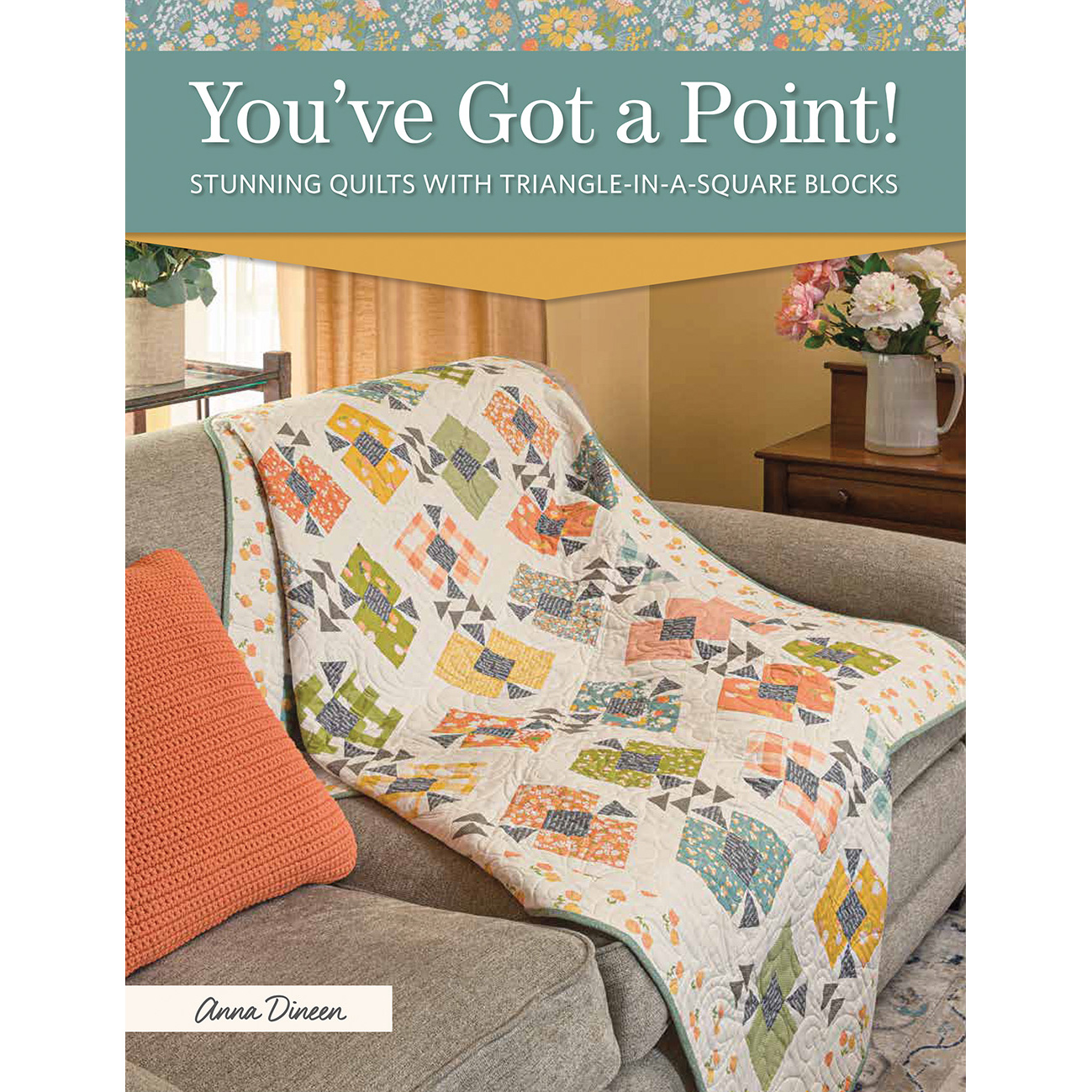 As I worked on the designs for this book, I played around with some "offset" one-block designs – blocks that had setting strips on two sides, which would create a sense of movement with minimal fuss when pieced together in rows. (I was inspired to try this by the block settings in Carrie Nelson's book Summer Moon. I love the way the blocks seem to float in the finished quilt.)
This was also the first design I came up with that featured triangle-in-a-square (TIAS) units with the triangle point oriented in a corner. It's pretty close to a kite-in-a-square, but it's just different enough that I decided 1) It's still technically a TIAS, and 2) I was going to have to foundation paper piece these bad boys.
Paper piecing isn't something I do very often, mostly because it's time-consuming and not well suited to chain piecing, which I prefer. But I tailored the fabric cutting and sewing instructions to make construction as close to chain piecing as possible, and I surprised even myself with how quickly I was able to knock out these paper-pieced TIAS units!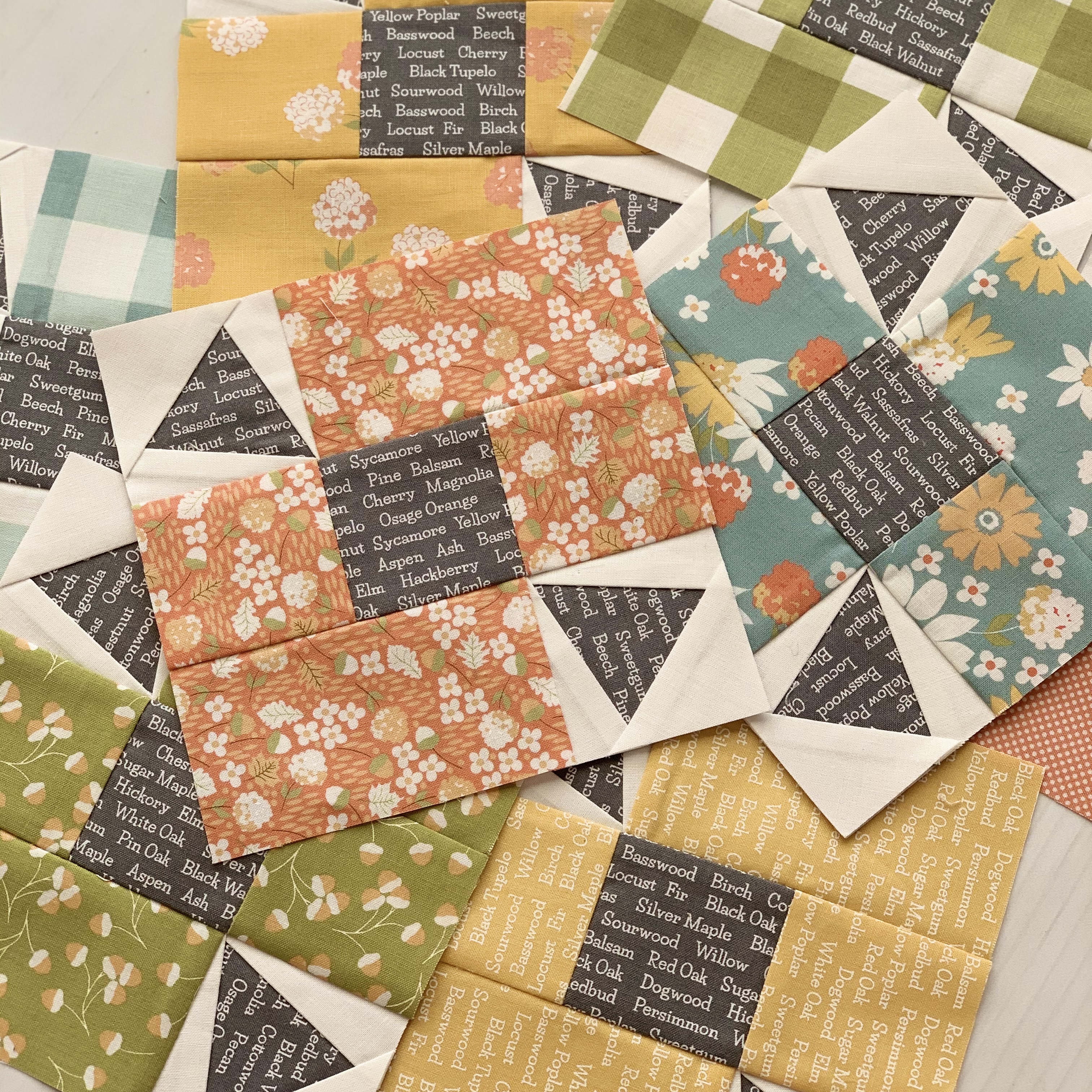 Rotating the blocks gives the overall design a sense of movement and creates the secondary pattern, which reminded me of a hidden path that you can only see from a bird's eye view – kind of like corn mazes or hedge mazes, hence the name.
I pieced this quilt using Cozy Up by Coriander Quilts. The colors are soft and beautiful, and the addition of charcoal in the mix adds a nice pop to the overall palette. I picked a couple of small prints in charcoal to use as the accent fabrics for the TIAS units, center square, and flying geese.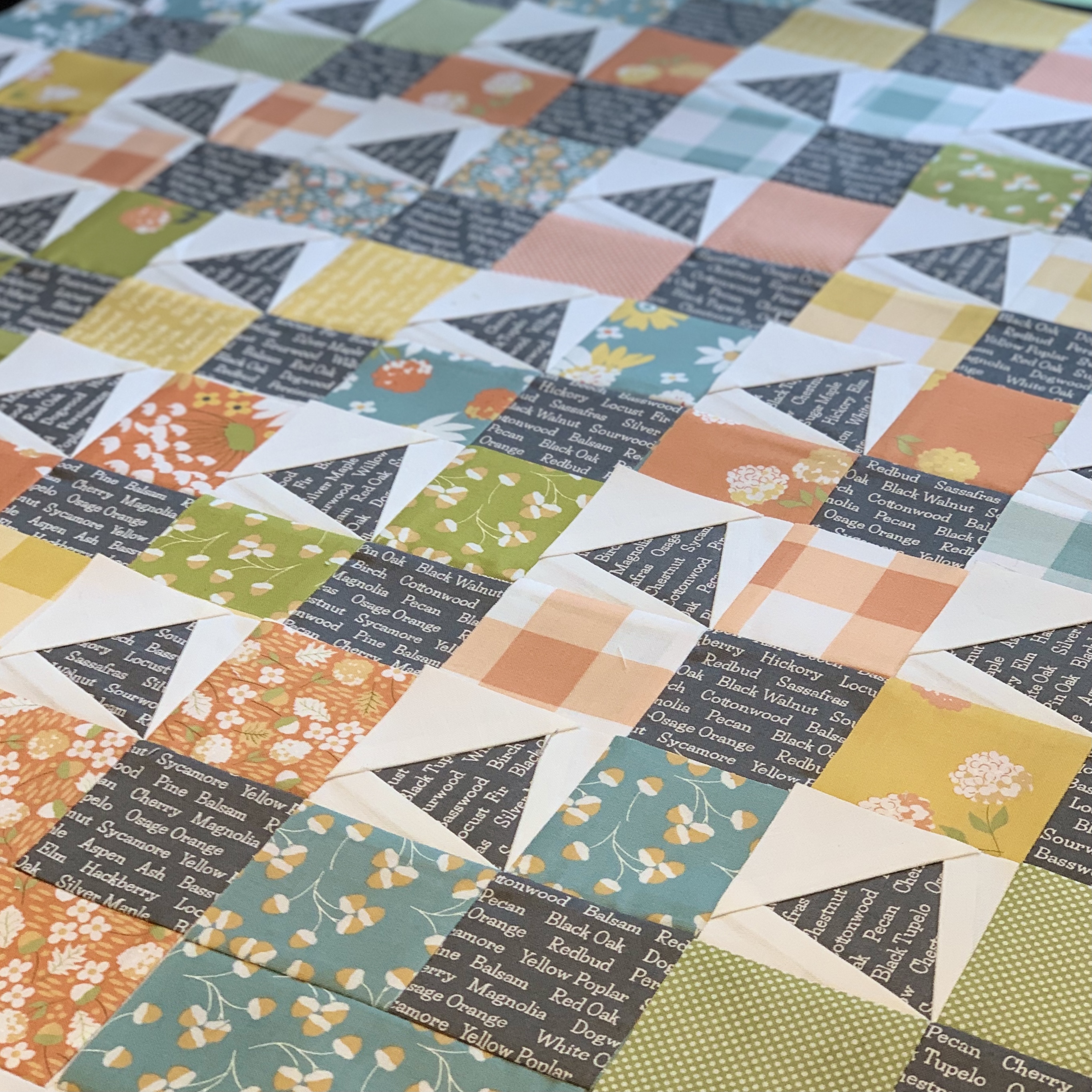 My initial digital coloring of this quilt included some low volume prints in the blocks, but when I had the fabric in hand, I decided not to use any low volumes for the blocks. I also opted not to use the large floral charcoal print because it wouldn't have enough contrast against the charcoal accent fabrics.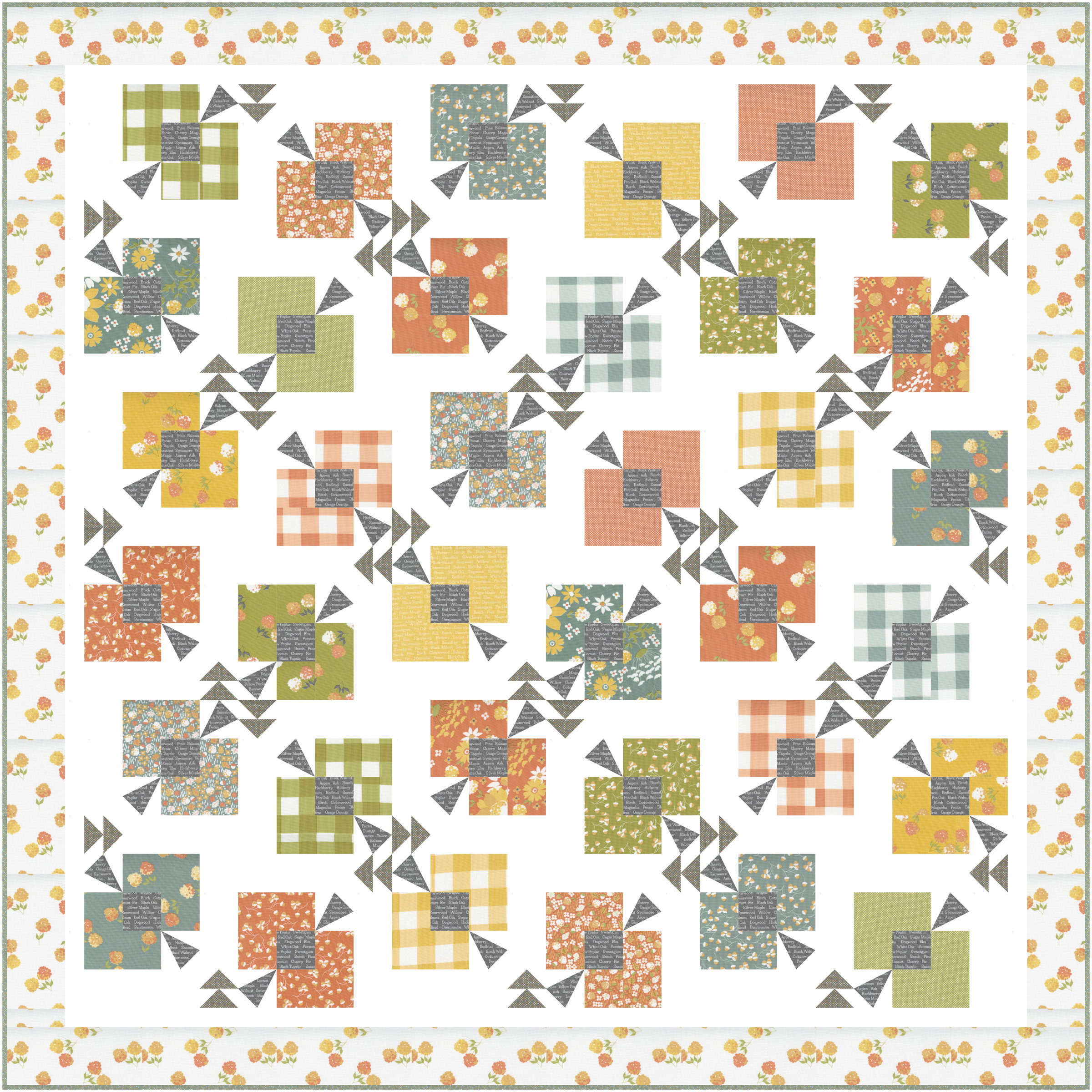 I love a strong border, so normally I would pick my favorite large-scale floral for the border; but because there's a lot going on in the main part of the quilt, I decided the border would be the perfect place to use a low volume print. It frames the quilt center without distracting from it. I saved the big floral for the backing!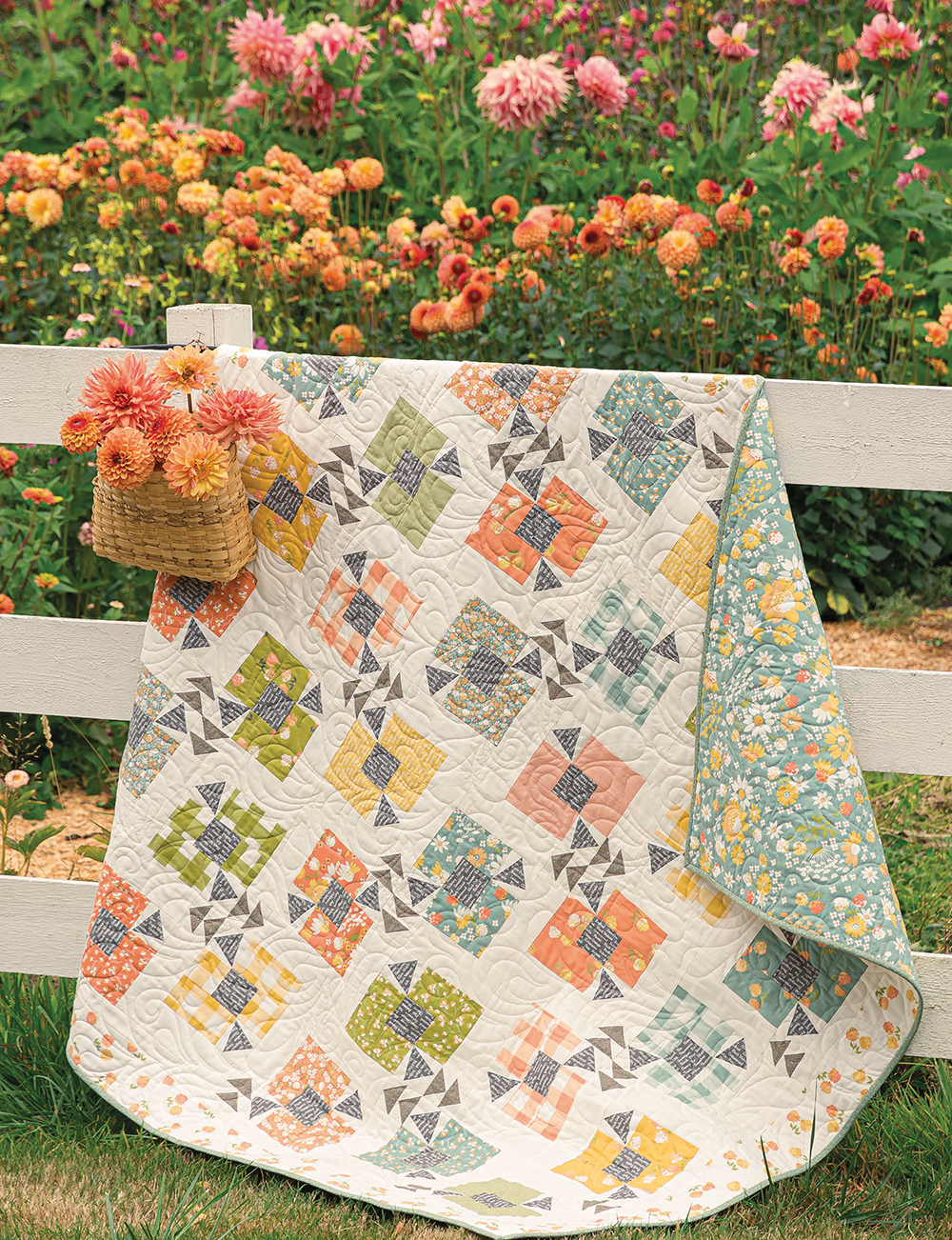 Carrie Straka (@redvelvet_quilts on Instagram) quilted an all-over swirly pattern on Corn Maze, and it turned out beautifully! She always picks the perfect pantograph for the quilts I send her. Thank you, Carrie!
When I'm designing quilts, my goal is to make a design that's style-agnostic as much as possible – meaning, I try to create designs that work in just about any kind of fabric, whether your style is traditional or modern or somewhere in between. So I've mocked up a few examples of Corn Maze using a variety of different fabrics to give you an idea of how versatile it is!
First up is a cheerful, summery version using Sherri & Chelsi's upcoming collection Emma. I love the pops of red!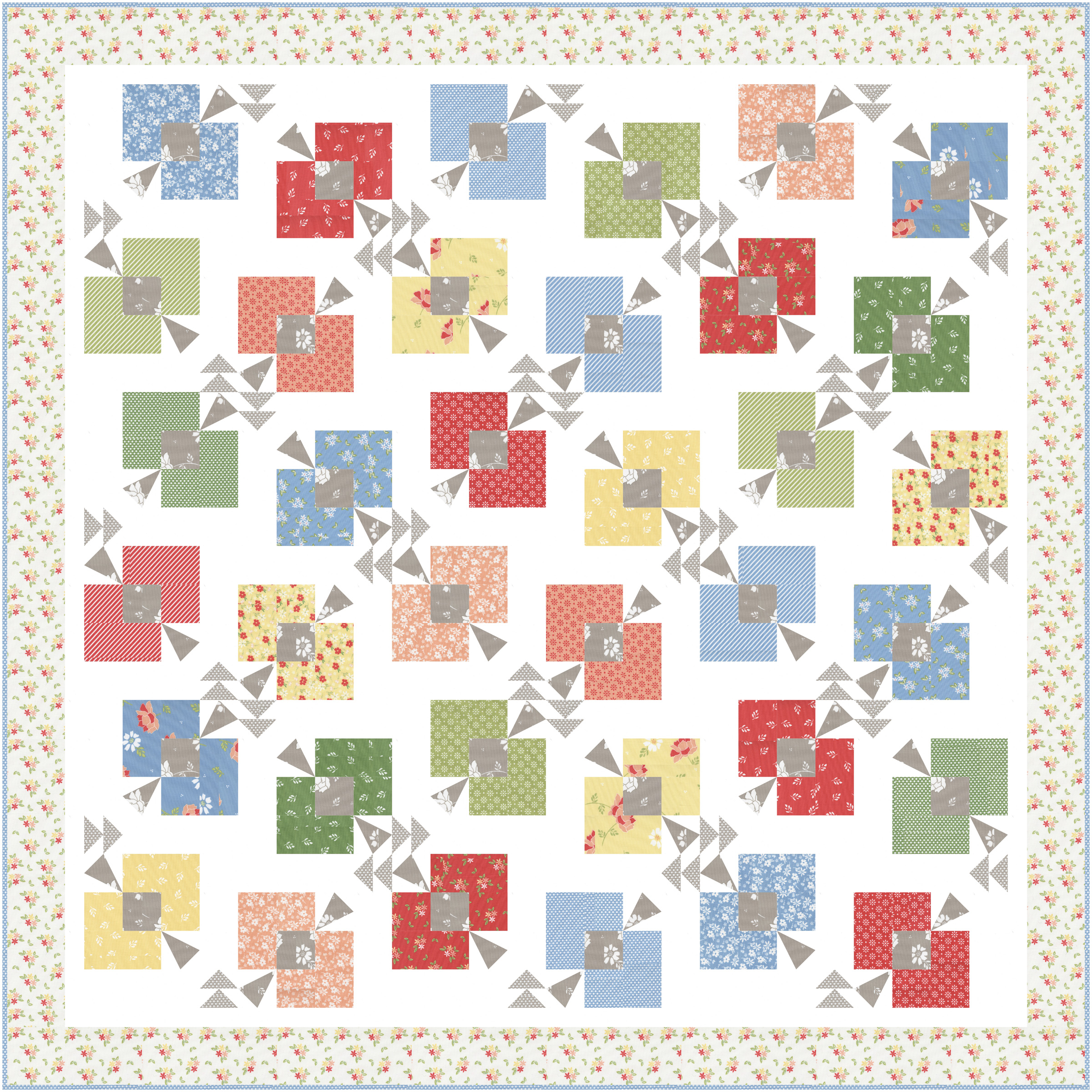 Next is an all-blue version using Edyta Sitar's upcoming collection Blue Escape. I chose a neutral accent fabric for this one, and I like how the secondary pattern is a little more in the background.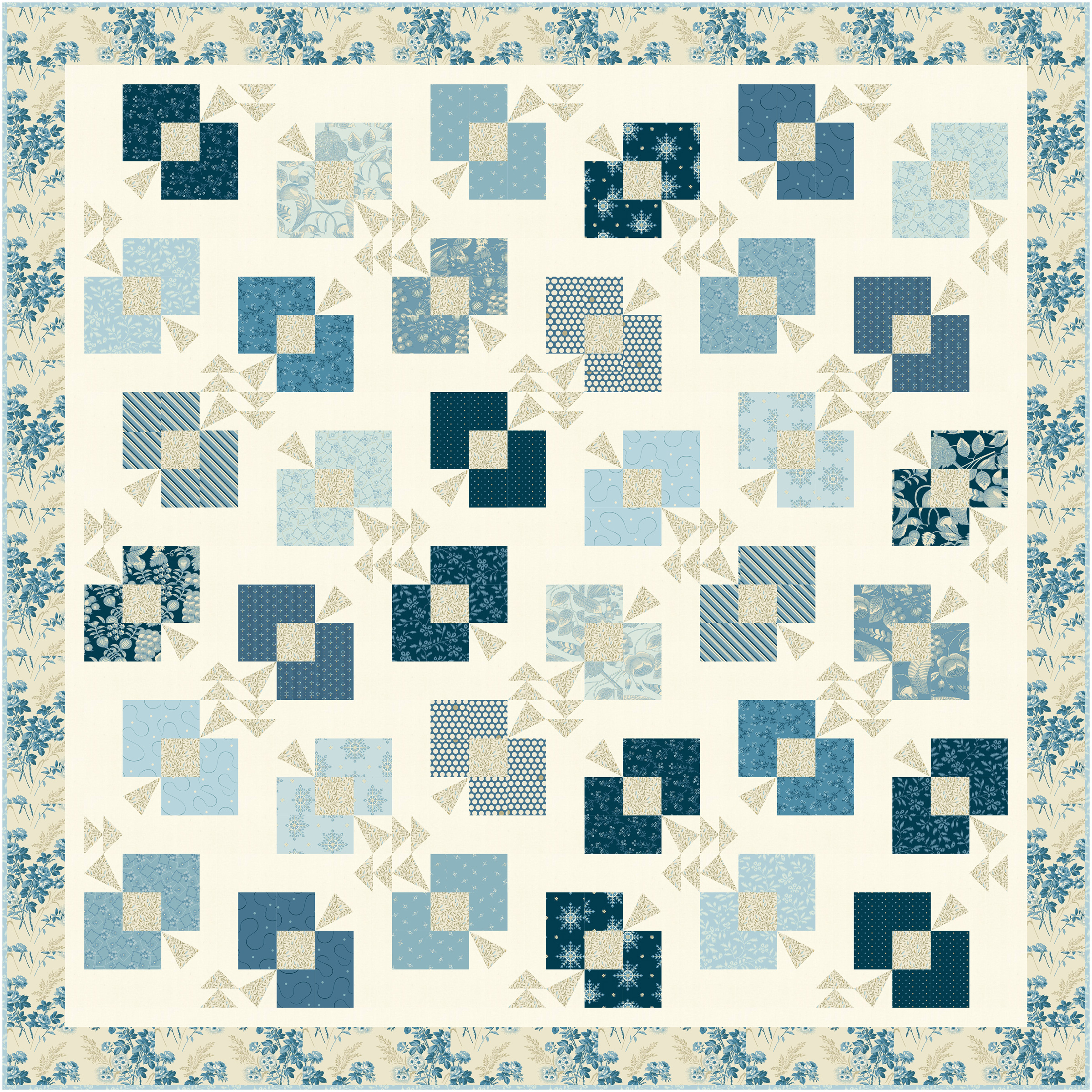 I think this one shows how great this pattern can work with more modern fabrics. This version features Zen Chic's new collection, Frisky. I loved using the mustard yellow for the accent fabric on this one!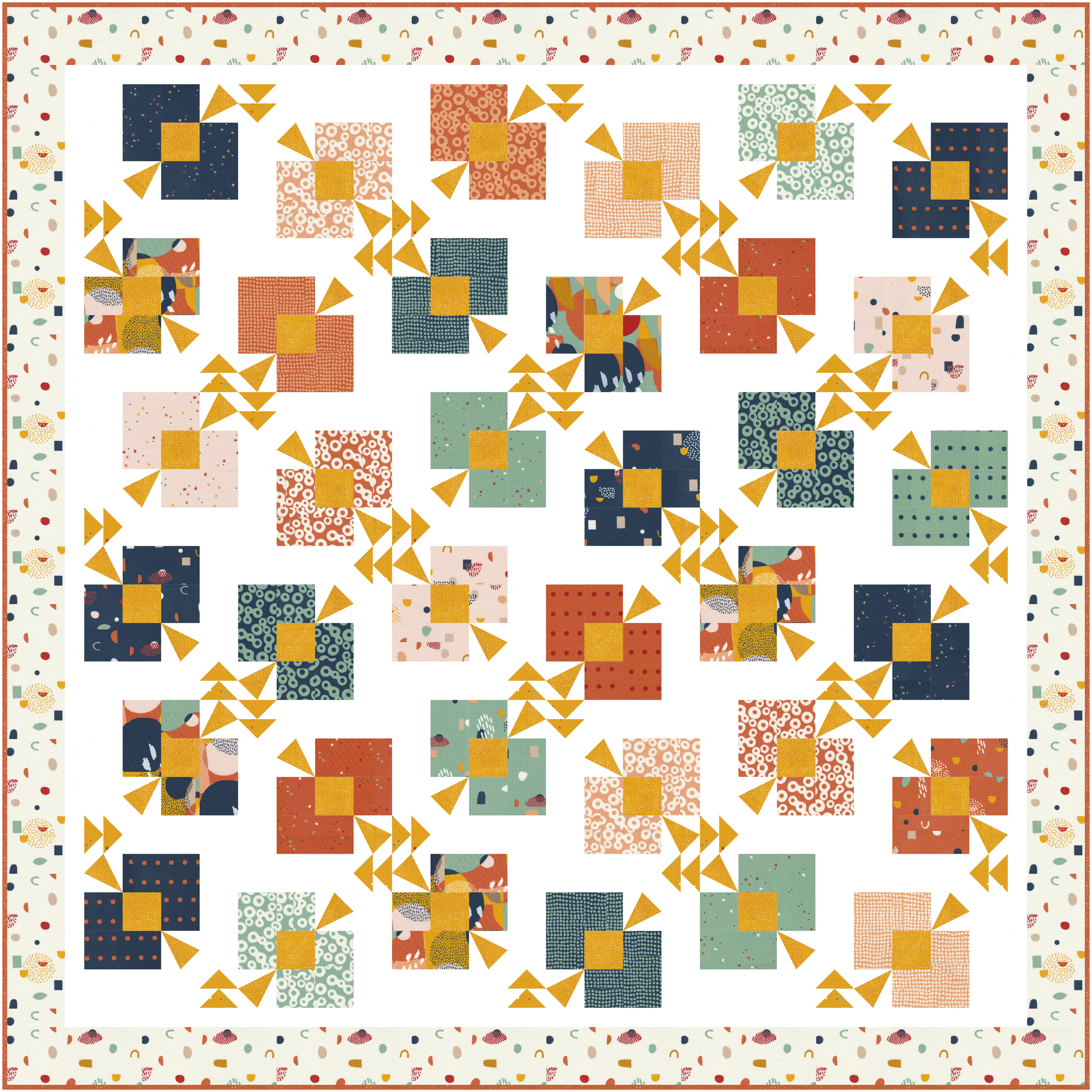 I wanted to do a Christmas version and decided to try it with the upcoming 3 Sisters collection Poinsettia Plaza. I think it's a sophisticated option for a Christmas quilt!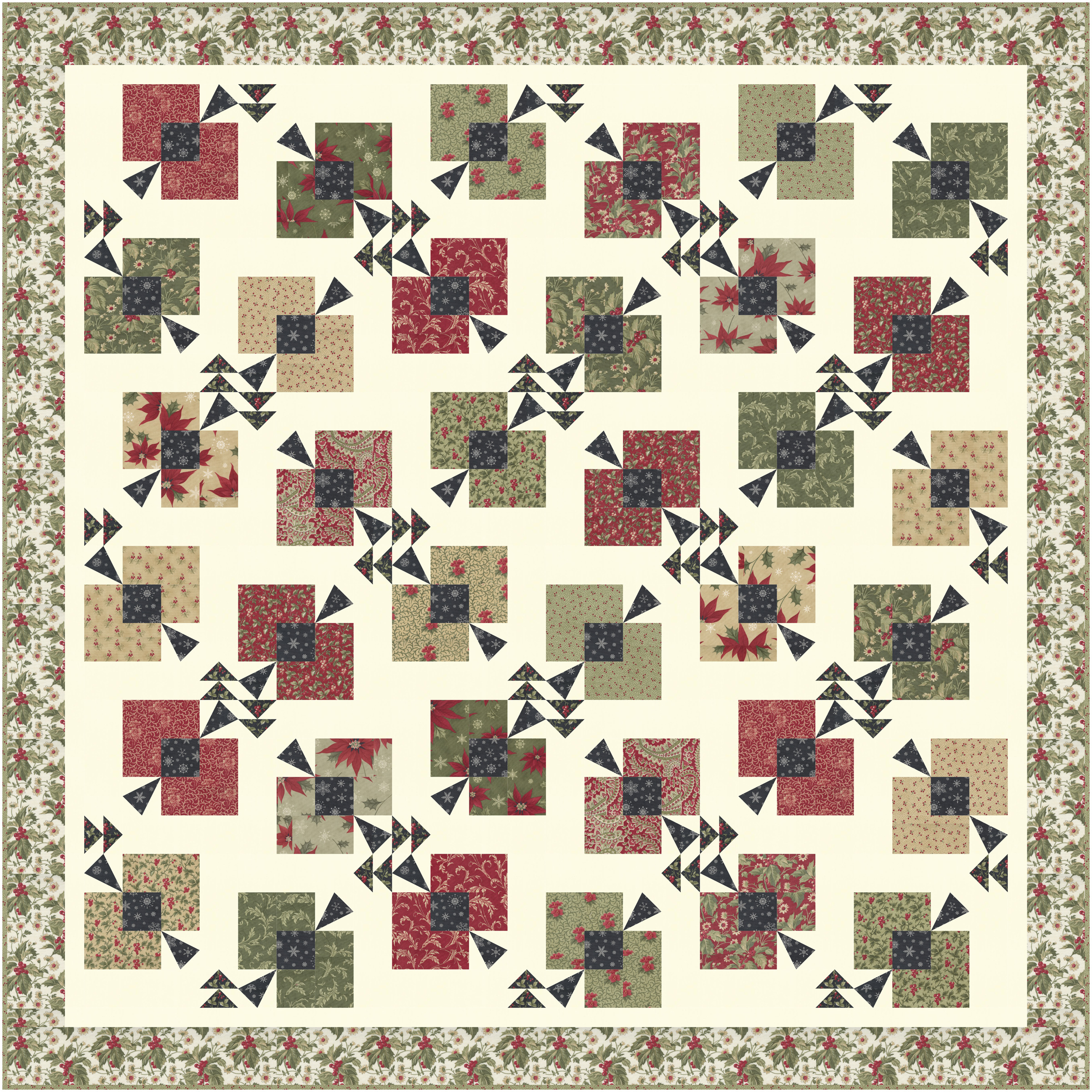 And finally, I think my favorite version is this scrappy, faded Americana take using a variety of Minick & Simpson prints. I'm obsessed with this one! I think I'm going to have to make it. For the accent fabric and the binding, I used a Moda chambray, and the border is a woven from Minick & Simpson's upcoming Isabella Wovens collection. Swoon!!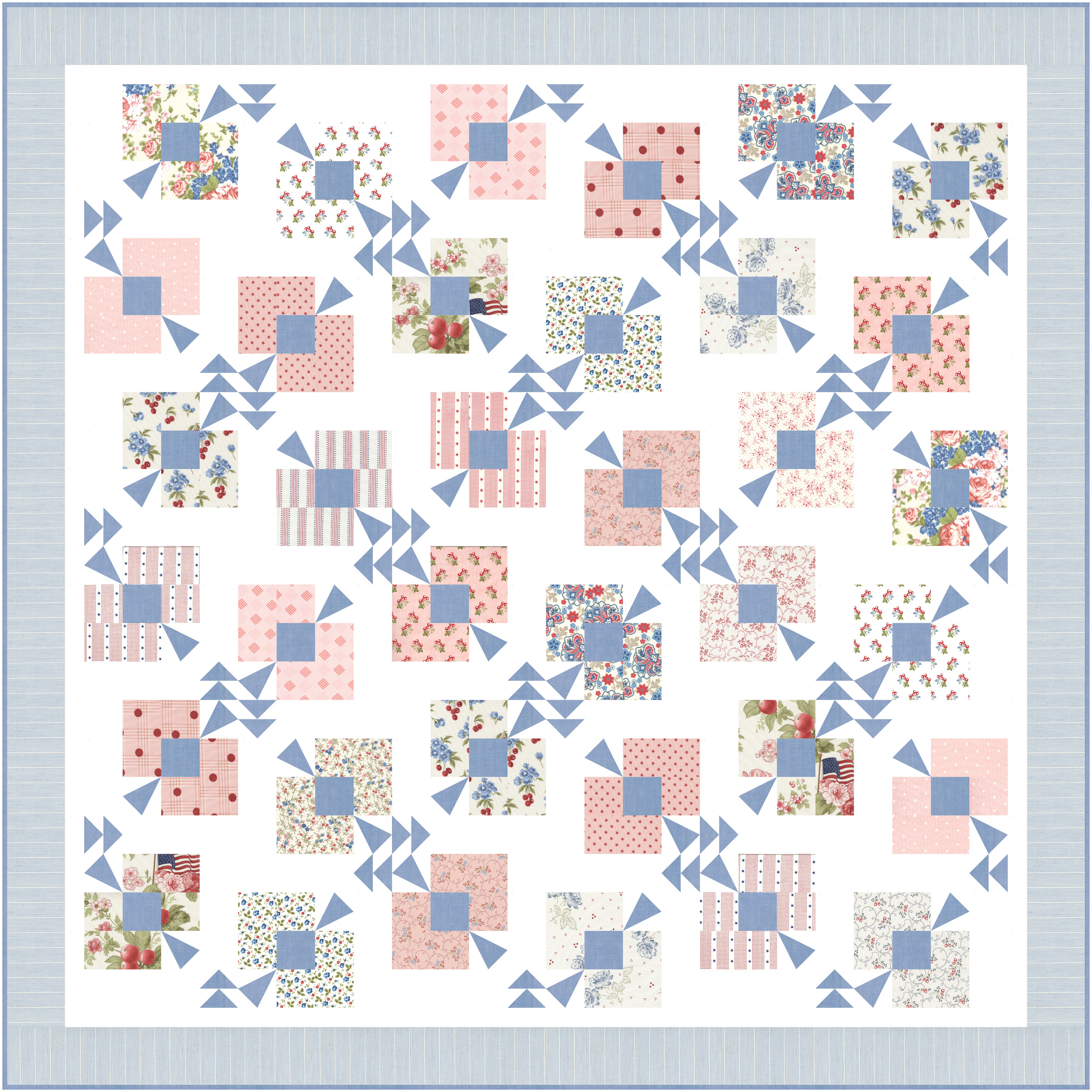 Thank you for stopping by my blog. I hope you've enjoyed reading about Corn Maze today!
If you're as excited as I am about the designs in "You've Got a Point!", please consider preordering a copy!
Preorder a signed copy from my Etsy shop
Preorder a copy from Martingale
Stay tuned for the next quilt preview post. I'll be talking about Spinning Wheels!