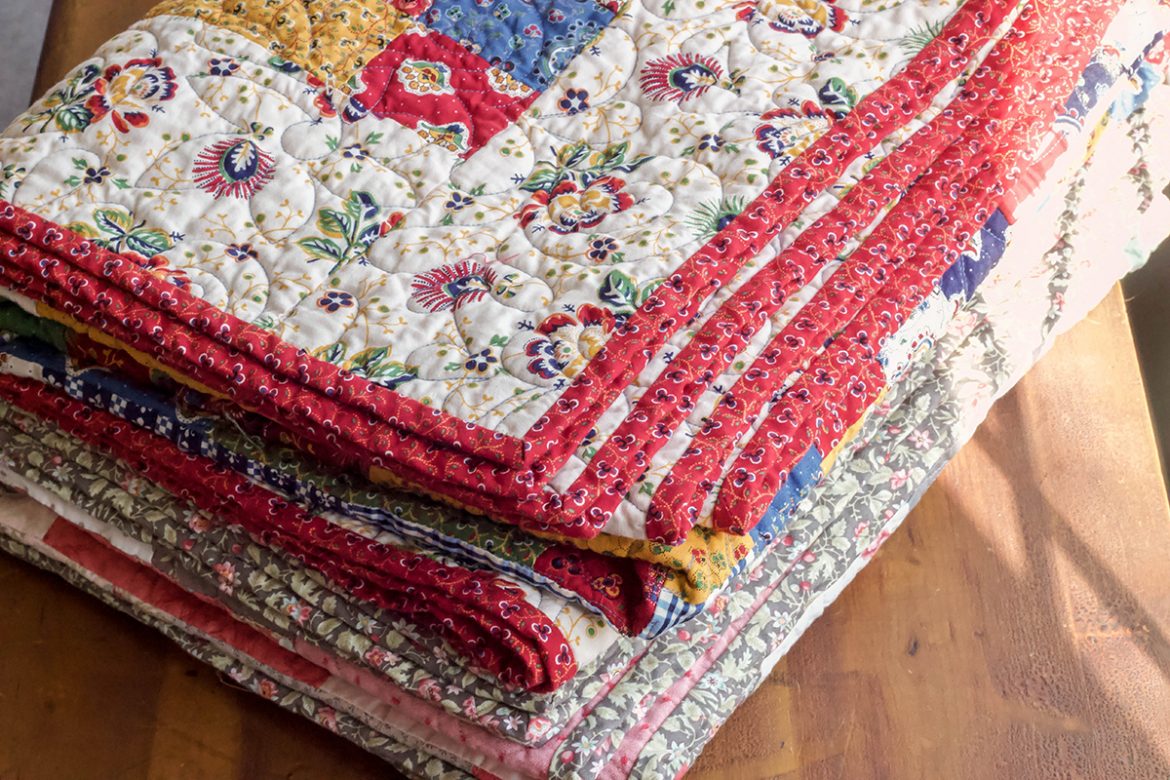 The Sister Quilts
I finished up 4 quilts in March and totally dropped the ball on blogging about them. So I'm on a mission to correct that, starting with what I call "the sister quilts." I call them the sister quilts because I used the same pattern to make them for two sisters—my mom and my aunt.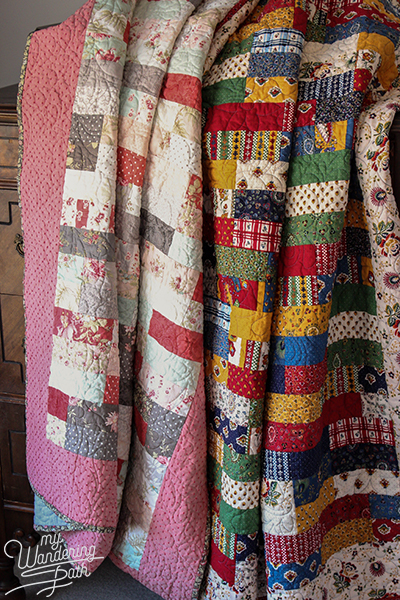 Pattern: Tiffany by Villa Rosa Designs
Fabrics: Poetry by 3 Sisters and Lorraine by American Jane (blocks, borders, and bindings)
Backing fabric: Flannels from Joann Fabrics (on sale!)
Batting: Hobbs 80/20 (provided by Primrose Cottage Quilts)
Quilting: Primrose Cottage Quilts
Making quilts for my mom and aunt has always been high on my to-do list. But when I realized that my aunt was going to spend her 60th birthday with my parents in North Carolina, I made plans to spend the week with them too, and I kicked my sewing plans into high gear so I could gift both of them a quilt in person.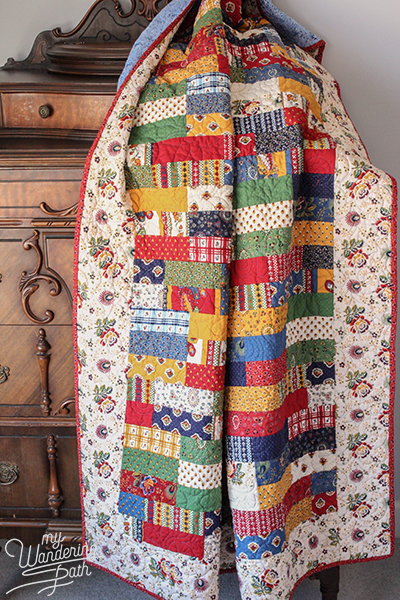 To make that happen, though, I needed a quick-and-easy quilt pattern, and preferably one that used a precut. I can't deny that the jelly roll is my favorite precut. I have so many jelly roll patterns on my "must-make" list! I settled on this particular pattern because it doesn't use a background fabric, and I liked the idea of making these two fabric collections the total stars of the show.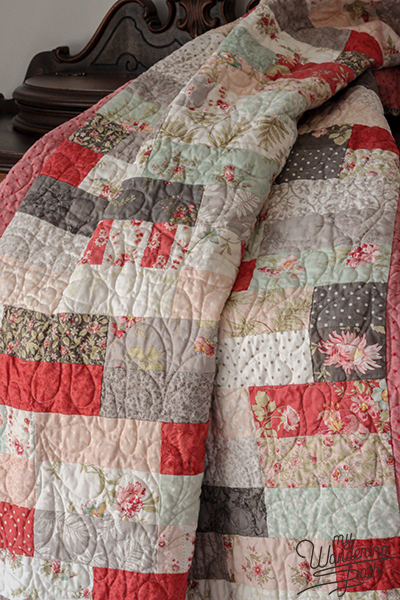 Again I turned to Joann Fabrics for the backing fabrics. I found a soft grey flannel to match the Poetry quilt, but I was especially happy with the blue flannel I found to match the Lorraine quilt. I think it has a great French country flair and matches perfectly! (I've since gone back and bought another 5 yards of this blue flannel, because I have another Lorraine jelly roll that is destined to be a quilt for me. 🙂 )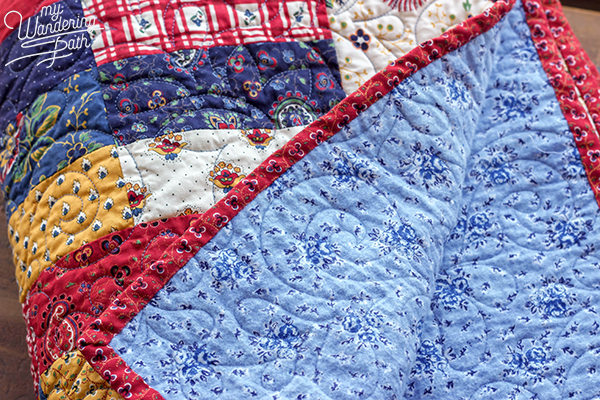 I still can't believe how quickly these quilt tops came together! I had them assembled and pressed and ready to send to the quilter before I knew it.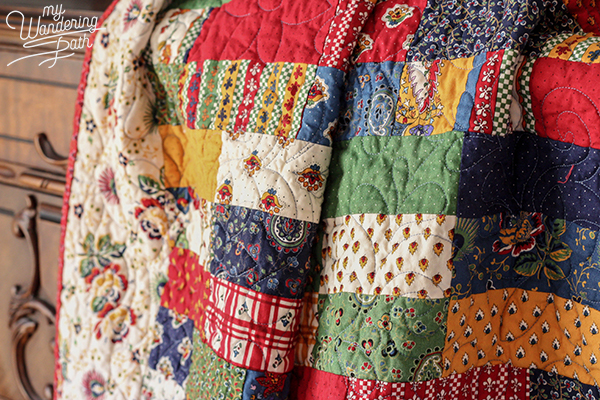 I chose a couple of feather patterns for the quilting because I wanted a lot of texture on these quilts but no hard lines. I was thrilled to see sneak peeks from my quilter, Lindsey of Primrose Cottage Quilts—the quilting was even more perfect than I'd hoped for!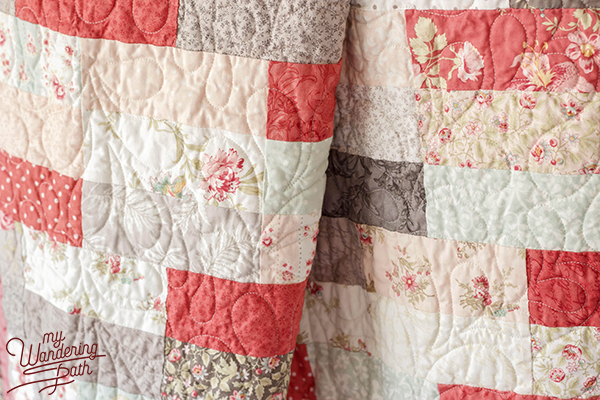 As much as I enjoy handstitching a quilt binding, I'm always kind of rushing through it because I'm just so excited to get the quilt in the wash so I can see the crinkle.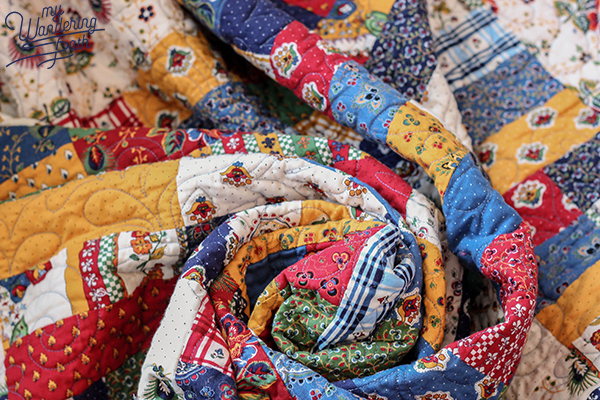 These quilts crinkled up so nicely, don't you think?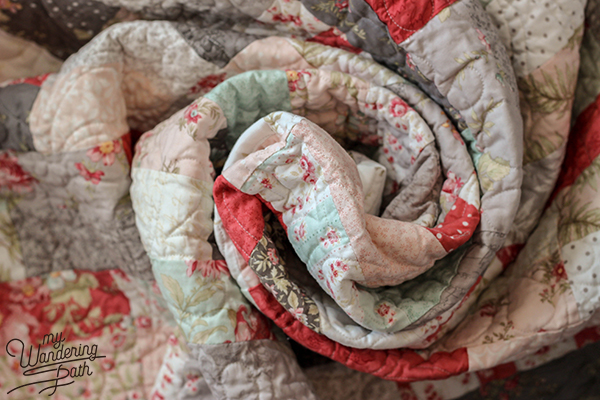 I was excited to give these quilts to my mom and aunt. I love these ladies so much and I was so happy to give them something to show them how much they mean to me—and what's better for that than a handmade quilt, right?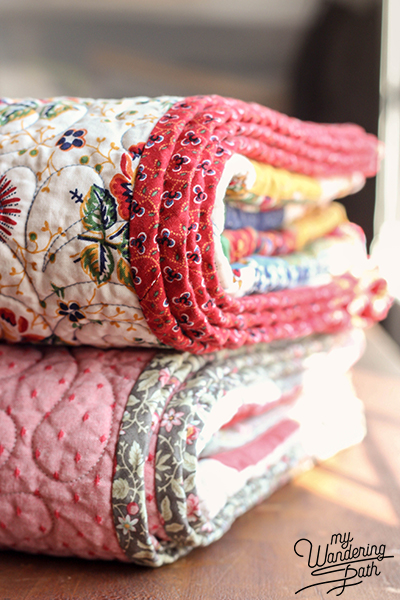 (Confession: I actually started a third Tiffany quilt while I was working on these two! I knew the pattern would come together quickly so I went ahead and cracked open a jelly roll of Le Bouquet Francais for a quilt of my own. I got the strip sets sewn together and cut into blocks, but that's as far as I got. I had to put it aside to focus on the sister quilts, and unfortunately it's been languishing in my WIP basket ever since. I hope to finish it up soon, though!)
Thanks for visiting my blog today!