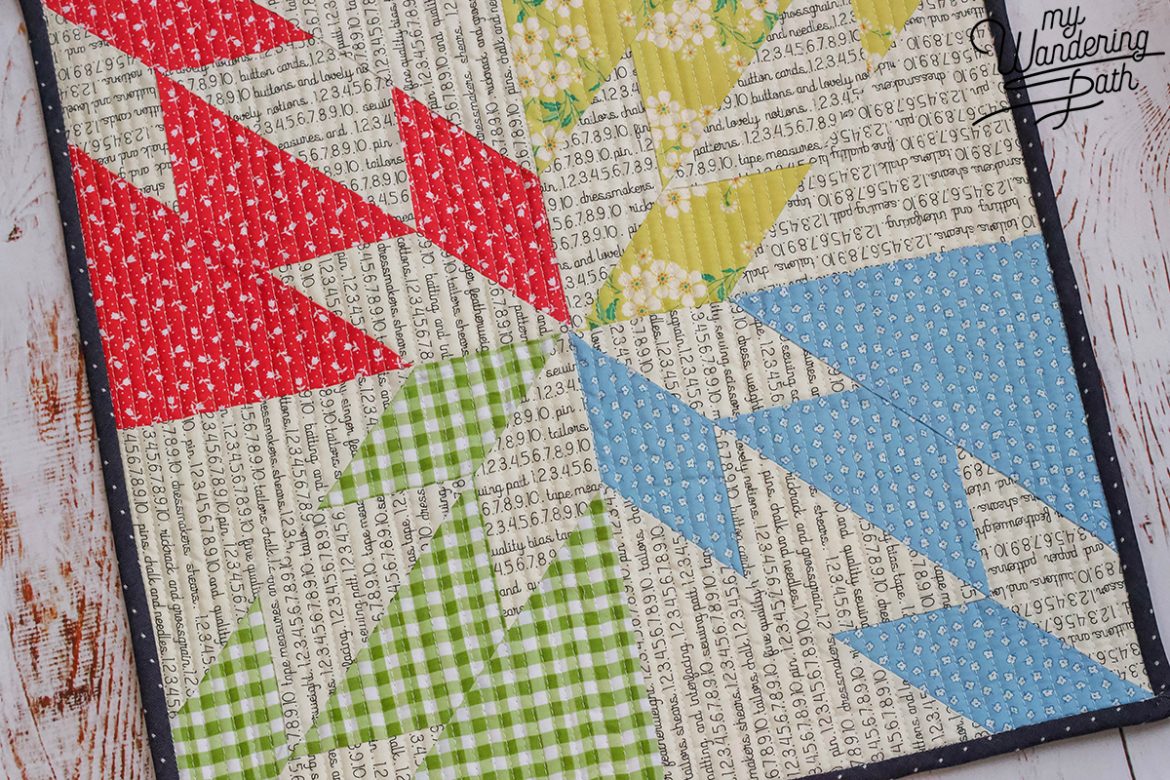 Hunter's Star Mini with Fat Quarter Shop
Happy Friday! Today I'm sharing the mini quilt that I made using the Fat Quarter Shop's new twist on a classic block, the Hunter's Star.
The walls of my sewing room are BARE, y'all. I mean, seriously bare. But I have been so busying sewing quilts and the occasional pillow cover that I just haven't had a chance to make some minis for my wall. So I jumped at the chance to sew along with FQS for this new block in their Classic & Vintage series—I had a feeling this block would make the perfect mini quilt to hang on my wall!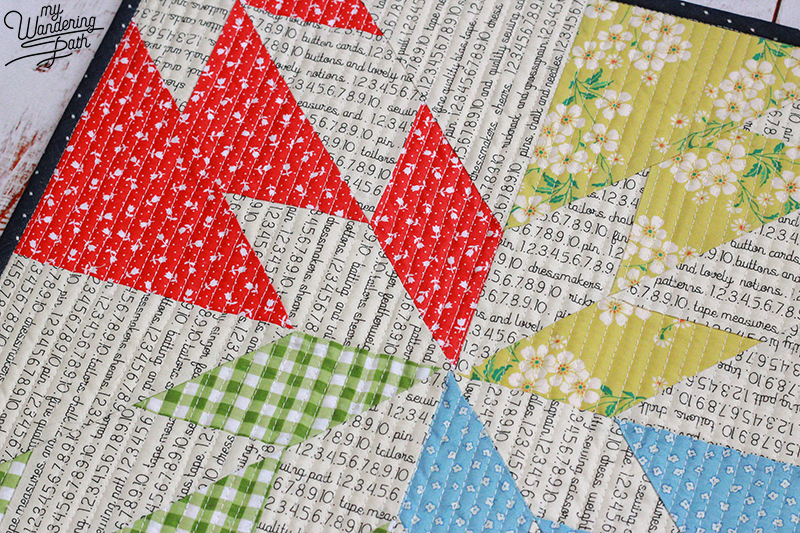 I chose four fat quarters from my stash as the focus fabrics for my blocks, and used the text print from Fig Tree & Co.'s Chestnut Street collection as the background fabric.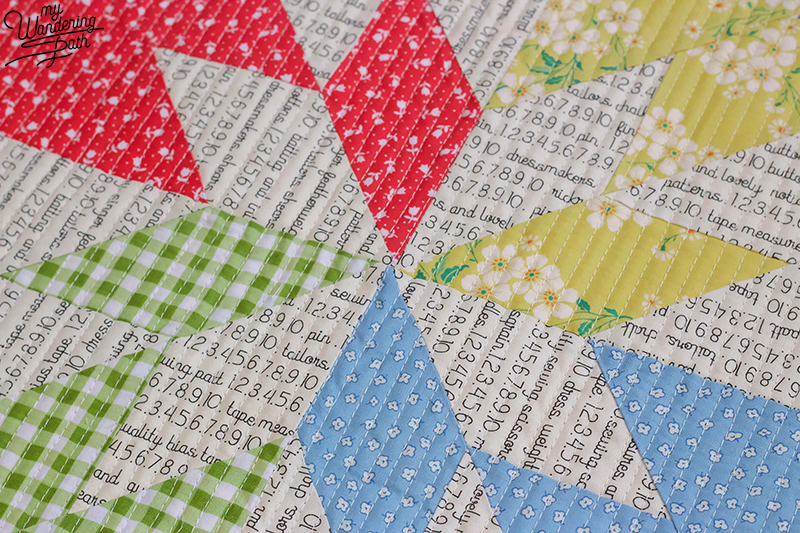 After piecing the blocks together, I quilted the whole thing with straight-line matchstick quilting and finished it off with some dotted chambray binding that I had left over from another project.
I really love my finished mini quilt! I think it's the perfect start to what I hope will eventually be a wall full of minis.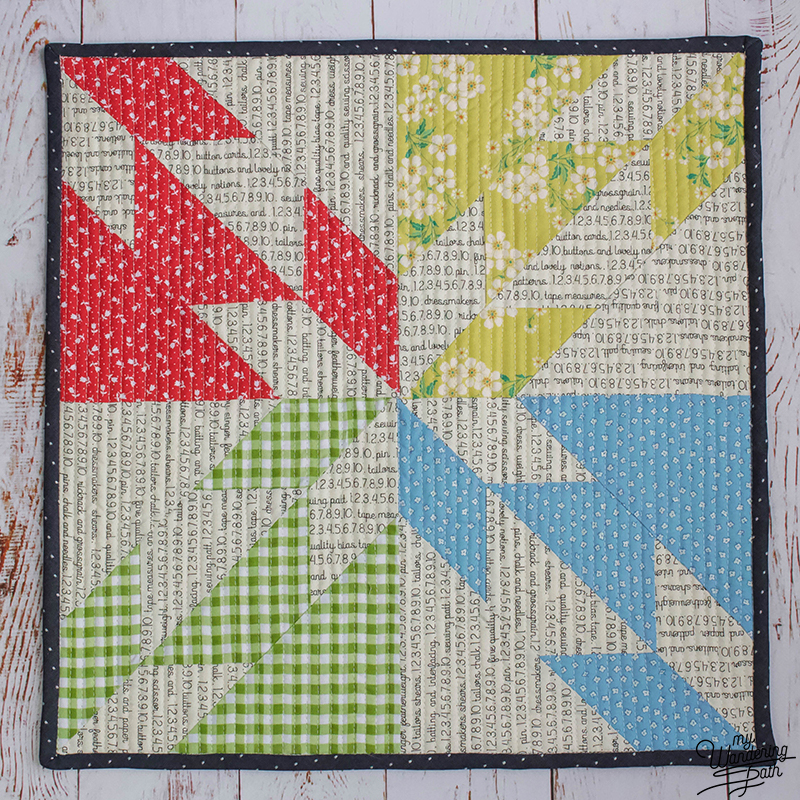 The block pattern is FREE from Fat Quarter Shop! As with all their patterns, the instructions are clear and easy to follow. The block certainly comes together quickly…but full disclosure, I don't think I'd want to make an entire quilt with this construction method, mainly because there's quite a bit of waste. I was able to make two oversized (10" square!) HST mug rugs out of the trimmings from the large corner triangles in the blocks. I'm glad I was able to put them to use, but I think I'd be overwhelmed by the trimmings from anything larger than a mini quilt.
But if that isn't a dealbreaker for you, and you want the Hunter's Star effect without piecing a ton of HSTs, this is a clever way to achieve that classic Hunter's Star look with fewer seams!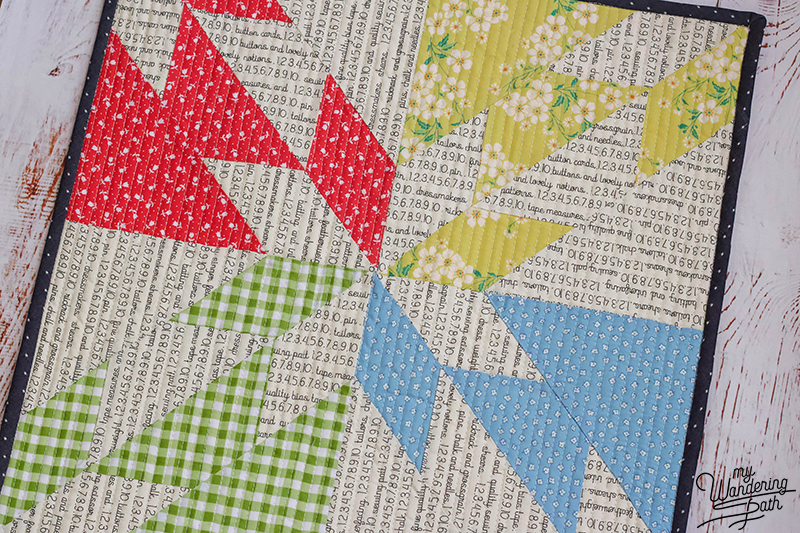 I'm just one of many awesome quilters who participated in this sew-along with FQS! Be sure to check out the other gals on the Jolly Jabber blog.
Ready to make your own? Grab the FREE block pattern HERE, and watch Kimberly's video tutorial HERE. You can also the purchase complete pattern, with four different size options, HERE. And FQS has put together a kit for a full quilt using V & Co.'s gorgeous Ombre Confetti Metallic fabric that you can get HERE. (I do think that this particular fabric used with this construction method makes for a really striking quilt!)
Thanks for stopping by today!