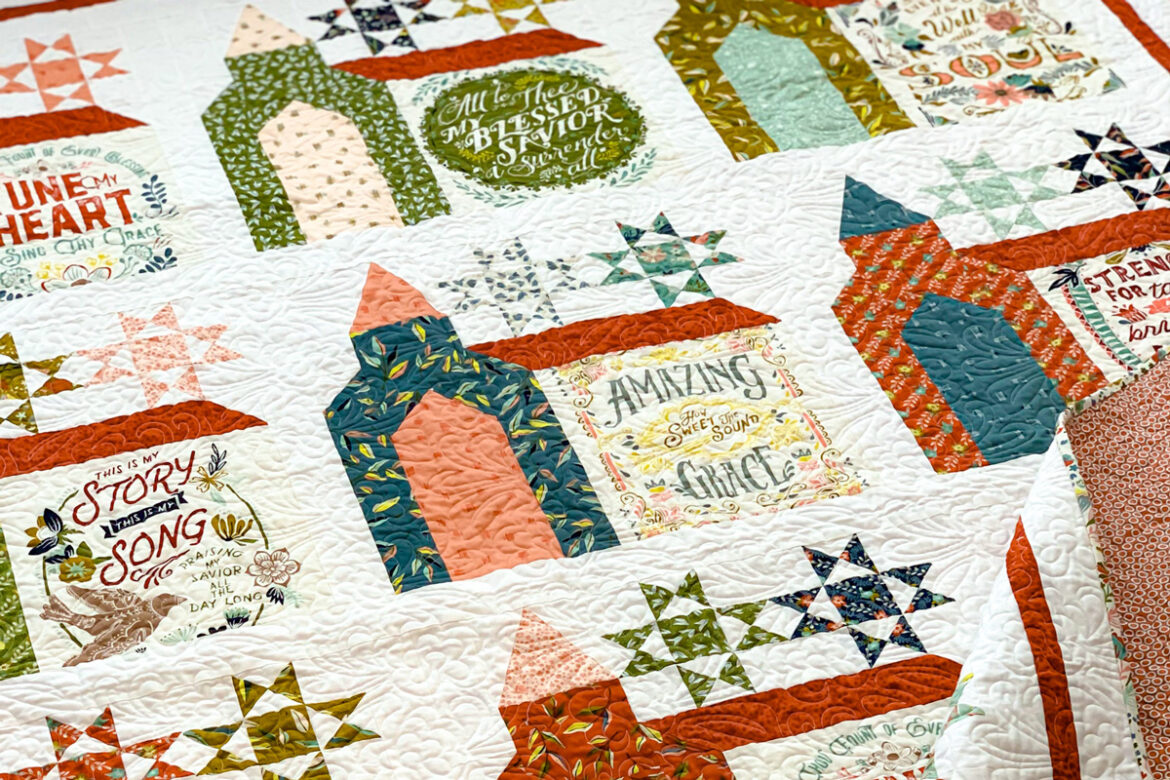 Introducing Firm Foundation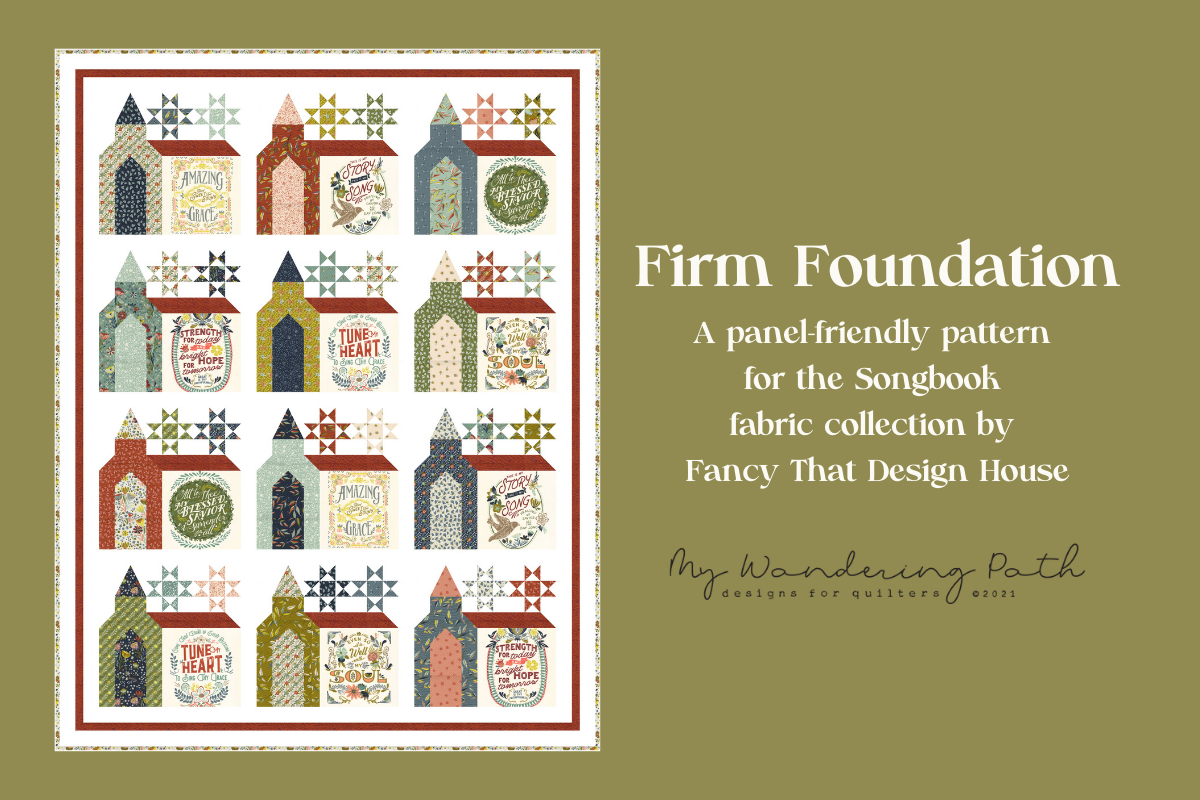 Oh, happy day! I'm so excited that I can finally share my Firm Foundation pattern with y'all! Now that the Songbook fabrics are shipping to stores, I have been working overtime to get this pattern wrapped up, and I just want to thank you all for your patience!
I've been sharing a lot of pics of this quilt in progress, but today I really want to share some of the backstory for the inspiration for Firm Foundation.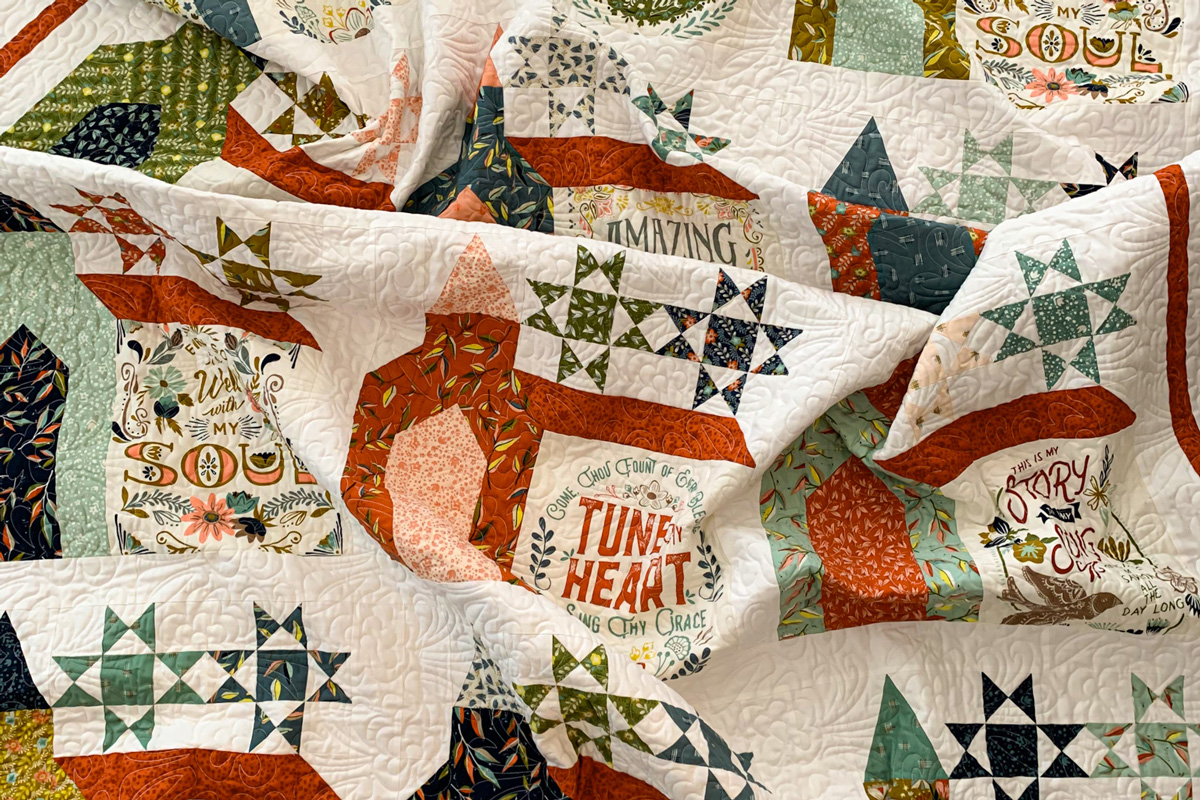 I'm pretty sure that I literally squealed when I first saw that Stephanie of Fancy That Design House was debuting her first fabric collection with Moda. I'd first discovered Stephanie and her gorgeous, vintage-inspired artwork a few years ago—and I have the tea towels to prove it! And now, an actual fabric collection?!? The moment I saw it, I knew I had to make something with it.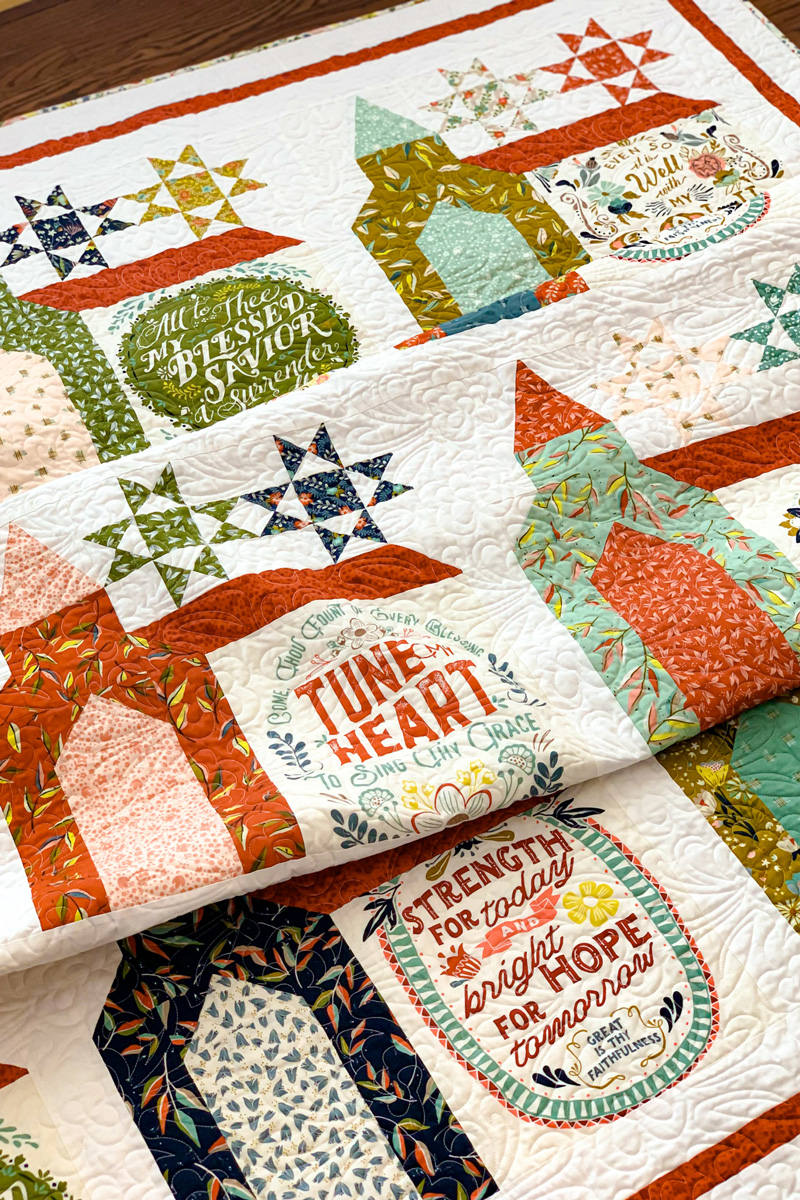 For several years now, I've had this quilt idea in the back of my mind. I wanted to take a house pattern – I was thinking of Dwell, by Thimbleblossoms – and instead of having a traditionally pieced block for the "body" of the house, I'd use plain squares embroidered with little bits of advice to my kids…things I wanted to make sure they always remembered. I even started a Word document to keep track of the things I wanted to say, like "Cultivate a joyful heart," "Be kind," "Seek the light," and "Explore your world." My idea was that these little nuggets of wisdom form a solid foundation for a life well lived. See where I'm going with this?
Anyway, I still may get around to making a couple of quilts like that for my kids. But in the short term, when I saw the gorgeous hymn panels in Songbook, I just knew that I could tweak my original idea by turning those panels into the body of church blocks. So I sat down with my laptop and EQ8 and got to work.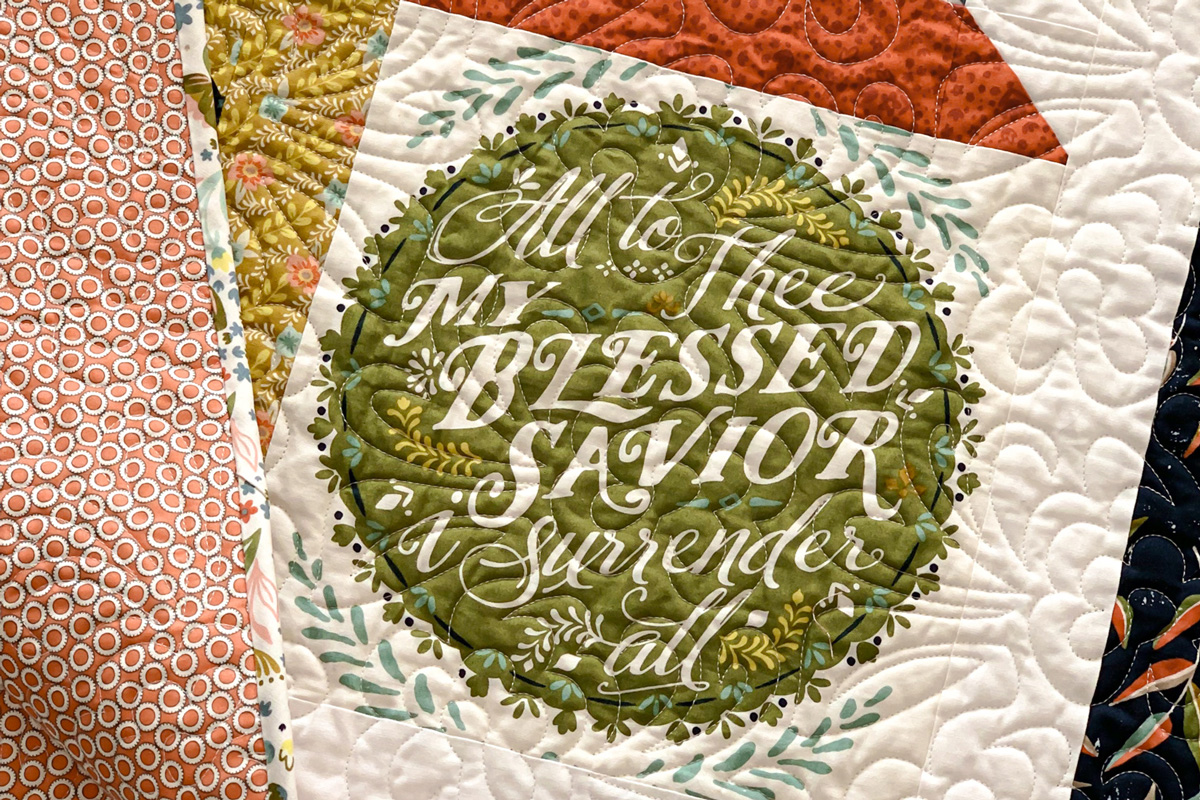 This quilt is especially meaningful to me because it reminds me of my mom's family and especially my grandmother Ann, for whom music was as important and integral to life as breathing. On my mom's side, my grandfather was a Methodist minister. I never got to meet him, but of course my grandmother and my mom and her siblings were all very active in their hometown church. My grandmother was a talented pianist and the church choir director for many, many years, and whenever I spent childhood summers with all my grandparents in Alabama, I'd tag along to choir practice with her. On Easter Sundays, my aunt usually lent her beautiful soprano voice to the choir for the Hallelujah Chorus.
Together, my mom, my aunt, and my two uncles made up a perfect 4-part quartet, so anytime we were all together, they would sing and my grandmother would play the piano. "Come Thou Fount of Every Blessing" is one of my mom's favorite hymns, and "It Is Well (With My Soul)" is another family favorite.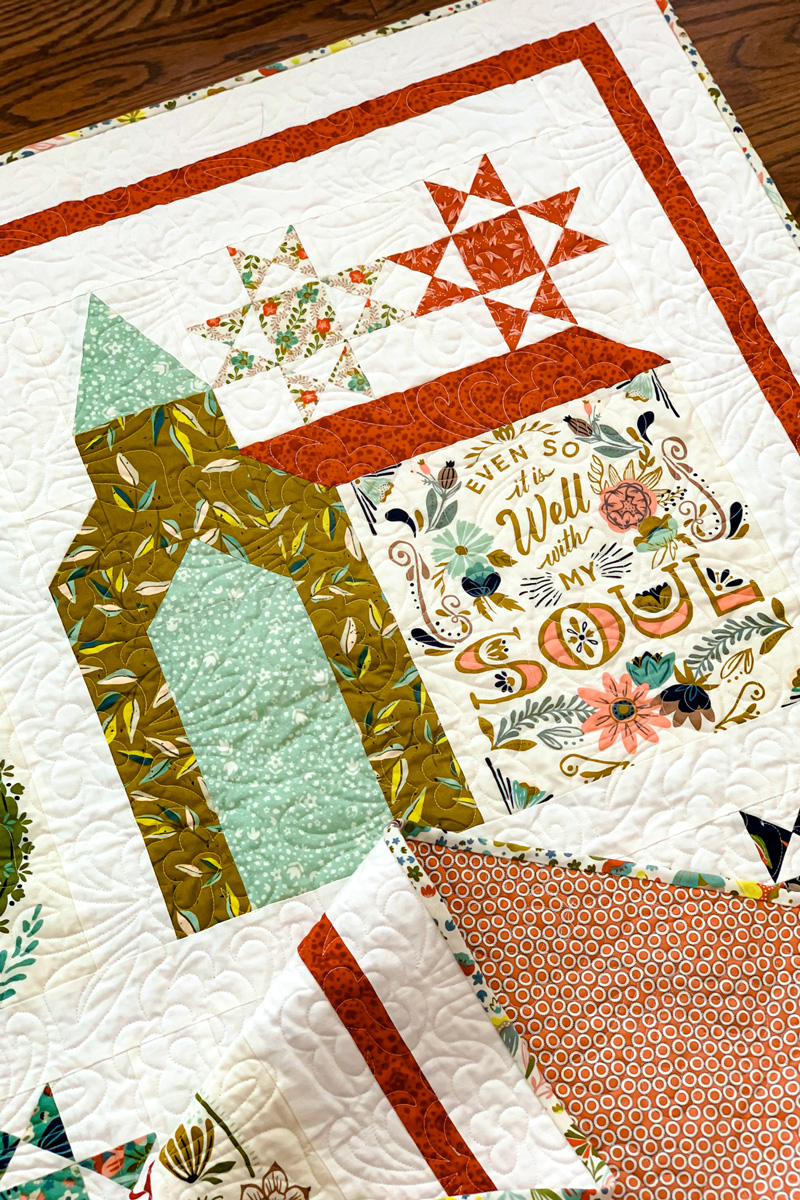 So you can see why I was so drawn to this collection and felt so compelled to create a pattern that really captured all my memories of and love for these hymns! (Not to mention how much I adore Stephanie's retro aesthetic—I am in love with the vintage colors and her particular style of artwork!)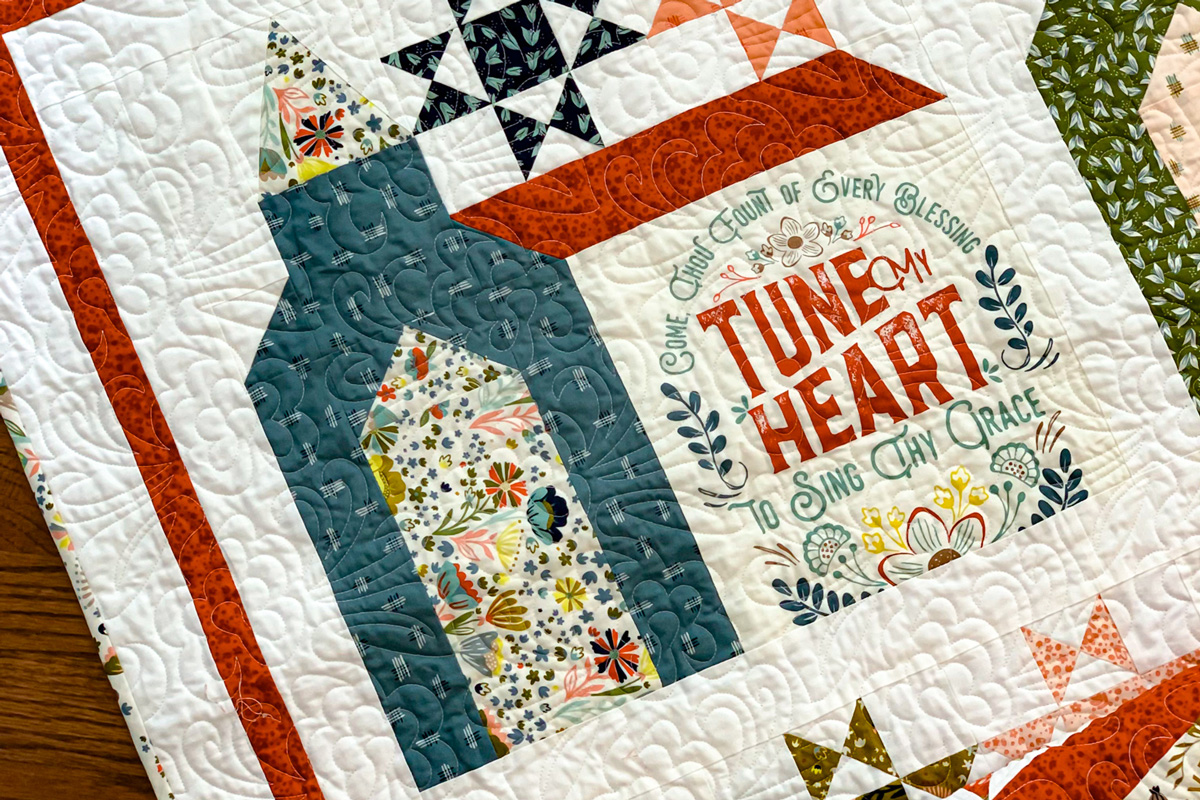 So that's the backstory for this quilt, and I really wanted to share it with y'all.
UPDATE 9/16/22: Firm Foundation is now available in my Etsy shop! Click here to purchase Firm Foundation!
Thanks to all of you who have been so excited for this pattern release! I'm so happy that y'all like it. Thank you so much to Moda for providing me with the fabric to make this quilt! Thanks to Stephanie for designing such a beautiful, inspiring collection. And finally, thanks to Jackie of Jackie's Machine Quilting for the lovely longarm quilting! She used her own panto design, Playful Rose, for the quilting and I just love all the texture it gives the finished quilt!
I hope you enjoy making your own Firm Foundation quilt! Don't forget to tag me when you post pics to Instagram, and be sure to use the hashtags #FirmFoundationquilt and #mywanderingpathdesigns.