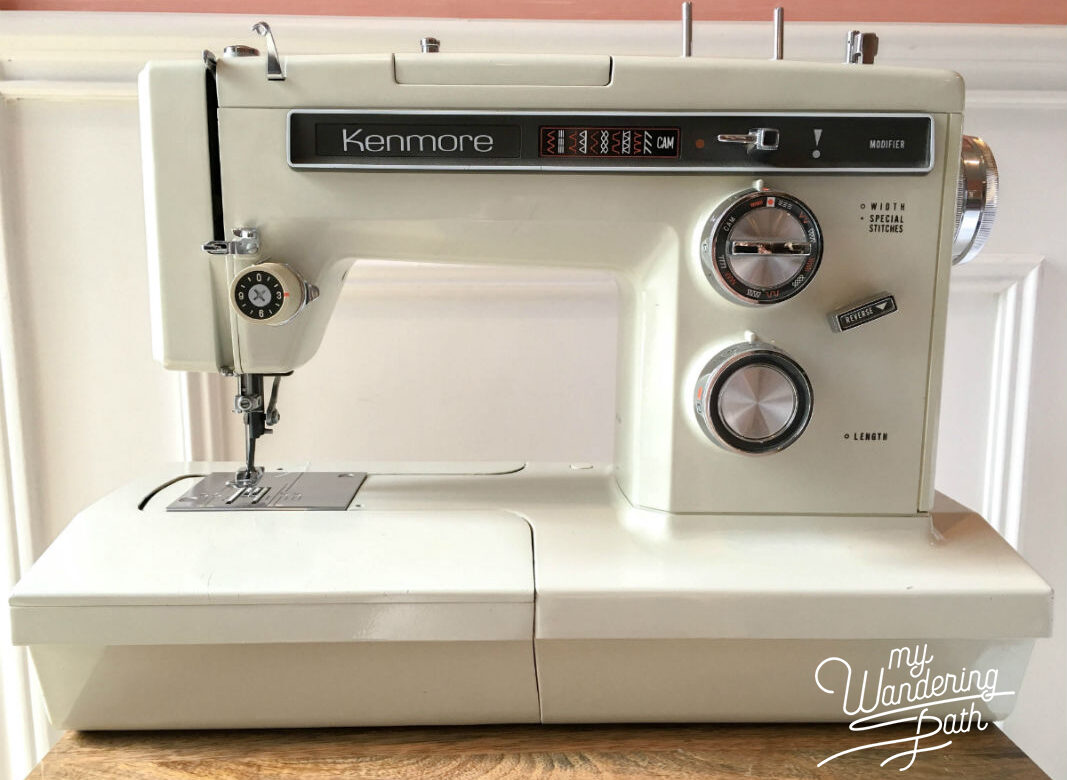 Welcome to My Wandering Path!
Hello! Welcome to my shiny new blog. I'm glad you're here!
This blog is entirely the by-product of my sewing machine breaking on me. I know…it's weird to start a sewing blog because of a broken sewing machine. But hear me out.
I've been a maker for as long as I can remember. My grandmothers taught me to knit, crochet, sew, embroider, and cross-stitch. They were (and still are) ladies who just love to make stuff, and I inherited that love from them. (It's developed into a bit of an obsession with me, but I'm OK with that…and thankfully, so is my husband.)
My grandmothers may have taught me to sew and helped me cultivate a healthy love of addiction to fabric, but I never really loved to sew. That didn't stop me from buying loads of fabric and trying it on a regular basis, though.
Over the years I have bought (and hoarded) yards upon yards of fabric. I've started countless projects (from home décor to clothes to quilts) and finished only a fraction of them. Once, I made window treatments for my living room and kitchen—complete with drapey, swagged valances and long paneled curtains—and that was enough to put me off sewing for at least two years after.
I couldn't figure out why sewing wasn't sticking for me. I love fabric, I love quilts, I love making things…why, oh why, was sewing always such a frustrating endeavor? I finally realized that it probably had something to do with my machine. I loved sewing but HATED my sewing machine. But I didn't want to spend the money on a new machine when I wasn't really even sure if that would magically make me love sewing.
Well, a few months ago, I got my annual itch to sew something. So I set to work on a new quilt…and my sewing machine broke. I was annoyed…and a little glad. I still wanted to hold out on buying a new one, so in desperation (and so as not to lose what little momentum I had with that quilt) I pulled out…wait for it…the 1970s-era Kenmore Singer sewing machine that came with my house.
If June Cleaver had a mom cave, I'm telling y'all, our laundry room could've been it. It has a felt-lined, built-in china cabinet; built-in ironing board; and that Kenmore Singer in—you guessed it—a built-in cabinet.
And the rest is (admittedly recent) history. I love this sewing machine and I think that just having the right machine—and finally, a little more patience and a true desire to improve my sewing skills—is all I needed to fall in love with sewing.
So here I am, diving head-first into more projects than I probably have time for. I created this blog as a way to keep track of my projects, share what I'm learning, and hopefully inspire other wandering creatives who haven't tackled sewing yet to give it a chance. I hope you'll join me along the way!