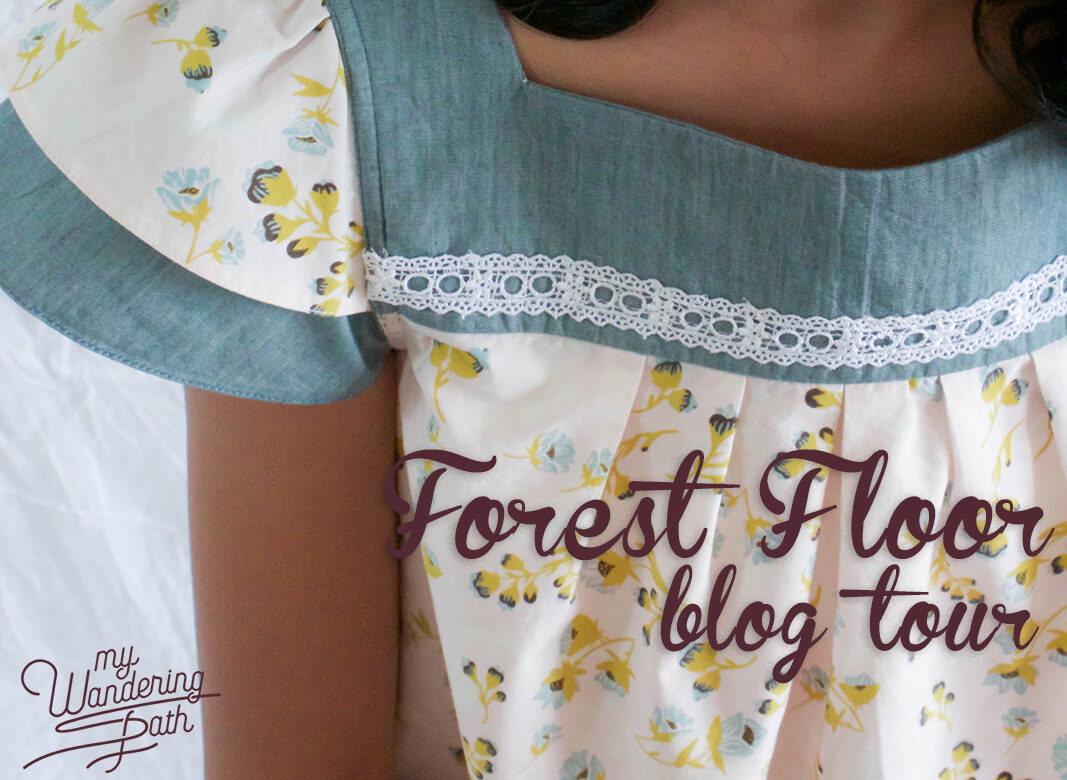 Forest Floor Blog Tour
Hey y'all! Welcome to My Wandering Path! I'm thrilled to be part of this blog tour showcasing Forest Floor, Bonnie Christine's current line for Art Gallery Fabrics. This is my first time participating in a blog tour, and as a new blogger, I'm a little star-struck by all the talented ladies on this tour!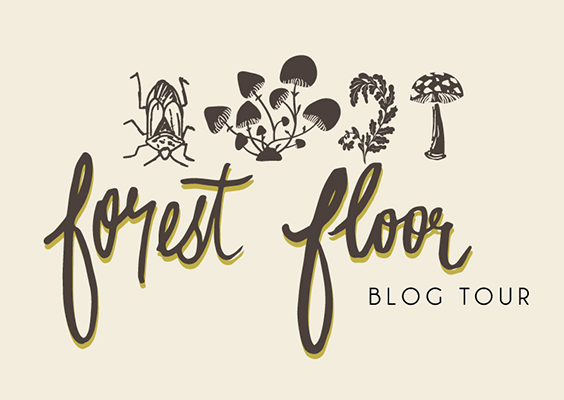 I jumped at the chance to join this blog tour because I fell in love with Forest Floor fabrics the moment I saw them. This line of fabrics that Bonnie has created is by turns whimsical, delicate, and vibrant. And of course, Art Gallery Fabrics does it up right with super-soft woven cottons, voile, canvas, and cotton knits that stitch up like a dream.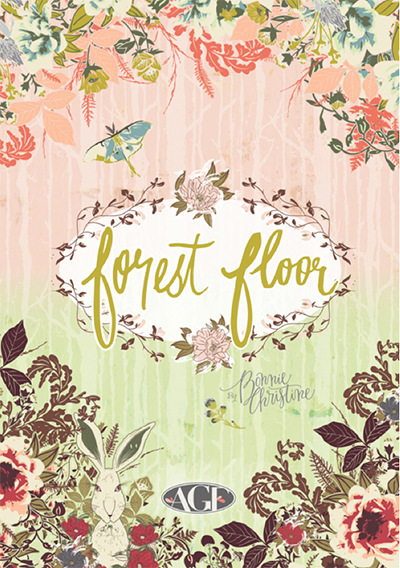 I couldn't decide whether to make a garment or something quilty for my stop on the blog tour, so I ended up doing both!
First, I made a boho-inspired top for my daughter.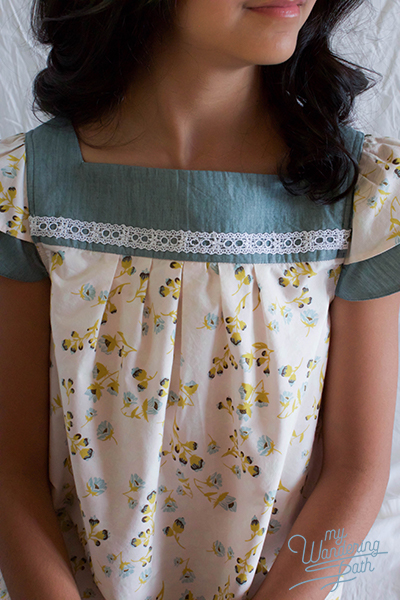 You know, I missed out on getting to sew frilly dresses for my daughter when she was younger—I just wasn't into sewing much then. But this pattern from Simplicity has lots of opportunities to add girly touches, like the bit of lace across the front yoke.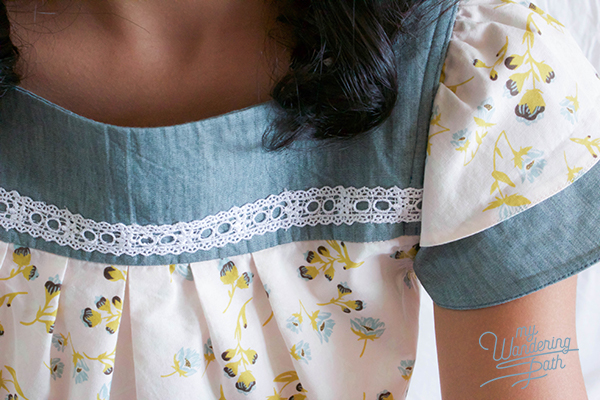 Completely coincidentally, I had several yards of some of Art Gallery's denim in a color that perfectly matched the Forest Floor fabrics I selected. I'd bought it to make a light jacket for myself, but I thought it would be the perfect contrast to Flourish Aglow, the main fabric I was using for the top.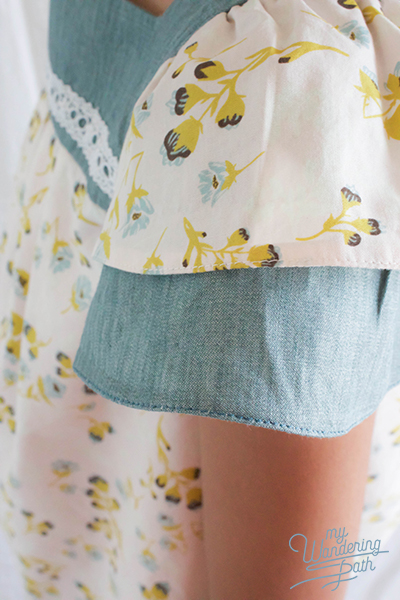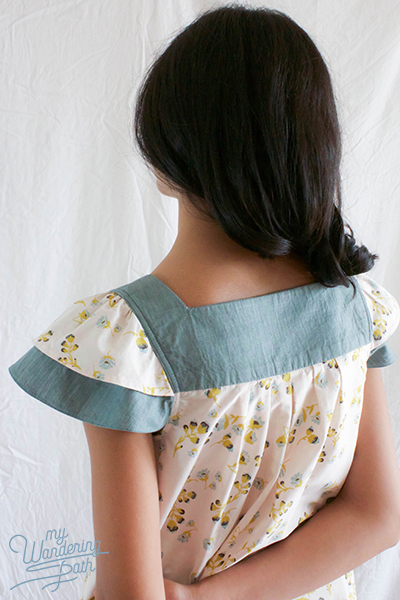 Together, these fabrics and this pattern make a top that is sweet and feminine, but not too little-girly for my 13-year-old.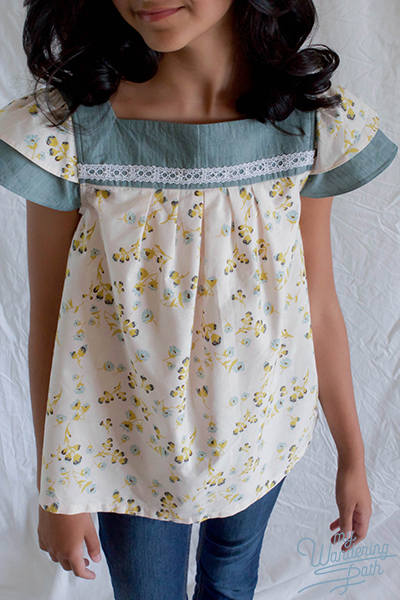 I took the time construct the top with French seams and homemade bias tape so that the inside is neat and clean.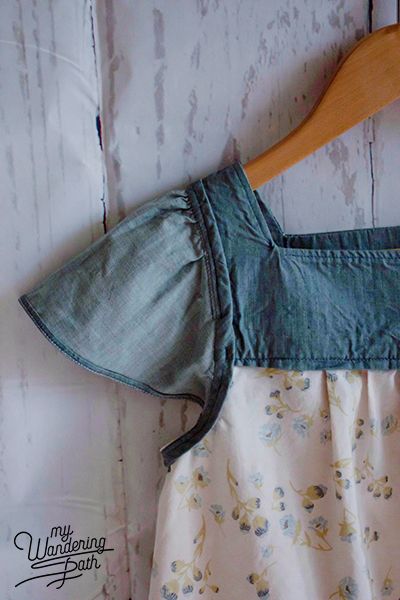 I have to say, I was proud of how this turned out. And she couldn't wait to wear it, which made me even happier!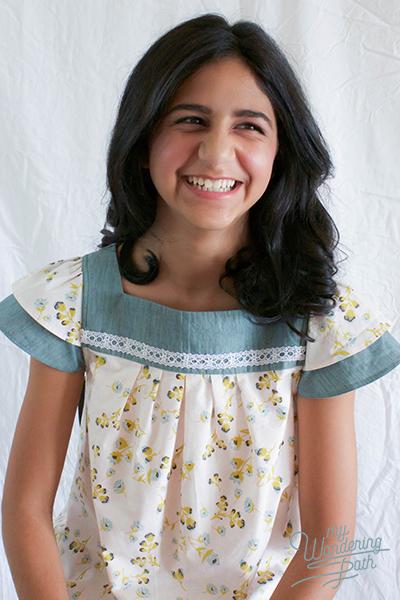 I also wanted to make a monogrammed pillow for my daughter. As a Southern gal, I'm a big believer in monograms! Plus, it's an excuse to put my embroidery machine to work.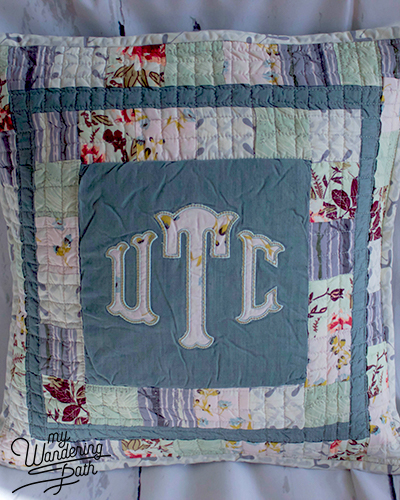 I decided to kick it up a notch by throwing some patchwork into the mix—a great excuse to use more Forest Floor fabrics! I didn't really follow a pattern—just some inspiration I found on Pinterest—and as a result, I learned the hard way that quilt math (and squaring up) can be tricky.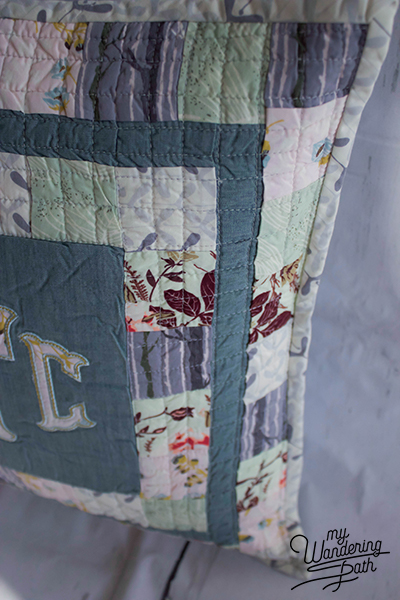 I made a total rookie mistake when trimming my first round of pieced squares, which then meant the rest of my piecing wasn't going to match up properly.
This is literally my first time quilting anything, y'all, so please don't look too closely! I realized pretty quickly that I need to find a walking foot for my vintage sewing machine.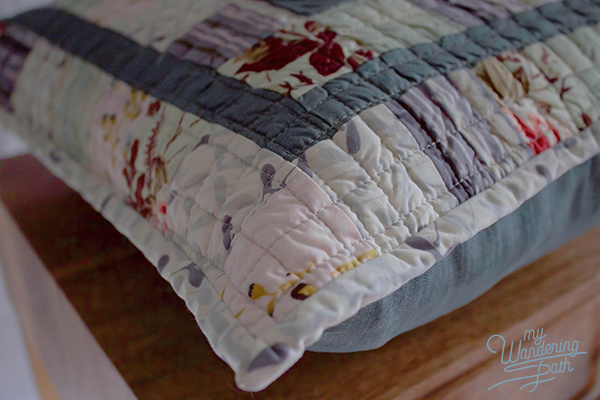 But as soon as I pulled the finished pillow cover out of the dryer, I fell in love with all the crinkles and the little imperfections in the quilting. I love the texture of the patchwork, even if my quilting lines aren't totally straight. It's such a soft and squeezable pillow, which is exactly how pillows should be! But even better, my daughter absolutely loves it—and that's all that really matters to me!
Want More Inspiration?
This blog tour is chock full of creative, talented makers! Oh my gosh, yesterday Rachel from Spotted Pepper Designs made the most amazing fabric book clutch…you can check her post out HERE. And I can't wait to see what Jayme at Finding Sweetland unveils on her stop on the blog tour tomorrow!
To catch up on all the past projects from the Forest Floor blog tour, visit the full line-up HERE.
Find all the details on Forest Floor fabrics—from colorways to fabric options—HERE. You can purchase Forest Floor fabrics HERE.
Thank you so much for stopping by my blog today! I hope you've been inspired to create something with Forest Floor fabrics. You can't go wrong with this collection! I'd also like to say thanks to Bonnie for including me on this tour. It's been so much fun!