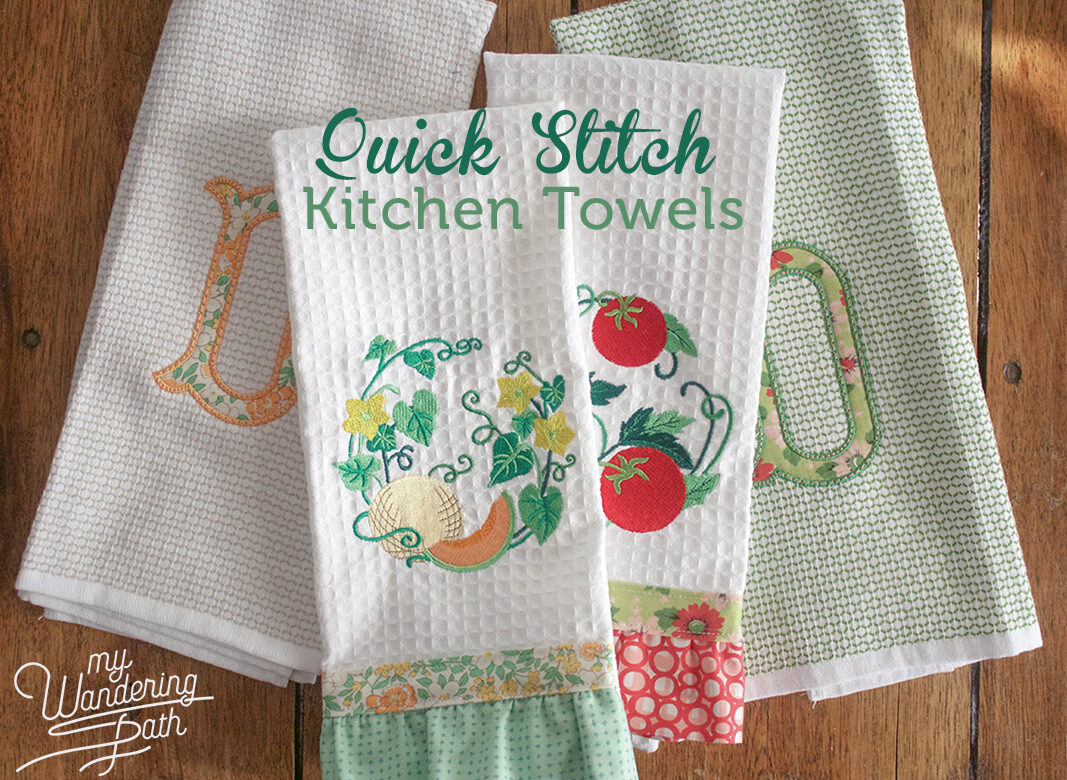 Quick Stitch Kitchen Towels
I love summer. It's my favorite time of the year, until we've hit our 100th day in a row of 100+ degrees weather. Then I'm kind of over it.
But we're not there yet, so I'm still in love with summer. And summer to me means lots of fresh fruits and veggies…like cantaloupe and tomatoes. When I spent summers in Alabama with my grandparents as a kid, there was always fresh cantaloupe—and sometimes tomatoes, too—on the breakfast table.
So when I decided to freshen up my kitchen with some new embroidered towels, I knew I wanted to pick a design that paid homage to some of my sweet summer memories!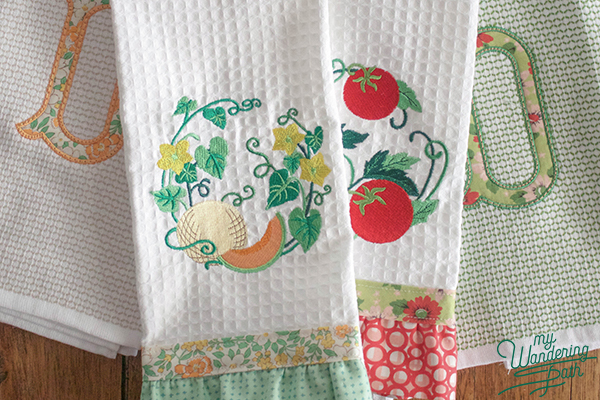 Like most crafters, almost all my projects are epic Works in Progress. And usually I'm OK just hopping from WIP to WIP, but sometimes, a girl's just gotta FINISH something already. That's why I love my embroidery machine: it lets me whip up a little project in a jiffy, and by whip up a project, I mean "do something else while the machine does all the work, and occasionally stop by to change thread colors." And my favorite "I need to make something NOW" project has to be embroidered kitchen towels!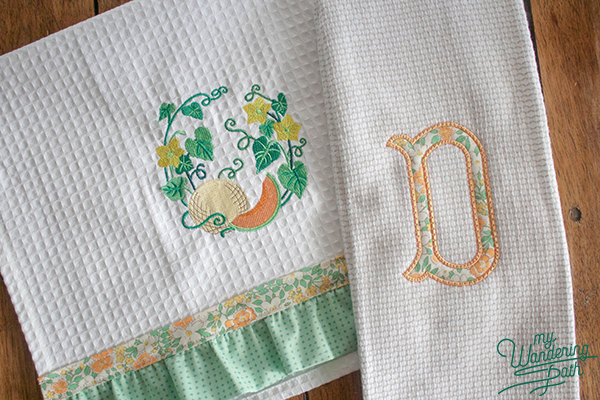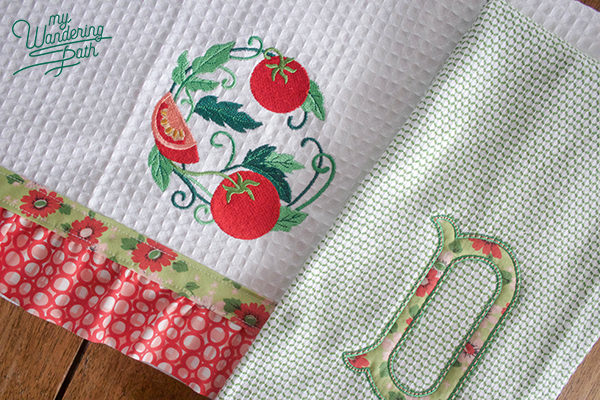 The cantaloupe wreath and tomato wreath embroidery designs are part of a series of fruit- and veggie-themed wreaths at Embroidery Library.
Of course, I like to throw in a monogram wherever possible.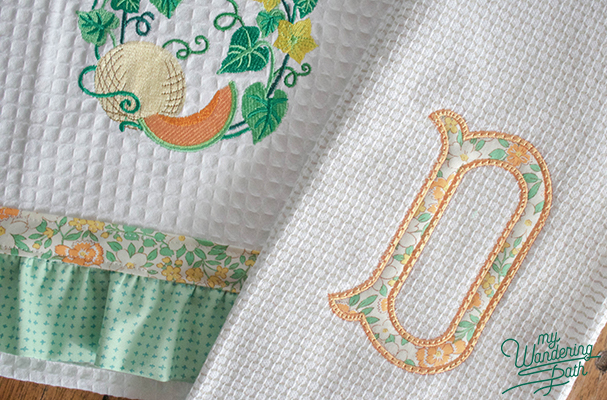 Here I've used the Fish Tails applique font from Applique Corner.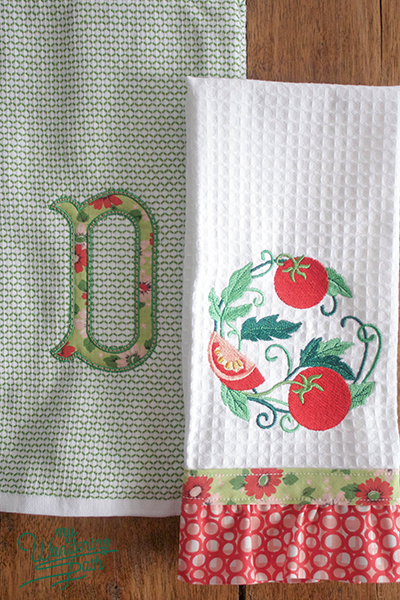 Don't they look great together?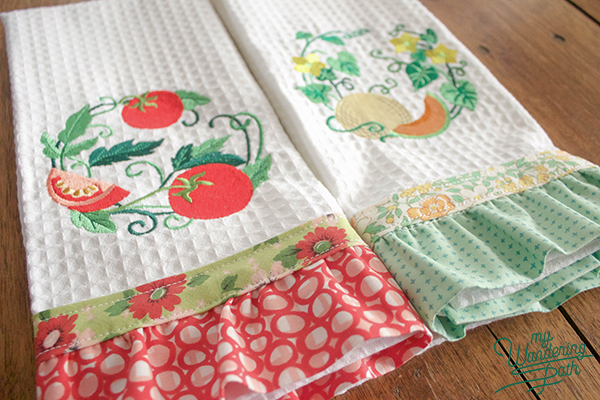 I think (almost) everything looks better with a ruffle—and it's a great way to show off more fabric. So I added a fabric ruffle and wide bias strip to the towels with the embroidered design.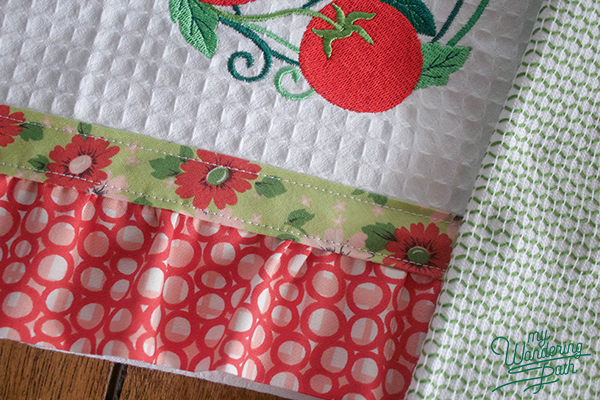 Not counting the machine embroidery, I had the fabric for the ruffles cut and stitched on in less than an hour, which is great for me! (I'm super slow.)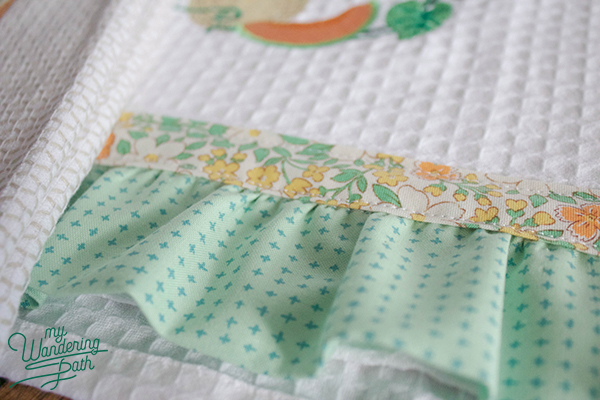 Now these lovelies are hanging in my kitchen! And I can go back to my other projects feeling like I'm not perpetually in WIP limbo. 🙂
Thanks for stopping by my blog today! I hope you're inspired to create something yourself this weekend!