Jardin de Fleurs Quilt-Along: WEEK 2
Hello everyone, and welcome to Week 2 of the #swoonforjardin QAL! My apologies for not getting this post up earlier in the day, but…life. Y'all know what I'm talking about!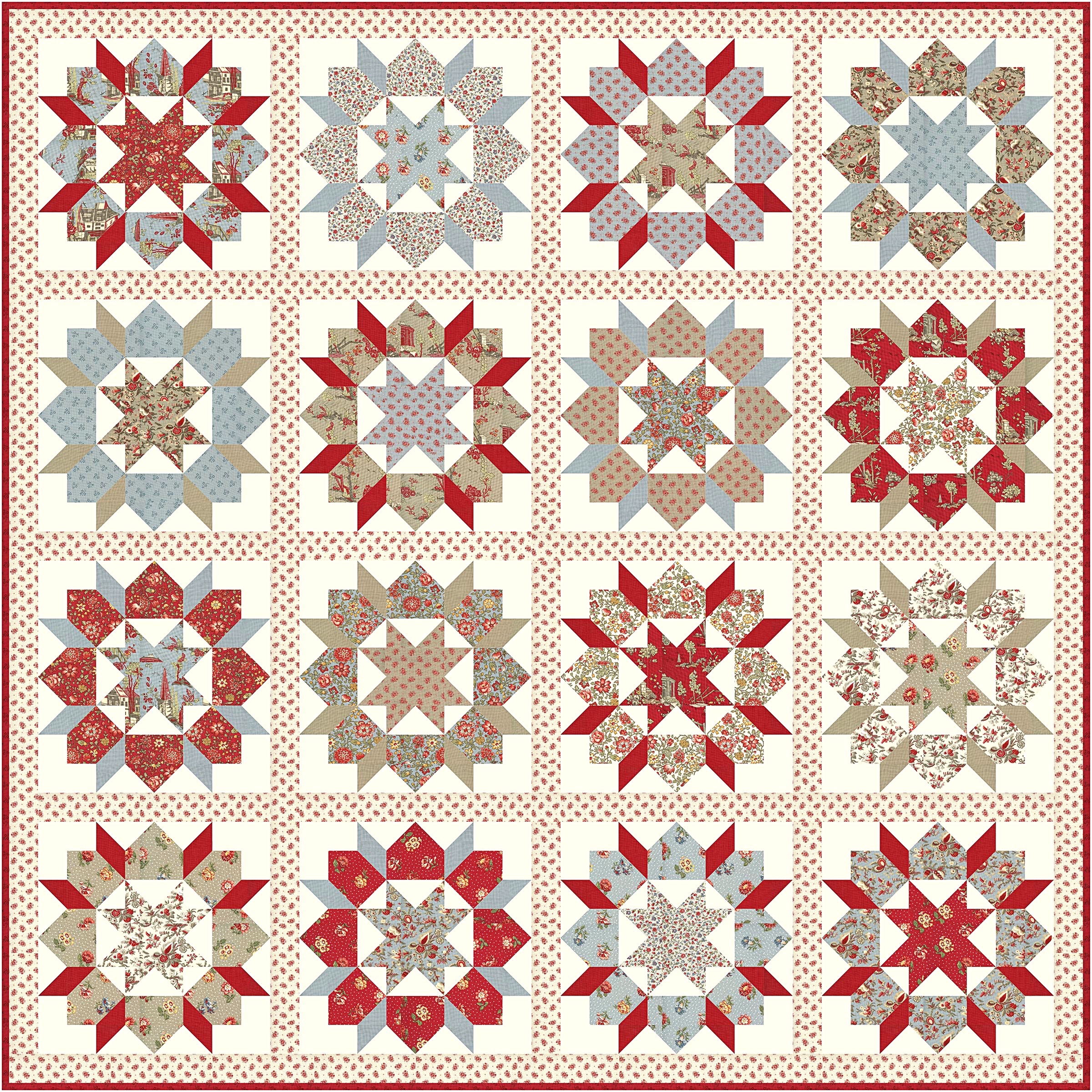 OK, so this week, we are getting into the good stuff…the actual sewing! We're making four blocks this week. Which four blocks you make is totally up to you: maybe you want to sew the first row, or just your most favorite fabric combinations, or the four blocks with the taupe solid outer star points. Or maybe you'll be like me and just grab the closest four blocks to your sewing table!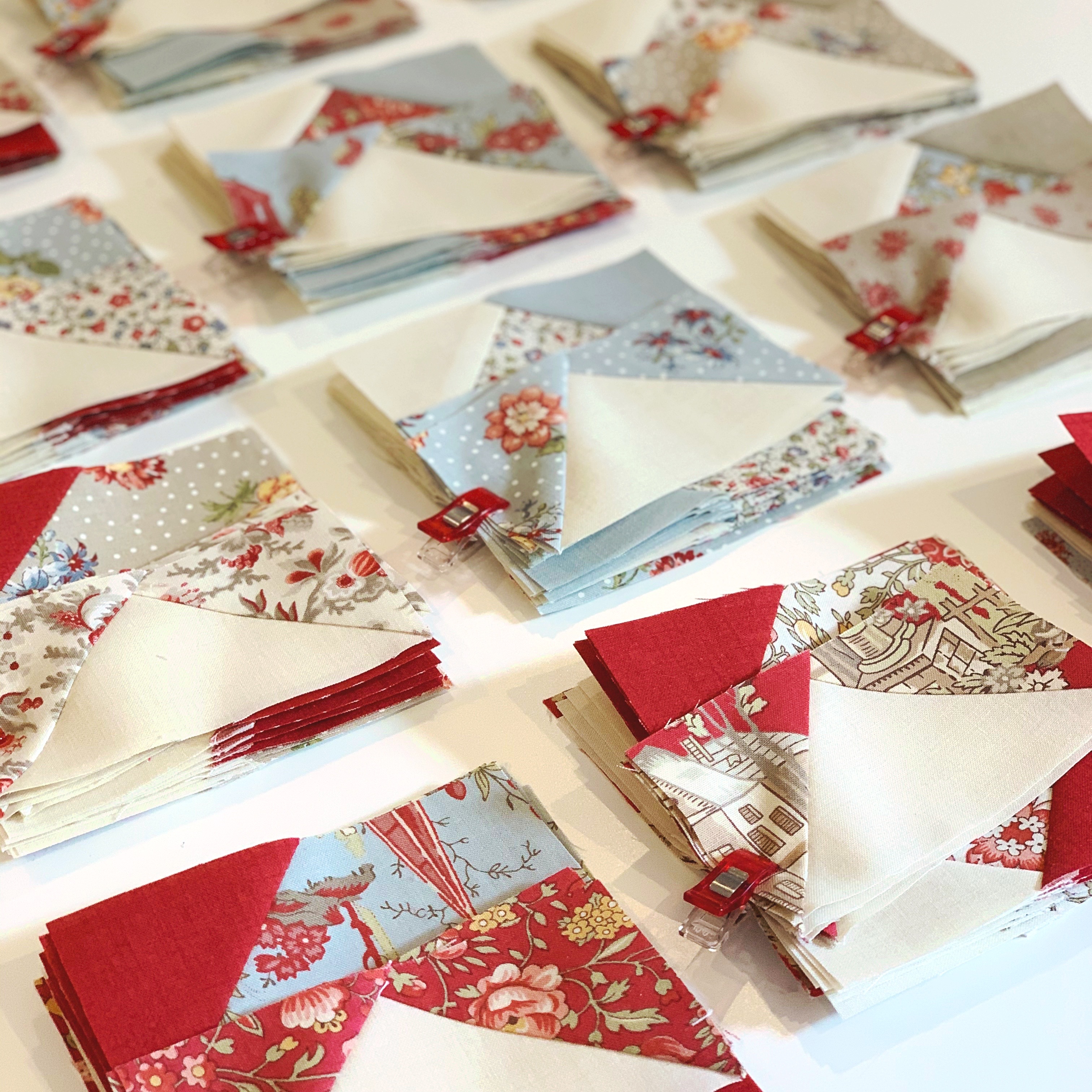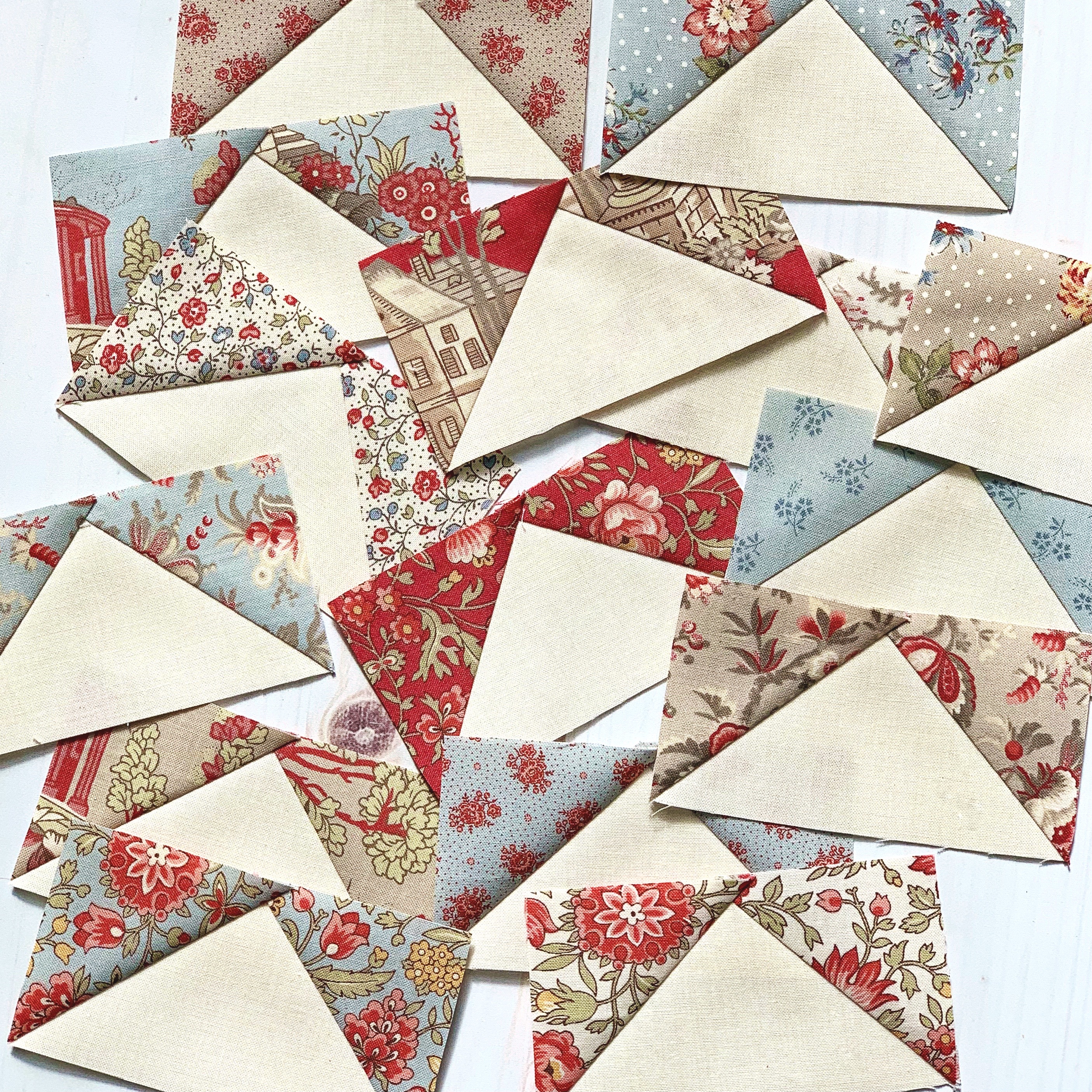 One of our QAL quilters posted her first Swoon block on IG a day or so ago and specifically asked for tips on making flying geese, so this week, I want to share three handy tools that have made things a little easier for me as I've been sewing these blocks:
Diagonal Seam Tape
Here's a little confession: I stopped marking a corner-to-corner guideline for HSTs and flying geese a very long time ago. I used to just eyeball it, and I got pretty good at eyeballing it! But Allison (@cluckclucksew) has developed a very clever product that allows me to skip marking that guideline and also NOT have to just eyeball that corner-to-corner seam. It's a win-win!
Diagonal Seam Tape is essentially washi tape printed with 1/4" seam lines, and it's a game-changer: easy to apply, easy to use, and easy to replace when it gets worn out (which takes a while). I've used cling-film-style sewing table overlays before, but those are tricky to put in place accurately and sometimes obstruct access to my bobbin case, which can be annoying when it's time to replace the bobbin. None of those things apply to Diagonal Seam Tape.
As you'll see (if you haven't already started sewing), there is a lot of corner-to-corner sewing involved in these Swoon blocks, so having Diagonal Seam Tape definitely makes the process go faster! You can read more about how it works and get some for yourself HERE.
Bloc-Loc Flying Geese Rulers
What can I say? I'm a huge fan of Bloc-Loc rulers in general. Their grooved rulers make it easier to accurately trim blocks faster. When I have the presence of mind to plan ahead and adjust a pattern's cutting instructions to accommodate the extra fabric that their measurement sheet calls for, I end up with perfect blocks. We've already cut our fabrics for the Swoon 16 pattern and those instructions yield precisely sized flying geese that won't get trimmed much…BUT the Bloc-Loc flying geese ruler is still the fastest way to trim them. You'll need the 2" x 4" finished Bloc-Loc Flying Geese ruler for this project, and it won't be the last time you use it, I can promise you that.
Rotating Cutting Mat
I love my rotating cutting mat—it doesn't really help with the construction of my blocks, but it sure makes trimming them much easier! It's nice to just rotate the cutting mat as I trim around the HSTs and flying geese instead of having to reposition them on my regular mat—or worse, trying to contort my hand and wrist around the block.
So those are my go-to tools when working on flying geese and HSTs, especially when I have lots of them to make! These aren't paid endorsements or anything like that, by the way—just my honest and personal preferences.
And here are my first four blocks!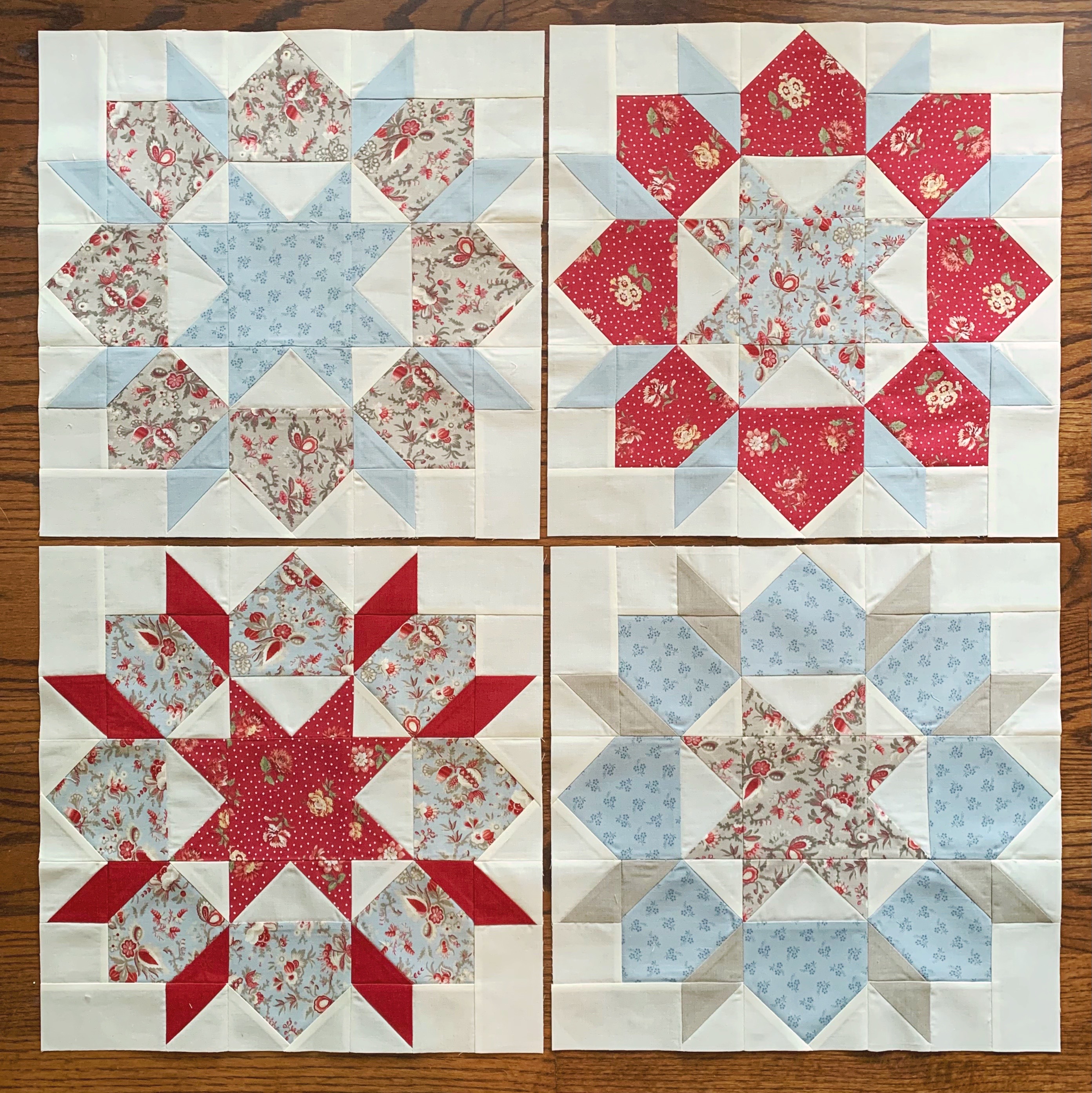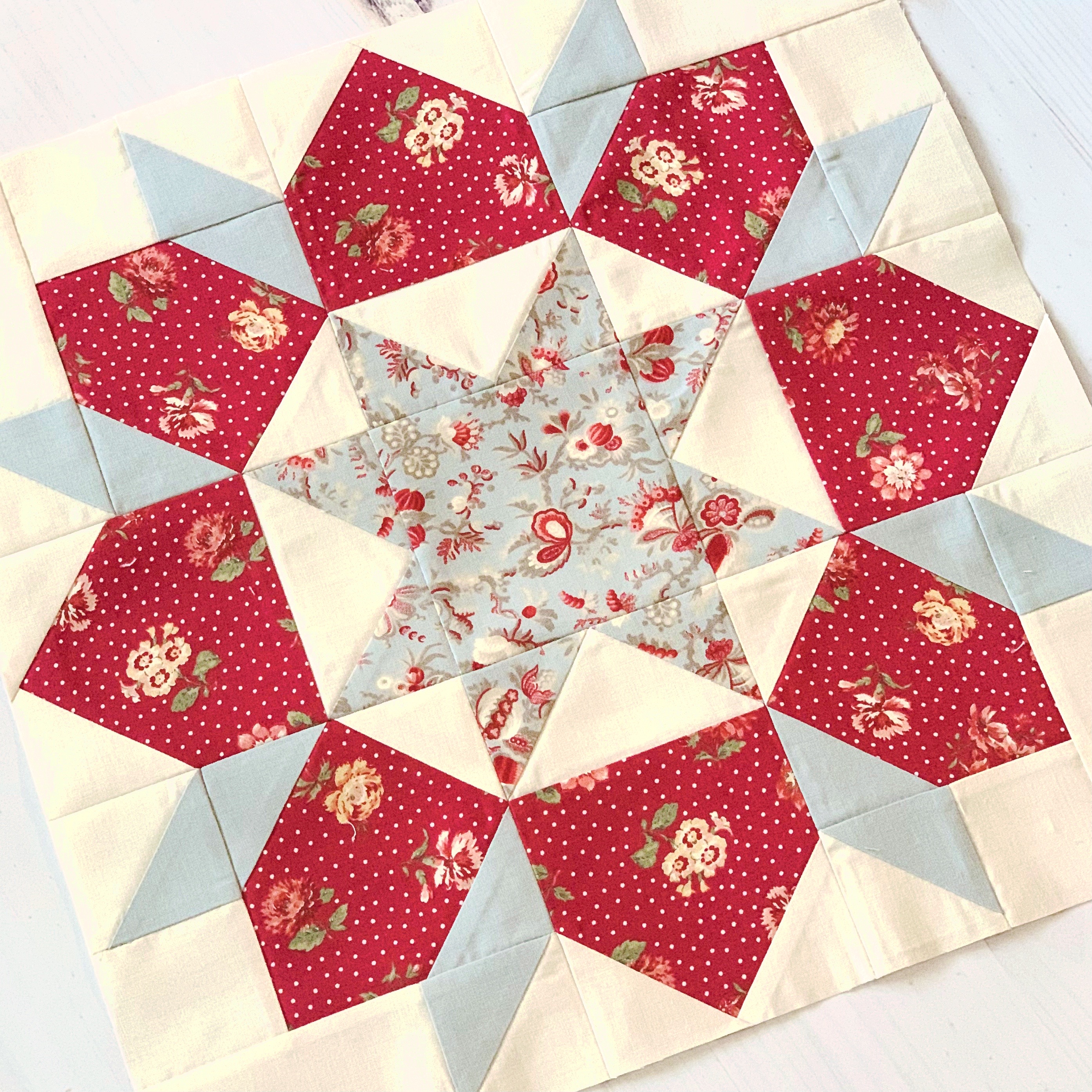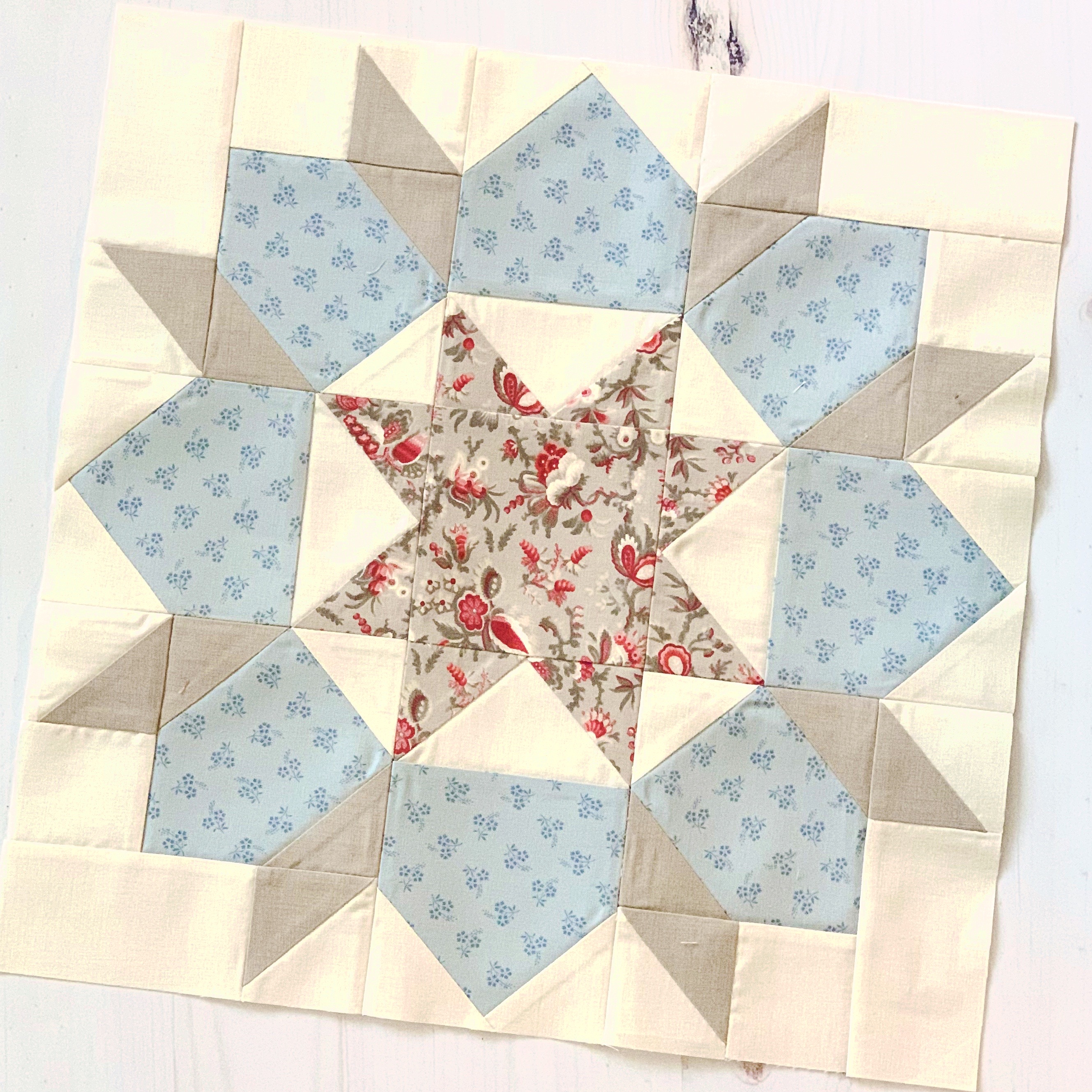 Week 2 Photo Challenge
Are you sewing along with us? Join the fun by posting on Instagram! This week's photo challenge is to post a pic of your flying geese and/or your finished blocks and share your favorite tip or tool for making flying geese! Be sure to use the hashtag #swoonforjardin so we can follow along. I'll share some of your tips on my IG Stories over the course of the week!
Next week, we'll sew four more blocks!
Quilt-Along Schedule
Week 1 (June 1, 2021): Prep & cut fabrics
Week 2 (June 8, 2021): Sew blocks 1-4
Week 3 (June 15, 2021): Sew blocks 5-8
Week 4 (June 22, 2021): Sew blocks 9-12
Week 5 (June 29, 2021): Sew blocks 13-16
Week 6 (July 6, 2021): Assemble the quilt
Week 7 (July 13, 2021): Show us your finished flimsy!
Looking for previous Jardin de Fleur QAL posts? You can find them here!
Thanks so much for stopping by today! I hope you are enjoying this quiltalong with me and Kaari of French General and our friends at Moda Fabrics!